An adventurous watersports day with GlideSoul
THE start of my adventure sport day hardly began well.
Grey cloud and drizzle clung to the skies and to make matters worse the Kent to Surrey stretch of the M25 transformed into a car park for the best part of three hours.
So by the time I arrived at JB Ski at Chertsey I was far from happy, especially as I'd missed the welcome brief and I had that daunting feeling that I'd be the odd one out all day.
As I walked across the bridge wakeboarders went whizzing by and in the distance I could hear the echo of screams from the rollercoasters at Thorpe Park just behind the lake. I was greeted by the sight of a dozen sporty gals in neo bright wetsuits skateboarding and then a tall brunette in a funky pink and purple tie dye outfit glided past, (rather like Marty McFly in Back to the Future). I noticed a handbag dog under her arm and the bursts of colour and casual randomness was a complete shock to my senses. I wondered what on earth I had let myself in for.
I spotted the GlideSoul flags and a few girls choosing wetsuits. While I waited to register I walked up the slope towards one of the lakes to take a photograph of this colourful scene before me, only to discover another burst of colour with a yoga class taking place on the slope. I spotted my friend Sarah, who is an artist and fitness blogger, holding a perfect seated twist position while looking funky and fabulous in a sky blue wetsuit sat on a fushia pink mat.
One of the lovely GlideSoul team sized me up for a wetsuit (Size L – a generous fit UK size 12) and presented me with a black and neo orange wetsuit sporting flashes of leopard print down the sides. The suit was surprisingly soft and, although it seemed a lot thicker than my 3mm Speedo Tri Suit I'm used to, it felt lightweight and instantly comfortable. Emerging from her outdoors yoga session with a beaming smile on her face, Sarah and I promptly got into the spirit of the day playing with a new photo app and posed for photos in our GlideSoul gear.
Another GlideSoul newbie took our photograph and commented on how she was apprehensive about wearing the bright kit but felt surprisingly empowered. And she was totally right. We felt confident, comfortable, relaxed and we looked good too!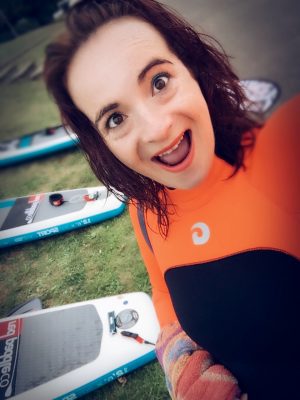 Next up it was time for the Wakesurfing brief and here we met Alena Pishchulina, founder of GlideSoul. Russian-born Alena created GlideSoul to help women lead an active life and inspire their individuality. The brand holds GlideSoul Days around the globe to welcome new people to their community, and these short, colourful festivals give girls the chance to meet the GlideSoul girls ambassador team and experience the latest collections of waterwear for themselves.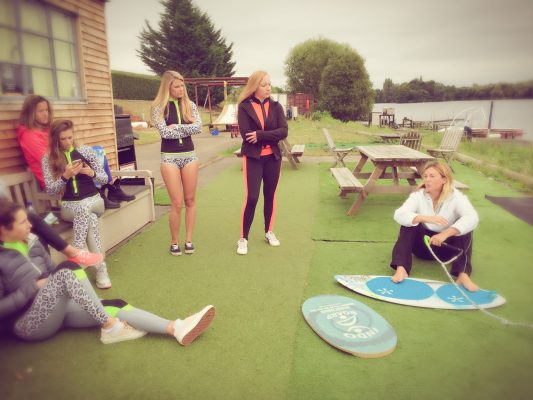 Alena demonstrates how to mount the Wakesurfing board step by step giving various options one at a time. First option was to grip the board at 90 degrees to the water, kneel on the base of the board with one knee, then step onto the board with the other leg. She made it look perfectly simple and straight forward. The second option was to rest both feet on the board onto the gripper pads, then push down hard with the heels and then, as the rope tenses up and the boat slowly moves, maintain a squatting position with knees bent, while tensing stomach muscles to hold a strong core for stability. On top of this, face away from the boat, keep arms strong and extended, remember not to lean back and keep pushing the heels down. It sounded terrifying and looking around the group of toned, athletic looking girls I started to feel that perhaps with my pear-shaped physique and minimal watersports experience I was a little out of my depth here.
Nervousness was replaced by excitement as we embarked on the coolest speedboat I've seen since starting my career at Sunseeker powerboats. Dr Feelgood, a Nautique G23 powered by a PCM 6.2 litre 450hp engine – that actually lights up blue – was our ride for the afternoon! Watch out for an Adventure 52 review of the boat soon.
Alena gave a first class demonstration of how to – and how not to – stand up on the wakesurf board, twizzling and jumping and even surfing handsfree at one stage! I was secretly relieved when she fell into the water at one point and bounced back up with a big grin. Okay this didn't look SO bad after all.
My brave friend Sarah was first up to wakesurf. Her position needed adjusting a few times and she managed to stay upright for a couple of seconds before piling into the water with a splash again and again. Alena jumped into the water and adjusted her position explaining she was leaning back as she was pulled upright and given she is fairly tall this unbalanced her. Next time she stayed upright and wakesurfed for around three and half minutes, even one handed briefly, before her balance got the better of her.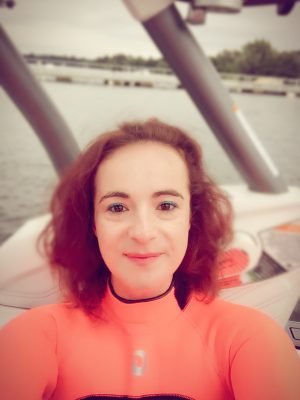 Next up was Janine Rueger, a watersports business owner from Turks & Caicos in the Caribbean. Janine was upright first go, pulling some groovy moves as she jumped the waves much to everyone's delight. The Beach Boys Everybody goes surfin' boomed out of the stereo and it all started to feel like THE coolest thing to be doing on a Saturday afternoon.
My turn came next and four or five attempts to stay upright proved futile. Keeping a central position for the board in line with the boat was tricky at first and I couldn't quite get my head around how to grip with my heels. Alena was patient and attempted different techniques to make it easier for me. I almost stayed upright on my last go but after swallowing what felt like half the lake, I felt it was time for someone else to try. Rather than be met with 'Oh never mind!' comments, I climbed back on board to clapping and praise and was told I'd 'almost got it' with improved posture each time. Whilst I wasn't greeted by 'Woo hoo!' screams like Sarah (as she rightly deserved) I was struck by how supportive and unjudgemental everyone was.
Janine told me that in her experience watersports people are always laid back: "Nobody is sneering and everyone is cheering. Wakesurfing is a great entry level into watersports. It is easier than wakeboarding as it's slower. It has a freedom of movement where you're not going to get hurt. With wakeboarding you're strapped in so you can fall and twist your ankles, which can be painful."
Janine went on to explain that as you progress you can do lots of tricks with Wakesurfing and for her it is all about great fun times to be had with friends, music and just to enjoy the whole watersports culture no matter where in the world you're doing it.
Naomi Heffernan, a Wakeboarding instructor, told me how she was branching into Wakesurfing as a hobby: "It is more fun [than wakeboarding] and I enjoy the opportunities to just get better and better at it!" she said with her smile beaming at me.
"Wakesurfing has a real community feel," Janine added. "There are no age or gender limitations. It's the size of the board that's important. Traditional watersports like wakeboarding and water skiing are dominated by men and can be aggressive. Stand Up Paddleboarding is less competitive and more fun. It is ALL about the experience!"
After all the excitement of Wakesurfing it was time to 'Zen out' with a go at SUP Yoga. Our instructor was India Pearson, an actress and sports model who also instructs Ashtanga Vinyasa Yoga and since the summer this year SUP Yoga from Folkestone Harbour!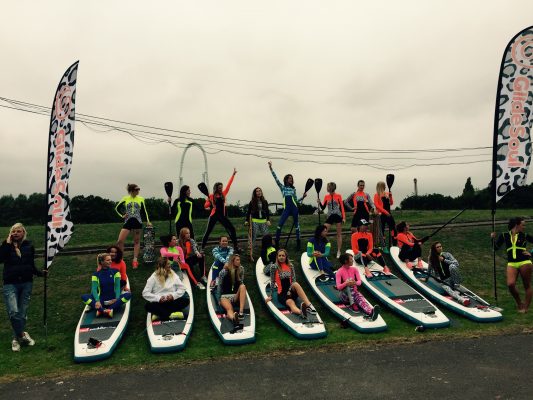 Each of us grabbed a Stand Up Paddleboard from the shore and put the strap attaching the board to an ankle. Kneeling on the board in shallow water we paddled our way across the lake to gather in a petal shaped circle. India tied the points of the boards together and we released our ankle strap and secured our paddles before letting them float in the water.
Two fairly gentle rounds of 'Salute to the Sun' with a few wobbles and giggles from each of us and I was starting to feel like part of the 'in-crowd'. India then took it up a level and extended the stand-up warrior pose to a gentle lean back. My big toe on my left foot suddenly felt completely numb, I lost focus of the posture and went toppling back into the water. The GlideSoul suit was keeping me nice and warm so despite the ambient temperature of around 11C and a 15kt wind I hardly noticed being in the water. I waited for the tutting but none came, just giggles and encouragement to climb back on.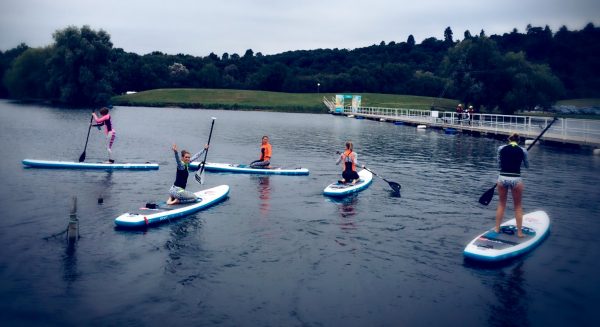 After the lesson – note here the suit was amazingly quick drying and I was able to stand about chatting without shivering – I talked to India about the SUP Yoga concept and what she felt was the appeal: "It is all about being on water without surfing. The biggest appeal to me is keeping fit in a fun and interesting way. I have never had a core like the one I achieved this summer. It also strengthens the thighs and stomach. It appeals to everyone and is an accessible sport unrestricted by age, size or ability. It's all about being in the open water. As the sun beams down on you, you connect with the water. I thought when I started classes that I'd struggle to fill them, but they sold out every week and I had to add more."
"I was offered the option of an indoors swimming pool for SUP Yoga during the winter, but for me it has to be in the great outdoors, it's that feeling of freedom and oneness with water that matters."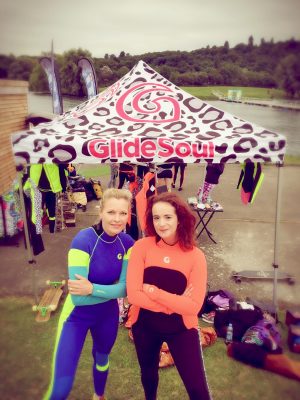 As the day of activities grew to a close and we tucked into healthy chunks of hummus and veggies, I chatted to Jenny, a writer for another magazine who, like me, had struggled to stay standing up during Wakesurfing. Despite this she was still smiling at the end of the day and we debated how the sport differs to other disciplines in the vibe you seem to get amongst the group.
Jenny recently signed up to Bikram yoga through a 'Class Pass' app which pushes you to try different things. During the class the instructor approached her and said she was clearly struggling with the advanced, fast pace and had the choice of either keeping up or leaving the class. Jenny decided to leave: "Quite frankly who needs 'Yoga Shaming' from the instructor? It totally killed my Zen!" she told me.
It was the first time Jenny had tried SUP sports. "SUP Wakesurfing is such a supportive atmosphere," she says. "Any sport you enter as a beginner you want to be able to talk and encourage one another. It's great. Watersports is something I've never considered before, but after today it has made me want to go to Hawaii and surf."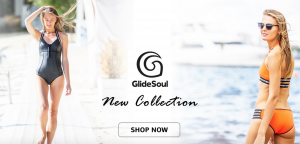 Before today the only time I'd heard of Stand Up Paddleboarding was when Orlando Bloom attracted attention by doing SUP in the nude.
But after an enlightening day with GlideSoul, I've made new friends and experienced a feeling of freedom and exhilaration that I've only ever felt flying aerobatics.
The GlideSoul girls welcomed me into a whole new sporting community with unjudgemental, smiling encouragement and I have every intention of taking my neo orange clad tush back for another go.
Check out these inspirational women:
Rachel Brathen Yoga Girl based in Aruba and Island Yoga – check out her latest book 'Yoga Girl'
Elaine Macey Braylake Watersports Windsor 4Motion ambassador for This Girl Can Campaign is running an event on Saturday 24 September.
LuLu Lemon brand (runs retreats and sport festivals in the USA and Canada). The brand came to the UK a couple of years ago and organised an event in St Ives Cornwall.
THE KIT I WORE:
Full wetsuit of vibrant colours keeps you warm and ensures unique freedom and comfort even in cold water.
Lightweight and quick drying
BAB Supratex knee reinforcement
Silicone drops on wrists, ankles and neck to prevent water entry
Melco® Tape for armpits and seams to prevent rubbing
GBS (Glued and Blind-Stitched) Technology
YKK® Zipper with Velcro seal keeps you dry
Leopard print
Neoprene 3/2 mm
About GlideSoul
"GlideSoul waterwear liberates you from putting on the same wetsuit day after day and gives you choices as endlessly vibrant and exciting as you are."
"You can pick the perfect outfit to express who you are, so you can light up your city and colour the ocean."
"GlideSoul's headquarters is located in London. Representative offices are in Orlando, USA and Singapore. GlideSoul is partnering with leading apparel distributors and retailers in Northern America, Southeast Asia and Europe."