A fly hits the top lip of the windscreen and cartwheels onto my visor with a thwump. There will be plenty more of those to come over the next few days, I say to myself.
It's eight thirty on a Saturday night, the sun is still high in the sky and the TomTom Rider shows my arrival time in Oban as 11:10pm. In bed by midnight…hopefully.
Very few of us get to experience riding a new motorcycle with zero miles on the clock, but this Kawasaki Versys 1000 SE Grand Tourer is just that – and I'm about to put a fair few hundred miles on this beauty over the coming days.
I picked the bike up from Edinburgh Kawasaki and over the May Bank Holiday weekend I'll be riding with a group of journalists/YouTubers/influencers on the Versys Highland Tour (you can read Kawasaki's official story about it here).
On the Sunday I'd ride from Oban to Gairloch (via the famous Applecross Pass) and on Monday we'd have a quick visit to Skye, before a return to Oban and then dropping the bike back with the dealer on Tuesday morning.
EVERY COOL VERSYS FEATURE USED IN THE FIRST 100 MILES
The Versys has come a long way since its introduction back in 2007. In fact, I was working at Motor Cycle News at the time, and I've seen the bike go through various iterations and model years. This current model year, released in 2019, perhaps gets somewhat overlooked.
Many bikers have a romantic notion that there's possibly one motorcycle we can own which will do it all. Often bikes that do have it all then miss out on giving you that jolt of excitement, but I have to say looks-wise the Versys 1000 SE does make you go pwoah, and that body has some of the styling from Kawasaki's H2R.
Why does the Versys get overlooked? I think people see the Versys name and remember it from all the way back in 2007, but today's Versys is a very different animal, like a loyal packhorse that will get you – and your kit – to places in comfort. Funnily enough I have this thought as I pass the 'Kelpies' – a pair of steel horse sculptures next to the M9 motorway.
Since l moved to Scotland four years ago, I've explored a fair bit – all by car – so being able to ride on familiar roads, but from this higher vantage point is giving me a fresh perspective. As one of the group said, it's like a 'mobile viewing platform'.
As I wind my way to Oban, I pass many of the places I've previously parked up to hike up Munros and this ride is becoming a trip down adventure memory lane as I think about all those long days I've had high in the hills. My thoughts then turn to the fact that I could easily get all my hiking and camping kit on the Versys and boost my Munro-bagging tally…any reason to validate a bike purchase eh?
The light starts fading as I join the road from Tyndrum to Oban. It's quite dark now when I ride though tree-lined sections and I notice the LED cornering lights working for the very first time. Until now, I'd not ridden a bike with these before and they're a game changer. Even the moths think so; they are dive-bombing towards me.
As I get nearer to Oban I can smell the salty sea. I think to myself how blessed we have been with the weather up here this May. It's been consistently sunny and warm for days thanks to high pressure and I'm grateful it's here to stay for the next two days.
In this short hop, I've already discovered and used many of the great features this Versys has. The highlight for me is the semi-active 'Skyhook' suspension. Oh my word, it works like a dream. I ride over broken patches in the road that would normally really unbalance a bike, especially one loaded up with kit, but the Versys sucks it up. It's named Skyhook (and made by Showa) because it behaves as if the bike is hanging from a hook in the sky, to keep it perfectly level despite what lumps and bumps are underneath it. Clever.
A further surprise is the quality of the tyres that come fitted to this as standard; you get a pair of Bridgestone T31 Battlax Sport Touring tyres right from the off, a real treat in a world where some manufacturers skimp on this. Scott at Edinburgh Kawasaki advised me to take it easy initially as they had zero miles on them, and over the course of the tour they just felt better and better. Seriously impressed.
I pull up outside the Alexandra Mutha Hotel in Oban, can see the other bikes all parked out the front. The panniers are super quick to open (or you can remove from the bike completely) and I carry my kit in and get myself to bed, ready for a full day of riding in the morning.
OBAN TO GAIRLOCH IN A SINGLE DAY
I get to meet the other riders at breakfast and straight away I knew they were going to be a great group. We set off early, following the coastal road of the A828 up past Fort William to Spean Bridge.
On the way I see all sorts; a heron flies overhead carrying twigs for a nest, boats anchored up in the flat-calm sea. I particularly enjoy the flash of colour from purple Rhododendron flowers and wafts of the coconut-like smell from the yellow gorse bushes.
In a big group like this, with riders of different speeds all meeting traffic at different points, it's easy to become split up, which is why each bike was fitted with a BikeTrac tracking device. Anyone can buy one of these, and not only will it let you track your ride, it will also ping you a text if your bike is being stolen, or if your bike has gone done in an accident.
We have a pit stop at the Bridge Cafe in Spean Bridge, before taking the A82 and A87 up to Eilean Donan Castle – a location frequently appearing in photographs, film and television, so it only seems fitting to have a quick piccie here.
By this point I'm starting to get a feel for how the inline four engine responds and how to get the best out of it coming up and down the six gears. I'm really loving the quickshifter, it really does take the effort out of gear changes, making for a smoother ride, exactly what you need when you're covering 200 to 300 miles in one day.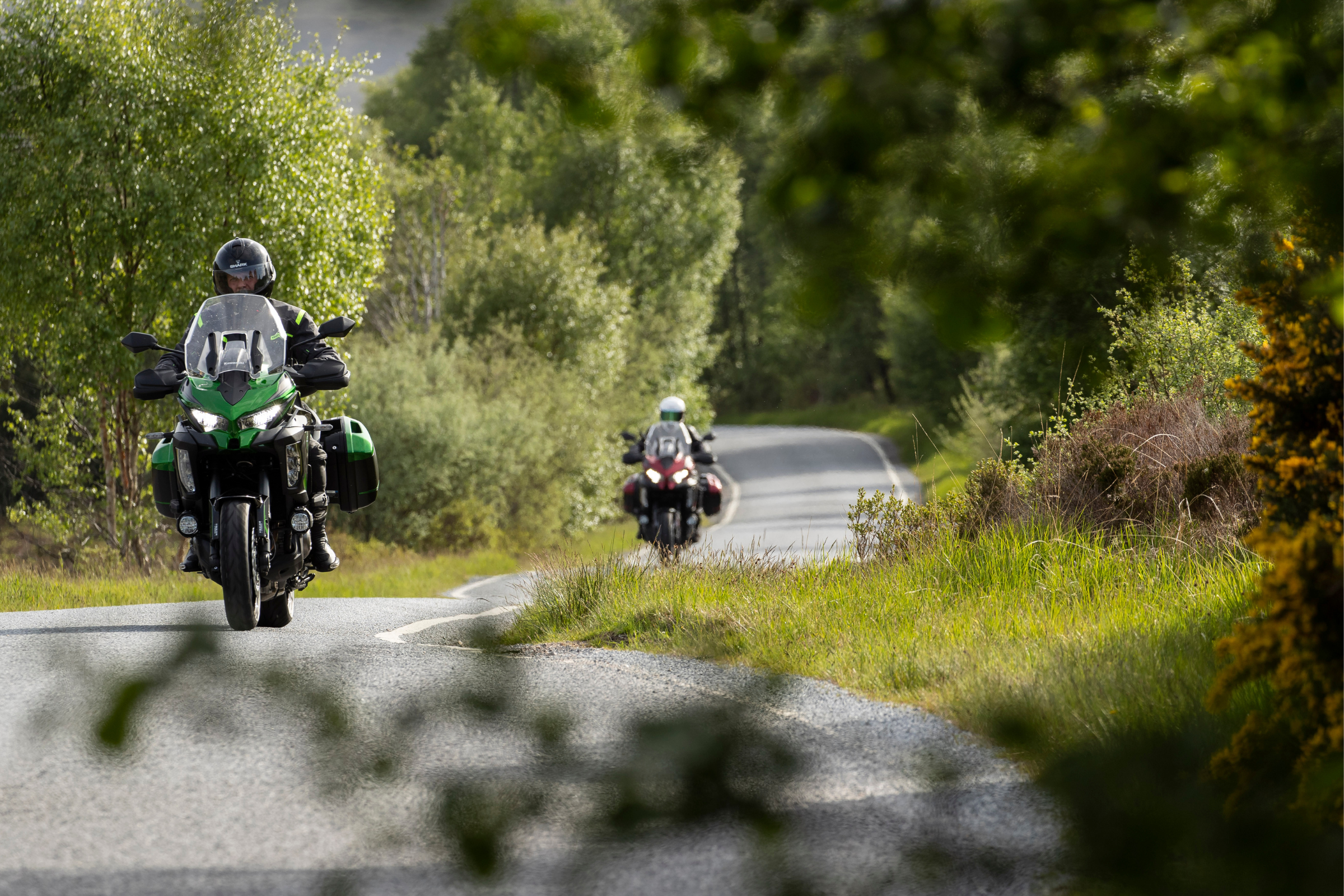 All of the roads we've been on so far are familiar to me, but the one thing on my mind now is Applecross, or the Pass of the Cattle. This is an iconic single-track road that links Loch Kishorn over the top of high ground to the small coastal village of Applecross.
Towards the top there's a series of steep switchback corners, very alpine-esque. I'd heard so many bikers talk of this pass and have seen videos, but I was excited to actually go over it myself. I'd actually passed the turning for the pass when I was up in Torridon at Easter and making my way south to Glasgow and since then I'd been wondering even more about it.
OVER THE APPLECROSS PASS
Applecross Pass is the third highest road in Britain and the closest you can get to an alpine pass. The sky is bright blue as the start of the road comes in to view and there's very little other traffic – a relief considering it's the Sunday of a bank holiday weekend. All of us are looking left and right at the scenery as we ride up it. I spot the very tight turns towards the top, the trickiest part and not to be underestimated. By now I'm feeling at home on the Versys and have no trouble riding around these steep cambering turns.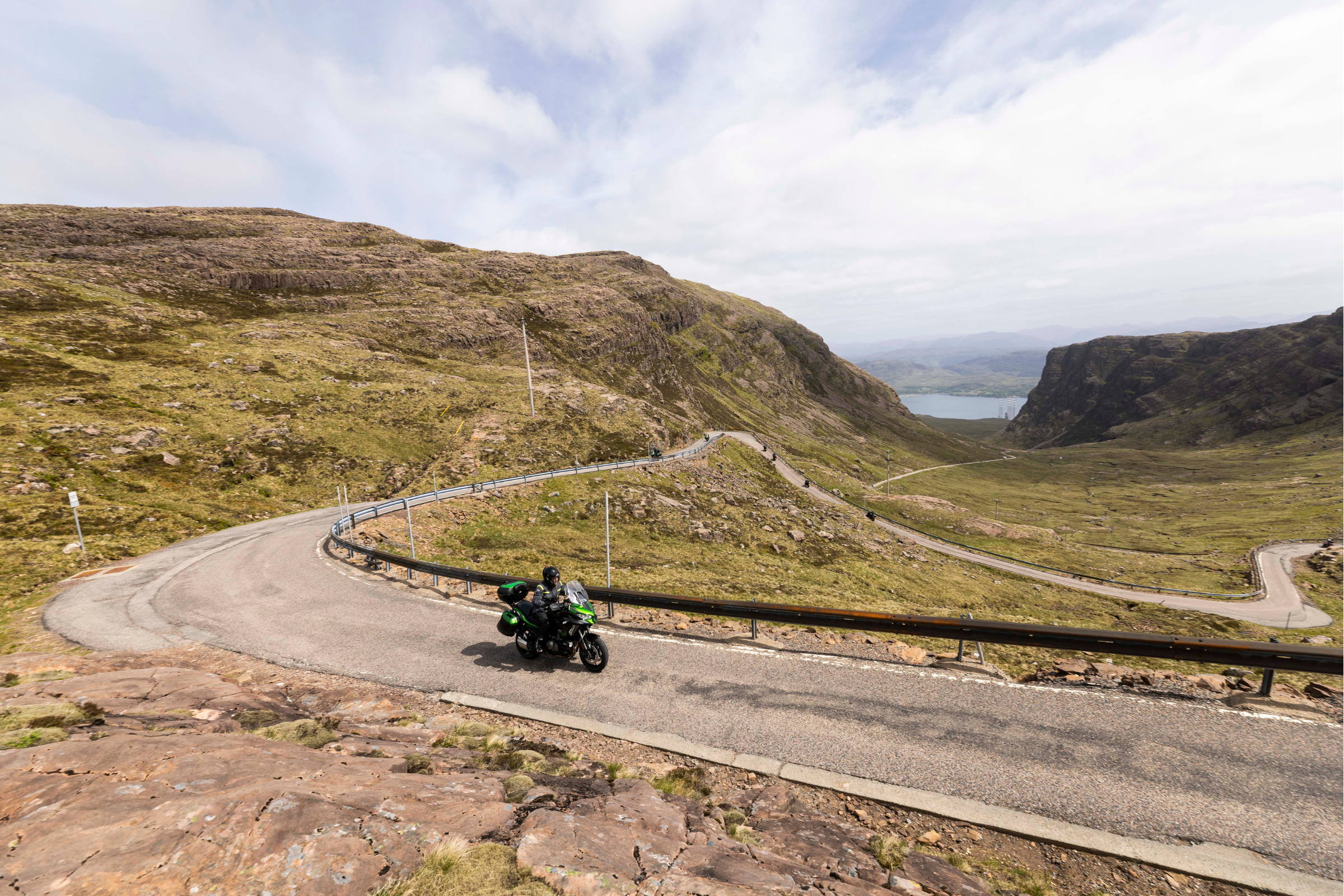 We're rewarded at the top with panoramic views of Wester Ross, the Isle of Skye and the Hebrides – you could spend hours up here just taking it all in, especially on a clear warm day like this. We then start the long descent down, passing quite a lot of cyclists who have taken on the challenge.



A further reward at the end of this road is the famous Applecross Inn pub. When I arrive it's baking in hot sunshine and bustling with visitors soaking up the remoteness and beauty. We devour fish and chips and watch on as a group of sea kayakers come ashore for their lunch.
APPLECROSS TO GAIRLOCH
We still have plenty of miles ahead of us, the next part of our route taking us past Shieldaig and in to Torridon. It truly feels remote here and for me some of the best views on the trip are on these roads. I want to stop every five minutes and take photos as there's just so many opportunities, but we have to keep pressing on for Gairloch. For me this part was the highlight in terms of the scenery; mountains and sea in their splendour. There's a special feeling you get up here, hard to put into words.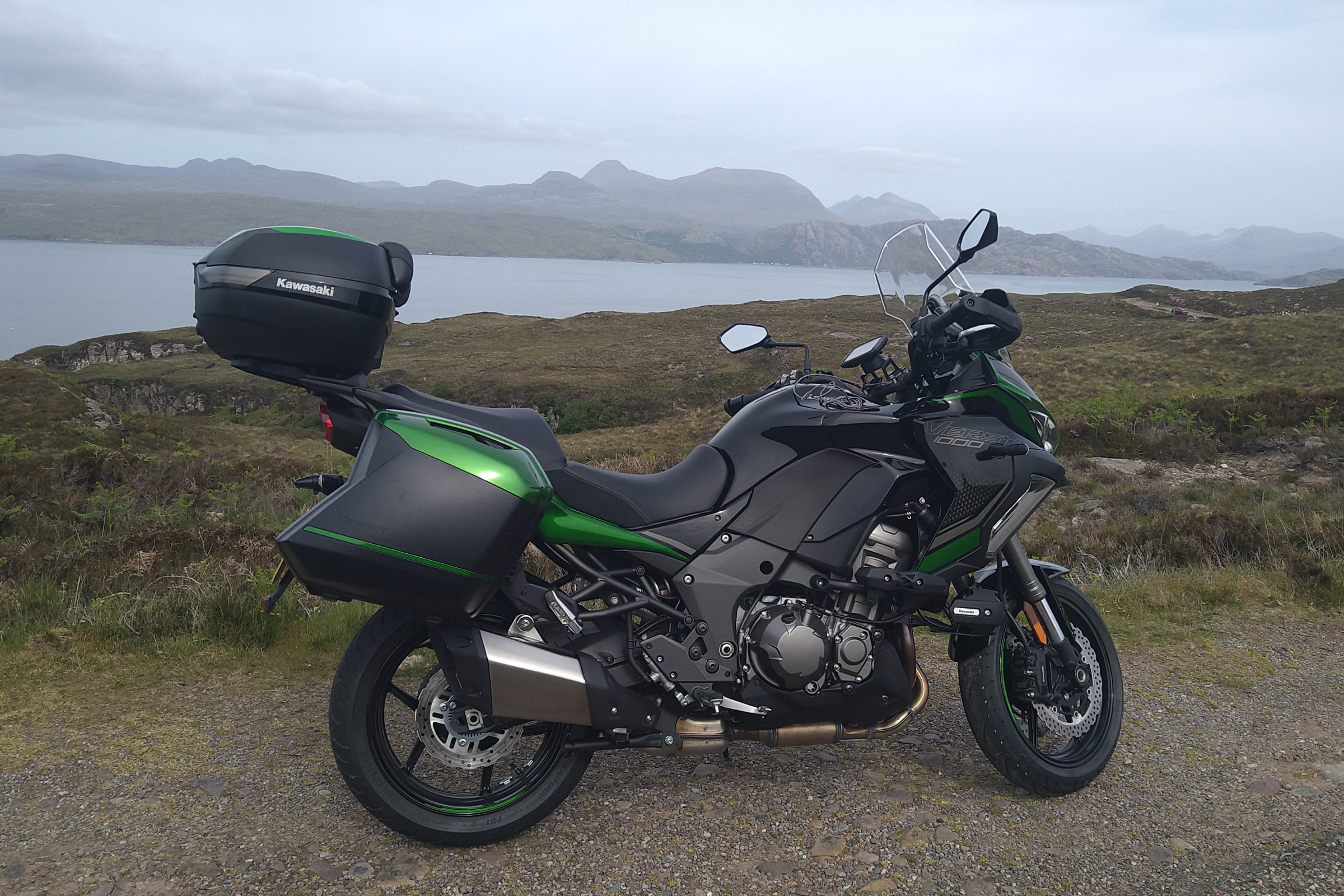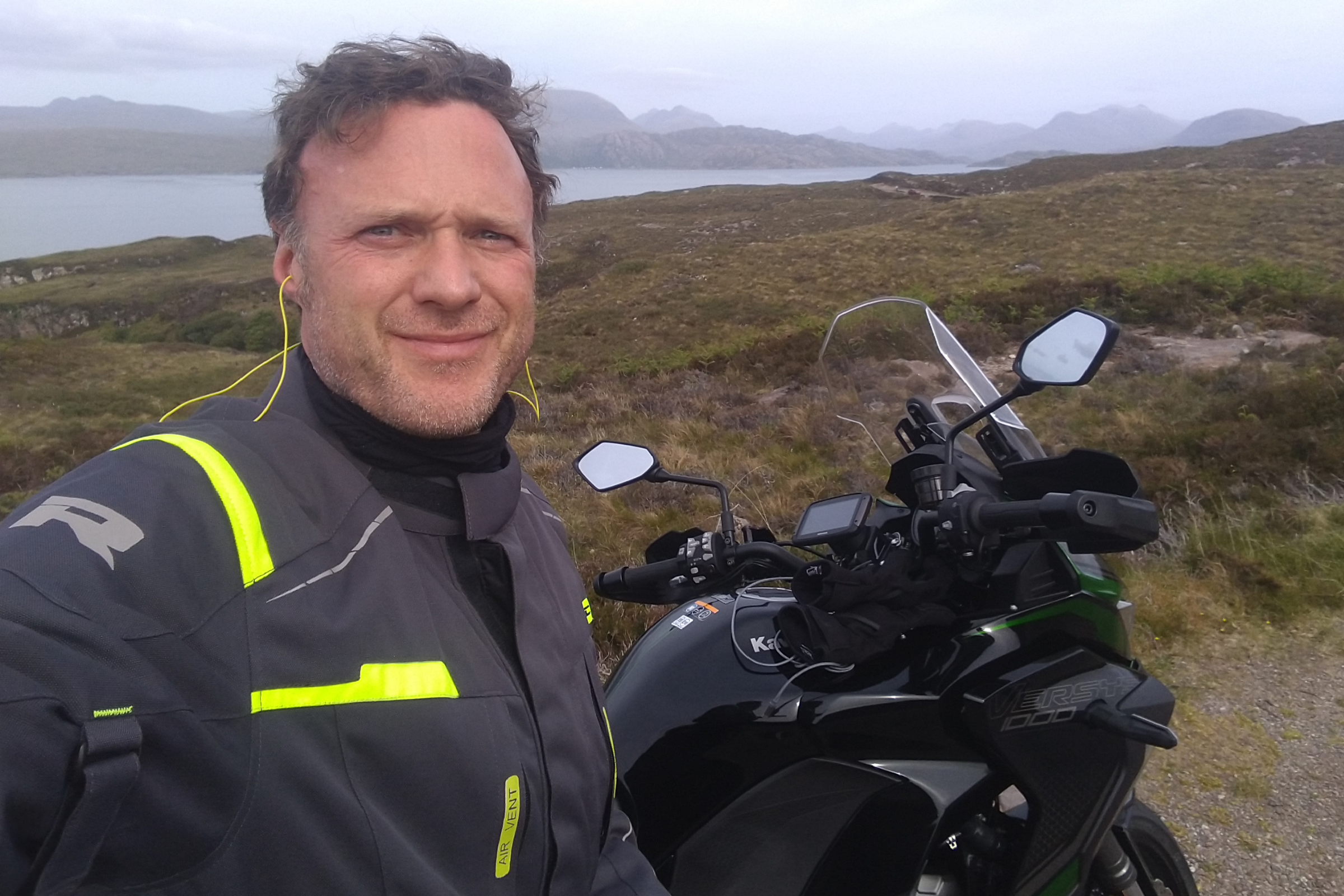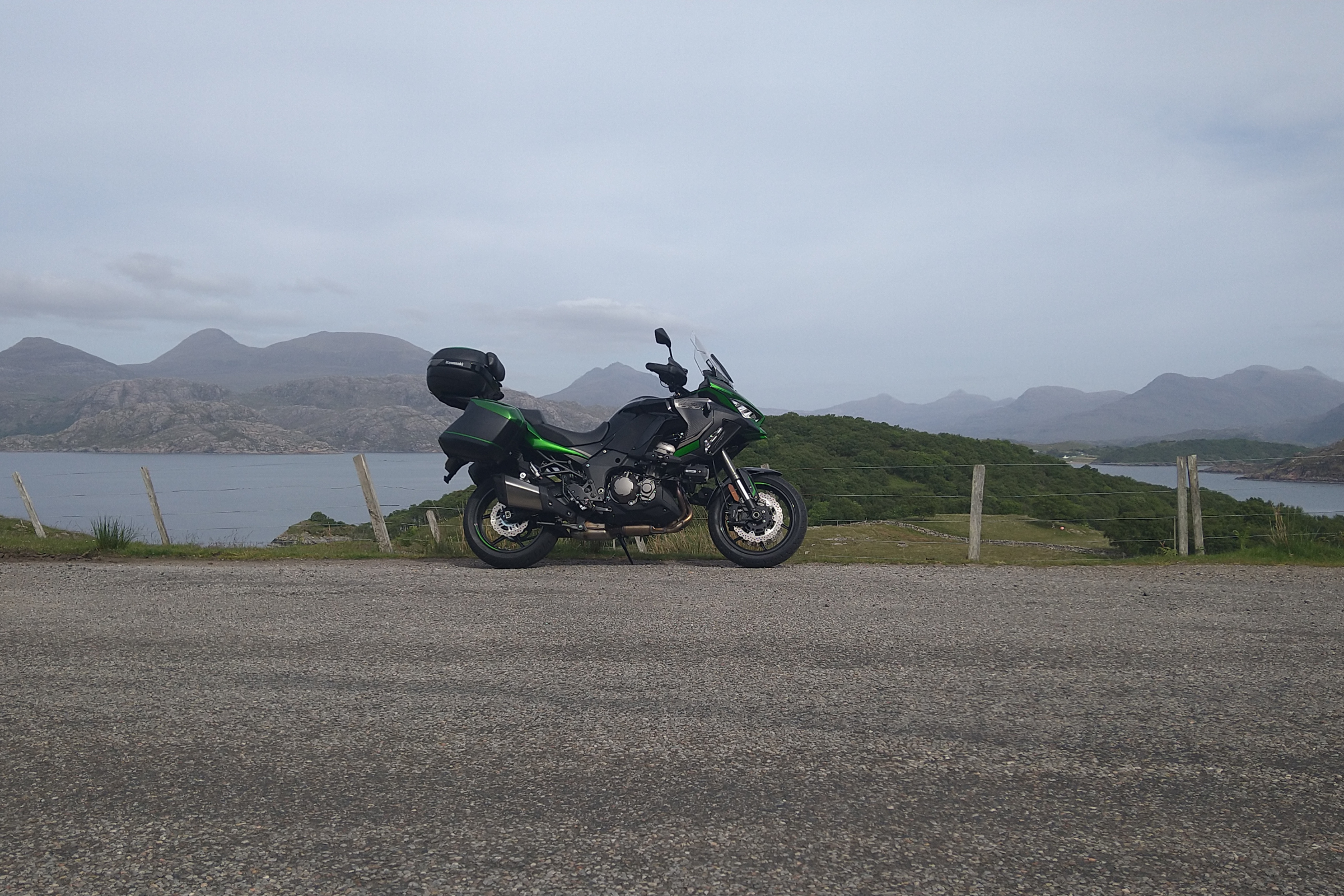 I'm making use of the 12V socket on the left hand side of the dash to keep my mobile phone charged up now and this is when I realise that my personal energy level is actually pretty good; I'm not as fatigued as I'd expected to be after 150 miles. The Versys is proving to be a very comfortable bike, and all the features like the semi-active suspension, the quickshifter, the responsive engine, riding position, excellent tyres and brakes all add up to take the strain out of a long ride like this. Some motorcycles on the market might have these features in isolation, but having them all in one package like the Versys does is rare.
We arrive in Torridon and park next to the towering Liathach and Beinn Eighe – two of the most beautiful mountains in the UK that I had the pleasure of hiking up back in Easter. I fell in love with Torridon and Wester Ross after those few days and I'm thrilled to be back here, even though I'm quickly passing through.
At Kinlochewe we turn left, refuel, and now we're finally on to roads I've not been on before and my excitement grows. Especially when I spot a monster of a mountain in the view ahead. As it gets nearer, and we ride along Loch Maree, I realise this monster is in fact Siloch, a Munro I've read and seen photos of, and another one of the 282 I need to bag. Loch Maree is worth a visit itself too; a 21.7km long freshwater loch, the fourth largest in Scotland, and with plentiful places to stop off and park/camp next to.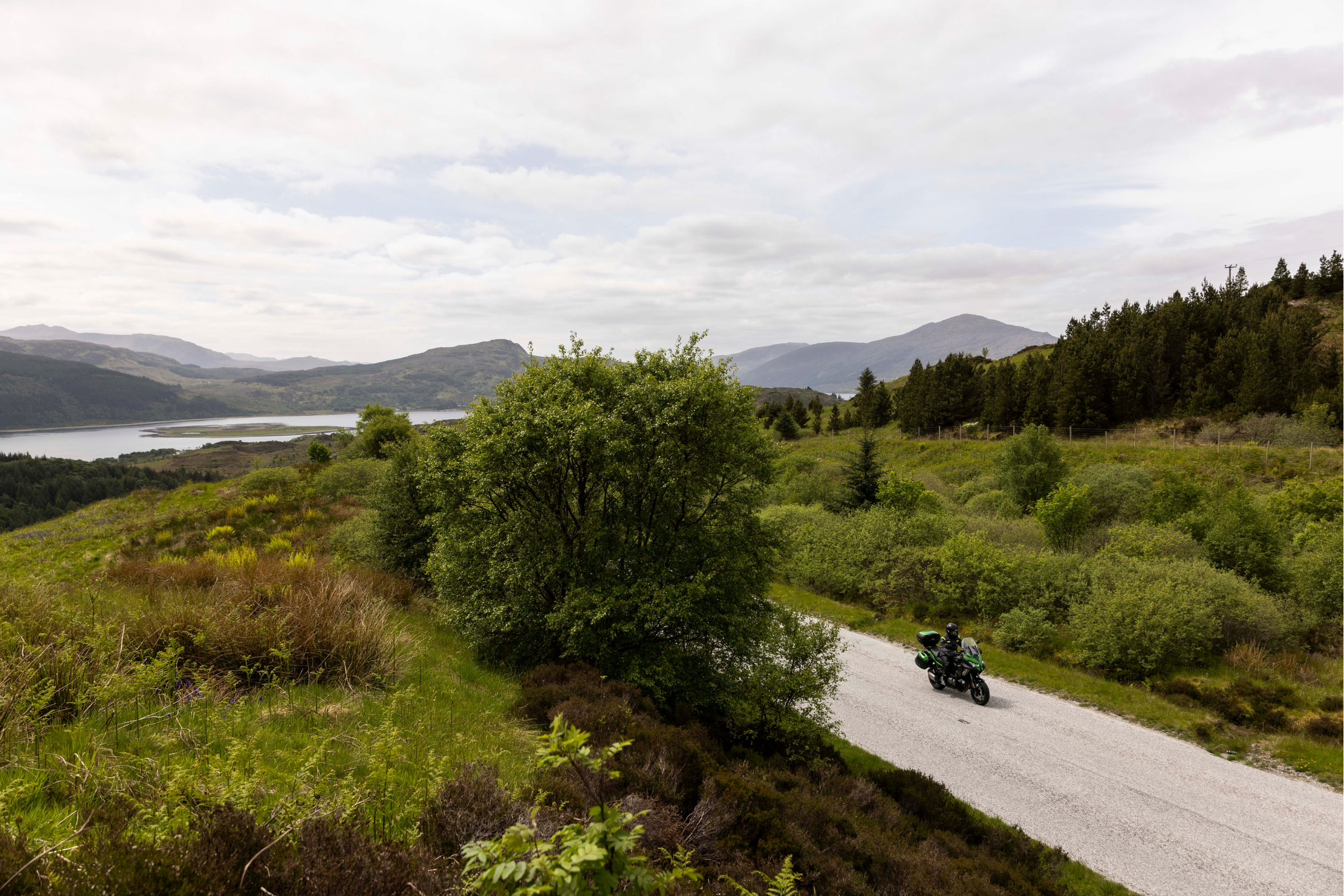 All of us are relieved to pull in to the car park of the Old Inn at Gairloch after one of the best riding days of our lives. Many stories and laughs are shared over a drink. I'm thankful for the black-out blinds in my room as at this time of year, the sun sets very late and it never really gets truly dark. We'll be needing our sleep too, as we have yet another big day of riding tomorrow.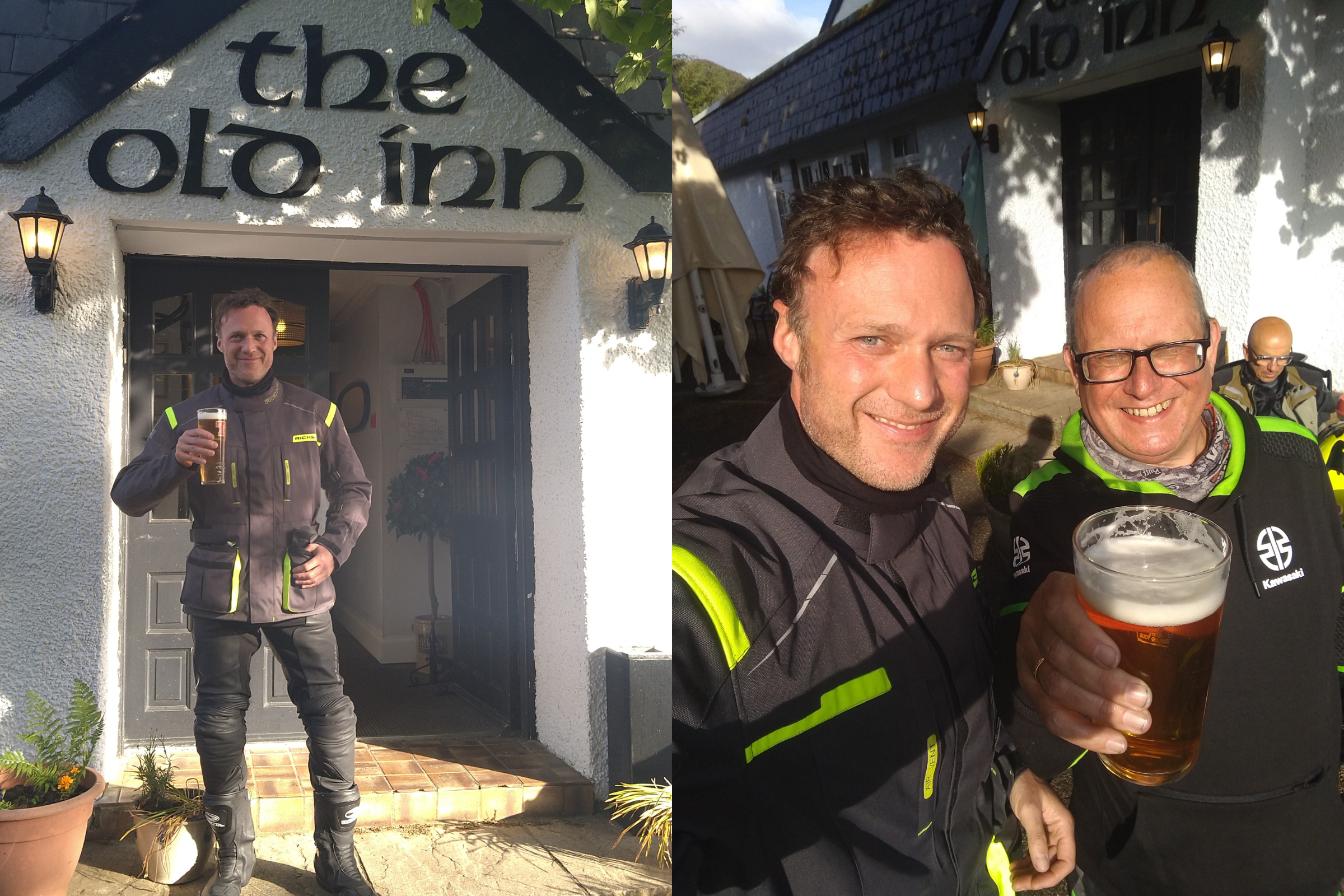 A BANK HOLDAY MONDAY LIKE NO OTHER
The midges are out as we load up the bikes for another big day of riding. Today we head down to Skye and then up to the north to a place called Stein. We're told there's an amazing pub/restaurant for lunch here; the remote yet welcoming Stein Inn. As it says on the Inn's website 'no road is too long for good company'.
The sky is a little cloudier today, but as we cross the Skye Bridge we can see it starting to burn off. We wind our way along with the Bank Holiday traffic, overtaking much of it I might add, until we reach Portree, make a left and find ourselves on remote, peaceful fun tarmac once again. Our arrival at Stein gives us all goosebumps; it's on the shores of Lochbay and looks out to the Outer Hebrides, and has the kind of tranquility you can only dream of.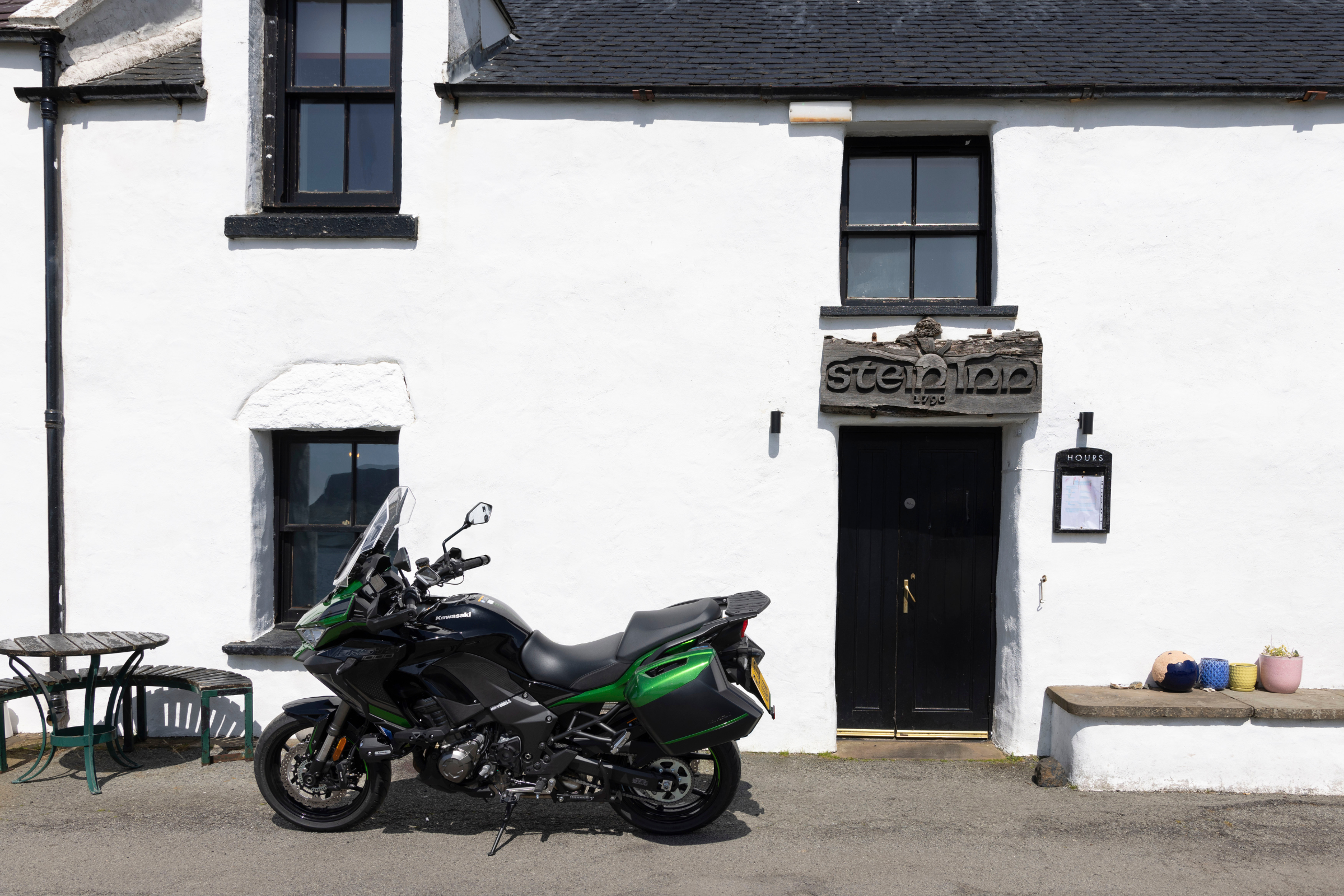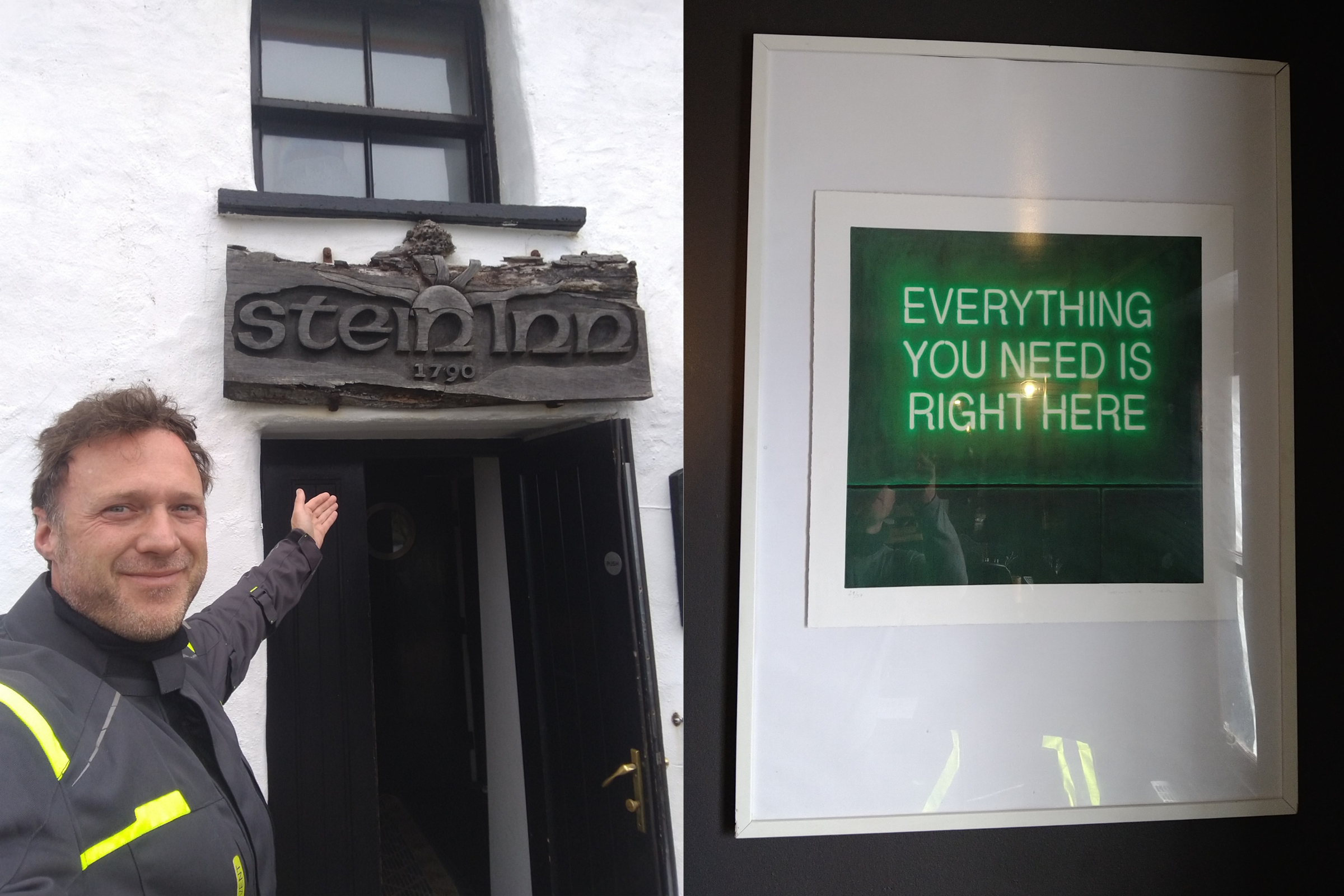 Inside is a bar area, a restaurant and snug area, with comfy chairs, along with many trinkets that the owner Charlie has collected on her own adventures, plus her love for art. She is originally from the Cotswolds and spent most of her life in London, but visited the pub many years ago on her way to wild camp in the Outer Hebrides and fell in love with it.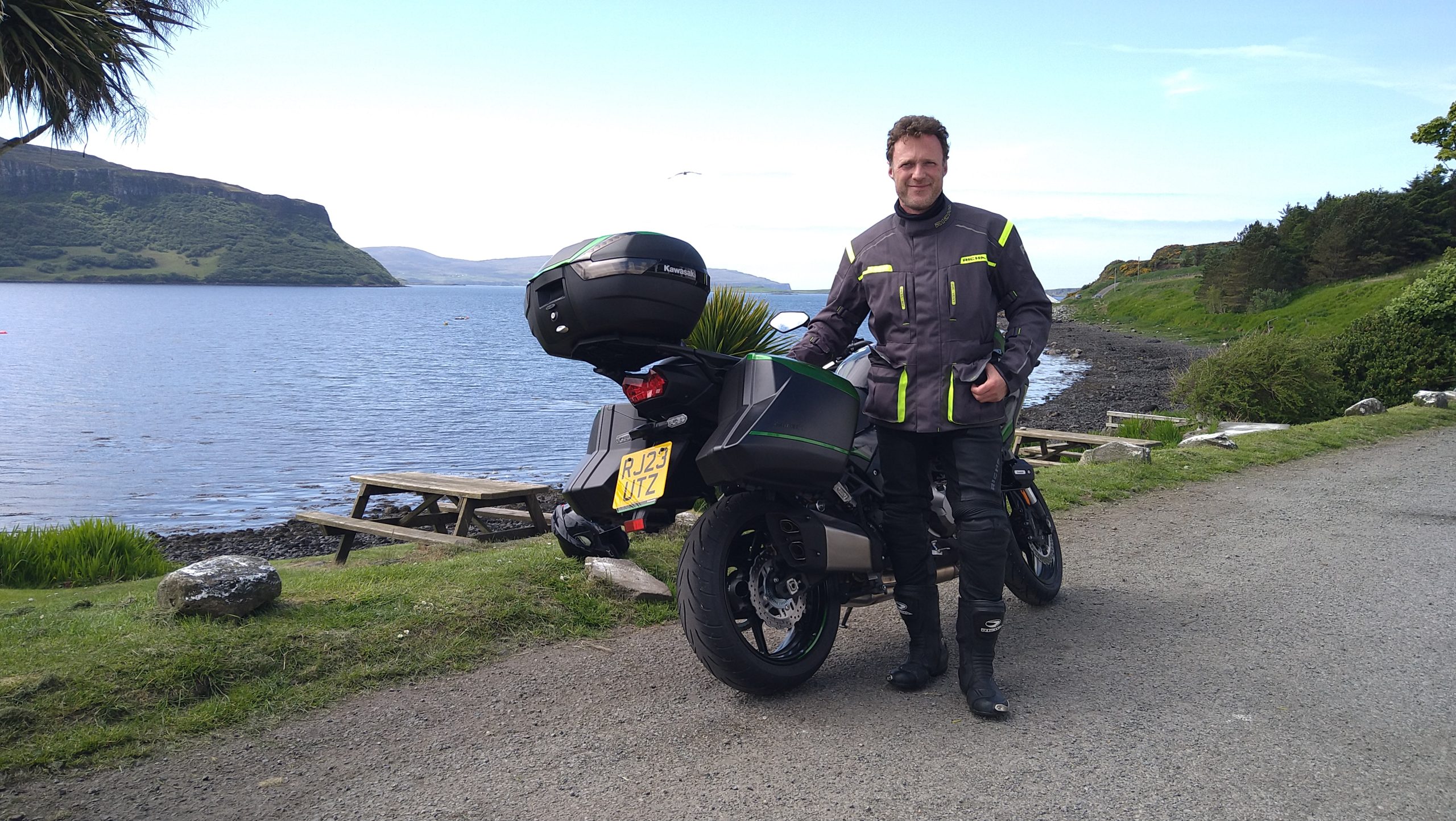 After lunch we divide in to two groups to take the ferry from Armadale across the short stretch of water to Mallaig on the main land. As we headed south on the A683 I was treated to views of the Cullin Ridge like I've never seen before. I really wish I could have taken a photo but we were pushing on for the ferry. I felt a real sense of awe, not for the first time on this trip and made a memory that will stay with me. The skies were blue once again now and we could all feel the temperature going up.
A special mention must go to the road from Broadford down to Armadale, the A851; you simply must go ride it. At Armadale we leave our bikes in the ferry lanes and head to a local cafe for an ice cream and to soak up the sunshine and views over to Mallaig.



FINAL MILES
Upon landing in Mallaig we wind our way back towards Fort William and after a while I see the looming dome of Ben Nevis and realise I've not seen it from this angle before. You get a much better sense of its 4,409ft size coming from this direction than you do from coming up from Glasgow. We filter through the bank holiday traffic at Fort William, with the Versys proving it can deal with low speed handling just as well as it can the twisting Scottish roads.
We get to Ballachulish and see our road to Oban is closed, meaning we'll have to take a longer way around through Glencoe and down to Tyndrum (shame eh). It's getting late in the day, but we're all given an extra unexpected treat of the views through Glencoe. I have to say I'm pretty tired by this point and feeling a bit sore in the joints from such a long day on the bike, but the Versys keeps pushing on and she's getting me safely to Oban even though I'm running low on energy.
We park up at the Alexandra Mutha hotel in Oban once again and the views out over the bay are setting up for what will be a beautiful sunset. We have dinner in Cuan Mor and a single pint of beer makes us all a wee bit tipsy, adding on top of an endorphin rich day of riding and scenery.


The next morning I leave the group and ride back solo to Edinburgh Kawasaki to hand back the bike as I need to be in Glasgow by 11am. With around 700 miles under my wheels so far, new friendships made and sights I've saved to the memory, I'm sad to give the Versys back.
I'll go back to what I said in my opening paragraph about how this machine gets overlooked, but out of all the many bikes I've ridden over the years, this one really does do it all – 'any road, any time' as Kawasaki proudly says.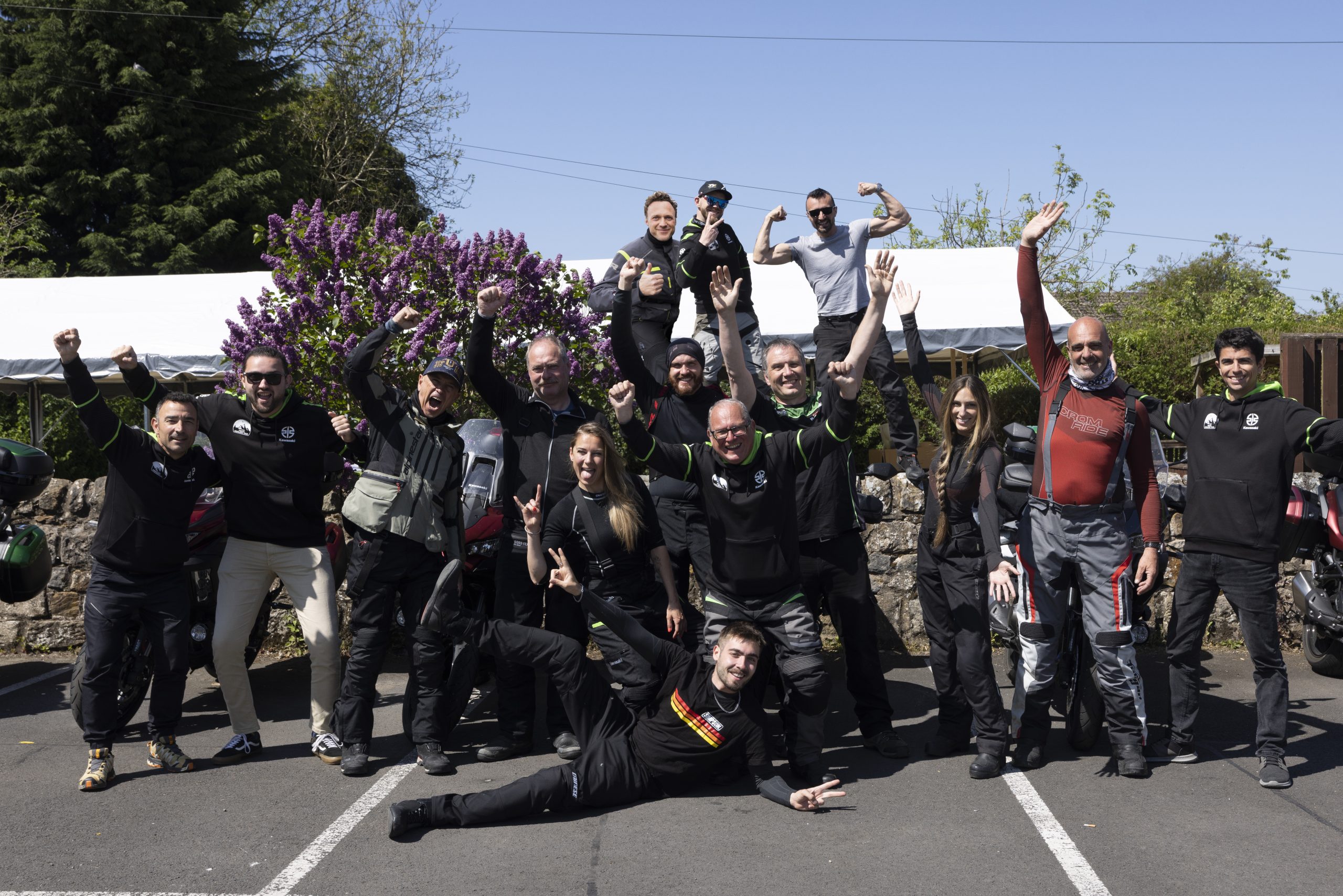 To find out more about the Versys head to the Kawasaki UK website.
Big thanks to Martin, Eleanor and Ross.
And a final thank you to Scott at Edinburgh Kawasaki who can help with test rides, finance details and more, or speak to your nearest Kawasaki dealer.