We've been writing about adventure since 2010 with the aim of feeding your love for the outdoors and an adventurous lifestyle.  
Based in the UK, the site attracts readers from all around the world who have a passion for adventure.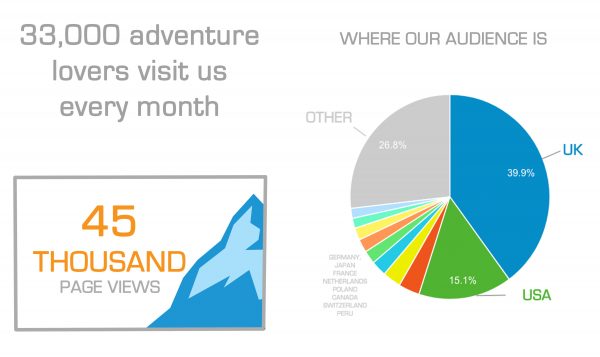 We're not an extreme sports website, instead we want to inspire visitors to the website to live a more fun and adventurous life. If that's your brand's aim too, then we'd love you to join us.
While there are other websites and blogs covering individual outdoor activities, we aim to bring all elements of adventure in one place and try and make the content fresh and unique.
We want to work with brands who share our outlook on adventure, but more than that we want to build long-term relationships with them so that we can craft the kind of content that cannot be seen or read about on other sites or magazines.
If you are looking to reach a new audience of adventurers and like the sound of what we do, then we'd love to hear from you.
---
About our readers…
Unique: We reach people who genuinely live adventure
Loyal: The average user has been reading Adventure 52 for five years
Disposable income: On average our readers spend £1,400 on travelling and £800 on kit each year
Demographic: Men and women aged 20 to 45 who take part in adventure activities at least five times a month
Stats wise, in February 2021 we delivered over 45,000 page views to 32,000 users
We offer the following:
A 728 x 90 pixel top banner – £20 a month
A 300 x 250 pixel MPU – £20 a month
A Video MPU – £50 a month
To place a competition we charge £50.
Advertorials start from £200 upwards.
If you'd like a solution that you don't see here — such as long-term site presence, your logo sitting against a category — then we can talk via email on editor@adventure52.com
Here's what some adventure-lovers say about us and our work:
"Just actually had to re-read this – a really lovely overview of Glenfiddich and the link to exploration, so a bigger thank you 🙂  If only I could get you to write all the articles I need for all my clients!" – Emily Conrad-Pickles, Captive Minds Communications

"You are an excellent writer! Love the article." – Squash Falconer

"I will just say that your mag theme/subject is absolutely great. Just focused enough to have credibility for those into the relevant sports/lifestyle but also general enough so that it doesn't become irrelevant to potential readers who might feel 'unqualified' to read it." – Motoventurers

"A brilliant piece of journalism, thank you, it fitted in well into your magazine." – Ian Whitehead 

"Absolutely love what you did with the pics and the magazine looks great! Congrats!!!!" – Beatrice de Smet www.prepare2go.com

"It looks stunning and I couldn't be more pleased! You are very good at your job." – Mawgan Grace, airline pilot

"Quick work on the article. Great stuff Dan." – Douglas Cairns, Diabetes Polar Flight