The Germans have had the Ford Nugget camper van all to themselves for a while now.
There's a fond fanbase for the car there, especially when you dive into the #fordnugget hashtag on social media. But that's about to change as this little nugget of a camper van becomes available to buy in other European countries soon, with us Brits able to order one towards the end of the year.
The Nugget is in fact a Transit Custom, but one that has been converted by Westfalia, a German camper van conversion specialist. The idea is we can go in to a Ford dealership, order one and then that's all we have to do; there's no separate discussions with other firms to do a conversion for you, you just walk in and buy this from the brochure/showroom (price to be announced but our best guess is between £40,000 and £50,000).
I already had experience of driving the Transit Custom, having been on the original journalist launch, but at the start of my 3-day trip in Slovenia, I didn't know much about how this camper van was set up, how the roof folded out, how the seats folded down and what it would feel like to drive.
I collected the Nugget at Ljublana Airport in Slovenia. There was so much I wanted to look at and discover, but this would have to wait, as I had to get on the road to be at the beautiful Lake Bled to for a lunch stop. My first impressions were good; it was very spacious inside with a large gap between the driver and passenger seats to access the rest of the van. The kitchen area is very impressive, but more on that a bit later on. Up front is a nice 8-inch touch-screen screen that dominates the cabin and also feeds directions to the driver in the dashboard display along with voice alerts calling out directions and which junctions to take ("Turn left now").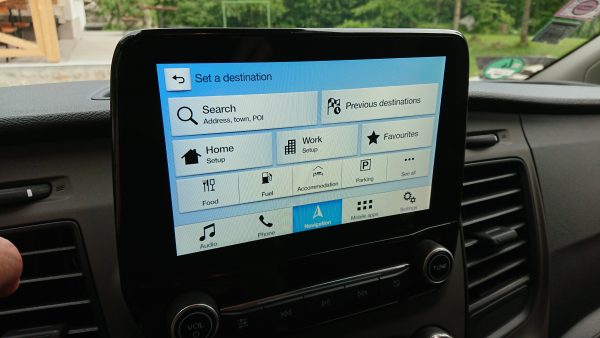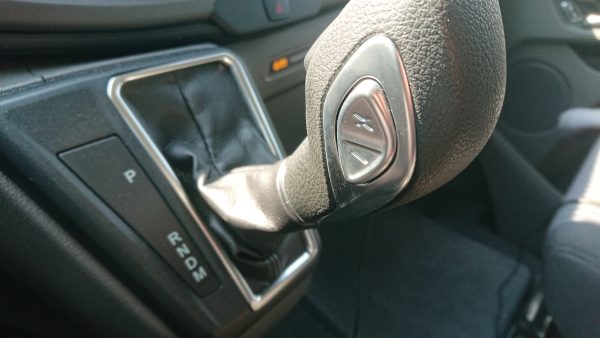 Two versions will go on sale; one with a Tilt Roof which pops up out of the roof and one with a High Roof which stays permanently up. It has front-wheel drive with an automatic gearbox although you can also select 'M' with the stick and then the plus and minus buttons on the side of the stick can be pressed to move up and down the gears. It has a 2.0-litre engine and has plenty of poke (170PS) and if you've not experienced Ford's EcoBlue diesel engine then you'll be impressed by it.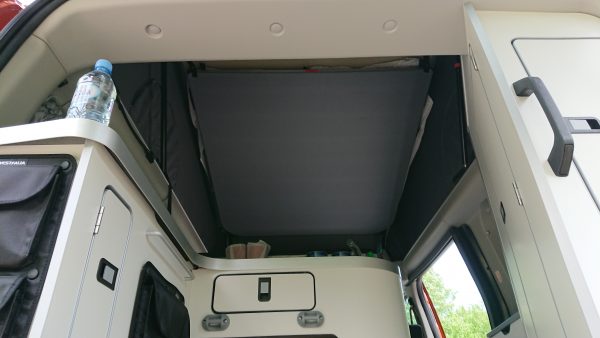 Let's start by talking about the tilt roof and the upper bedroom, because until you actually look inside a camper van and see how that tilt roof works, it's hard to visualise where you sleep. With the Nugget, you open up the tailgate and then just inside the roof is a handle and a latch that you undo.
The roof pops up automatically on hydraulic arms. You'll then see a mattress that's level with the roofline and this 'bed' has metal supports that rest on the side of the van. Once you pull up the mattress and look more closely you'll see exactly how it works. When you're not using the bed you can actually hook it up higher so that you have a bigger living space inside and you can even stand up and walk around.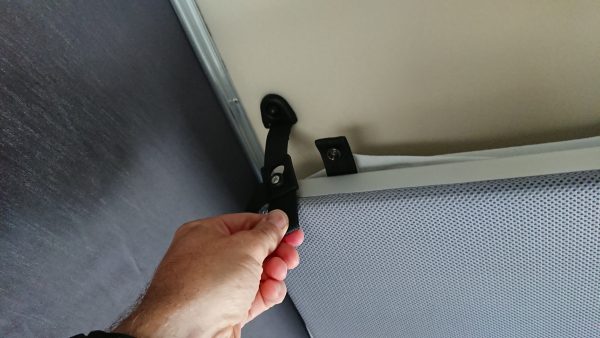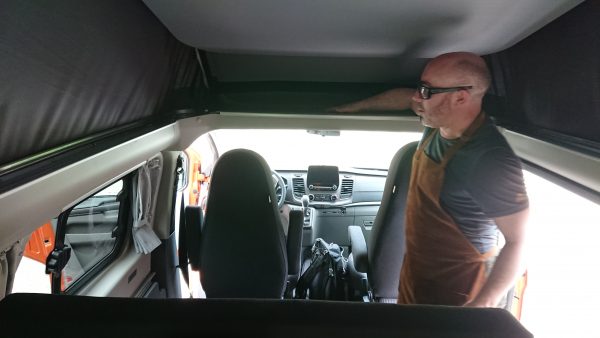 One of the things that's different to other camper vans is that all of the kitchen items, such as the hob, sink and fridge aren't down one side of the van. Instead it's all put in to the back as a separate kitchen galley (a bit like in a sailing yacht). There is also plenty of storage space in all of these cupboards, which leads you to being able to work out your own system of where different items should live.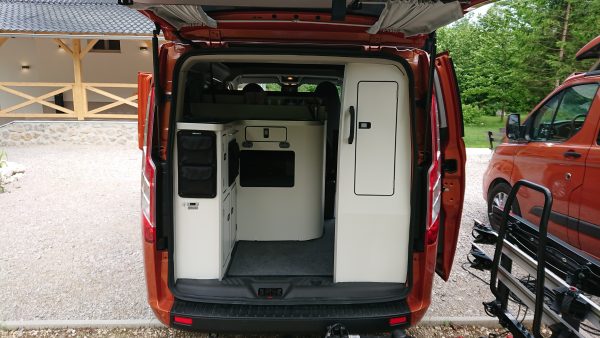 The middle of the van can turn into a seating area with a fold-out table and the front two seats can also spin around and face in, so you have a cosy area to relax and socialise in. It doesn't stop there as the rear passenger seats can also fold down to create a second sleeping area, meaning you can easily fit two adults and three children in this or two adults 'upstairs' and two adults 'downstairs'.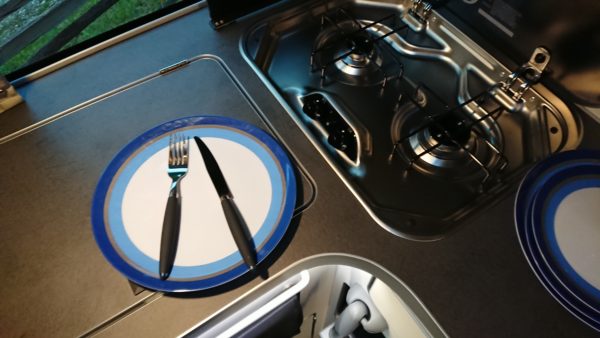 The kitchen area really is superb and for me is a key selling point for the Nugget. There's a deep fridge to your left, then the double burner stove, then a work area next to the sink and a drawer right in front of you for cutlery. Behind all this is a rack that's divided into three and can store mugs, glasses and other kitchen items.
There's also a mains plug in the corner and a strip light over the kitchen area. The light switches are on the left as you come in the side door and they illuminate a long strip in the wardrobe too, which is a really nice design feature. The lights give a really cosy homely feel when its dark. And when you open the wardrobe door, you'll see there's a small ladder there. You take this ladder out and then connect it to two plastic clips so that you have a mini ladder up into the bedroom.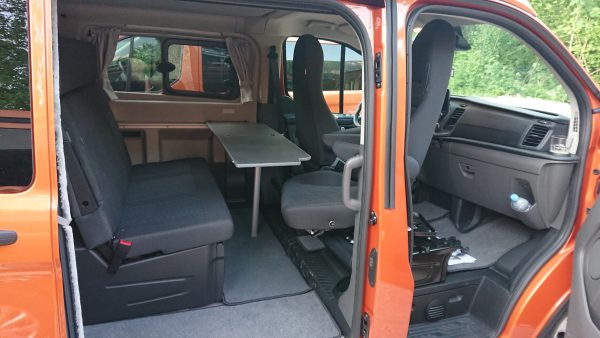 The Nugget I drove had some optional extras on it, such as the side awning and cycle carrier. The awning really does give you a nice bit of extra living space and makes it feel more camper van. The bike carrier swings out to one side so that you can still access the back kitchen.
My Nugget also had a hot water boiler so that you can turn the tap in the kitchen and get hot water from it. There's the LED lighting package which gives you two LED lights on flexible arms with different brightness settings so you can angle these up into the bedroom or down over the kitchen area.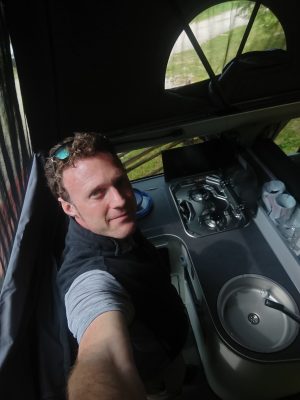 You can also buy removable carpet mats that are specially shaped to fit in the different areas and these mats added a homely feel inside. To stop the bugs getting in there is also a mosquito net door that slides across the side door (a fantastic idea). Finally you can also buy an outdoor camping table and this clips cleverly on to the inside of the rear door, helping with storage.
So that's a little bit of an introduction to the Nugget. I found that the more time I spent in it the more things I discovered.
Slovenia surprises…
I enjoyed the initial drive along from Ljubljana to Lake Bled and the Nugget is light on it's feet, with a soft, sprung ride. I was driving this pretty much empty save for a couple of bags, so I imagine it would cope just fine with a more weight onboard.
When you first see the beautiful green colour of the water of Lake Bled and the fairytale castle overlooking it, you won't believe your eyes…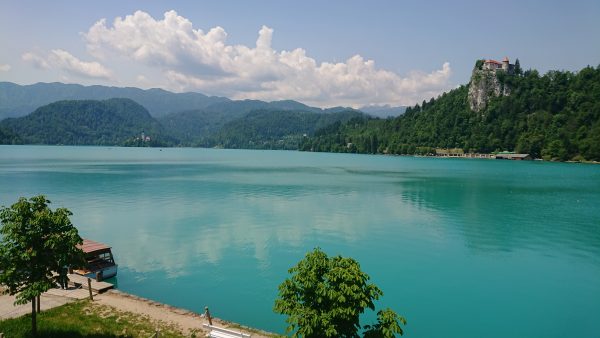 Slovenia surprised me the more I drove in to Triglav National Park. The '209' road took me through villages with a real alpine feeling to them, something I wasn't expecting at all. It also surprised me just how well Slovenia is set up for adventure sports; you'll pass signs offering trekking, paragliding, canyoning and kayaking in most villages as well as an immense number of pizza restaurants (never a bad thing).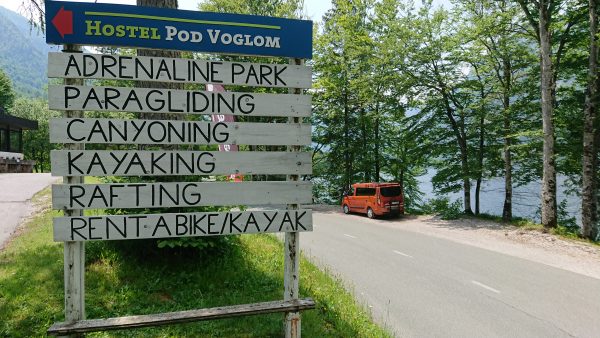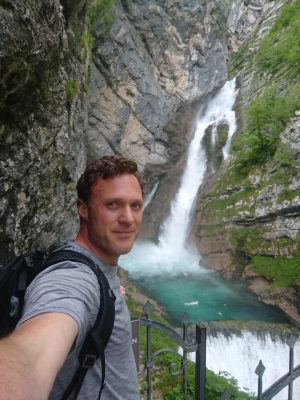 My first Nugget night stop was by Lake Bohinjsko, just on the Eastern edge of the national park. This tree-lined lake has places where you can camp in the woods and then take a kayak or canoe out on to the water. Further up, past Ukanc, the lake is fed by the powerful and beautiful Savica waterfall (called Slap Savica). There's a big parking place (free) at the bottom along with a large wooden chalet restaurant and outdoor seating. It's exactly the kind of place you would park up in your camper van and spend a night. I pay the €3 entry to hike 20 minutes up the beautiful stone steps carving their way through ancient woodland with exposed tree roots to see the waterfall and it was breathtaking. When I turn the corner, seeing the full sight of the falls for the first time blows me away, as does the spray of water on my face. It has a real energy to the place.
Campervan cooking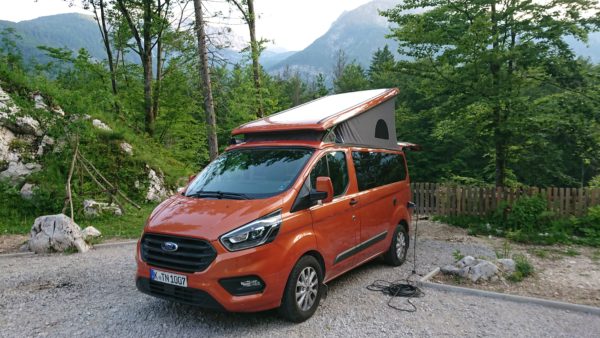 Back at the lake, the Nugget was all set up and I enjoy some time getting to know how it all unfolded and worked, even having a cheeky afternoon nap in the bed.
While I was eager to try out the Nugget's kitchen, tonight the evening meal was going to be cooked for us by mountain leader/chef Kieran Creevy (you can read our interview with him here soon). Kieran likes to show that you can cook really great tasting food even if you only have two burners in a camper van. He really encourages people to base their menus on what they can find locally and he'd seen a roadside seller with baskets full of cherries, so the starter was a cold sour cherry soup with créme fraîche and thyme flowers and chives. It was absolutely delicious.
"The menu we are serving you tonight is all possible to cook in your Nugget," says Kieran. "You really can go gourmet and there's an excellent fridge in your van that makes a big difference to keeping things fresh."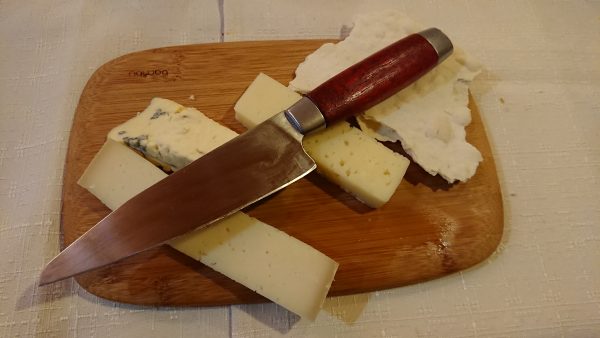 Next up was pan-fried duck with smoked-salt skin served with aligot made from mashed pumpkin and lots of cheese (aligot is usually made from mashed potatoes). For pudding it was a deconstructed apple crumble, again something that can be cooked on a hob instead of being put in an oven. "I had a real craving for apple crumble when I was on a trip in Scotland,"explains Kieran. "So this recipe is what I ended up cooking on a stove in a mountain bothy. It consists of apple slices poached in orange juice, oatmeal, sugar, butter and nuts, and some jaggery, that's scrapings of Indian sugar cane."
To Campsite Jelinc
My second day with the Nugget would see me driving 120km on mountain roads, so it was an early start in the sunshine to head for the Jelinc Campsite. I would be routing around the south of the national park and then inland to the campsite near the famous Soca river.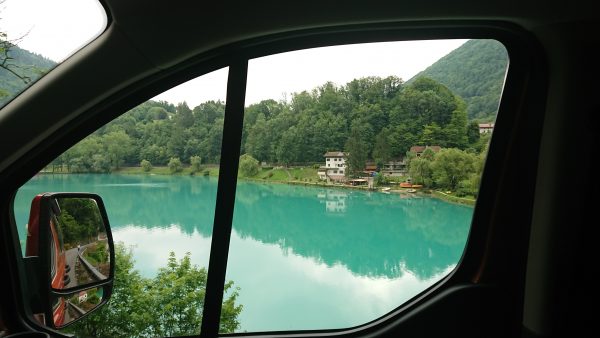 By mid-morning I was really starting to get a feel for how the Nugget handles, especially around the tight switchbacks up and down the mountains. You have such a great view of the road out the front and to the sides. You can also angle the rear view mirror nicely to even manage to get a fairly decent view out of the back of the van, which I wasn't expecting. The twin side mirrors also help you judge just how close you are from walls and kerbs and I found myself getting in a nice flow.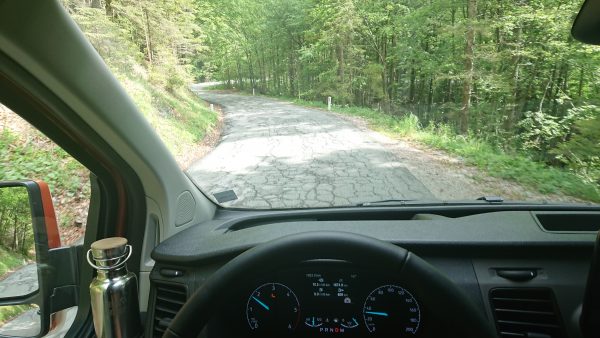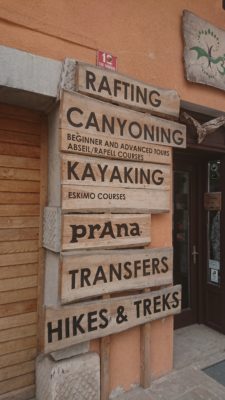 I also enjoyed using the cruise control, within easy reach of you left hand thumb and also found switching between settings and dash displays easy with my right thumb on the 'OK' button on the steering wheel. It was a warm day too and the air-conditioning worked quickly making it a really pleasant place to be on a long drive. In terms of fuel, the display was showing around 10.4 litres of fuel per 100km, so that's around 10km for every litre and around 45mpg – you can't complain at that.
One particularly cool town I stopped in for a coffee was called Kobarid. This had everything an adventurer needs from a cute yoga/climbing shop (Soca Trips) to outfits that can take you rafting and canyoning (X-point) or hire electric mountain bikes (Positive Sport).
From Kobarid it was on to Bovec and then on a fantastic road (the 206) up in to the mountains towards the campsite to round off the day. On the way I passed numerous parking spots where vans and trailers were parked up and kayakers and rafters were either unloading into the Soca river or being collected looking exhausted and exhilarated. My little Nugget caught a lot of attention as I drove past too…
Setting up camp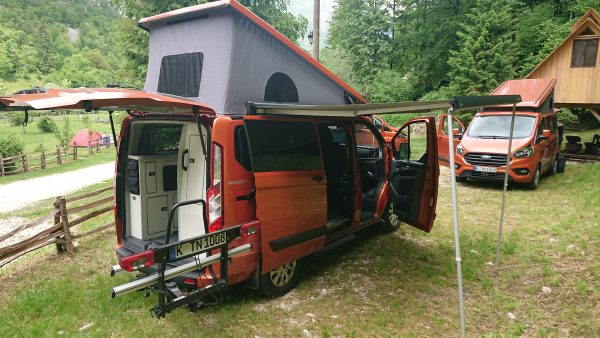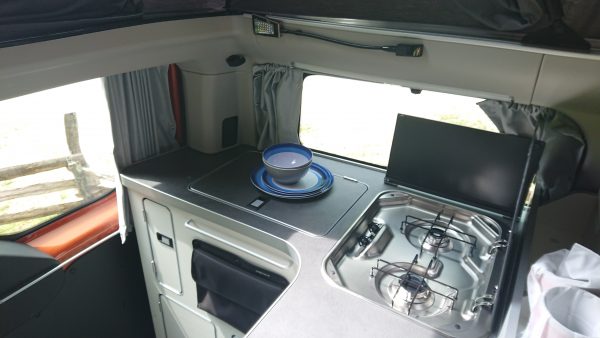 At Campsite Jelinc I enjoy a quick lunch of bread, eat and cheese before setting up the Nugget for the night ahead. I had a go at setting up the awning and playing with the control system for the cabin heating, water heating and the fridge. This control unit looks like a radio and lives up in the roof near the front seats and you can set times for the services to go ON/OFF automatically.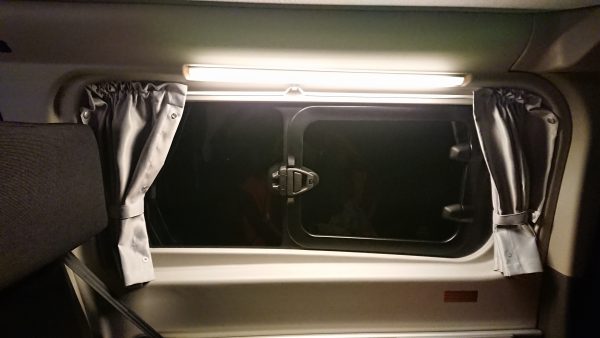 When night came, the Nugget really felt cosy. Little touches like the curtains that easily slide on rails, plus the mood lighting all help to make it very cosy inside; you forget that you're in a van. There's a mains plug socket in the corner near the fridge plus one in the central area, allowing you to charge devices, run a laptop or even have a TV. I made use of the mosquito door net and tried out the heater system to blast the inside with a bit of warmth before I went to sleep for the night. There are a couple of vents where the warm air comes out of to make sure the entire cabin gets coverage. I had an extremely good night's sleep in the upper bedroom. Enough room to twist and turn in and I stayed warm enough too.
Naps in the Nugget
The next morning it took no time at all to pack away the awning, camping table and reset the seats. I was soon on my way heading up the tight-twisting mountain road to Viewpoint Šupca and then over the Viršic pass itself. For me, this road was one of the highlights of a trip, but it was a shame I was discovering it right at the end. I had no spare time to explore as I had just a few hours to get to the airport for my flight. It's somewhere I'll certainly return to, especially the mountain town of Kranjska Gora. Here there are pizzerias galore and if I haven't persuaded you to buy a Nugget and come visit here yet, there's an alpine wellness hotel called Hotel Špik.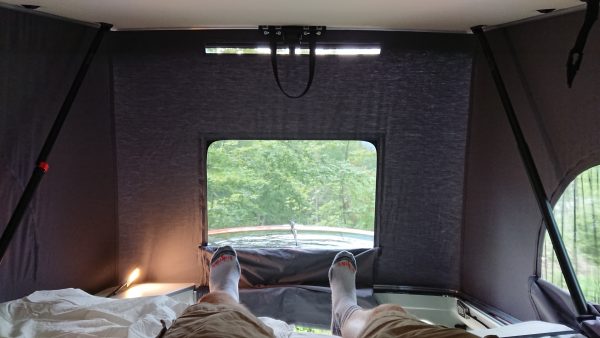 It's fair to say that after my two hour drive from the national park to the airport in Ljublana, I was sad to be handing the Nugget's car keys back. Three days was just enough to discover most of this camper van's features. It will be interesting to see how it's received later on this year, but I'm sure once this is in the showrooms and people can have a good look for themselves, they'll be very impressed by what's on offer. There really is everything you could need and want from a camper van, made all the more easy to get hold of by just being able to walk into the dealership and buy one.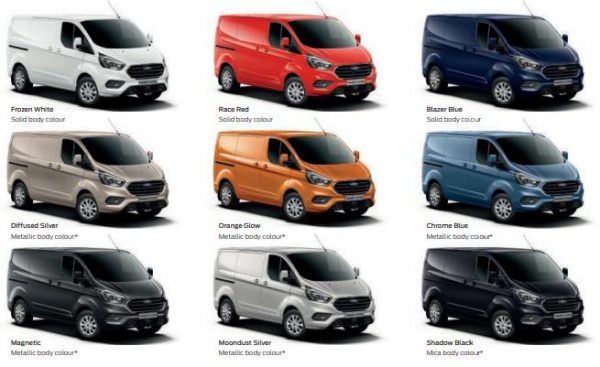 See more at www.ford.co.uk and you might also like our Ford Kuga review here.