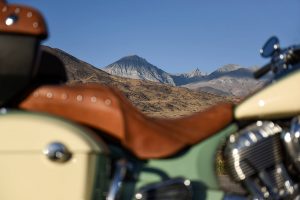 "It was a damned good fun weekend of racing," I read in an email from photographer Barry Hathaway.
He'd been to cover Indian Motorcycle returning to flat track racing at Santa Rosa in California. 
Little did I know that afterwards he'd also ridden himself and his camera equipment home on a willow green and ivory Indian Roadmaster. That's when he emailed these photos across.
"My route was from Santa Rosa to San Francisco on the 101 and then I made my way to Bishop via Yosemite National Park," he said."This bike says, 'Take the long route, the scenic route. Let's see what's out there'. Or, is that what I said? In any case, it was time well spent."