ON December 20th, while most of us are on the slow-down towards Christmas, 27-year-old Harry Hunt will be speeding up – as he heads off to South America to compete in the Dakar Rally.
At just 27-years-old he's one of youngest ever contenders in the Dakar Rally, but he has strong support in the form of the MINI ALL4 Racing team, who have been four-time consecutive winners of the race.
We caught up with him to find out more about his pre-training, the ALL 4 RACING MINI that he will be driving (pictured right) as well as the JCW Countryman that he drives in the UK.
The ALL 4 Racing MINI you're going to race in the Dakar looks awesome Harry. When did you first drive it and what did you think to it?
"I first drove the ALL 4 Racing MINI Countryman in October 2014 in Portugal. I only drove it for 20km or so, but instantly knew it was a serious piece of kit. Obviously it's a lot bigger than the road going Countryman so I expected it to be more cumbersome however I instantly thought it was very agile for its size and also very fast. The torque you get from the twin turbo diesel engine is amazing."
Talk me through what it's like to drive. Handling? The noise? The suspension?
"It handles very well considering the weight and size of the car, the one thing I noticed is that there is not a huge amount of pitch under braking or accelerating, this is partly down to the suspension and dampers fitted to the car. There are twin Reiger dampers on each corner, which make it extremely well, prepared for all the obstacles that will come up on Dakar 2016. As it is a diesel the MINI doesn't sound extremely menacing; I almost prefer this though as we have such large amounts of time in the car it makes it a little easier."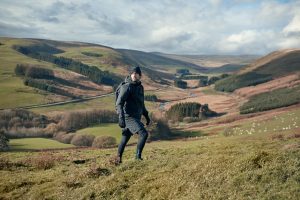 Do you take part in any other adventure sports?
"I love all forms of motor sport; away from rallying I like to get out on motocross bikes and quad bikes. I'm also a keen skydiver and wake boarder but I do these less frequently especially in the winter, as it's just too cold. This year I took part in the Abu Dhabi Desert Challenge so I was able to do some skydiving and wake-boarding whilst I was over there."
How have you been preparing for the race?
"There is only so much driving you can do as the best prep is to take part in the off-road rallies which I have been doing. The cars left for Argentina in mid-November so since then I've put more focus on physical training. In the coming Dakar we are expecting temperatures around 40 degrees and we will be going up to around 4,000 metres in altitude, so to help me be the best prepared possible I have been doing heat and altitude training at St Mary's University in Twickenham. They have a heat chamber where they can raise the temperature to 40 degrees and the altitude to 3500 metres. I cycle for an hour or so to simulate the types of physical excursion I will come across in Dakar."
Tell me the story behind your motivation to race in the Dakar? I've read you have wanted to do it since you were a child. 
"For me Dakar is the pinnacle of Rallying Motor Sport – to compete in Dakar you have to show endurance, speed and a certain drive to get to the end. This is why I have always wanted to compete in Dakar, it is a huge test. To compete in a MINI and to represent the UK in Dakar is massive honour and I couldn't of asked for a better team. MINI have won Dakar on their last four outings, hopefully it will be five."
Follow Harry Hunt's road to Dakar @harryhuntdakar and @MINIUK
More here at www.mini.co.uk