It's fair to say if you're heading off on holiday this summer, it's highly likely you might hire something like a Kia Picanto from the airport to get around in.
Us adventurers often like to keep costs down, so while the lure of a 4×4 or SUV might be more appealing, something small and nippy like a Picanto, is often the best choice to avoid spending a fortune.
The same can be said in normal day-to-day life where the running costs of a small car are really attractive because that means more to spend out on adventuring, right?
So while we at Adventure 52 often take out the latest and greatest adventure cars out to review, we thought we'd bring you a review on a car that's more likely to be on your drive or parked in that tiny bay you get allocated with your city apartment.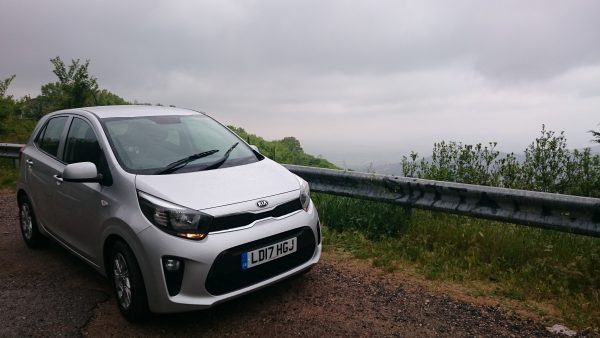 The clever thing with this new Picanto (the third generation) is that its physically the same size as the outgoing model, it's just been re-optimised inside to give much more space. It also only comes as a five-door car, because Kia says the three-door models account for only 10 per cent of sales in the city-car sector.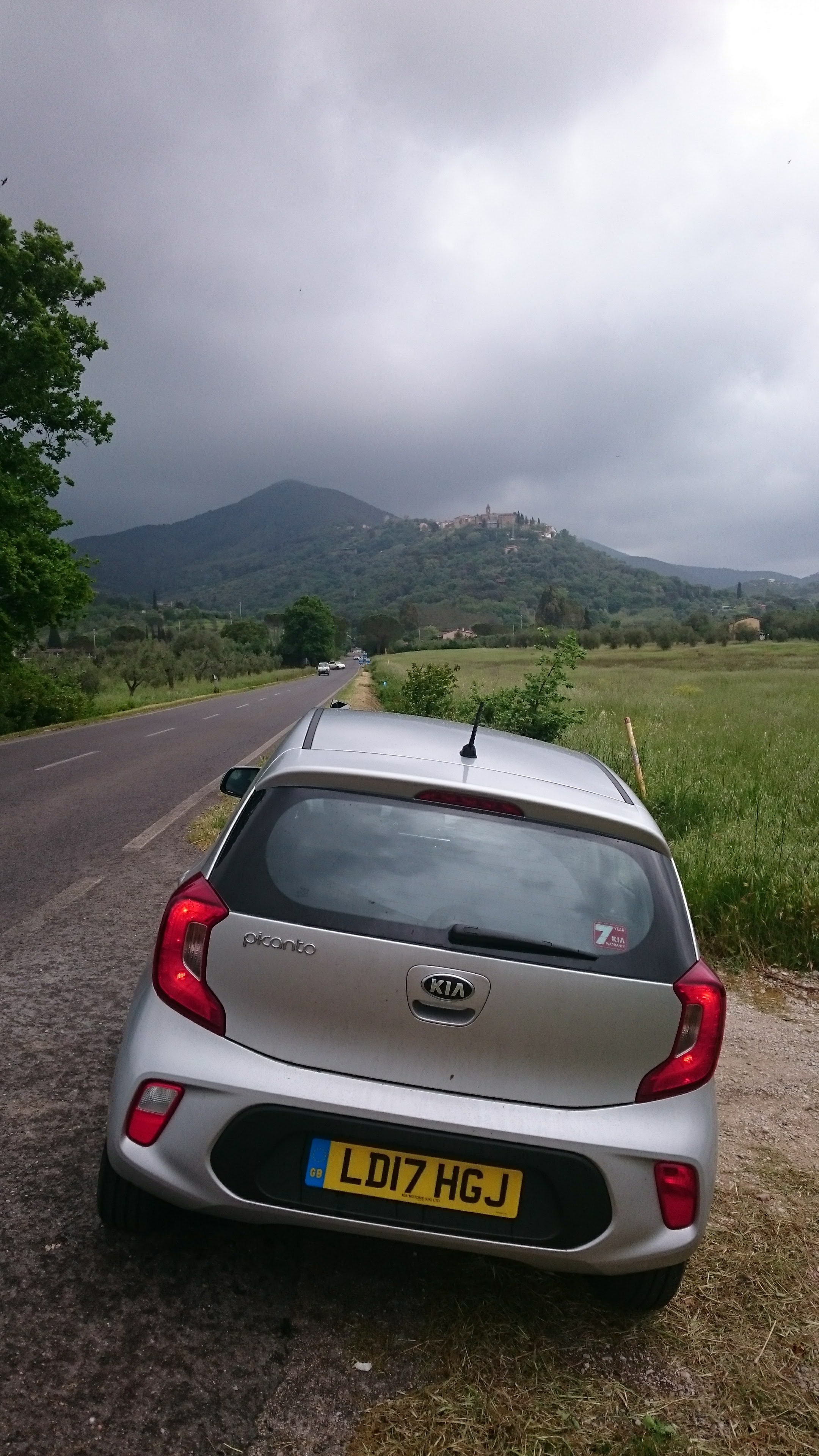 It's an interesting part of the car market because while someone might want a small car they still want a nice, comfortable place to sit in as well as all of the latest technology like Bluetooth to make calls and listen to your own music. Thankfully we can do this, even in the base trim. There are actually five trim levels; 1, 2 and 3. It then jumps to GT-Line and then GT-Line S instead of being called 4 and 5.
When I say the base trim level has all the latest technology, I really mean it. It's unusual for the lowest trim offering of any car to come with electric front windows, remote locking, tinted windows, a radio with AUX and USB ports, a tilt-adjustable steering column, automatic headlight control, Electronic Stability Control (ESC), Vehicle Stability Management (VSM), Hill-start Assist Control (HAC), 60:40 split folding rear seats and six airbags.
I had chance to drive three versions of the Picanto over two days – trim level 2, the GT-Line and the GT-Line S – but more of that shortly.
A TUSCAN TOUR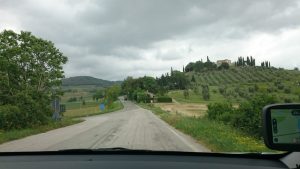 When I had the call about the launch of this car from Kia, I'd expected it to be in a city. City car, city launch right?
"It's in Tuscany Dan," they said. My eyebrows raise. "There are some beautiful driving routes and views. We'd like you to explore and see what you find. There's loads more interior space compared to the previous model and we think you'd be able to get all your adventure kit in the back."
Tuscany is a part of Italy I have always wanted to visit, albeit on a motorcycle and maybe with a loved one; it's a romantic place to go. Turns out that Tuscany is absolutely stunning even with grey clouds looming and the rain coming down, as I discover when I arrive mid-April.
The entire region is well set up for those with an adventurous streak and on my drive I passed numerous signs for camping sites and hot showers along the coastline. There are places to hire canoes, mountain bikes and stand up paddleboards. It also has some incredible cycling routes over steep mountain roads that snake up to beautiful red-bricked villages where you can just see the rooftops and the church tower as you sweat and cycle your way upwards. And the descents! Well, they were fun in the Picanto and they'd be even more amazing on a bike or a motorcycle.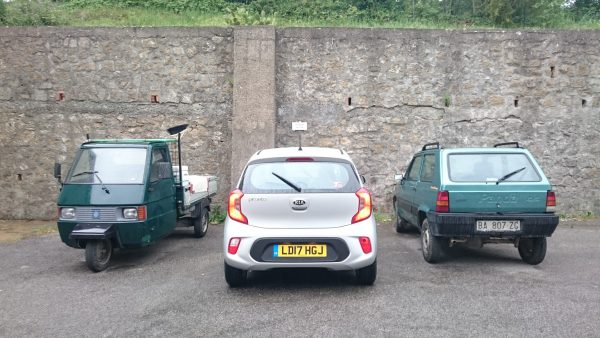 I began my drive from Grosetto Air Base, a military airport that Kia had special permission to land us at, but usually you'd fly in to either Rome or Pisa and then make a two hour long drive to get to the Tuscan region. Siena is not far away either. This is the beautiful city that features in the opening sequence of Quantum of Solace. The thought did cross my mind to nip up to Siena to put the Picanto to the test on its narrow city streets; that's what a city car needs to cope with. But actually the more I drove the Picanto the more credit I gave to Kia because the driving route they chose showed the Picanto can also turn its hand to longer journeys. It's fairly obvious to me that this tiny little car is going to be great in a city – and that's why most people will buy one – but this little beauty can actually get you (and your kit) out on a weekend escape. Call it Grand Touring if you like and those GT-Line and GT-Line S versions could certainly get your around in style.
I spent the most of my first day driving a Picanto with trim level 2. This can come as a 1.0-litre with a 5-speed gearbox or you can get a 1.25-litre engine with a 4-speed gearbox.  The 1.0-litre gives you 66bhp with the 1.25-litre engine adding 17bhp to make it 83bhp. It feels sprightly, nippy and fun.
There are actually nine versions of the Picanto on offer, based on two engine choices, two transmissions and five trim lines. Later this year the most powerful engine ever offered in a Picanto – a 99bhp 1.0-litre T-GDi turbocharged unit – will become available and that will be a little gem of a car for sure.
It's fair to say the base level Picanto is absolutely sound. Kia's strapline is 'The power to surprise' and on those winding Tuscan roads with tight switchback corners, the handling certainly did surprise me. Turns out the Picanto now has Torque Vectoring, a first for Kia in one of its city-cars. The anti-lock brake and stability control sensors detect if the car is drifting. If the front wheels of the Picanto are running wide, the system gently brakes the inside rear wheel. If the rear tyres are starting to slide outwards it puts some brake on the outer rear wheel. This torque vectoring is standard on all models.
Over five hours of driving the Picanto and I bonded as we rolled along twisting mountains roads in the rain. By the time I arrived at the hotel for the night, I felt pretty reassured that a Picanto could genuinely get you and your adventure kit to beautiful places.
ARRIVAL AT L'ANDANA HOTEL
As far as hotels go, L'Andana is as high end and luxury as you can get. Just arriving at the gateway of the cyprus tree-lined driveway is a magical moment.
If you're the kind of person that pushes themselves day in and day out then L'Andana's sanctuary and spa is the most ideal place to relax, recharge and sooth a tired body – and a tired mind.
I can only dream of what it must be like in hot Tuscan sunshine in a few month's time. This is where adventurers go when they're exhausted from roughing it on expeditions. Or at least, this is where you'd dream of taking yourself to rest and recuperate.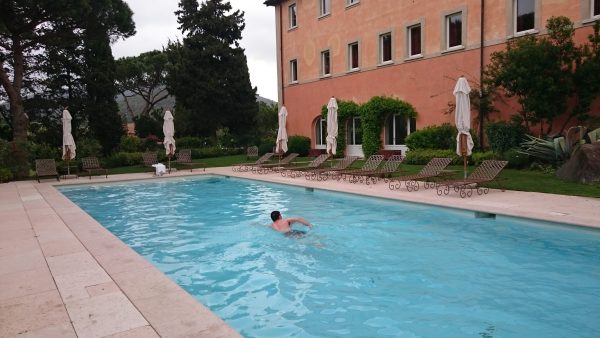 If you find that after a few days here laying next to and swimming in the pools you're getting restless then the hotel has a fleet of mountain bikes outside. You don't need to sign one out, there's no key or form to fill in, just simply jump on one and go. I took myself up and around the vineyards early one morning and there is plenty more to see and visit, like the coast, where you can go stand up paddleboarding or explore in a kayak.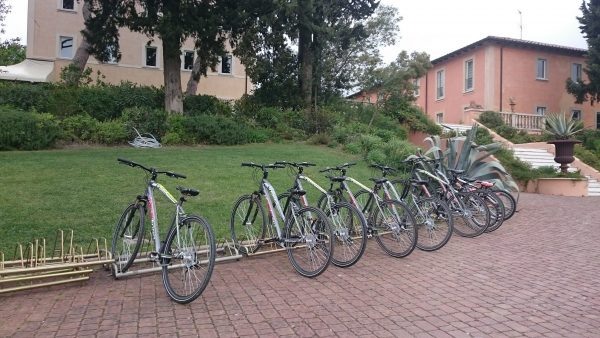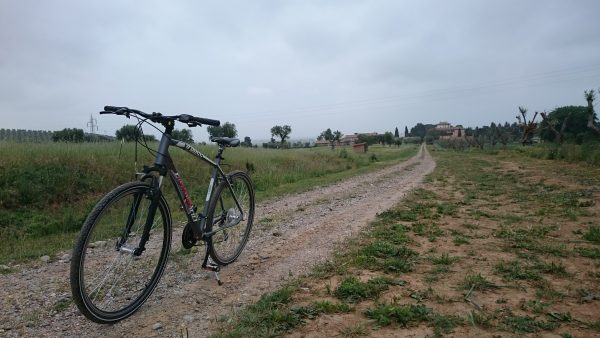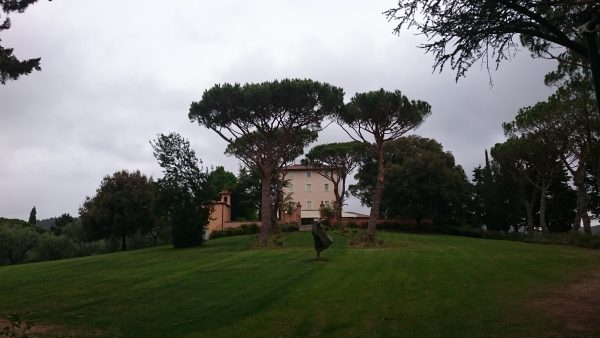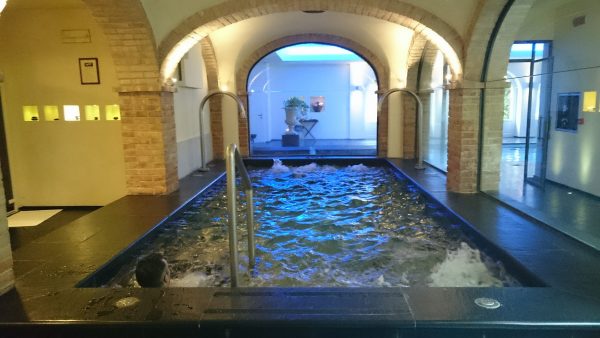 If you're a foodie, then you won't be disappointed as a short walk from the hotel is La Trattoria Enrico Bartolini which has a Michelin Star. For my dinner I went for black squid with pea and mint emulsion to start, followed by charcoal beef fillet with fondant potatoes, San Miniato black truffle & thyme sauce for the main. For dessert, I went for Cantuccio biscuits, vinsanto cream and almond bigne. It was an exquisite meal.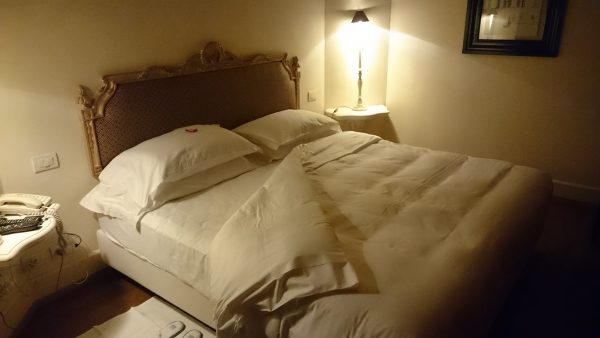 DRIVING THE GT-LINE VERSIONS
After a long sleep in a huge bed and room at L'Andana, I pulled open the curtains to see grey skies again. Today I'd be driving the GT-Line and GT-Line S versions of the Picanto. First up was the Picanto GT-Line (in white). The idea is that this is a sporty looking city car that won't hit you hard on the insurance premium or fuel costs. Compare this to the Picanto 2 I drove the day before and the GT-Line has chunkier front and rear bumpers, additions of red body parts, 16-inch alloys and twin exhaust pipes.
Inside it's sporty too with black and red leather, stainless steel pedals and silver chrome details. In terms of how it drives, it feels very similar to the Picanto from the day before. I drove on some pretty bumpy Italian roads and while this light car's suspension and wheelbase mean it can get thrown around, the torque vectoring really does its job well.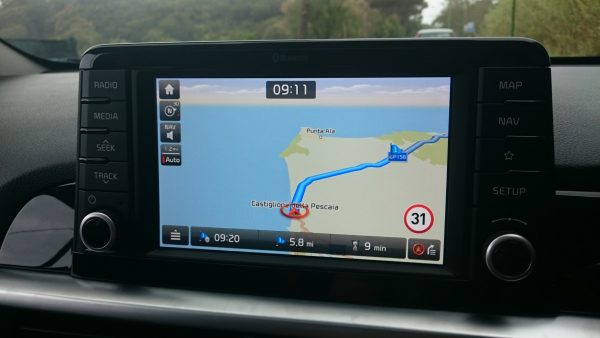 The GT Line S model is almost identical in terms of looks to the GT-Line Picanto, but it comes with a wireless phone charger, an electric sunroof, heated front seats and steering wheel, push button engine start, rear parking sensors and camera, DAB and a lovely 7-inch central display unit – perfect for navigating your way around (see above).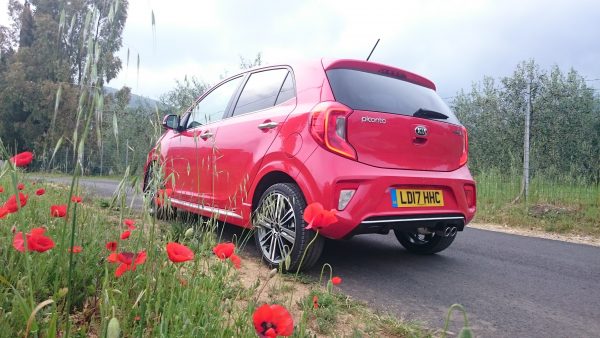 If you're looking for an affordable small car, we say the Picanto is definitely worth considering – it's a city car that can easily venture out on longer journeys and has enough room for your adventure essentials too.