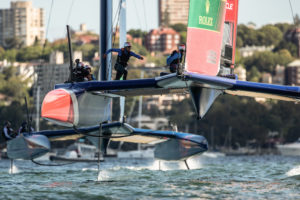 You've probably heard of MotoGP, the motorcycle racing series, but you might not have heard of SailGP.
It's a completely new sailing race championship featuring six national teams with races in five races. So far two races have taken place, one in Sydney back in February and in one in San Francisco back in May. The next race takes place in New York on 21st to 22nd June and then there's a race in the UK at Isle of Wight on 10-11 August followed by the season finale in Marseilles in 20-21-22 September.
FAST F50 FLYING
The six nations battle it out on identical F50 catamaran race boats so that it becomes a real test of sailing skill, not down a reliance on a special boat technology.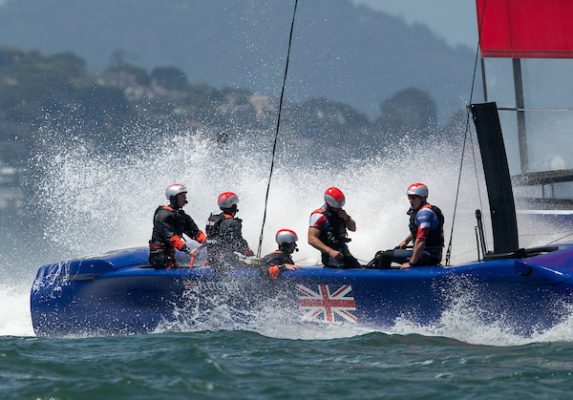 It takes fives people to sail one of these bad boys, consisting of a helmsman, a wing-trimmer, a flight controller and two grinders. What's great about the championship is that it's attracting some of the biggest and best names in sailing from Australia, China, France, Great Britain, Japan and the USA. Going forward there are plans to add one additional nation and location each year. Here's a little glimpse at what it's like to be onboard with the Great Britain SailGP Team below…
While the boats are identical the plan is for any new design tweaks to be made on each boat at the same time, with any improvement rolled out equally across the fleet. Each team has access to everyone else's data too, so that the really proactive teams can not only analyse how well they're sailing, but also see what the other teams are doing and then adapt their strategy.
All teams start off by racing against each other in whats called a fleet race and points are awarded according to finishing positions. The two highest scoring teams then battle it out in what's called a match race to be crowned the winner. For the final race in Marseilles, there will be a third day of racing to decide to the overall winner of the series and the one million dollar prize money.
EXCITING TO WATCH
The focus however, is definitely on what the spectators can see. Each race is held close to shore so that the maximum number of people can come and watch. Some of the races even have on-water viewing areas so you can sail out in your own boat and watch the race on the water.
Spectators can see large TV screens that show on-board camera views and overhead drone footage. Fans can also hear what's happening on the F50s giving them the sensation of what it's like to be on board. The series is also being televised to 91 territories and you can watch on BT Sport or through a Sail GP app.
Data during the race from all of the F50s is actually transmitted in real time to an on-shore analyst who can then feed back important observations to their team at specific times, so that they can go in to the next race better informed or how to improve a turn around a particular mark.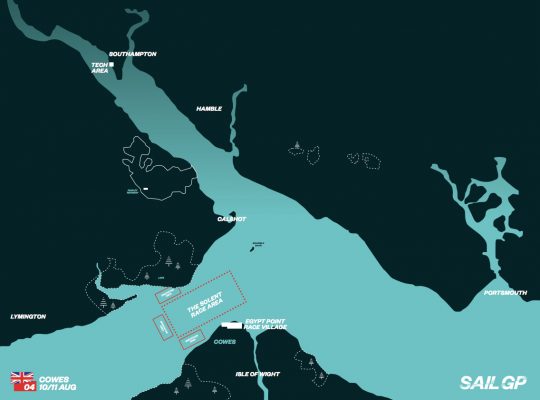 WATCH DURING COWES WEEK
Us Brits can actually go and watch the race for real in Cowes this August. Tickets are now on sale for Cowes SailGP, set for the 10-11 August to coincide with the opening weekend of Cowes Week.
SailGP will take place off Egypt Point and fans have two ticketed options to get a ring-side seat to the action. There a choice between the Cowes SailGP Grandstand or the Cowes SailGP Premier Charter that'll give spectators the ultimate on-water experience, placing fans in the heart of the action.

"We can't wait to show the home crowd SailGP," said Great Britain SailGP Team CEO Chris Draper. "Tom [Slingsby] spoke about how amazing it was sailing in front of a home crowd in Sydney and how it made all the difference to their winning performance. We want to get an even bigger crowd supporting us on and off the water to help fuel a home win and show the Aussies how the British public get behind sports events."
TICKETS ON SALE NOW FOR COWES
The Grandstand will have prime views over the finish gate and offers:
Reserved seat for the whole day
Premium front-row viewing
Live race broadcast on big screen
A seat amongst the live commentators, broadcasting from the grandstand
Dedicated facilities and refreshment amenities
Access to official SailGP merchandise
Single Day Tickets: Adult £55 | Child (under 16) £35
Weekend Tickets: Adult £90 | Child (under 16) £60

Tickets available at SailGP.com/Cowes.

For the on-water experience there are two Official Charter Partners for Cowes SailGP – Solent Events and Marine Events . These tickets will give you:
Exclusive access to a dedicated on-water prime viewing area, closer than any other spectators
Bespoke, tailored itinerary for the day
Catering for individuals and groups up to 40
Tickets on sale through Marine Events and Solent Events.

If you want to watch from your own boat then there is a registration programme here and you will receive important race management information, including detailed schedules, spectator zones, access restrictions, the latest race maps and a commemorative Cowes SailGP boat flag.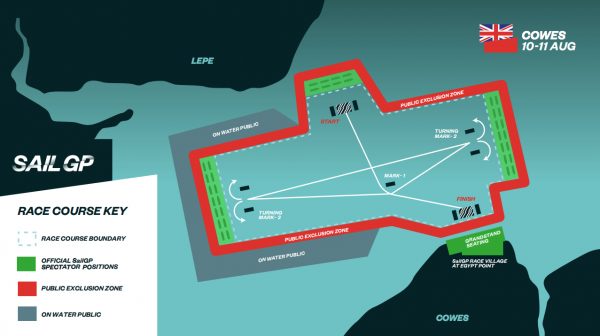 There are also Cruise Premier tickets on sale where you can get a seat on board a Red Funnel ferry boat and enjoy food and drink while you watch along with other great benefits. See more here.
Or if you simply want to soak up the atmosphere from the Cowes SailGP Race Village then this is free to the public, is situated along the seafront between Cowes Green and Egypt Point. Fans will be able to follow the action on the big screens with live commentary, a variety of exhibits, refreshments and merchandise concessions.

For further details, visit SailGP.com/Cowes.