IF you've never heard of Snokart, they're pioneers in ski and snowboard luggage.
The brand has just announced some two new pieces of kit – bang on time for the ski season.
First up is Black Kargo bag (above) which has a massive 90 litres of clothing space and a hideaway base with a zip. This beauty has urethane wheels which are protected in plastic bodies so you can wheel it over all kinds of surfaces. Best of all it splits in to two parts.
Second is the Kabin boot bag (below) that fits in an airline overhead cabin and has wheels. Instead of storing your boots upright and next to each other, your boots to sit nose-to-tail. This allows more space in your bag for extra items. There's even a pocket for a laptop (third image along). No more swinging the boot bag over your shoulder either – just pull out the telescopic handle and roll the bag behind you. There is also hidden shoulder straps that let you wear the boot bag as a backpack (middle image).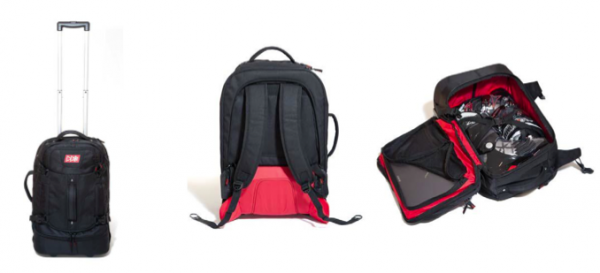 Buy from
www.snokart.com