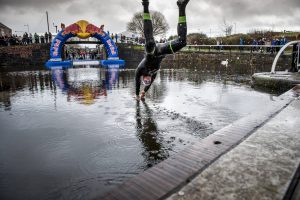 Entries are now open for Red Bull Neptune Steps in Glasgow on Saturday 10th March 2018.
There are 600 spaces to swim uphill and climb cargo nets in the Forth & Clyde canal.
Last year entries were limited to 300, so this year the event opens up to more than double last year's intake.
Red Bull Neptune Steps challenges competitors in a true test as you have to swim through 420 metres of cold water and climb up 18 metres over seven canal lock gates – try doing that with frozen muscles.
The event takes place on Saturday March 10th 2018 at Maryhill Locks in Glasgow.
Entries are now open at redbull.co.uk/neptunesteps