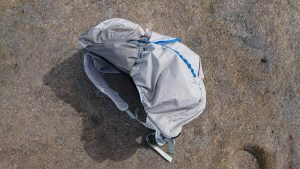 We all know that less weight on our backs makes for a less tiring hike, right? Osprey knows this too, so has put an enormous about of effort in to creating ultralight packs, like the Levity 60.
If you've not been in an outdoor shop recently and felt the weight of an ultralight rucsac before, then go in and pick up a Levity 60 then pick up a 'normal' 60 litre rucsac; you'll be amazed at just how much lighter it is. The size M review rucsac I was sent weighs in at just 0.83 of a kilogram (that's 830 grams). Of course, having a lightweight pack like this only makes sense if you're then going to put lightweight kit inside it – and here's how the obsession with the weight can begin. However, the hikers who go down this route find that they can hike for longer, feel less fatigued, so the time and energy they spend in getting a pack as light as possible pays off.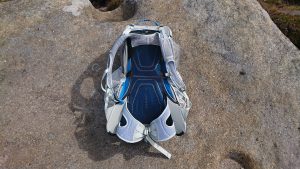 After a day of wearing the Levity 60 on a 15-mile hike in the Peak District, I get the idea, but there are a few things about the Levity 60 you need to know before you spend out £240.
Let's start with the good things. It's so very comfortable to wear, I mean, incredibly comfortable. Where traditional rucsacs can create pressure points on the straps or the hip, the Levity 60 didn't do anything like this. The frame felt amazing against my back, it keeps a gap of around two to three inches away from you, so I have absolutely no issues with the comfort and the ventilation. Osprey says it's designed to carry around 13kg of kit so enough for at least a night out on the hills.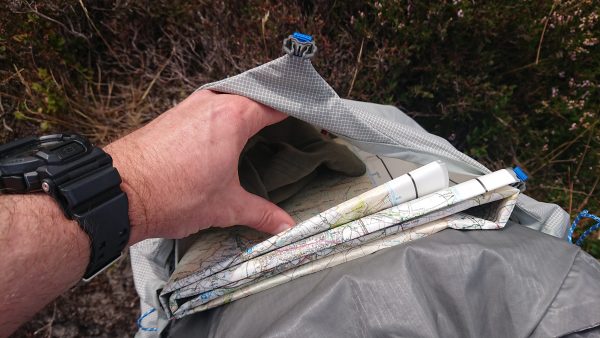 The slight turn off for me with this pack is the bagginess of the fabric, its shape and the pocket sizes. Of course, the lovely light weight is because thinner fabrics are used. I'm all for light fabrics, but I wasn't so keen on the size of the main pack versus the size of the two side pockets and the overall shape of it. The two side pockets are very large, so can actually carry a lot in them, but they're also exposed to the elements, so anything you do put in these has to be the kit you don't want to get wet – and that's the problem here, most of the kit you carry needs to keep dry. The pockets have water drain holes in the bottom, so you'd use them for water bottles, spare gas, tent, but things like clothes, gloves, hat, bits and bobs would have to be kept in dry sacs. Here's another issue, there are side holes in each of these pockets, with the idea so that you can reach behind and slip a hand inside to pull things out without having to take the pack off.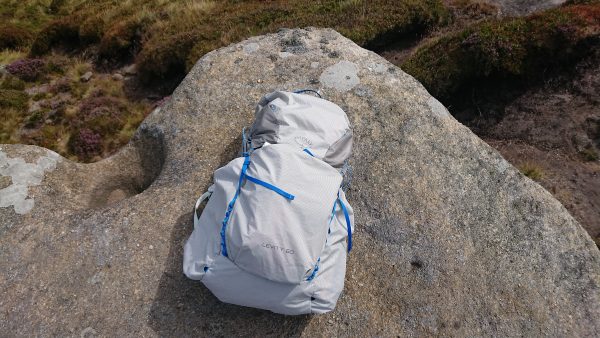 The problem is that these 'holes' is there's a fear that you might lose kit out of them and while some stretchy fabric around them goes someway to mitigate this happening, I just didn't feel confident having important items in these pockets, either while moving over terrain or when swinging the pack on and off for breaks. I spoke to Osprey about this and the brand's Product Line Manager came back with some reassuring answers: "We suggest you use dry sacks for equipment outside and inside if you are planning to use it in wet conditions. We would also recommend this with any of our packs to ensure all equipment remains 100% dry (dry sacks, pack liner, rain cover). The side pockets are usually used for spare clothing, water bottles etc and quick grab items. In order to keep items closer fitting to the pack, it's possible to route outer compression straps across the pockets to compact them. Regarding the quick access holes, we thoroughly test all of our packs in the design process which is 24 months, so losing kit out of these hasn't been an issue. The pockets are made from super durable and lightweight pleated Nanofly – this allows the material to sit flat when not in use but also expand to create more volume. The reason for this material over our usual, heavier StretchMesh is that the main body fabric needs a durable material to sit over it that is still lightweight."
What all this means is that the rucsac can look quite saggy on your back, but this is the price to pay for a thinner and lighter fabric. Another thing about the pack's shape means that it doesn't stand up on it's base.
Lets talk more about the fabrics. In areas where high wear is expected – the base, the pockets and part of the lid – a NanoFly Ripstop is used which has a grid pattern for extra toughness and a water-repelling finish. The inner body of the pack is much thinner and made from siliconised nylon, a bit like what paragliders and tents are made with. It's so thin that you can actually see through it and while it's showerproof, again, I don't think I'd trust it in sustained rainfall, which then means you'd need a liner (as Osprey suggest). Inside the thin main area is a sleeve for a hydration bladder and on the outside is zig-zagging blue/white coloured compression string to hold everything in neat and tight. There's also a flap/pocket in between the two side pockets and I used this to pop snack bars and my waterproofs in. A further thing to point out are the very small buckles for the straps; again to save weight, but they are very fiddly. Sometimes I'd pay the price of some more weight just to have better practicality and ease of use.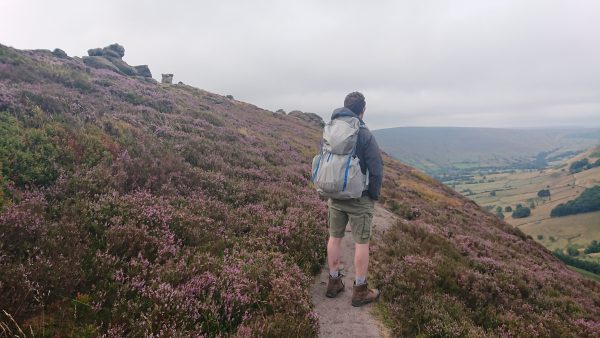 VERDICT
"The Levity 60 is a niche bit of kit for those who are determined to keep weight down. If you spend £240 to benefit from its weight saving then you need to make sure all of the other items you carry are similarly lightweight. Comfortwise, it's absolutely spot on, but it's not a rugged pack, so if you're hard on your kit, this may not last as long as a traditional rucsac (Osprey does give a lifetime warranty). All said, the Levity 60 will let you spend a night out on the hills and with it weighing just 0.83kg, it's really impressive. Overall it was very comfortable to wear, incredibly light and I imagine hardcore hikers who like to shave off as many grams as possible will love it. Osprey replies: "Hit the nail on the head, this is who it's made for. Those who want a feature rich pack with stretch mesh and rain cover should choose the Atmos or Exos, then those who want the ultralight weight saving should choose the Levity or the Lumina, the female fit version being launched for Spring 19."