The tagline for Nissan's updated X-Trail car is "built to build families" and we couldn't agree more. 
This 4×4 is styled for adventure and very much loved by families in the UK – and around the world. In fact, in the UK alone, 19,000 X-Trails were sold last year and it's actually the best selling SUV in the World (yes, even beating the Honda CR-V) with 766,000 sold to date.
It first went on sale in 2001, some 16 years ago. Back then it had a more boxy and rugged look, a style that some X-Trail fans wish was still around. The good news is, the second hand market is great for these and you can pick up an adventurey bargain for around a grand, no problem.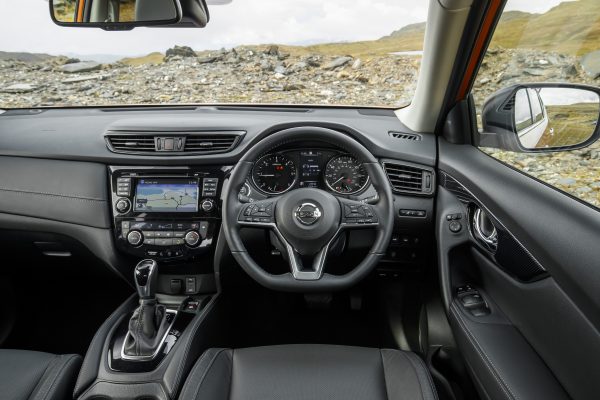 In 2014, the X-Trail was re-styled to be more in keeping with the trend for these size of SUVs, and came out with a much smoother body shape, more in keeping with the Nissan Qashqai. Many if not all the car manufacturers seem to have a design theme running between their models these days, but I personally don't think they don't need to do this. I'd prefer to see them designing cars that have individual character – the badge on the front and back is enough to identify which brand the car is from.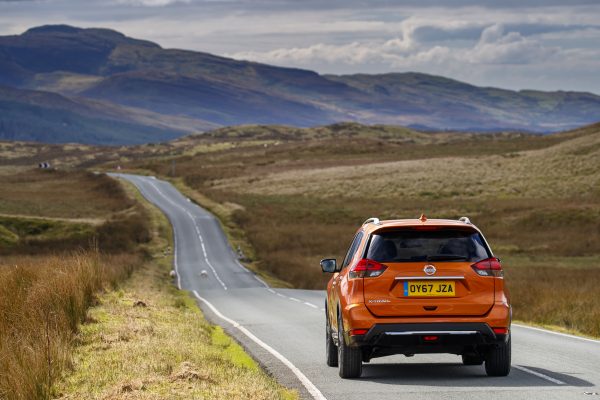 Now in 2017, Nissan has made further tweaks to keep the X-Trail competitive against a rush of new introductions from other manufacturers (like the Discovery Sport, Skoda Kodiak and Hyundai Santa Fe for example, all cars in this mid-size SUV class).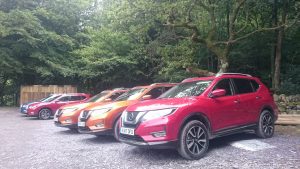 Adventure 52 drove two specs of the updated X-Trail. The first half of the day was in a 2.0-litre 175hp four-wheel-drive X-Trail Tekna (Palatial Ruby) and the second half in a 1.6-litre 128hp two-wheel-drive X-Trail N Connecta (Palatial Ruby). We also had an off-road session at Motor Safari, but more of that soon.
A highlight of the day was a trip to ZipWorld Fforest near Betws-y-Coed, where we got to try out the newly-opened Fforest Coaster ride, the first of its kind in the UK, showing how the X-Trail can get you out and about for the kind of day trip that families would make in this car,
THE X-TRAIL TEKNA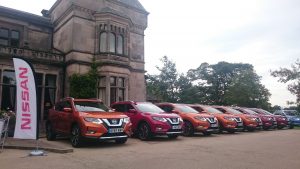 Our day began from the Rookery Hall hotel near Crewe and kicked off with a 50 mile drive to the Motor Safari off-road centre. Nissan UK's mid-size category manager, Grant, said Nissan had focused on three areas with this new X-Trail, namely:
1) Adventure with crossover design
2) Family practicality and roominess
3) In control technology and innovation.
You'll see all of these elements if you go on a test drive.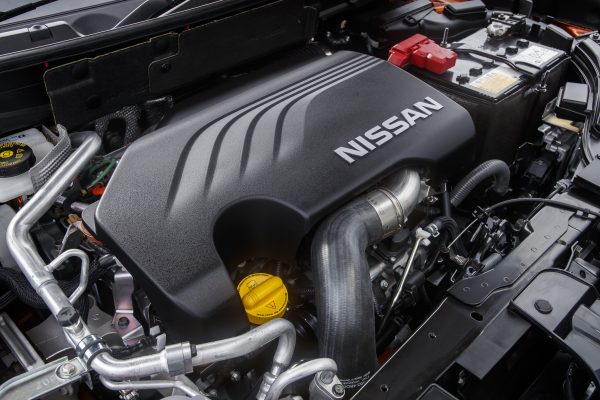 There are three engines to choose from. I recommend one of the two diesels because these are the ones that come with the four-wheel-drive (the 1.6-litre petrol version isn't available with four-wheel drive). The 128bhp diesel 1.6-litre is the most economical out of the three, returning 57.6mpg (with 17-inch alloys) in two-wheel-drive form or 53.3mpg with four-wheel drive. Moving up to the more powerful 175bhp 2.0-litre diesel gives 50.4mpg (manual, 17-inch wheels), with the automatic model capable of 47.1mpg. I saw a return of 37.1mpg on the display for my day of driving which is impressive for this size of car. The 1.6-litre petrol engine produces 161bhp and gives 45.6mpg, again which impressive. That petrol version is a good choice if you're only going to do short journeys and your annual mileage is under 15,000 miles.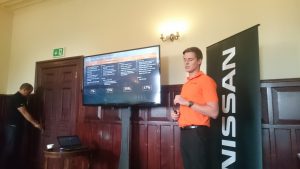 X-Trail comes in four trim levels (Visia, Acenta, N-Connecta and Tekna) with Grant (pictured right) saying that around 47% go for the top-of-the-range Tekna which is a high proportion. Even the entry-level Visia versions are well equipped though, with LED running lights, cruise control, 17-inch alloy wheels, a five-inch infotainment touchscreen, electric windows and Bluetooth. Upgrading to Acenta costs another £2,000, but gives you extra speakers for the stereo, tinted rear windows, automatic lights and wipers, a panoramic sunroof, dual-zone climate control and a leather steering wheel. The next trim is N-Connecta which costs a further £2,600 over Acenta and this adds keyless entry, autonomous emergency braking, a parking camera, a seven-inch infotainment system, 18-inch alloy wheels and a power-operated boot. Tekna tops the range and costs around £7,000 over Visia. For this you get heated and power-adjustable quilted leather seats, a Bose sound system, a clever self-parking feature, full LED adaptive headlights and a blind-spot monitoring system.
With all the technical bits spoken about, what's this car like to drive? Over the past couple of years I've driven quite a few models in this mid-size category, but at the price point, the X-Trail is the kind of car that I'd buy myself. On the road it drives beautifully, feeling smooth, quiet and fun, and off-road, I was really impressed. While it doesn't have a Low Gear or Hill Descent Control, the 4×4 system (which you can put in a 'Lock' position by twisting a dial to the right) coped fantastically well on the short off-road course.
The off-road course started off fairly straightforward on muddy trails and worked up to some wading through deep muddy ruts full of water to steep descents and climbs. With the 4×4 in LOCK mode; it was a real surprise at just how well it coped. Diesel buyers can have 4WD with any of the four trim grades (Visa, Acenta, n-tec or Tekna) but you have to pay £1,700 for it. In normal driving you can select just the front-wheels to save fuel. The automatic mode (AUTO on the dial) only sends drive to the rear wheels under hard acceleration or in slippery conditions. The 4×4 lock mode is the setting you choose for the worst weather and off-road situations.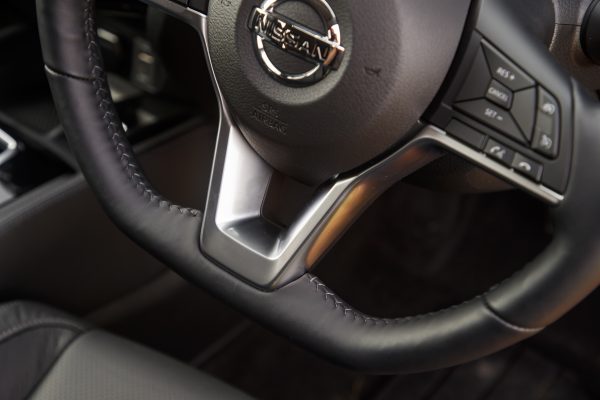 I can really picture this new X-Trail being used for a big expedition and I think Nissan really should think about putting together a team of adventurers and build some 'adventure' versions…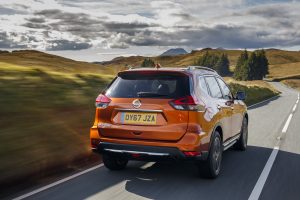 Back on the road, I weaved my way into Wales towards Betws Y-Coed, following the impressive sat-nav system called NissanConnect. During this time I had chance to play with the heated seats, the panoramic sunroof and the excellent Bose sound system. The touch screen lets you do all the navigation and entertainment but and it also has an 'Around View Monitor' camera system. There are cameras in the nose, tailgate and door mirrors to create a birds-eye view of the X-Trail – this is great when off-road driving or when trying to park in a busy street. Other technology includes 'Active Trace Control' which constantly monitors your speed and steering input, and adjusts your line through a corner if the car senses you're going to run wide.
FUN AT ZIPWORLD
As part of the launch, we drove to the kind of place that families might drive to for a family adventure, in this case Zipworld Fforest. Here you can have a go on the Zip Safari, Skyride, Treetop Nets, Tree Hoppers and the newly opened Fforest Coaster which is what we got to ride on. This is basically a sledge that attaches to a roller coaster network that passes through the trees. A pass gets you three go's and it is absolutely incredible. Kids can sit in front of you or ride alone if they are tall enough.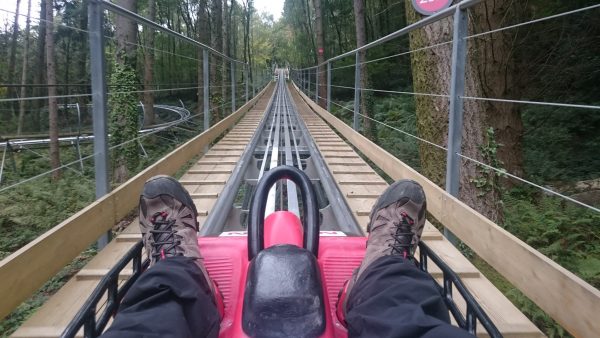 X-TRAIL ADVENTURES
We say the X-Trail is ideal as a family car or for a young couple looking to get away for weekend adventures. It has more space than any other SUV in the class and has the looks and handling. My only criticisms are the front looks too much like the Qashqai and I'm not keen on the chrome strips that are added on the bodywork. One thing to bear in mind is you'll see Nissan mentions this being a 7-seater on its website, but the X-Trail is actually a 5-seater as standard and the extra two seats are a £700 upgrade.
Take a test drive, take your family along, and I guarantee you'll come home wanting one.