It's two years since I drove a Jeep Renegade up to Yorkshire for the Rab Mountain Marathon.
In the time since, the Renegade has sold incredibly well, both in the UK and in the rest of Europe. But Jeep hasn't had a vehicle in the Compact SUV class and with pretty much every other brand having one, it needed to compete, so the result is the Jeep Compass.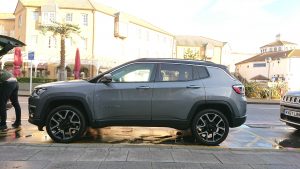 The themes of 'adventure' and 'exploration' are a big part of design of this new car and 'Compass' is a great name for a vehicle that's aimed at us adventurous types.
The Managing Director of Fiat Chrysler Automobiles UK, Andrew Tracey, said part of the reason he wanted to work for Jeep was because it is a strong brand with a community of owners who are "the most loyal, go-anywhere, do anything set of people you will find". If you've yet to discover the love for Jeep, then search the hashtag #jeeplife on social media and you'll see what he means.
A number of Jeep's top execs and designer attended the launch and before I go on to tell you a bit about the car, it's worth saying a few words about how the Jeep Compass was developed and the rationale behind its looks.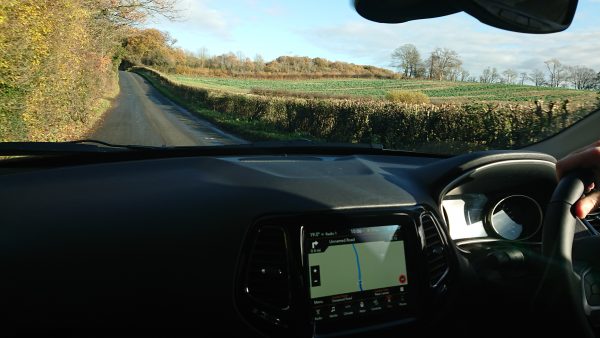 Jeep is so well known around the world, but it's only recently that this much-loved American brand has truly become globalised. Few other car makers can claim to have the growth that Jeep has had in recent years. "You can see why we're excited about Jeep Compass," added Andrew Tracey "It completes our line-up, offering a car that sits between the Renegade and the Grand Cherokee."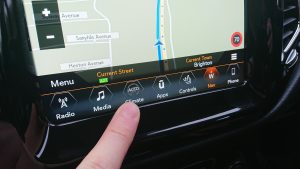 This of course means the pressure was on Jeep's designers to deliver the goods. Scott Krugga, Head of Jeep Design in the EMEA region, is an American working out of design office in Turin, Italy. Scott went on to explain that with Compass they wanted duality, so the playfulness of Wrangler with the seriousness of the Grand Cherokee. But trying to deliver a great on-road car that can also perform off-road is tricky. "Our team is diverse," he explains. "And to be a Jeep designer you have to have an real interest in the adventure lifestyle to understand the vehicles and how people use them."
Scott also showed some of Jeep's early 'theme exploration' sketches and it was good to see just how much the brand looks to the outdoors lifestyle for inspiration. So design cues that you associate with Jeep, such as the seven slots at the front and the trapezoidal-shaped wheel arches  and a big boot space are in the Compass. I can't help feel that Jeep has missed a trick with the styling though; I think they could have played more on the compass theme and introduced design features that relate to a compass or map reading or exploration. Instead, Scott said the car had aeronautical elements, 'Iron Man' inspired features and the headlights are styled like tiger eyes. I would have liked to have seen the rear tail lights representing the cardinal points of a compass for example, and more of the interior focused towards the idea of navigation/map layouts/contours.
Another change I think Jeep should look at is to actually put a name badge on the rear of the car on the bottom left. When you follow a Jeep you can't see what model it is because the name badges are put on the side doors. I think Jeep misses a trick here too, because people who are potential buyers see the cars on the road, but have no idea what model they're looking at when they are behind one. I think the issue is further confused because there is a badge that says '4×4' on the tail of the car and then the trim level badges (Sport, Longitude and Limited) are styled up to look like a brand name, so you end up thinking you're behind a Jeep Longitude for example.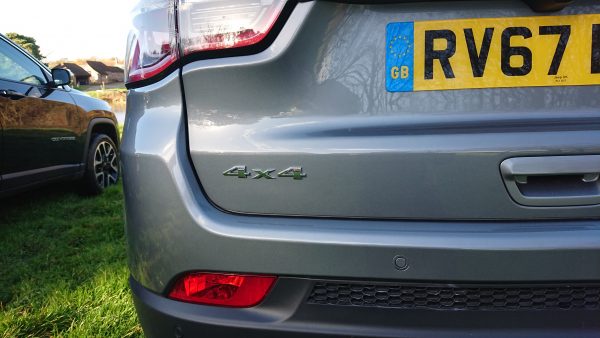 We think a badge saying 'Compass' should go on the rear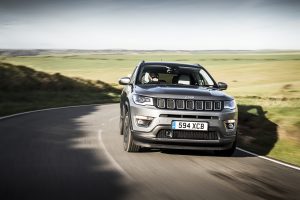 I really like the inspiration for the interior colours though; and Scott Krugga showed PowerPoint slides showing how the white and beige interior colours had been inspired by alpine and desert scenes. 
Jeep's UK Product Manager, Rob Lake, then presented about the car itself and how it fits in to the UK market. Again, Rob highlighted what Scott had said, in that with Jeep Compass they wanted the something  'Rugged & Fun' yet 'Refined & Capable'; I'm personally not convinced that at the price point (base model around £22,995), a car manufacturer can achieve this and my initial gut feeling was that they might be trying to do too much. Jeep's stats show that 63% go for a manual gearbox with 37% opting for automatic (and Rob pointed out that this number is usually around 10%, showing that a larger proportion of people want this SUV with an automatic gearbox). A further 29% want the 4×4 (1 in 3). As such, the Compass comes with either a 6-speed MTX or a 9-speed ATX (the latter being class leading).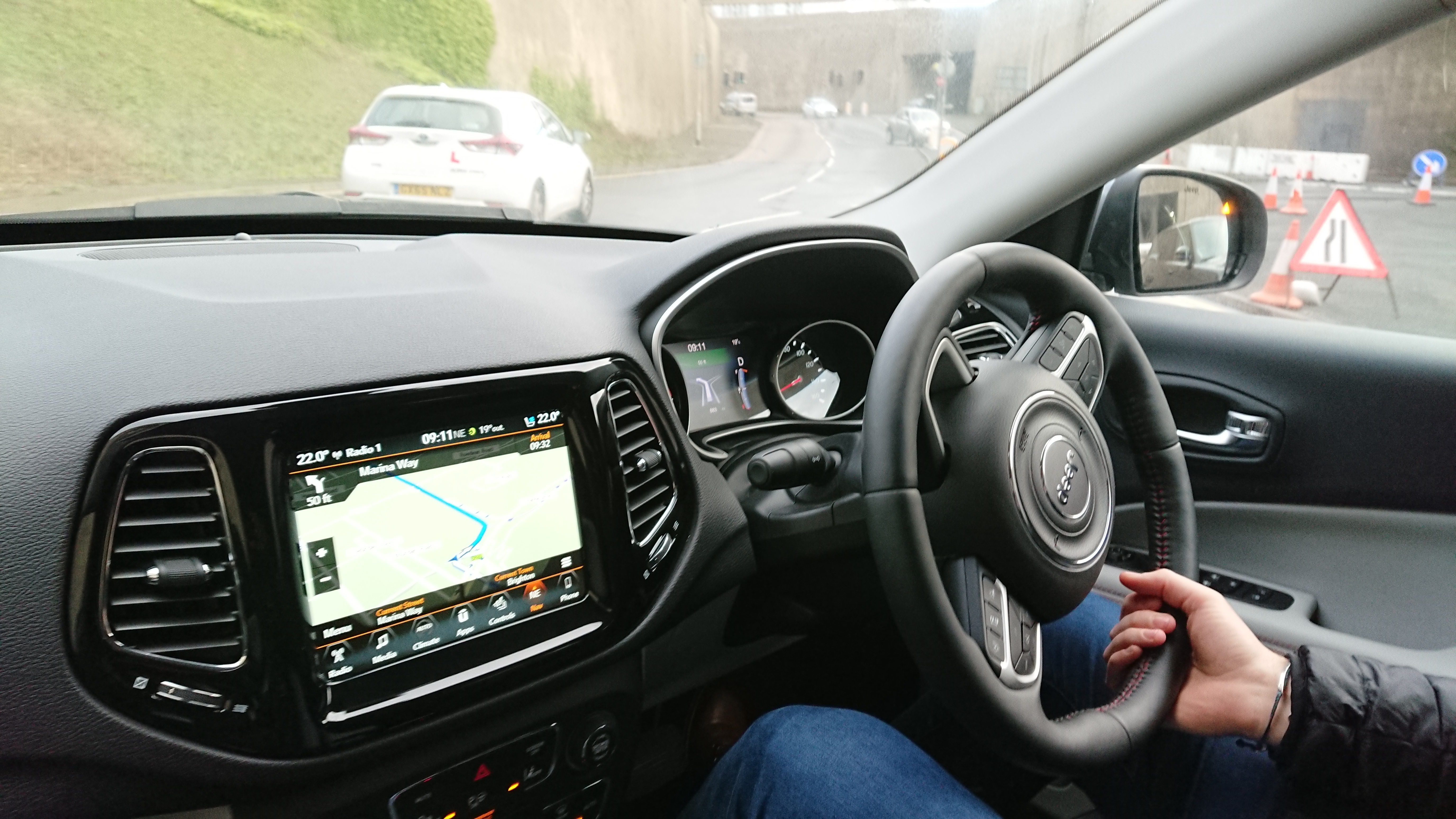 Buyers can choose from three diesels and two petrol engines. For the diesels, there's a 1.6 and two 2.0 litres, both called MultiJet II but with differing amounts of power. The 1.6-litre MultiJet II has 120 hp at 3,750 rpm and 320 Nm of torque at 1,750 rpm. The first 2.0-litre MultiJet II has 140 HP with a six-speed manual transmission while the second 2.0 litre is more powerful version with 170 hp paired with the nine-speed automatic transmission. I got to drive the latter.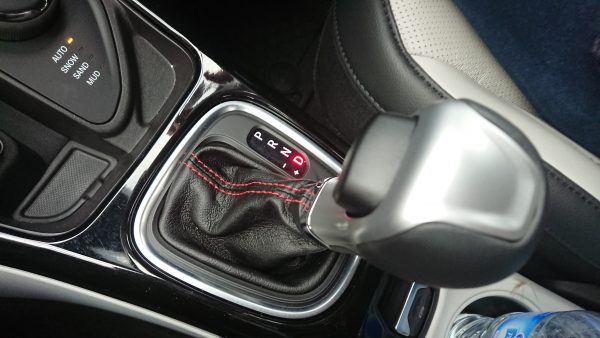 The petrol engines are the 138bhp 1.4-litre MultiAir II which has 230Nm of torque. If you want a punchier petrol model, there's a 168bhp version of the same engine with 250Nm, but that only comes with 4×4 and the automatic nine-speed gearbox.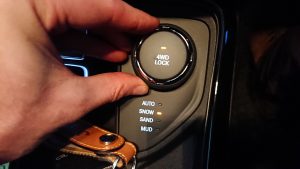 Jeep's name for the 4×4 system is Jeep Active Drive, which is . You can turn the 4×4 on simply by pressing the dial/button down to your left. When you do this an orange light illuminates and the word 4WD LOCK appears in the instrument cluster. The car automatically senses what kind of terrain it's on or you can select SNOW, SAND or MUD by twisting the dial. As you do this an image of the car appears in the instrument cluster which is a nice touch. In fact, compared to other cars on the market, the quality of the instrument cluster display is really superb and leaps ahead.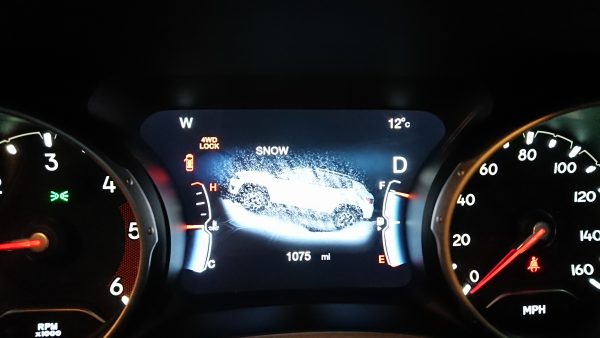 In the Summer next year, Jeep will bring out a Trailhawk version of the Jeep Compass. This has some extra 4WD additions – namely a Hill Descent Control button, a LOW drive gear and a ROCK option. The Trailhawk also has protection added underneath and even better approach and departure angles. We're looking forward to trying this out when it comes out.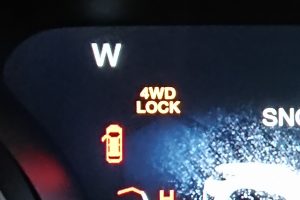 I tried out the 4WD on normal roads and it actually made the Compass feel more planted. I'd be interested to speak to the designers again about the suspension. I did find that car became a bit unsettled, even over small ruts and bumps in the tarmac. This of course is something you might get used to over time – and might well be one of the compromises you have to make in order for this car to be good off-road, so I'll speak to Jeep and see what they say. The official press release says: "Jeep Compass delivers excellent ride and handling capabilities and was tuned and calibrated on rural roads, thoroughfares, highways, autobahns, and validation facilities worldwide, to meet expectations of its customers around the globe and more in particular to match the driving styles and the dynamic handling expectations of its European customers."
Overall it certainly feels like the Compass will take a bashing, even though it looks so refined. The body structure and frame are engineered as a single unit (out of steel which is corrosion and rust protected) for a stiff and more mass-efficient structure. There's a chrome strip that separates the roof from the door tops that runs the length of the car. Jeep says this adds a sense of luxury, but I really don't like it. If this is a rugged, practical compact SUV then stick to making it look like that instead of trying to offer a 'flash' of luxury. Nissan did the same on their new X-TRAIL, but it's not needed. Maybe they should consider making a special edition urban model that's aimed at the city drivers that has chrome touches and similar?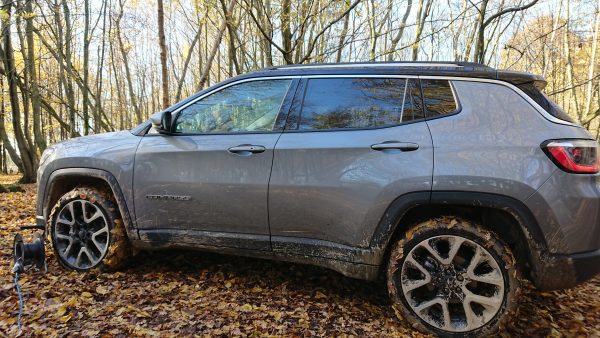 Nice lines, but that rear section does look a bit like the Evoque/Discovery Sport
Jeep has continued its Easter Eggs tradition – hiding design elements that are meant to be discovered throughout time by their owners – look for the Loch Ness Monster and a Gecko. We've been told there are five different Easter Eggs to find…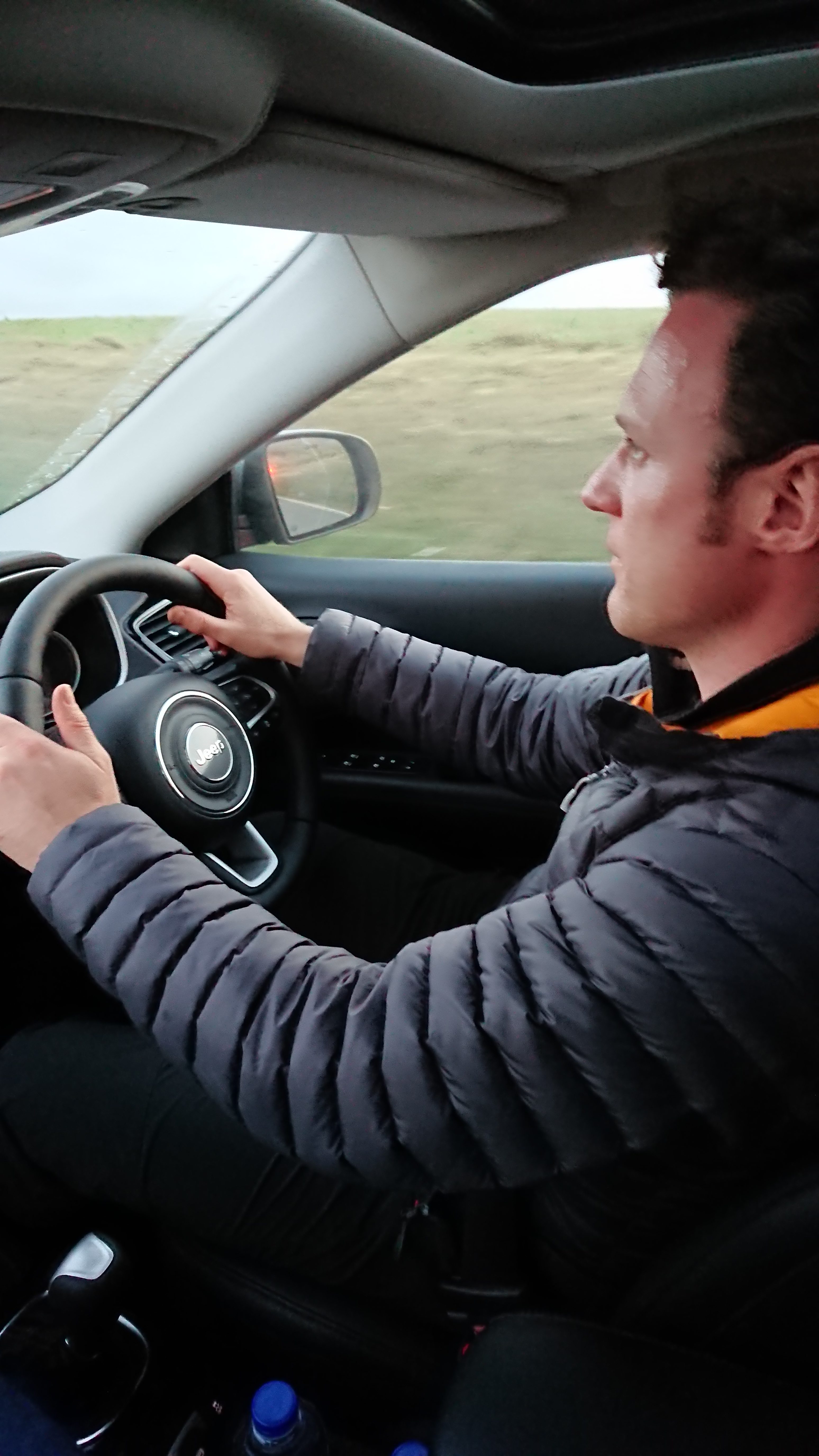 The overall feeling I got from driving the Compass is that this is broad-shouldered and will protect you. The small steering wheel feels thick in your hands and you feel cocooned in a very comfortable driving position. The automatic gearbox snicked its way up and down through the range fairly well. If you want to change gear yourself, you can simply push the stick over the the left and move it forward (+) and back (-). I actually found you can get more character and sound out of the 2.0-litre engine.
The size of wheels you go for will affect the ride; you get 16″s (standard on Sport), 17″s (standard on Longitude and Trailhawk), 18″s (standard on Limited) or 19"s (an option on Limited and the size that was fitted to my test car).
The Compass comes in eight different exterior colours: Mojave Sand, Colorado Red, Hydro Blue, Brilliant Black, Minimal Grey, Magnesio Grey, Vocal White and Bronze, so there is plenty of choice.
The Limited trim has the best infotainment – an 8.4-inch touchscreen that works with Apple CarPlay and Android Auto and the photos you see here are of this 8.4 touchscreen. It also has a Beats speaker system. I think it's a fantastic system, better than the one in the new Nissan X-TRAIL that we drove last month. The Sport and Longitude versions get a smaller 7-inch screen, but the screen fonts and colours are all the same, just shown on a smaller display. Jeep's choice of colour for displays focuses around orange, which I love, but I think they could have made the speed and RPM needles coloured too instead of red to really bring it all together.
If you want to carry mountain bikes or strap canoes on the top then you can buy official Jeep roof bars or you can add a tow bar option (for around £450). There's a handy 12V socket in the boot for pumping up an air bed or connecting up a portable coolbox and there's a nice ski hatch that folds down in the rear seats so you can carry skis or snowboards. In general the boot space is very good, offering 438-litres of space.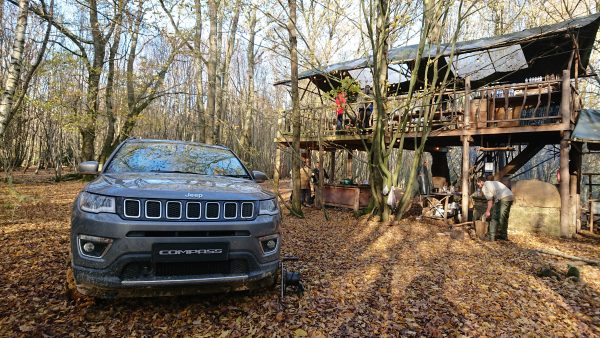 Parked up at the treehouse base of Hunter Gather Cook 
To sum up, if you're after an affordable 4×4 that will have low running costs, then the Jeep Compass is for you. It is certainly more usable off-road than other Compact SUVs on the market. If you want the reassurance that you can get out and about in the worst of weather and snow, then this is a car that will give you that. Jeep is set to start an advertising campaign in the new year and it's TV advert features the kind of lifestyle that us adventurers lead and focuses on the 'recalculating' aspect of our lives, when we have to change direction or steer a new course – and this fits in perfectly with the Compass name. Look out for that advert and let us know in the comments what you think to that and also to the car if you take a test ride.