It's rare to see things these days that really make your jaw drop. 
But Land Rover's unveiling of its all-new Discovery 5 at Packington Hall last night was an exception.
In brief, Bear Grylls abseiled out of a helicopter on to a Tower Bridge made from LEGO (nothing more British than Tower Bridge). He was carrying the final piece of LEGO and a sign that said '5,805,846 LEGO bricks and a Guinness World Record for the largest LEGO structure ever built'.
Next, the previous models of Discovery (from the Heritage Collection) were driven up and over the LEGO bridge. Sir Ben Ainslie and crew then drove in through the water under the bridge towing along a scale version of their America's Cup racing yacht (yes, that was made of LEGO too). There were interviews on stage with all followed by fireworks and an after party.
So…I had visited the grounds of Packington Hall before, on the 65th anniversary of the Defender (and in fact got to drive some of the old Defender models around the grounds where Land Rover first developed its vehicles).
Security on the way in was ultra tight and I could see that venue wasn't outside the hall, instead there was a huge marquee on the skyline that was lit up with floodlights  – I knew then it was going to be a big night.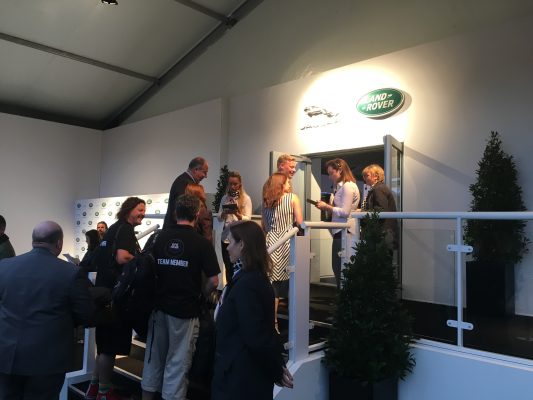 I parked up and walked to marquee, admiring the Land Rovers and Jaguars along the way and grinning to myself listening to the brass band that was playing. As I queued on the steps I saw Helena Christensen casually smiling for a photo before she walked in (and she smiled at me too). And inside I was handed a cocktail of gin, bitter lemon and orange honey – absolutely delicious. I spent the next half hour wandering around, watching some of the videos, admiring the official Land Rover clothing, writing notes and spotting many of Land Rover's adventure ambassadors – people like Ben Saunders, Kenton Cool, Ed Stafford, Laura Bingham, Monty Halls and Charley Boorman.
The evening kicked off with a brand-anthem video showing both Land Rover and Jaguar with the strapline of "create better, live better".
Land Rover's head of PR, Fiona Pargeter, then took to the stage to set the scene for the evening saying how Packington Hall was the proving ground for the early vehicles due to being so near the factory in Solihull.
"Discovery has always supported your lifestyle," she said. "For its sheer breadth of capability it cannot be beaten. There's hardly a desert that they haven't crossed. They are the vehicles of choice for explorers and of course for families with a thirst for adventure."
I really liked Fiona's last comment; for me, the entire evening appealed to both the adventurers (who want Discovery to take them on rugged adventures), but also to parents of families with young children. I thought the LEGO element in the unveil was a very clever way of acknowledging families. For children, playing with Lego is all about discovery too. "The ultimate toy meets the ultimate vehicle" as they explained.
Land Rover's CEO, Dr Ralf Speth, then stepped up and really gave an insight into the rationale behind the new Discovery. "We aid people to go further and faster," he enthused. "And we can now allow you to do that even more. Our corporate purpose is create experiences to allow YOU to go Above & Beyond. It's how our vehicles make you feel that counts. We build vehicles that allow you to go further and the new Discovery is a can-do car for can-do customers."
Gerry McGovern, Land Rover's design director then walked on stage and delivered his speech with his usual punch and panache. "It looks very different," acknowledging the mixed reactions to what the new Discovery looks like. "People today are using Discovery for all kinds of different lifestyles. Who says SUVs have to be ugly? Clearly this new Discovery is a radical shift. I like to think of it as being "magnificently proportioned" and I believe that this is a vehicle that will resonate with people on an emotional level. It's a modern family vehicle with an abundance of features. Don't be taken in by its good looks, this is very capable car and I want to pay tribute to the engineers that have worked on this."
After the fireworks, I was free to wander around near the LEGO bridge and two themed side areas. The bridge took five months to build and was led by the UK's only LEGO Certified Professional, Duncan Titmarsh.
The two LEGO 'Discovery Zones' either side celebrated 27 years of Land Rover Discovery heritage. One of these was an Equestrian Zone, hosted by Zara Phillips and featured a typically British picnic scene made entirely from LEGO bricks. The other was The Bear Grylls Adventure Zone which included a LEGO fire, boulders and deer to represent a mountain scene. The Heritage Discovery models were also flanking on either side and actually looked rather lonely out of the spotlight…I gave them some attention and admiration to make them feel better.
I didn't get to speak directly to Bear Grylls, but he did give a quote: "I have developed a powerful bond with Land Rover vehicles over the years and to me they embody that spirit of adventure coupled with a rugged reliability that also serves the needs of a young family. The Land Rover Discovery is invaluable on expeditions, whether filming in deserts, jungles or mountains, yet it's still the perfect vehicle for the family's everyday use."
So, a bit about the all-new Discovery then…let's start with model names and pricing.
Discovery S £43,495 OTR
Discovery SE £49,495 OTR
Discovery HSE £56,995 OTR
Discovery HSE Luxury £62,695 OTR
Discovery First Edition £68,295 OTR (Limited to 600 in the UK)
So we're looking at minimum of £43,395 when the Discovery goes on sale in the spring.
Engines-wise there's a choice of a four and six-cylinder diesel (the Sd4 Ingenium and the Td6 Ingenium). Or there's a V6 petrol (called the Si6). So that's Sd4, Td6 and Si6, got it?
The ground clearance is 283mm (up 43mm from the Discovery 4) and it's has 20cm more wading depth too, meaning it can drive through a depth of 90cm – almost a metre.
Terrain Response 2 is fitted (remember that the original Terrain response first appeared on the Discovery 3 in 2003, some 13 years ago). It now lets you choose a speed to 'crawl' at so you don't have to push your foot down on the throttle, you can simply turn the steering wheel and concentrate on what you're trying to drive over.
Interior-wise it takes seven full-sized adults and you can make the seats go up and down using a smartphone app (called Intelligent Seat Fold or ISF for short). Bear Grylls showed how this works by adjusting his seats from his phone while skydiving down towards it in the days leading up to the world premiere.
Discovery now weighs 480kg, helping get the mpg around 43.5mpg. To give that some perspective, an Indian Springfield motorcycle I rode earlier this year weighed 350kg.
There are four 12V charging points and nine USB sockets (!) plus space in the central console to store four tablets/iPads.
It can also tow weights up to 3500kg and has a Tow Assist (ATS) system which allows you to use rear view facing cameras and some guidance lines to reverse with ease.
I think the most criticism the new Discovery will get will be for its looks. I have to say I love everything about it apart from the C-pillar at the back. It angles forwards and just goes against the flow of everything else on the car. This same 'design cue' is on the Discovery Sport (which we drove in Iceland last year). I get that it's a design statement, so maybe it will grow on me?
Land Rover says: "New Discovery's dramatic design represents a radical departure from previous models but retains established Discovery DNA. The trademark stepped roof and highly visible C-pillar are inspired by Discovery models of the past and distinguish the premium execution of New Discovery. The C-pillar design in particular gives the profile more drama and creates a design cue for the whole Discovery family."
One feature I am very pleased to see on this is a tailgate that you can sit on. I used to love sitting on the back of my dad's Range Rover when I was little, so I'm glad to see it's finally made it on to the Discovery. This one is actually a Powered Inner Tailgate (PIT) which incorporates an additional fold-down section that deploys when the tailgate is opened.
We'll cover the full adventure potential of the new Discovery in an upcoming feature. But for now, we'll let you watch the videos and have a play with Land Rover's online vehicle configurator using the link below.