We've covered most of the key steps in the development of the INEOS Grenadier on Adventure 52 – and now we've reached a milestone moment – the chance to have a go in one as a passenger.
I don't think there has been a more eagerly awaited 4×4 in the adventure market and everyone is itching to find out what it's like to drive.
July 2022 is the date when deliveries start and as of today you can now reserve one. Over the past month INEOS has been running a 'Grenadier 2B Tour' offering passenger rides to potential customers and the press. With a price starting from £48,000 for a never-seen-before car then you at least want some idea of what it's like before you order one, right?
The 2B designation refers to the car being a phase two prototype and there are a total of six phases before it reaches production.
With that in mind, in this feature you'll find all you need to know about the Grenadier and how the prototype handled some off-roading. You can read details of the proposed sales and servicing network here.
It looks ready for adventure
It was a perfect autumn morning as I drove south from my home in Glasgow to the Drumlanrig Estate. Arriving at the INEOS 'hub' I could see the burgundy-painted prototype sitting waiting for me on exactly the kind of terrain that future owners – weekend adventurers, farmers and estate workers – will be driving over.
I walk over to the INEOS team who are standing around a firepit and meet Rob, one of the drivers. He has over 34 years of off-road experience, having worked as an instructor. He tells me he's come out of retirement to drive the Grenadier on this prototype tour because 'it's really that good'. When I ask what the general reaction is when people get out, his answer doesn't surprise me: "I genuinely haven't had anyone step out of the Grenadier who hasn't been blown away by it."
Case in point; Rob says a potential customer turned up in his Mercedes-Benz G-Wagon and went away absolutely stunned by the smoothness of the Grenadier's ride over rough ground. 
But before my ride along, I'd have a chance to talk to key Ineos staff, first up with Miles Kirwin, Grenadier product expert, who kindly talks me around a silver-coloured full-size model of the car.
Built on purpose 
While I have liked the look of the Grenadier in photos so far, I found myself appreciating it even more in real life, especially the cargo clips on doors and the load bars on the roof. And as Miles walks me around the car I get more excited at what a future overlanding Grenadier could look like, with all the possibilities of being able to load kit and bags on to the side of it. 
"The initial premise has been all about building the Grenadier to be fit-for-purpose," Miles says. "It has to be great off-road, comfortable and repairable."
This engineering philosophy becomes clear once Miles starts pointing out key componentry – the bulletproof BMW engine, suspension by Magna Steyr and axles by Carraro. Fancy electronics have been kept to a minimum too, yet the interior manages to look like the cockpit of a Boeing airliner. 
There's one engine choice, a 3.0-litre six-cylinder BMW one (either petrol or diesel, you choose) that is tuned specially for torque at low rpm. There's an automatic eight-speed ZF transmission (there isn't a manual option, however you can push the drive lever to the left and snick up and down gears yourself if needed). Miles explains: "Nowadays an automatic gearbox is so reliable. It also means there's less chance of the clutch failing or burning out."
The Grenadier has permanent 4×4 and Miles says that "right from the start we wanted the Grenadier to be able to go from the road on to off-road without having to stop and then select 4WD". 
The suspension has been designed and tuned by engineering partner Magna Steyr in Austria. In fact Magna Steyr's involvement goes beyond just suspension – they are the series development partner for the whole vehicle. Their influence on the Grenadier is huge and they are assisting the INEOS Automotive team all the way through to the start of production at the manufacturing facility in Hambach.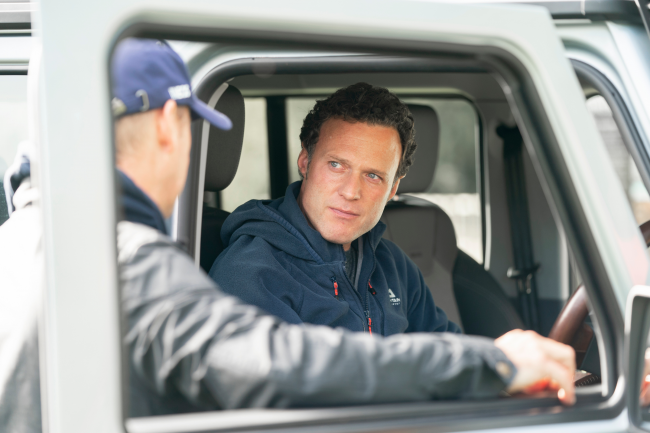 Miles adds: "We decided not to go with air suspension because we all knew if that fails when you're out in the middle of nowhere then you need to be rescued."
For the axles they spoke to Carraro (an Italian brand). "They make axles for John Deere tractors. One of their products runs in the paddy fields and they have no water ingress at all, so they've got this amazing technology for wading."
Being able to repair the Grenadier anywhere it might be, is really important to Ineos. To this end, they've given some prototypes to the Halo Trust, a land mine clearance charity that's currently driving them in Kosovo.
I peer under the wheel to see the spring and the dampers (which are set a bit further back).  Later on during the drive I get to see how the wheel takes a bump and how it rebounds back with perfect damping. Miles adds that there's little kick back through the steering wheel: "I hope you'll see that on your passenger ride," he says with a grin.
Around the front he points out the air intake, more to protect the engine from dust, and you can add an additional filter to the top. 
Miles then opens up the passenger door and tells me I can take a seat. Both front and rear seats are made by Recaro. While a racing Recaro seat can be a little firm, the ones in the Grenadier are super comfortable, water and stain resistant. I sit down and it feels like I've been given a hug. 
There are no electric motors to move the seats and that's because they want people to be able to hose down the floors with water when it gets dirty. However they are heated. 
I spot the high and low range lever with a centre diff lock, sitting to the right of the familiar ZF gear stick. On the roof are buttons to select 'Off-Road' and 'Wading' and to lock the front and rear diffs. 
Pressing the off-road modes doesn't actually do anything significant; it switches off the stop-start, it stops the seatbelt from chiming, it stops the parking sensors from bleeping and it stops the noise when a door is left ajar. You don't want any of those annoying chimes pinging when you're out off-roading. 
Being a pilot, I'm blown away by the aviation-inspired buttons. There is even a red and a green line on either side of the SOS button, mimicking the coloured lights used on the port and starboard wings of an aeroplane. A compass sits proudly in the centre, instead of a clock, another nod to how they see this as an adventure vehicle.
Miles was keen to point out that the main controls for driving are in the centre and there's a simple rotary dial to control functions on the infotainment (or you can press the touchscreen). The vertical panel controls a lot of the car systems such as the AC and heated seats. Then off-road functions and other electrical systems are placed on the roof. There's even some spare buttons with various amp ratings to let owners decide what they want to wire up, anything from light bars to a winch. INEOS really has thought about the kinds of things that customers will want from a 4×4.  
There's no in-built navigation simply because it goes out of date so quickly and most of us are now using apps on smartphones. The Grenadier does have an off-road Pathfinder navigation system though, letting you follow or record a route with user-defined waypoints. 
Warning, caution and function lights appear in a panel behind the steering wheel instead a pair of speed/rpm dials. Your speed is shown on the central 12.3 inch touch screen. I later found out during my ride that actually it makes very little difference to the driving experience and not having clocks in front lets you see the front corners of the bumpers more easily – useful when off-road. 
I particularly like the little red button on the steering wheel with a bicycle image on it. Instead of scaring a cyclist with the big horn in the middle of the steering wheel, you can just simply press the little button and give them a toot. It's a nice little nod to the INEOS Grenadiers cycling team (as a side note they had Chris Froome's winning Tour de France bike on display).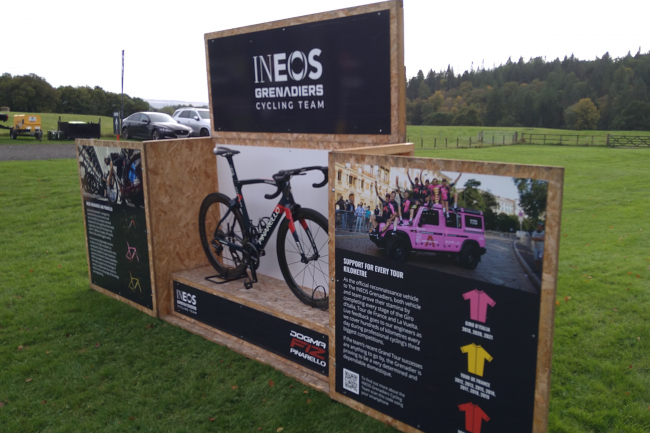 There's storage under the rear seats and you can fit a leisure battery. There's also a 230 volt 3-pin plug and USB adaptor.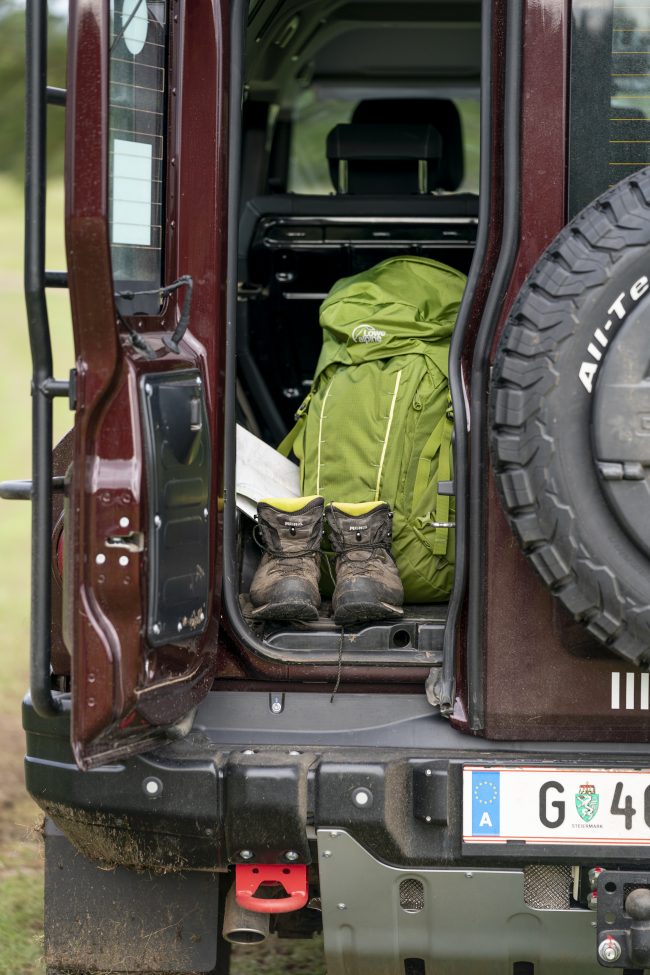 On the rear right corner they had planned to have a panel which could open up to store wet kit inside. But they've come up with a much better solution; the spare wheel has been mounted backwards so that the space in the middle of the wheel can be used as storage and there's a cover for it with a lock that's opened with the car key. 
The split door on the back is another design highlight. It means you can just open up a small section of the boot to grab your boots/rucksack/climbing rope/dog and then go. Opening up the second part of the door gives you a beautifully square entrance, making it perfect for loading things in and out of. For the two-seat commercial version you'll be able to forklift in a Euro pallet. 
I point out to Miles that the boot space is perfect to sit on to put hiking boots on. He then ushers me around the front and shows me that the bumper has also been designed to sit and step on. The bumper itself is made of five pieces and reasoning for that is that if you do have any damage to the front, instead of having the cost to replace the entire thing you can just replace a small section. The centre section also comes out to let you fit a winch and best of all it's pre-wired so it's a simple plug and play. 
On to the tyre and wheel choices then. You can go for steel wheels and a Bridgestone Dueler A/T tyre that has been specially upgraded for the Grenadier. Or you can go for alloy wheels with all-terrain Goodrich BF tyres.
Understanding the UK market 
I then had a chance to speak to the Head of UK for INEOS Automotive, Gary Pearson. He gave me a really good insight into the UK market and said that the prototype tour has been a great way to let people see and experience the Grenadier in the flesh. He adds: "It's let us get feedback from potential customers and press at an early stage and the beauty is we still have nine months or so to put that feedback into production." This approach means that anything that Ineos engineers might not have thought of can still possibly make it into the final design. 
Gary confirmed there's a segment of 'adventure sports fans' interested in the Grenadier who want one for an adventurous lifestyle, whether that's for hiking, surfing, kayaking or paramotoring (that big rear door is ideal to fit a paramotor inside). He said that going forward he'd like there to be opportunities for Grenadier owners to come together in cool places and share their love of adventure, so it seems that Ineos is keen for a community aspect to ownership. 
"I like the idea of Grenadiers being at various places in Scotland and people can come up and take one out to experience it for themselves," he said. "And I can picture us having a map up in dealerships, with customer photos on it showing where they've been in their Grenadiers."
There's so much scope to carry canoes, stand-up-paddleboards, mountain bikes and kayaks on the Grenadier and Gary confirms what Miles said earlier in that those lifestyle and accessory items are already out there being made by other brands. He jokes that "no one needs Grenadier-logoed roof rack".
Overall interest in the UK has been broad with the exception of the 'urban lifestyle' segment, something that they are less focused on. "We're brand building on the capability of the Grenadier," Gary enthuses. Seeing as capability is so important, I asked if INEOS has spoken to the likes of mountain rescue teams? The answer is yes and talks are ongoing with other first responders, like police and ambulance crews. Gary adds: "It will be great to put later prototypes in the hands of these customers to see what they think."
In terms of sales, Gary expects the 5-seat commercial version to be the best seller in the UK. "I've spoken to a lot of customers who have their own business along with a lifestyle need or passion, so the Grenadier will be able to deliver on both for them," he says. 
What's the Grenadier prototype like to drive?
It's time. My ride is in Grenadier 2B prototype number 087. I see it has around 6,000km on the clock and the fuel tank is ¾ full with a 416km range left. INEOS hasn't announced detailed specs on the fuel tank size, but this suggests it could possibly have a 600km range. Inside, it is everything I was expecting to see in a prototype; warning labels stuck up, emergency buttons on the driver's side and signs that this has had wear and tear. Indeed, this wear and tear will be analysed to see where they need to make design or material changes. 
Rob turns the key and the six-cylinder engine fires up. From a standing start, Rob guns it straight on to the undulating grass and already I can't believe how quiet the cabin is and how smoothly we're going over it all. He grins back at me clearly seeing the surprise (and joy) on my face. 
He works his way to a forest trail, pushing the bonnet left and right around low hanging branches of oak trees and grey-decaying tree trunks. The view out the front is superb and I ask whether he finds it awkward not having the clocks right in front of the steering wheel. He replies no: "I prefer it, it means I can see both front corners of the car much better."
We come up to a climb and Rob stops, not to prepare the car for it, but to ask me whether I would go in to low range for it. I reply that I probably would. He grins at me again: "I'm going to leave it in high range with the centre diff locked, " he says. "You'll see the RPM won't go above 2000 and it will get up here no problem." This isn't just a set-up example, he continues to show the Grenadier's ability in high range on many more climbs and descents.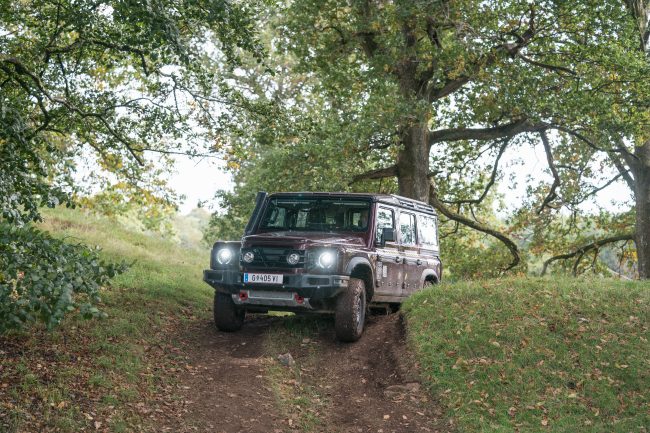 We continue to weave our way across the estate and then take on some muddy ruts, which the Grenadier takes in its stride. I'm still amazed by how quiet the interior is; there's no flexing or things rattling at all. As we go at pace over the grass I can see just by looking at Rob's arms how light the steering is, and just as Miles mentioned, that kick-back you can get through the steering wheel from some other 4x4s isn't happening on this. When I read through some notes later on, I come across a quote from one of the development engineers at Magny Steyr, Matthias Meir who says: "Coil springs offer a progressive curve, the stiffness of the spring adapts depending on the load."
Rob decides it's time to show off the low-range ability, and sure enough the Grenadier makes everything we'd done in high-range even easier. We're not on what you can class as being a difficult off-road course, but it's enough to see that the prototype is very capable. 
I also find that being a passenger is actually giving me a lot more capacity to observe and feel what's going on. It's fun watching the pitch and roll display showing the angles we're at (at one point reaching 46 degrees nose down).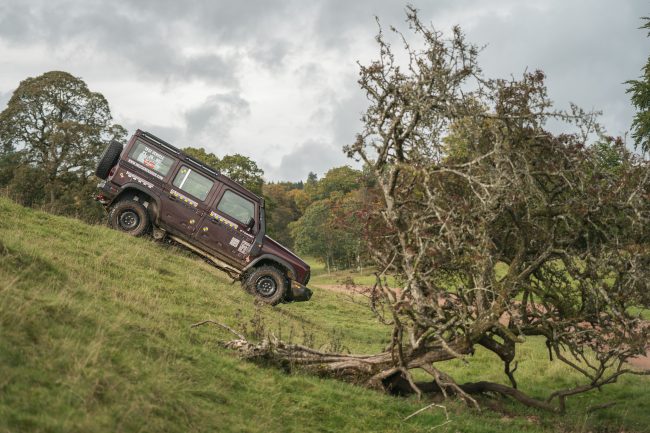 "Is there anything you want to see?" Rob asks. I tell him to build up some good speed on the grass and then hit the brakes. The Grenadier comes to a stop and stands to attention like Buckingham Palace gate guard. It's only then that I notice there's a proper old-school hand brake, a welcome feature compared to the small electronic flaps that most cars have these days.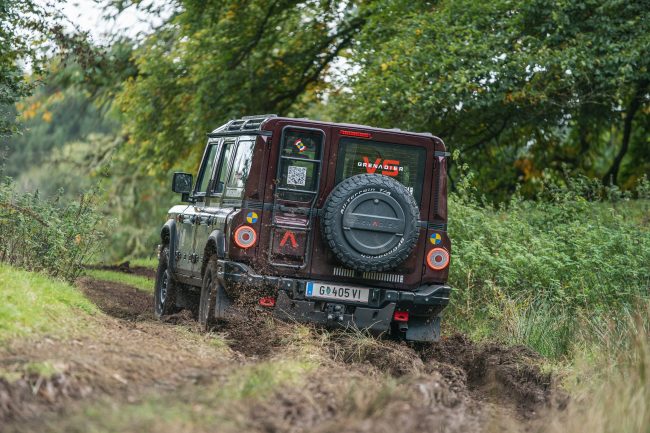 I ask Rob what he likes most about the interior. He says: "I really like that all the off-road stuff is up there on the roof, it's not in the way of the lever controls by your hand. I know that a lot of people like this interior for the looks, but I like it for the practicality."
Rob then guns it across a gravel track and immediately straight back on to the grass to then take on the steepest section we've done so far – and at an angle to show how the wheels and axles adapt. His final demonstration shows off the turning circle and with that my 30-mins are up.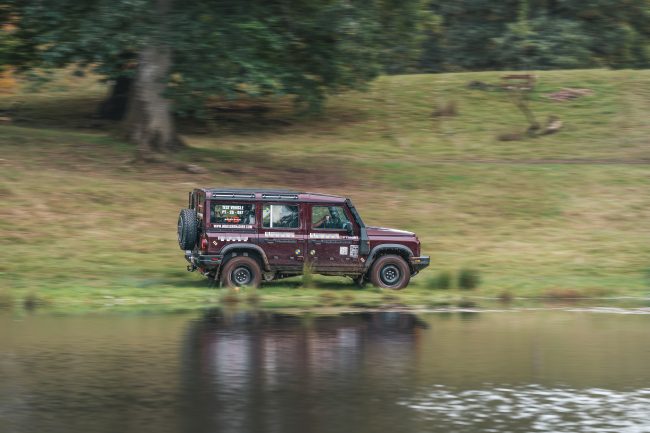 In the back seats throughout all this was INEOS Press Officer Jack Ireland. I ask him what he likes most about the Grenadier. "I love the pickup of speed and how it just adapts to anything you throw at it," he says. And his thoughts on the prototype tour? He adds: "It's allowed people to make an informed opinion. The Grenadier is doing everything we said it was going to to do and it's fantastic for future customers to see that for themselves. There's a reason we're not doing fancy showrooms and that's because we want the Grenadier to do the talking for itself."
Reservations are now open. Head over to www.ineosgrenadier.com to register your interest.  
Photos by Stan Papior