Helly Hansen has been around since 1887 and for 2018 it isn't showing any signs of slowing down.
The brand introduced the first supple waterproof fabrics in 1877, the first pile mid-layers (the precursor to fleece) in the 1960s, the first performance base layers made from Lifa® in the 1970s and the H2Flow™ temperature regulation system in the 2000s.
And now, to continue the innovation, Helly Hansen is bringing out a new type of insulation this coming winter season called Lifaloft™. It has been developed in cooperation with PrimaLoft® and is lighter and less bulky than standard insulation, but warmer due to the structure of the Lifa® fibers that have been woven into the construction.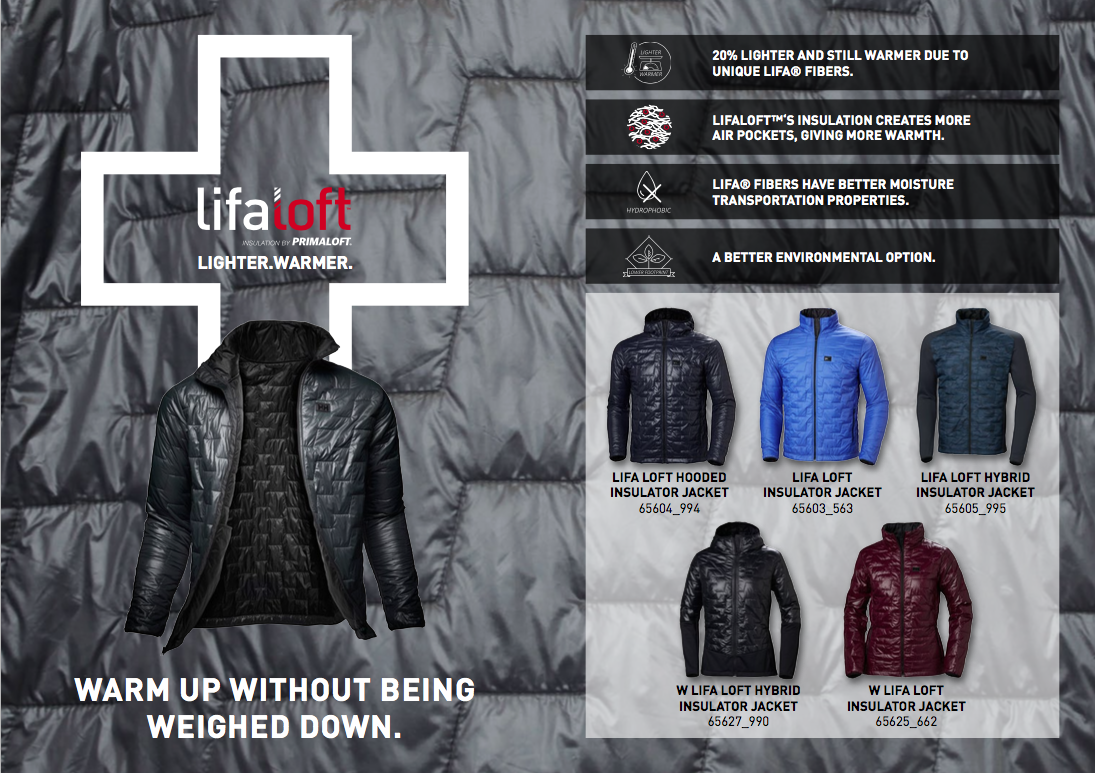 Further innovations this coming season include Life Pocket™, a special pocket that will help extend the battery life of smartphones in cold temperatures, weather-resistant windbreakers stowed inside the collars of softshell jackets, waterproof velour and innovative 3-in-1 Component Insulation Systems (CIS).
Here's a brief look at all of the different collections:
Skiing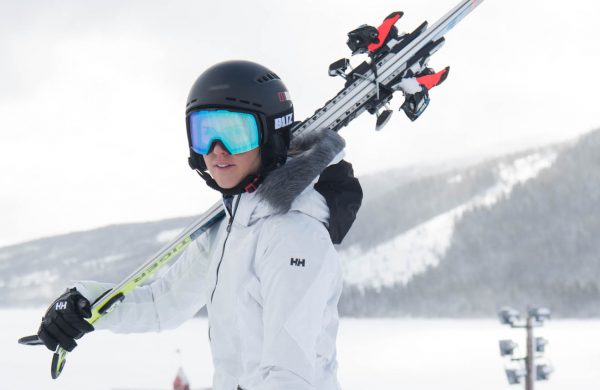 Skiing is at the heart of Helly Hansen's 2018 collection and there's plenty of feature-rich jackets and pants to choose from, designed using feedback from 55,000 mountain professionals around the world who wear the products on a daily basis. Helly Hansen is now currently the world's fastest growing ski brand.
ULLR Collection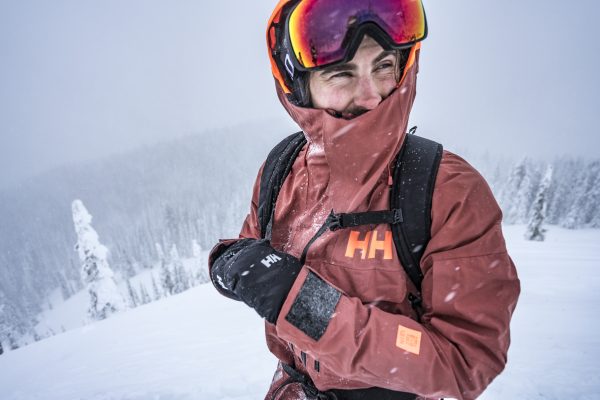 The Men's Elevation Shell 2.0 Jacket and Women's Maroi Shell Jacket have been developed specifically for free skiers eager for the freedom of the backcountry. Both new additions feature a removable CIS insulated vest with a 3D mesh body that enhances airflow and ventilation when boot-packing to a backcountry gate. To strengthen the ULLR™ collection, the Men's Garibaldi Jacket and Women's Powderqueen 2.0 Jacket bring a new look to mountain terrain with silky jacquard camo exteriors in 4-way stretch Helly Tech® fabrics, and industry-best features including hi vis hood brims and H2Flow™ temperature regulation systems. Not forgetting the immense popularity and growth in strong, young skiers, the new JR Skyhigh Jacket mimics the adult ULLRjackets in both design and technical support.
HOD Collection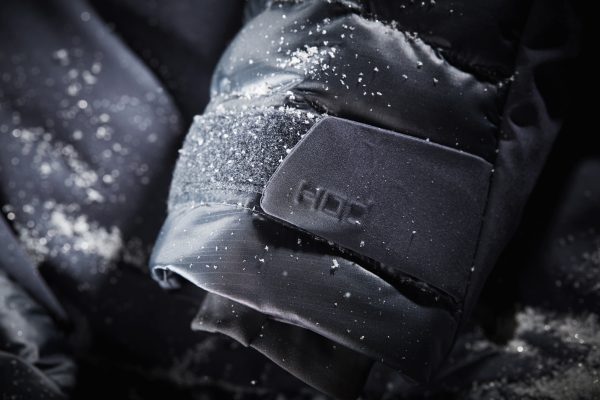 Named after the Norse god of winter, the new HOD collection is inspired by moto culture and future aspirational trends. The Men's Slingshot Jacket uses quilted PrimaLoft® insulation as a design element in the sleeves and shoulders giving the 4-way-stretch Helly Tech® jacket a look never before seen on snow. The Women's Paradise Heat Jacket enables skiers to determine their own levels of comfort and warmth with a powered Novaheat® technology system, built around the collarbones that warms the blood through ultra-fine heating wires where veins are closest to the surface.
Midlayer
The Men's Scout Profleece Jacket is a midlayer, slickface-fleece that transforms into a water-resistant outer shell in seconds. Featuring a hidden minimalist, hooded wind shell stowed in the collar, this 2-in-1 jacket is the perfect addition for unpredictable weather.
Stepping back in time, the men's Juell Pile Jacket features ultra-soft high loft fleece reminiscent of the original heavy pile fabrics Helly Hansen created for craftsmen in 1961. Softshell cuffs and side panels reduce bulk and enhance breathability, while its body maintains its original pile stature.
Mountain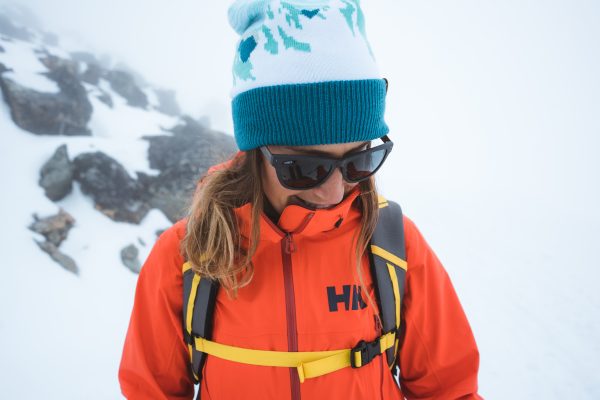 The men's and women's Verglas 3-Layer Jacket looks like it'll become a best seller. This is a lightweight shell jacket to be used all year-round and perfect for backpacking and climbing in rainy, icy and snowy conditions. It's cut so that you can wear with it with a pack, harness and helmet. This uses Helly Tech® shell material.
Baselayer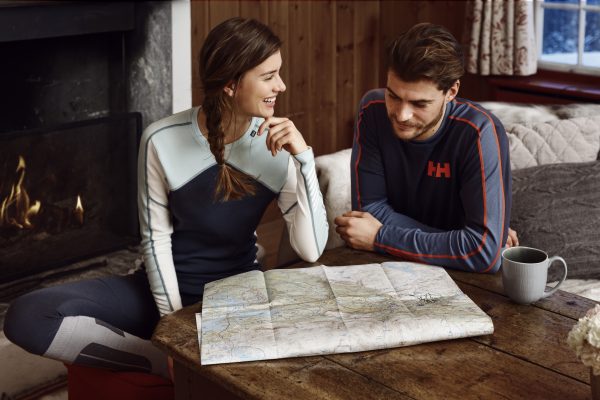 Lifa® Merino is a unique baselayer that combines lightweight Lifa® fibres next to the skin and a 100 per cent Merino Wool exterior. The Lifa® fabric quickly moves moisture away from the skin while the merino delivers exceptional warmth. The men's and women's Lifa Merino 1/2 Zip provides the solution for staying dry and warm in a variety of winter conditions, with a front zip for ventilation. The women's HH Merino Mid Graphic LS adds a fashion element to the collection, with beautiful jacquard knit design that promises all-day dryness and warmth for any outdoor pursuit. The HH Lifa Merino Seamless 1/2 Zip has seamless construction in the body and arms for maximum agility and comfort in a non-itch fabric.
Urban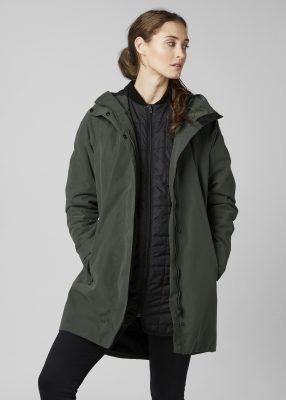 Helly Hansen takes its best technologies and fabrics made for ski and mountain professionals and weaves them into sleek, progressive designs made for wearing with business and casual attire. The 365-in-1 has enough tech features to wear on Everest, but is styled for urban environments. The separate garments layer efficiently and comfortably over one another, while traceable Allied Down, PrimaLoft® insulation, H2Flow temperature regulation and Helly Tech® all add to the immense protection and ability to adapt to any location when wearing this parka. Business men and women in cold winter conditions will appreciate the clean designs of the Helsinki 3-in-1 Coat and Women's Helsinki 3-in-1 Raincoat. Both use professional-level protection from Helly Tech® waterproofing, a removable PrimaLoft® liner, sleek, yet technical outer fabrics, foldaway reflectives and detachable hoods.
Helly Hansen is currently offering free shipping for orders over £50 and 90-day free returns.