ONCE upon a time I was a Royal Navy pilot learning to fly the Tucano.
My course mates and I had been on a two week detachment to RAF Lossiemouth to take us out of our Yorkshire comfort zone. The fortnight had come to an end and my instructor and I set out on a nav trip back to RAF Linton-On-Ouse near York.
Soon after take-off I was flying down the Great Glen which spat me out near Oban. Here I threaded my way at low level between the isles, peninsulas, lochs and sounds heading further south. As a student pilot armed only with a map, stopwatch and compass it was pretty easy to get confused amongst the abundance of islands. I was working hard to make sure I did not accidentally 'bong' a danger area, Prestwick's airspace or force my instructor to intervene.
Even though I was focusing hard I still had time to be taken by the incredible beauty of the place. Under the blue skies, punctuated with just the right amount of medium level cumulus to be pretty but without blocking out the sun, I could have been flying amongst tropical islands; lush and inviting. I made a mental note there and then to return one day by air but in something slower and unburdened by a 'mission' so that I could spend more time taking in this spectacular scenery.
Life has a habit of running away with you and it has been seven years since that Tucano trip down the West Coast of Scotland but I have finally managed to fly back there and explore it further.
After many weeks of planning the route, researching hotels and campsites, distillery tours and restaurants, where to find the cheapest Avgas, checking NOTAMs and weather, rechecking weather ad infinitum, my girlfriend Emma and I finally set off in late July from East Sussex in a Cessna 185…bound for France. As with any good adventure there must be mishaps, incidents, excitement and a ready understanding that no plan survives contact with the enemy, or in this case real life.
I had been planning this trip in my mind for nearly a year and on paper for several months, but as I approached the start of the summer it became obvious that I was going to be lacking the vital ingredient; an aeroplane. This trip was supposed to have taken place in my own Piper PA16 Clipper but she has been undergoing a major rebuild and was not going to be ready in time. So it looked like the trip was going to have to be postponed a year until my good friend Geoff Scott came to the rescue with the loan of his beautiful and highly capable Cessna 185, G-BYBP.
No sooner had I rescued the trip from certain doom, than it seemed like the weather was going to fail us. Entering July with the biggest heat wave in years, I had rejoiced in the fact that our luck and timing appeared so impeccable; the met men were saying the high would stick for weeks. Then, as we approached the final week in July and our trip was days from starting, the weather began to turn and very quickly became TAFs full of TS and CB, cloud to the deck, heavy rain in parts and strengthening winds…was this seriously happening after all the effort and planning that goes into a trip like this? Were we going to have to log on to lastminute.com and think again?
On the eve of our departure the met looked like it would provide enough of a gap to allow us to complete leg one of our journey out to France to drop Geoff and his wife Janet at their house in Brittany where we would overnight and then continue on towards Scotland. This had been a condition of the loan of the aircraft as the 185 is their standard mode of transport to and from northern France.
Waking up bright and early, I watched the BBC weather over breakfast only to find that northern France was lost under heavy rain. I spoke to Geoff and we called it off for the day. It's a holiday not an emergency so no need to press on. I took the opportunity to refine some of my planning and repack again.
The following day we did leave and packed full to bursting with people and baggage, the mighty Cessna floated off the 500 metre grass strip in Sussex as if it was pleased to be able to demonstrate such capability. This branch of the Cessna family, which includes the Cessna 206 and Cessna 210 among others, I have heard described as the aerial version of the Land Rover – whatever you can fit in it, it will carry. Furthermore it will carry it out of a rough strip with space at a premium. That is why they are the light aircraft of choice in the African bush being both useful and rugged.
Having refuelled and filed our flight plan at Lydd we were enjoying the sights of the northern French coast by midday with the sun beaming through a bright blue sky. I got the sense that Geoff and Janet never tire of this journey with its Normandy beaches still showing the scars of the D-Day landings and many other sights besides. Flying along a coastline like this makes the navigation so easy that eyes can spend more time out of the cockpit and away from charts and the GPS; this is good for sightseeing and for spotting other aircraft.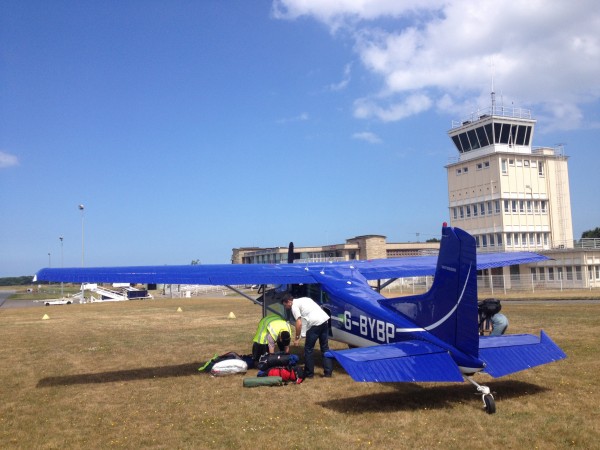 Rod and Emma unload at Dinard Airport in France.
We landed at Dinard after lunch but despite the cooperative weather I couldn't relax yet. We were booked into RAF Linton-on-Ouse to stay overnight with friends based there but the airfield would close at 1700L and if we were not in by then, we would be staying elsewhere. I calculated that we had one hour to turn ourselves around which was tight given that the fold up bicycles we would be borrowing for the trip were somewhere in central Dinard. We emptied the contents of the aircraft all over the grass and sorted their kit from ours, took out the rear seats and made for the terminal to file the flight plan. As often happens when one is in a rush the online system wouldn't cooperate but a phone call to a helpful French air trafficker allowed me to pass it verbally and we were good to go. Just needed those bikes!
Dinard obviously sensed my urgency because they cleared me to take off from the intersection without prompting and soon enough we were heading north east for the Cherbourg peninsula. With Emma holding her straight and level at 3000 feet and keeping a good look out, I typed a few key points into the GPS and got the answer I was hoping for: we would arrive at Linton at 1655L as long as we could maintain our current ground speed of 130Kts. With the rush at Dinard now behind us, I settled into my regular pattern of checks and the cockpit quickly returned to its usual ordered calm.
Having filled up at Lydd, we still had at least four hours of endurance in the tanks and only needed two to get to Linton. I had planned to drop into Full Sutton prior to my arrival at Linton in order to fill up again. They are a friendly and quietly busy airfield east of York which also happens to sell the cheapest Avgas in the country. A bonus when your aircraft will take over 300 litres from tanks dry. But with five minutes to spare until my hard time I would have to delay that plan until my departure from Linton.
Soon enough the Isle of Wight hove into view and we were coasting in at Hayling Island. Despite the fine weather there wasn't too much mid-week traffic on the radio as we headed for Farnborough and helpful as ever they cleared us through their overhead. I had completed my 10 minute checks and was enjoying the sight of a big airfield passing underneath us when my co-pilot spotted two red lights that had appeared at the bottom of the panel, hidden under the throttle.
"Keep a look out for me while I check this out," I say to Emma.
They were both low voltage lights. Why there were two of them I wasn't sure? There had only been one last time I flew BP. The ammeter showed a discharge and with the abundance of electrical kit on this aircraft I estimated about 20-30 minutes before we lost the battery.
"Farnborough, Golf-Bravo Papa, we appear to have an electrical problem and would like to execute a 180 degree turn to head south for home."
"Roger, Bravo Papa, you're cleared to turn south. Suggest you turn off all lighting and if required you have Blackbush four miles to the west of you as a diversion. Do you wish to declare an emergency?"
"Negative. All lighting off, visual with Blackbush but we will seek engineering assistance at home. Request to turn off the transponder. Bravo Papa."
"Bravo Papa, you are cleared to turn off your transponder."
We were now heading back to Sussex with all electrics off except the Garmin 530 Nav/Com. One of the low voltage lights had gone out and the ammeter was showing a reduction in the discharge and otherwise the big Continental purred away as normal. I assure Emma that this was all very minor and that actually we didn't really need our electrics but certainly making it up to Yorkshire was now out of the question.
We flew to where the aircraft is maintained in East Sussex and arrived unannounced to be met by the chief engineer who was sympathetic but said he was very busy and it might take a week before they could look at it. I phoned for a rescue party and then sat on the grass amongst our kit and lamented the fact that we would have made Linton with five minutes to spare.
"Em, I think we have just lost our holiday…"
The following day I phoned up to see how things stood. Geoff had been taking an interest in his pride and joy and had been on the phone from France. The alternator seemed to be weak but they had another one they could fit and it would hopefully be ready by the afternoon.
Sure enough she was fixed and the trip seemed to be back on so we collected, fuelled and re-packed her ready for an early departure the following morning. By now we were two days behind schedule and there was no longer time for a stop at Linton but something else was going to have to give. I had factored in two 'buffer' days at the end of the trip in case of bad weather but I wasn't about to eat into those. We looked at the plan and decided to cut out our stop at Stornoway for an overnight on the Isle of Lewis.
Early the next morning we fired up the throaty Continental, temperatures and pressures coming alive and all warning lights going out. The weather was back on side with few cloud, good viz and light winds. Ten minutes later we were accelerating along the airstrip, tail lifting easily at around 30 knots and the mains unsticking cleanly at 60. It seems that a small decrease in payload is all it takes to make this hot ship feel very spritely.
After take-off checks complete, I set the engine up for 2500rpm and 25 inches for the climb which significantly cuts down the noise for the neighbours as the scream from the propeller tips disappears. We level off at 2000ft and I bring the engine back further to 23/23 for the cruise. I would rather be higher to give me more options in the event of an engine failure but we will soon be passing through the transponder mandatory zone south of Stansted with a ceiling of 1500ft.
It doesn't take too long to get north of the London busy-ness and into the open class G of the Midlands as we head up the Trent valley with its distinctive power stations. An hour and a half later we are talking to Linton as we pass overhead Church Fenton. We cross the border near Carlisle and as if Scotland is trying to taunt us, the beautiful clear skies of England are replaced by cloud stacked up to the heavens. Castle Douglas is lost under 8/8ths of cloud beneath us and there is a wall of cumulus ahead. I continue on to see if I can find a way through.
BP is an exceptionally well equipped aircraft. I have flown plenty of military types with less kit on board. She is fully IF capable and has a full autopilot as well but today I am the limiting factor. I don't have a civilian instrument rating and so I must succeed by VFR alone. As I get closer to the cloud I can see that it is in fact layered and there are plenty of gaps and holes.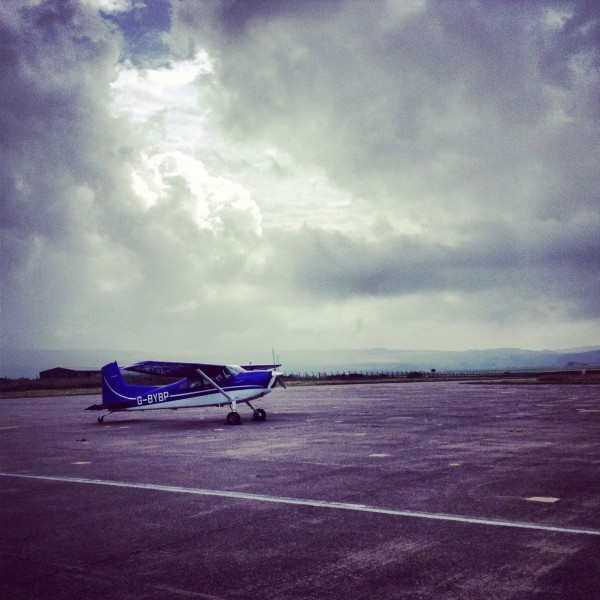 Forbidding skies on arrival in Campbeltown.
We are heading for Campbeltown or Macrahanish as it was. Formally a military airfield and relief landing ground for the Shuttle, it has a huge length of runway. It is raining as we turn into the circuit and there is no other traffic. Three hours and five minutes after we got airborne from Sussex, we are taxiing in to the hard standing and we still have three hours in the tanks. We could almost fly home again if we had to. I love this aeroplane.
We are met by my friend Giles Goschen who is himself a SuperCub pilot. He is holidaying nearby with friends and they have very kindly offered to put us up for the night. We put the aircraft to bed and talk to an airport official who enlightens me on one of the only problems of flying around the Western Isles: the restrictive opening hours of some of the airfields. It is Friday now and I learn that Campbeltown will only be open for an hour on Saturday and an hour on Sunday and not when I want to leave. Luckily it seems they are happy on this occasion to let me go when the airfield is closed.
A few miles up the road we are out from under the clouds and back into the glorious sunshine. We drive up the coast to a beautiful area on the southern end of West Loch Tarbert where they are staying. The house looks west across the water towards Islay and Jura. After some lunch on the beach several of us take to the water in various small sailing boats and in the sunshine and warm breeze I believe that we must have flown ourselves into paradise.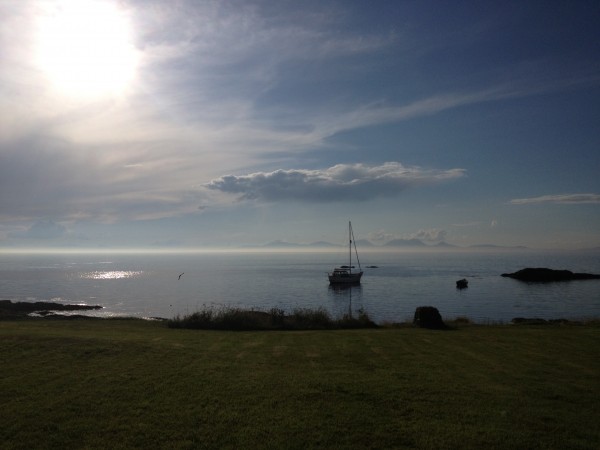 Looking across towards the unmistakable Jura. The boat belongs to Rod's friends. 
We are back at the aeroplane the following morning for our flight up to Glenforsa on the Isle of Mull. Campbeltown is deserted as expected and again we are under low and foreboding clouds that look like they might engulf the airfield and prevent our departure if we don't hurry up. As she warms up, we taxy onto the runway to back track and after what seems like an age we still haven't reached the halfway point. This place is so huge I decide that on this occasion I will live with the runway behind me and depart from where I am.
We pick our way out of the cloud and three minutes later we are back into blue blue conditions. Strange that Campbeltown seems to be permanently under a rain cloud when everywhere else around here enjoys clear skies? We head up the peninsula towards West Loch Tarbert so that we can fly past our friends and then continue north into the Firth of Lorn and towards Oban. Once there we turn into the Sound of Mull and call up Glenforsa. They are expecting us and tell me the wind is still straight down 07 at about 10kts: couldn't be better.
Glenforsa is a proper GA airfield. Unlike the big places which cater for the sporadic commercial flights and don't open if they don't have to, Glenforsa is open every day and throughout daylight hours. They will help with accommodation and car hire as well as providing lots of useful local knowledge. I join downwind and have a good look at the airfield and the approach which is offset for a hill on the centre line. I have been warned to keep an eye out for geese but I can see none. I land on the uphill side of the 700 metre grass strip as instructed and execute a very pleasing three point landing.
It is possible to pitch a tent under your wing here but we decide to keep the camping gear stowed for one more night and check ourselves into the Glenforsa Hotel. After lunch we dig the fold-up bikes out of the aeroplane and cycle the 12 miles to Tobermory which is a beautiful fishing town and whisky producer to the north of Mull. On this sunny Saturday it is alive with locals and tourists like us and has a wonderful atmosphere. It really makes me feel like I am somewhere foreign and exotic which is perhaps not the usual take on Scotland.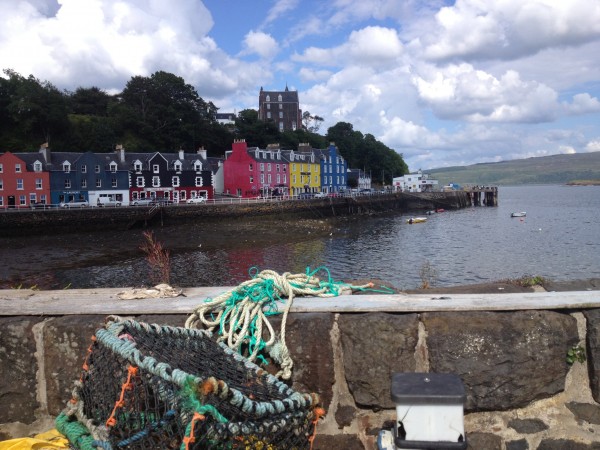 The beautiful and colourful fishing town of Tobermary.
The following morning the weather outside the window is bleak. We only have a short hop to Oban but it is bad enough even to prevent that. An afternoon clearance is promised so we wait and do some more exploring of the island. By mid-afternoon the met is still poor but Oban tell me that they are clear so I elect to get going, happy that we are heading into good weather.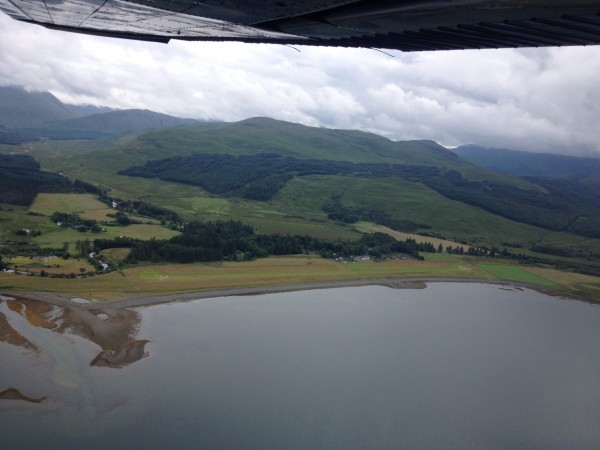 Departing from Glenforsa airfield – look close and you can see the thin green airstrip next to the water's edge.
Ten minutes later we land on Oban's northerly runway and this time I wheel her on and hold the tail up for as long as she will let me. We back track, park up under the tower and hoping to literally get on our bikes as soon as possible, we empty out the aircraft onto the tarmac to figure out what we need. I have booked fuel and the bowser arrives soon afterwards. It is at this point that I discover the second problem with flying in this part of the world: the price of fuel.
"Any idea how much it is?" I ask the bowser driver, fearing the worst.
"It is £2.05 per litre."
"Really, that is fantas…"
"Plus VAT."
"Oh shhh…"
I am told that the fuel has to travel a long way to get there and it affects the price. I console myself with the fact that this will be my only fill up in Scotland. The hungry 300 horsepower engine will chew through this load at a rate of 50 litres an hour which at these prices means we are burning £2 a minute.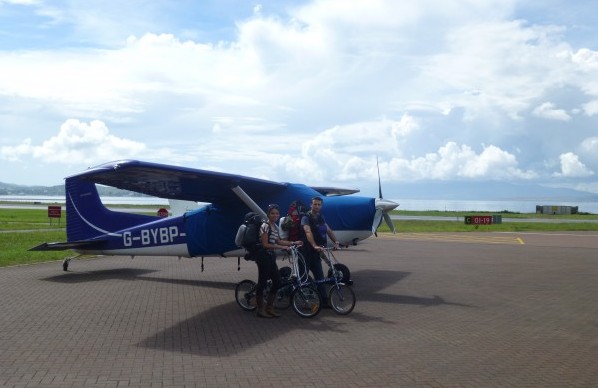 Rod and Emma secured BP at Oban and then cycled to the campsite.
We finish organising our kit, unfolding bicycles and paying landing fees before setting out for the Oban Caravan and Campsite eight miles away. The airport staff look on in disbelief at this juxtaposition of expensive aircraft and expensive fuel bill verses the cycling campers on a budget. We find the campsite and install ourselves before cycling back into town to explore. Oban is, like Tobermory, very pretty but bigger and it feels more Scottish; there is less colour to it but it is a striking place nonetheless and also buzzing with activity.
The following morning we head to the distillery where we enjoy an excellent tour for an hour before heading back to the airport. It has been raining lightly on and off all morning and the sky is looking more and more threatening. I am halfway through my walk round when the deluge finally arrives and we are treated to an African style rainstorm. Luckily Emma and all of our kit are now safely back in the shelter of the aircraft.
I have studied the TAFs and METARs and I know this storm is coming in from the mainland and to the north west, where we are headed, it is clear. I call for start and air traffic clears me but warns me of thunderstorms to the south. I call for taxy and they pass me some more warnings. Engine checks complete I call ready for departure and they clear me with yet more bad news about the weather. I get the impression that they think I am being reckless and their concern is now starting to worry my co-pilot.
Five minutes after take-off we are clear of the heavy rain and cruising back up the Sound of Mull past Glenforsa. The weather is opening up all the time as we head north west towards North Uist and I check in with Scottish Information in preparation for the over water transit to the island. We are heading for Sollas Sands on the northern edge of North Uist which is a beach but also a recognised landing site which plays host to the Highlands and Islands LAA annual fly in every June. The key players at the H&I LAA have been very helpful in bombarding me with useful information about operating from the beach. I have also checked the tide tables (not something I am used to doing when flying) and know that conditions are suitable for us to camp overnight on the beach.
Tracking up the eastern edge of the island it makes for a fascinating landscape, or waterscape, I can't tell which? From the air the land looks like it is pock marked with water such that there is almost more water than land in places. I looks like an eerily beautiful wetlands world where owning a boat is as crucial as owning a car. We switch from Scottish to Benbecula who have nothing to affect us and soon we spot our beach and bid good evening to them as they finish work and sign off.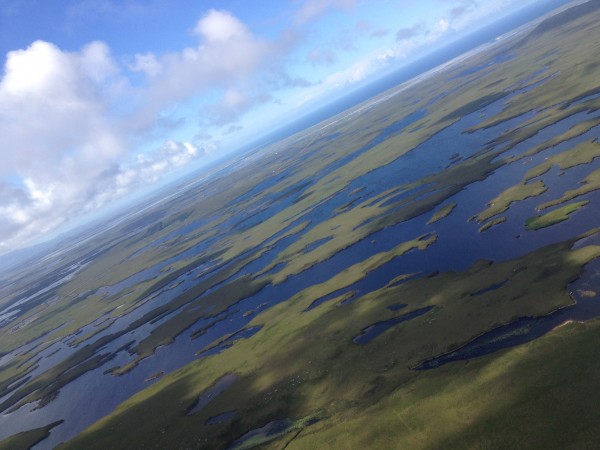 The waterworld which Rod and Emma saw as they flew towards North Uist.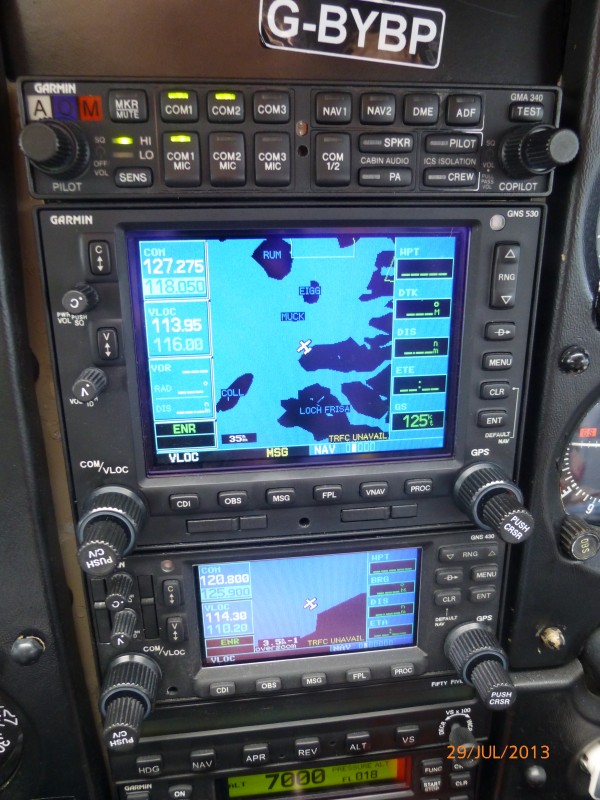 The tide is indeed out and the beach looks long and wide and a recce circuit proves it is clear with the wind straight down the beach. You could probably land in any direction if you had to but it is always good to have it down the strip.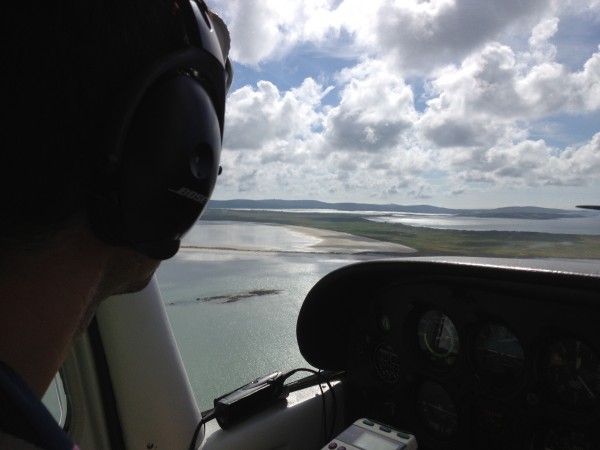 Rod eyes up the sand as his landing site as he turns finals. 
On finals it is difficult to pick an aiming point as there is so much space and subconsciously I am expecting the sand to be soft and draggy so perhaps I keep a bit too much speed on? I am aiming for another wheeler landing but I touch down and the highly sprung undercarriage bounces me back up again. I realise my mistake and keep a trickle of power on to settle us down for a second landing as best I can. It is not the best arrival but there is no one else around to judge. I have been doing consistently good landings on this trip but the Cessna 185 will not allow that to continue forever. Just as you are getting comfortable and complacent, she will demand your attention and respect. It is one of the reasons I enjoy flying her so much.
We taxy to the edge of the dunes and park up; the wind is a steady 10kts or so but we are lucky that it isn't stronger as this can be an exposed place. Once the tent is set up and the aeroplane put to bed, we head off to another nearby beach in search of some water. The tide is out but we are determined for a swim. We find it but it is so shallow that it is more of a splash than a swim. We finish the evening with a barbeque and a walk before turning in for the night on our own private beach in this beautiful water world.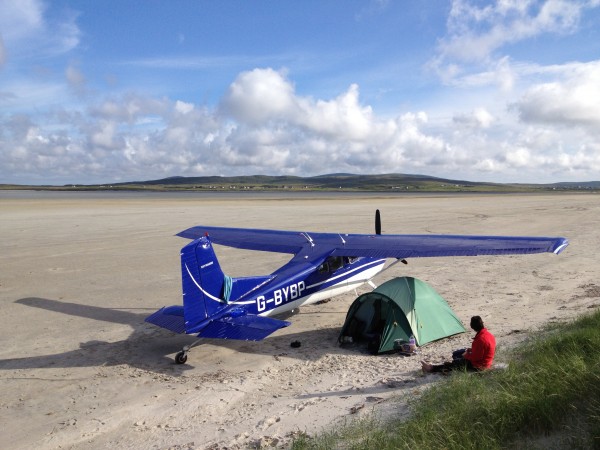 By the time Benbecula turn on their radio the next morning we are racing down the beach and back into the air for the trip down to RAF Valley. The weather is again great with just some medium level cloud allowing us to maintain 3000ft all the way. Scottish know where Sollas is but trying to explain to Belfast, Ronaldsway and Valley that our point of departure is a beach must have raised a few eyebrows in the control rooms. We head south past Islay and Campbeltown and on towards the Isle of Man where we fly overhead the airfield and then directly for Valley.
At Valley the Hawks are operating off the main south easterly runway but the wind is a fresh southerly which gives me quite a crosswind component but certainly nothing this tough bush airplane can't handle and within my capabilities too. However I allow myself to be lulled into a false sense of security by the long runway and set too much flap and rush the touchdown without employing all of the crosswind techniques. We arrive after a fashion but as we slow down through 30kts the wind has an increasing effect on the large fin and begins to weathercock us to the right. Full left rudder and generous amounts of left brake pulls us straight again. I taxy in thinking I should have requested RW19 instead of trying to mix it with the Hawks. Another point to BP.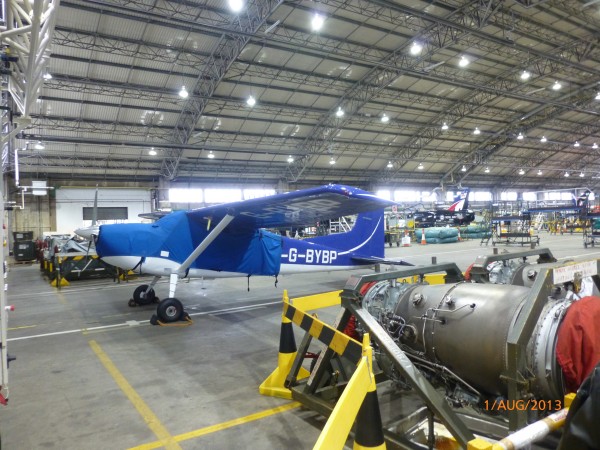 BP shelters from the elements in the Hawk hangar at RAF Valley
We plan to stay overnight but the following day the weather is appalling across the entire country and I am happy that I have hung on to my buffer days. After two nights at Valley with much achieved we set off homeward bound to Sussex. Wales lies under unbroken cloud so we climb up to FL55 and fly over the top of the blanket only descending when we reach clearer skies near Brize Norton. Sussex is basking in the sunshine as we touch down back at home on our familiar 500 metres of smooth grass.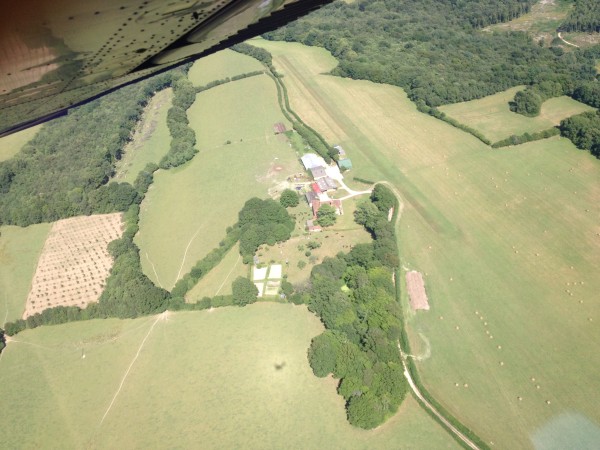 Rod arrives home.
Over six days we had flown just under 12 hours and travelled roughly 1400 nautical miles. We had been treated to beautiful scenery, met friendly characters, eaten fresh seafood and tasted the finest Scotch Whisky. It had been everything that a holiday should be but with a bit of adventure thrown in too. If you can overcome the changeable weather, afford the hefty Avgas prices and make the airfield opening hours fit your plan then you will enjoy the sort of journey that aeroplanes were made for – island hopping in the Western Isles of Scotland.