DOWN suits are essential when you're tackling high mountains.
But for all the comfort and warmth they give, they're also a complete pain to take on and off or to attend to calls of nature while wearing them.
There's much discussion on mountaineering forums about downsuits and which one is best – and there hasn't been a new design on the market for sometime, until this, the Absolute Zero Suit made by Mountain Hardwear.
Mountain Hardwear wanted to get the design of this suit just right – and bring something to the market that climbers would find immensely practical and less frustrating to work with.
So Mountain Hardwear went to Ueli Steck, the man who climbed the North Face of the Eiger when he was only 18 – and has since gone on to climb others, most recently Everest without using supplemental oxygen – and ask him to advise on how to make the Absolute Zero Suit, absolutely fit for purpose.
The best bit has to be the "rainbow" zip across the back of the suit. Called a rainbow because of the shape of the zip in the fabric. This lets you pull the back of the suit down to, ahem, you know, but it aso allows the climber to get in and out of the suit while wearing boots. There are six zip sliders in total…can you spot them here?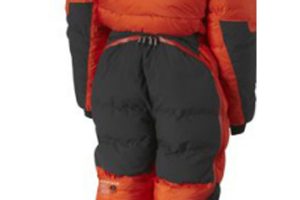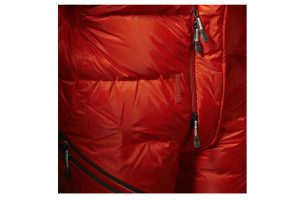 Next is the collar which lets you wear an oxygen mask more easily. Collars on some other downsuits don't make allowance for an oxygen mask – but this one does, making it much less stressful to get comfortable.
Down is evenly placed throughout the suit using a baffle design – think tortiosie-shell-pattern like pockets of down all over the suit.
This design has now become part of Ueli's alpine speed collection, tried and tested by the man himself.
See more about the suit here.
SUBSCRIBE TO ENTER A DRAW TO WIN TICKETS TO THE UELI STECK LECTURE ON DECEMBER 11tth 2012.