THULE is well known for its cycle carriers and roof boxes but the Swedish firm is now branching out into backpacks and a child carrier.
When they go on sale in February, Thule fully expects the first three series of packs – called Guidepost, Capstone and the child-carrying Sapling – to get the hiking community talking about them. This is because they will offer a 'perfect fit' by having multiple ways of adjusting them and gender specific design.
"We are convinced that we have taken a fresh approach to this category and created some amazing packs in the process," says Graham Jackson, Thule's Technical Backpacks Product Manager ."With no two human bodies being exactly the same, we developed quick and easy ways to fully customise our packs for a perfect fit."
Thule has applied the same design methodology from its bike and roof racks to make these backpacks. The CEO of Thule Group, Magnus Welander says the brand has spent the past three years working on them in-house and with a group of backpack design experts too.
And in case you're wondering who these experts are, the team is headed up by Henrik Kax, who was the Design Director at Haglöfs for over 10 years. Thule Group's Chief Engineer is Anders Lundgren, who has developed some of Thule's most innovative products during his 10 year tenure. Graham Jackson, Project Manager, has been part of the Thule Group for seven years, and is an avid outdoorsman who grew up in the heart of the Rocky Mountains. Graham has travelled the world's greatest ranges, including the Andes, Alps, Canadian Rockies and Himalayas. Complementing the team are four additional designers with decades of experience with today's top brands including North Face, Arcteryx, Patagonia and more.
Just as Thule makes racks and carriers to fit all sizes of car, it has applied the same principle to these backpacks. It means that this new range may well end up being the most customisable and comfortable backpacks on the market. The brand is already saying that its larger trekking packs will offer the 'perfect fit' from 270 different configurations. And if you find that difficult to comprehend, we're talking about having more stability from a unique TransHub suspension system, a MicroAdjust suspension system that means packs loads can be evenly transferred to the hips and, best of all, the ability to adjust the torso length of the pack whilst you're hiking, making sure there is consistent comfort.
Magnus adds, "With our long heritage of  designing smart solutions for people that live active lives, we have focused on this new category with user and developer insights and passion. Thule technical backpacks give every single user a fast and perfect fit, making hiking trips that much more enjoyable. As always with products from Thule, we have focused on ease of use, safety and quality, and the typical Thule styling."
Thule GuidePost series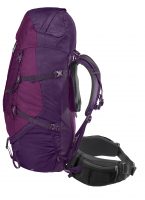 A deluxe gear hauler, the Thule Guidepost series is focused on what's important in the backcountry; comfort and ease of use. It is highly customisable TransHub suspension system fine-tunes the fit to the user's exact specifications. The lid of all GuidePost bags can be quickly transformed into a 24L summit backpack providing a two-for-one solution. And with smart features like the QuickFit shoulder yoke, pivoting hip belt and lid-to-daypack summit backpack, logging mountain miles just got easier. Made from a combination of 210D CorduraTM Nylon and 315D CorduraTM Nylon, the GuidePost is available in 88L, 75L and 65L men's versions and 75L and 65L women's versions.
Thule Capstone hiking series
Don't sett
le for anything less than a perfect fit. The Thule Capstone series features a MicroAdjust suspension system to let users customize the pack to fit their unique profile. Outfitted with a tensioned mesh back panel for maximum breathability, a quick access shove-it pocket and built in rain cover, these bags are packed with features for any adventure. For added convenience, the detachable clip keeps your keys where you want them. Two exterior side pockets add extra storage, making items easily accessible on the go. Made from a combination of 210D CorduraTM Nylon and 315D CorduraTM Nylon, the Capstone is available in 50L, 40L and 32L men's versions and 50L, 40L and 32L women's versions and takes less than five-seconds to fit.
 Thule Sapling Elite Child Carrier
For unrivaled child-and-parent comfort, the Thule Sapling Elite Child backpack carries your precious cargo safely and comfortably on the trail, and effortlessly makes the transition between parents with simple torso and waist belt adjustments in a matter of seconds. The daypack features a plush, height adjustable cockpit to keep your child comfortable during a long day on the trail, while the roomy hip belt protects all your essentials close at hand, eliminating the need to put down the carrier to reach snacks and toys. With a focus on safety and comfort, carrying your precious cargo just got easier.
The Thule brand was established in 1942. Under the motto Bring your life. It now makes roof racks, bike carriers, roof boxes, computer/camera/sports bags and child related products like child bike seats and multifunctional strollers. The products are sold in more than 136 countries world-wide.