"It's not an extreme sport," explains Max Wussler, one of the organisers of this year's Snow Bike Festival in Gstaad. "It's a festival, it's meant to be fun!"
If you're not fully up to speed with the concept of mountain biking on snow, then you're not alone. While it sound impossible and awkward, you'd be surprised at just how fast this sport it growing.
We don't actually need a specialist mountain bike – simply riding our own standard mountain bike with lower tyre pressures will do. However if you really want to get the best out of the experience then you want a Fat Bike. Fat Bikes run on 3.8 inch to 4.5 inch (9.7 to 11.4 cm) tyres and it's that wider footprint on the snow that makes the riding so easy.
But as well as the Fat Bike, in 2015, further development by the mountain bike industry has led to the introduction of
the Mid Fat Bike, now commonly known as the Mountain Bike Plus (MTB+). A Mountain Bike + has a new tyre width of 2.8 – 3.0 inch (7 – 9 cm) wide, so it sits between the traditional mountain bike and the Fat Bike, making it the ideal bike for all four seasons (also qualifying as a Snow Bike).
Mountain Bike + models offer a good combination of traction and moderate weight and are available from most of the bike brands in 27.5 and 29 inch wheel sizes.
Recent bike tyre development has also led to the release of Pure Silica (a softer rubber compound), studded options (tyres with spikes) and colour variations, all testimony to the growing Snow Bike market.
"Fat Biking is big in the USA, but we wanted to offer it here in Europe," explains Max Wussler.
So with all of this surge of interest in Snow Bikes, in 2014, Switzerland hosted the first ever Snow Bike Festival in Engelberg, but this year the festival will be held in Gstaad – a Swiss resort with stylish charm, discreet understated luxury and a rustic Alpine welcome.
It takes place from January 22 to 24, 2016 and all are welcome to fly out to Switzerland, bring their bike (or hire one) and take part either in the racing or in the fun ride. There are even a number of special holiday packages to get us out there and staying in a decent hotel.
This year there will be a three day Stage Race, an Eliminator Night Race, a Fun Ride, a Snow Bike Party and a Fat Bike EXPO.
The GSTAAD Sport Centre will be turned into a Race Village featuring a dining hall, race briefing area, a covered bike park, shower facilities and two heated swimming pools, providing riders with much needed comfort after hours of Snow Biking through the Swiss Alps.
For the Stage Race (held over three days) pre-registered riders will be able to collect their race accreditation starting on Thursday January 21, 2016 (early afternoon) in the Race Village.
These stages will be 35km to 50km in length with 600m to 1000m of climbing. Riding times ranging from three to five hours. The stage race also includes an Eliminator Night race adding even more fun to the event.
No previous Fat Bike or Snow Bike experience is needed to compete in the Stage Race and Mountain Bike riders with an average fitness and moderate skills level will find the Fat Bikes easy and enjoyable to ride.
The Golden Pass Package for the Stage Race includes rider accreditation, participation in the stage race, Eliminator Night Race, a GSTAAD Guest card and a Gift pack. Accommodation in 4 star hotels and all meals are included for the duration of the event. Those riders wishing to bring along the entire family may book a Supporter Package for each additional guest. The hotels are all family friendly and children under the age of six stay for free.
Riders who want to spend additional time in Gstaad, can extend by adding three additional nights before or after the event or both. Options are here.
Those Mountain Bike enthusiasts who just want a one-day-long Snow Bike experience should enter the Fun Ride. This event offers the fun and excitement of the Snow Bike Festival all compressed into a single route and will be held on Sunday January 24, 2016.
Riders entering the Fun Ride may use any kind of Fat Bike but will also be allowed to use normal Mountain Bikes. Riding time should be around 2 hours.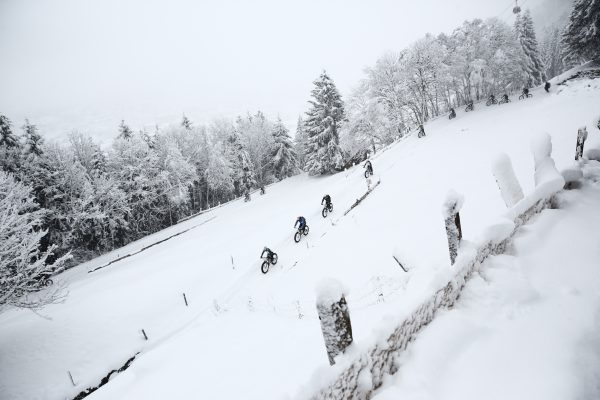 Visitors will get to do plenty of this kind of downhill riding. Photo by: Sportograf/Snow Bike Festival
All visitors will be able to wander around the GSTAAD Fat Bike EXPO where everything related to Snow Biking and Fat Biking as well as the latest trends in Winter fashion will be on show.
Finally, the Snow Bike Party will kick off on Saturday evening January 23, 2016. Race participants, supporters, Fat Bike enthusiasts and the general public will all be welcomed at the Race Village for an evening of fun and entertainment.
GSTAAD FACTS
The Alpine region of GSTAAD consists of several well preserved villages located in valleys between 1,000 and 1,400m above sea level.
Mountains and glaciers rising up to 3,000m provide an imposing valley backdrop to the forests, streams and lakes, creating the postcard image of Switzerland.
Conveniently positioned halfway between the Swiss German and French parts of Switzerland the region has an international flair and English is widely spoken.
Tourists and visitors are greeted with the slogan "come up – slow down".
Fat Biking has been welcomed to the region making GSTAAD the new hotspot of Snow Biking in Europe.
Winter Sports in GSTAAD include 220km of ski slopes, with Glacier3000 the only skiable glacier area in the Bernese Oberland, four Snow Parks, a Fun Slope, Free Ride and Ski Tour areas, Cross Country Ski Trails, Sled Runs, Winter Hiking Paths and Snow Shoe areas.
Kids under nine years old ride all cable cars for free.
The region is also officially labelled as a "wellness destination".
More than 100 restaurants offer a variety of tastes and guests are spoiled for choice, from a cosy raclette to gourmet dishes.