YOU might have seen the National Trust is getting some extra attention in your local Cotswold Outdoor store (Shrewsbury pictured above).
This is because the outdoor retailer is working with the National Trust to promote the "Great British Walk" campaign and has also become the Trust's Official Outdoor Retail Partner.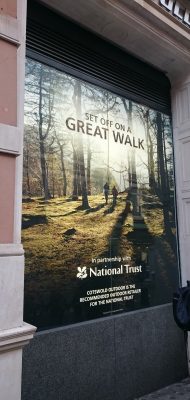 I walked past the window display in the Covent Garden store recently (pictured right) – and it certainly made me think about the beautiful countryside that we have on our doorstep.
Other window displays in stores throughout the country (pictured below) also have photos of some of the Great British Walk routes created by the National Trust. The window and in-store displays also showcase the outdoor kit (from brands such as Merrell, Berghaus and Garmin) that we can wear to go walking in.
Those who can't make it in to a store can visit Cotswold Outdoor's website where there are suggestions for what to wear as well as links to hundreds downloadable National Trust walking routes.
"The Great British Walk campaign demonstrates how well Cotswold Outdoor and the National Trust compliment each other," said Hans Falkenburg, CEO of Cotswold Outdoor. "We hope that the campaign will encourage more people to explore the British Isles, and that they do so with clothing and equipment that they can trust, from Cotswold Outdoor. Our staff are all outdoor enthusiasts with a high level of expertise, and so we're delighted to be able to support walkers as they head out on their own Great British Walk."
Dr Simon Pryor, the Natural Environment Director at the National Trust said: "The Great British Walk campaign aims to inspire people to make the most of the outdoors with more than 1,000 walks to chose from, spanning both coastal and inland areas. We're delighted to have Cotswold Outdoor's support and it's great that our members can draw on their expertise and make the most of their specialist equipment and clothing, to enjoy one of the many diverse walking routes – whatever the weather conditions."