The Head of Coffee Quality at Lyons Coffee, Gayan has turned his hobby into a reality and regularly travels the world to learn more about coffee and taste the finest beans the world has to offer.
Q: Where have you been on your coffee adventures Gayan?
A: "My coffee journey has taken me all over the globe, and I regularly travel to Italy, Switzerland and Ethiopia. Having been in the industry for over a decade, I've become a bit coffee obsessed.
Q: What does your job involve?
A: "In a nutshell, I oversee everything to do with the coffee quality, from start to finish. My role can be really varied, but my average day would include tasting coffee, including finished product samples, approving raw material, blend development and handling customer requests. I taste over 500 cups of coffee a week – it's certainly a unique job!"
Q: So do you just taste coffee every day?
A: "It's not as simple as just making a cup of coffee for customers to enjoy. There's a lot of work that goes on behind the scenes, which I don't think many people realise. A lot of effort goes into sourcing the beans, quality testing them and ensuring each coffee bag is as fresh and great tasting as the last."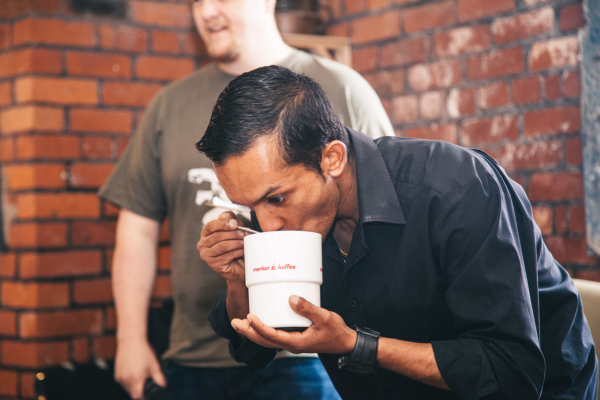 Q: What did you do before this job?
"My academic background is in maths, physics and chemistry – I love complex formulas and trying new combinations to make something work. When I realised that coffee combines all of these, it seemed like the perfect job for me and my favourite drink quickly turned from an interest into a passion. One of the main misconceptions about coffee is that caffeine is the main substance that makes it bitter. Actually, it's saturated protein that is responsible for the bitterness."
Q: Do you have a favourite blend?
A: "It's hard not to have a favourite blend when your passion is your job! However, it often depends on my mood and the time of year. In the summer, I like to unwind with a delicate, smooth Ethiopian filter and in the winter, I cosy up with a rich flat white…perfect!"
Q: We have used the Lyons coffee bags a lot on our trips. What do you think to them?
A: "Coffee bags are a delicious and convenient way to enjoy freshly roasted coffee on the go. It can be hard to have a fresh cup of coffee when you're busy managing your day to day life, but Lyons offer something I think most of us wish we'd have found sooner!"