The Buxton Adventure Festival is back and there's an event every month from now until June.
January's event is on Wednesday 17th January and kicks off the new year with the inspiring story of limbless mountaineer Jamie Andrew OBE.
He'll tell his gripping and inspiring story of overcoming horrendous frostbite that lead to the amputation of all four of his limbs through to learning to walk again and eventually climbing the 14,500ft Matterhorn.
In January 1999, he was trapped for five nights on the stormy summit of Le Droit, a 13-000ft peak in the Mont Blanc mountain range. Jamie lost his best friend and climbing partner, Jamie Fisher, during the storm and narrowly escaped with his own life following one of the most dramatic rescues in the history of the Alps.
Jamie suffered severe hypothermia and appalling frostbite and, after a medically induced coma lasting two days, he awoke to find his hands and feet had been amputated.
Since the operation, Jamie has achieved some incredible feats, starting with learning to walk again. He took up skiing, has run marathons and iron-man triathlons as well as returned to mountaineering, leading to his 2016 summit of the Matterhorn.
Now a motivational speaker, Jamie will recount his story with honesty and passion.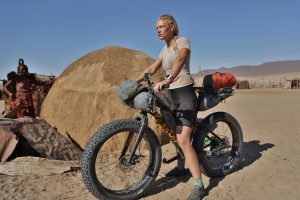 Jamie will be joined by support speaker Ness Knight, a record-breaking explorer, conservationist, wildlife enthusiast and TEDx motivational speaker.
Ness has stand-up paddleboarded 1,000 miles, cycled across the USA solo, become the first woman in history to swim the Thames River, ran 15 marathons in 15 days and cycled across Bolivia with no money.
Last year, she explored the Namib Desert solo, traversing the stunning, arid and inhospitable land.
Next, she is planning to become the first woman to row the Pacific Ocean solo, non-stop and unassisted.
Matt Heason, Buxton Adventure Festival Director, said: "If you're looking for a dose of motivation to kick off your New Year and inspire you to achieve your resolutions, look no further than our two January LowePro Buxton Adventure Festival speakers.
"Jamie's story of overcoming adversity to achieve what many would've thought impossible is nothing short of astounding. Now a highly experienced motivational speaker, you're sure to leave the Buxton Opera House ready to take on any challenge of your own.
"Ness has continually pushed the boundaries with daring feats of adventure and endurance, constantly looking to challenge herself and the perceptions of others. The diversity of her challenges sets her apart, as she's conquered epic cycling, rowing and running feats."
The event takes place at 7:30pm on Wednesday, 17th January 2018, at the Buxton Opera House, in the heart of the Peak District. Book your tickets online or call the Box Office on 01298 72190.
The Buxton Adventure Festival in association with LowePro is also supported by Exodus Travel, Buxton Opera House, Buxton Advertiser, The Old Hall Hotel, Heason Events.
Anyone who attends a Buxton Adventure Festival event this year can claim £100 off their next Exodus Travel holiday. See the website for full terms and conditions.