When Land Rover badges up a car as a 'Sport', it means business
Adding the word 'Sport' on the end of the name of a car is an easy way to make it sound sexier.
Even aftershave brands add the word 'Sport' on to an existing smell and there are plenty of those as I walk through the Duty Free at Reykjavik Airport. Land Rover has flown out hundreds of journalists over the past month to drive the new Discovery Sport on ice-glazed and snow-covered roads so they can get a true feel for what the car is capable of. As well as getting to drive the new car, we're also going to be taking part in outdoor activities with adventurers Kenton Cool, Ben Saunders and Monty Halls, all of whom are now Land Rover ambassadors.
We're all familiar with the Range Rover and how Land Rover brought out a Range Rover Sport version. So when I first heard that they were bringing out a Discovery Sport I thought they'd simply take the latest Discovery 4 platform and make it, well, a little bit sportier. But they haven't. Instead the Discovery Sport is a brand new model under the category of 'compact SUV' and Land Rover will now bring out a new-look Discovery later on this year (said to look very much like the Discovery Vision concept showed in April 2014). It's kind of like the small brother has been born before the big brother has arrived.
Land Rover has had 7,500 orders for the Discovery Sport and 2,500 of those are from people who haven't even seen or test-driven the car. It's easy to see why they've put their money down. While an Evoque might not be big enough for a family and a Range Rover Sport or Discovery is out of their price range, the Discovery Sport starts at £32,295 for the basic SE model. Three quarters of the orders have actually been for the mid-spec HSE and the top-spec HSE Luxury.
Even the basic SE has permanent four-wheel drive and most importantly, the 'Terrain Response' that is fitted on the Range Rover and Discovery. The Discovery Sport also has two foldaway seats in the boot, so it's a 5+2 car. You can put your older children in the rear seats and your smaller/younger ones in the boot.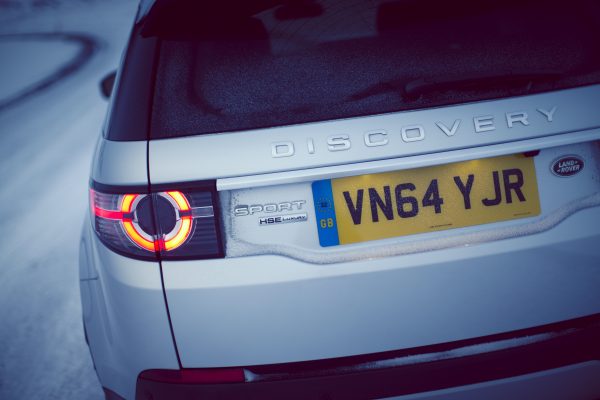 FIRST DRIVE
After a wonderful three hour flight with Icelandair from Heathrow we're taxiing in to the terminal over a fresh layer of snow over Reykjavik Airport. On the flight I'd watched Icelandair's promotional videos and I'd already fallen in love with the place – it's an adventure lovers paradise in the same time zone as the UK yet is a mere three hours away by plane.
During Land Rover's drive briefing, we're told that the locals say if you don't like the weather in Iceland then wait five minutes. I discover this for myself when I am barely a few feet outside the sliding doors of Reykjavik Airport and the wind howls up and the snow starts falling. I'm driving with Ben Saunders first, he walked to and from the South Pole 2014, recreating the expedition which Captain Scott died trying to complete in 1912.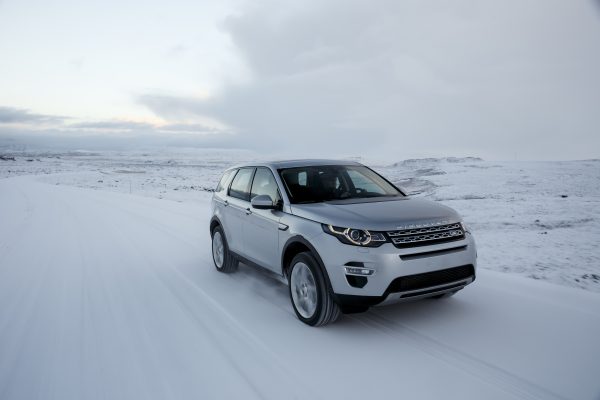 We jump into the Discovery Sport, her engine already running and the heated seats – and steering wheel – are set immediately to high. Being able to instantly warm your hands is the kind of small luxury that Land Rover likes adding to its cars these days.
I've been given a goodie bag of kit for the drive; a black 66° North down jacket, a power bar (so I don't run out of phone charge), a Petzl Tikkina headtorch and pair of North Face Pamir gloves. I was already feeling pretty smug that I had bought new Bridgedale socks for this trip and so far it looks like I'm going to need them.
The plan is to drive 100km in convoy to the luxury adventure ION hotel, our stop for the night. As we get underway, we have to put the heated seats on to the 'cool' setting as we're overheating. We're driving in the HSE Luxury version and this car has the 2.0-litre Si4 petrol engine and a 9-speed automatic gearbox. Land Rover is also selling a 2.0-litre diesel engine, which has a bit more torque lower down in the rev range.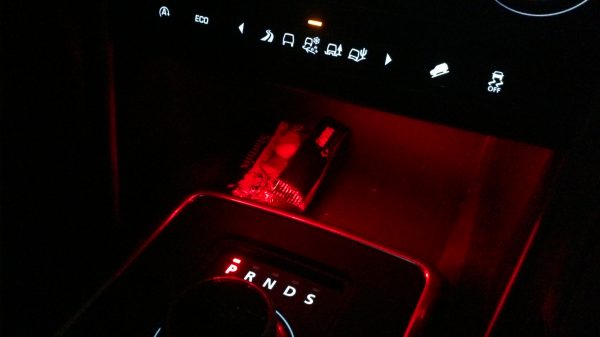 Can you see the five Terrain Response icons? The orange light above the 'Snow/Gravel/Grass' logo shows that mode is active 
I rotate the silver dial in the centre-console around to 'D' for drive, lift up the silver park button and we're on our way. The Terrain Response settings are on the dashboard and there are four settings –  General Driving, Grass/Gravel/Snow, Mud & Ruts and Sand. An optional fifth setting, Adaptive Dynamics, is available and the model I tested had this (it's the far left logo of a two lane road). This mode tunes the suspension to deliver even tighter body control with flatter handling and sharper response.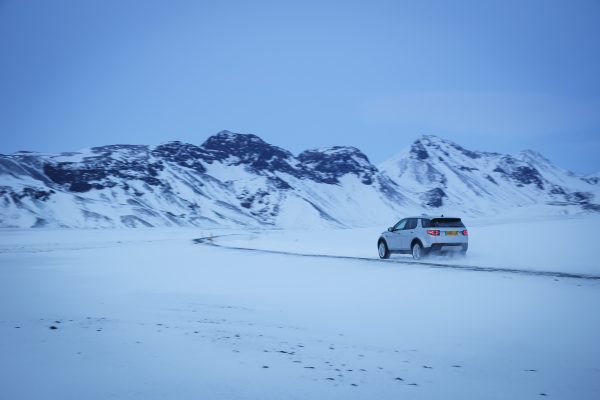 The idea with Terrain Response is you choose your setting according to what you're driving over. Or, if I'm heavy footed on the throttle, the Terrain Response senses what the wheels are doing (whether that be on snow, grass, sand or mud) and it adjusts the power reaching the wheels so that the car maintains optimum grip.
Our test cars are fitted with studded Pirelli Scorpion tyres fitted, so it's not a direct reflection of how the car would handle when you pick it up from the dealer. Studded tyres make a massive difference to the grip levels for a car on the snow. Even so, the Discovery Sport is handling the ice-glazed roads extremely well. The Terrain Response continually and quietly works to keep the car in good shape. When the satnav says we have about 30km to go to get to the ION hotel, the snow is really coming down. In fact, it's not coming down as such, it's actually blowing across the windscreen.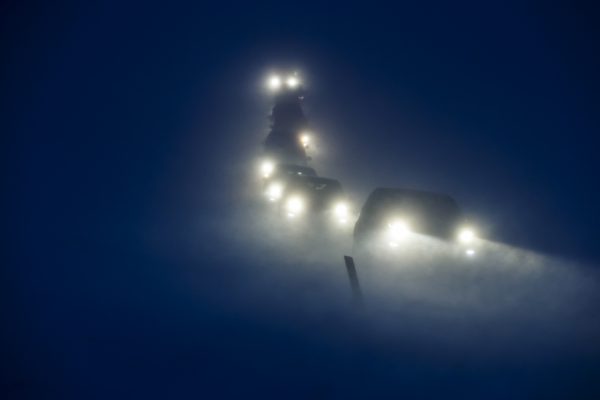 Ben reflects that this time exactly a year ago he was in Antarctica dealing with the very same kind of winds, yet he wasn't in the cocooned safety of a Discovery Sport. "My life seems to go to even greater extremes," he muses. "I sometimes wonder if I'm really ever still being that adventurous," referring to the luxury of the Land Rover we're in versus the 180 days he spent exposed to the elements in Antarctica.
"What's happening here?' I say, seeing that there are blue lights ahead. The Icelandic police have closed the main road at the roundabout. Our convoy has other ideas and leads us up a snowy off-road track and a member of the Land Rover support crew pokes his head in to our window and tells us we're taking the 'back route'. I can barely see out of the windscreen, but this is starting to feel like a proper adventure now. I focus on the red taillights of the car in front – they look like a compass – and we hope that they are staying on course. There's a huge metal pipe to our left. It carries hot geothermal water from the mountains down in to the city of Reykjavik.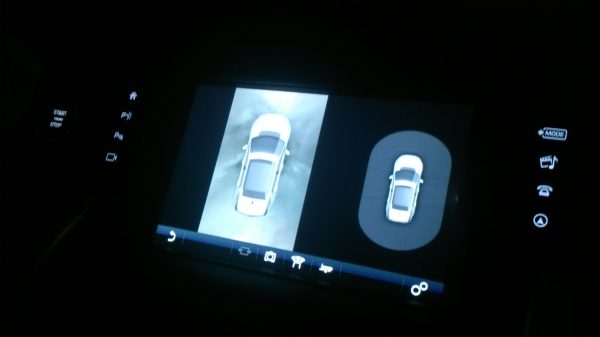 Side cameras let you see this top-down view of the terrain – in this case, swirling snow
I double-check that we're in snow mode and then it's Ben's chance to drive. I'm now the passenger and have bit more time to play with some of the electronic gadgetry.  I activate the video cameras so that we can keep an eye on what our wheels are doing on the snow. Ten minutes later the convoy stops suddenly. We sit still for 20 minutes, waiting for news and watching the snow accumulate on the Discovery Sport in front. The large D I S C O V E R Y lettering on the tailgate disappears until all we can see it say is COVER. We wonder if the Icelandic Gods are trying to tell us something. Take cover? A member of the Land Rover support team knocks on the window: "We won't get through," he shouts above the wind. "I'll help you turn round. We're heading back to Reykjavik."
We have no idea where we'll be staying the night. Instead we follow the convoy into the city.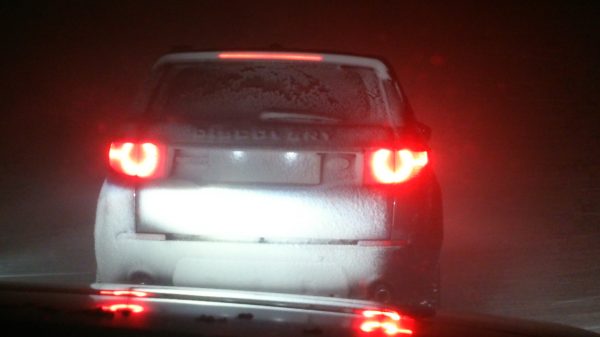 We pull up outside Hotel Borg, which is slap-bang in the centre of Rejkjavik's notorious nightlife. Inside it's an Art Deco dream and I marvel at how Land Rover organisers have managed to check in 20+ journalists into a hotel on a Saturday night right in the heart of Reykjavik. We go to dinner at the Kjallarinn kitchen and bar. Steaks hang from a hook in a glass tank at the entrance. Inside it's cosy; couples are out having romantic meals and it feels like our group has come in and blown out the magic candles. Dinner comes out fast. First a langoustines and scallop combination in breadcrumbs. Next a 4-in thick slab of steak served with perfect-rectangular chips and a red sauce to die for. Dessert is even more incredible; burnt butter ice cream on top of a thick cream brûlée and a perfectly-glazed layer of caramel.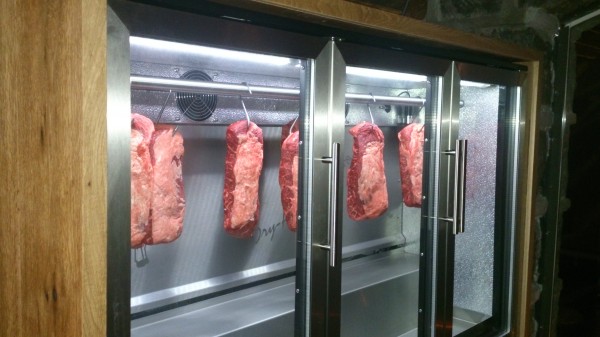 While we're tired with full bellies we can't bring ourselves to go to bed just yet. We've been lured by the fun looking pubs and decide to have a drink in the bar called Nora Magasin next door to the hotel. Nightlife in Reykjavik doesn't get properly going until 1am. I want to go to bed just as it's starting to get really lively. A few of us take a wander down town, just to see what it's like. We ask a beautiful blonde girl where's good. We thought she was 21 but she's 41 with three children; must be the Icelandic air. She tells us to check out Club Auster. We're not disappointed.
LIQUID MEDITATION
The next morning we're back on the road and heading to the Silfra lake to go snorkelling. It's dark until the sun rises at 10:30am and I feel a little worse for wear after a late night and a couple of Iceland's craft beers. As the sun rises, we're treated to our first views of Iceland in the daylight. We drive up the road that was closed the night before and there are ten or more abandoned cars. The only other cars we're passing are huge pick-ups with fat tyres, Mitsubishi's or Land Rover Defender's. An hour of twisting (and very icy) roads we come to Silfra and our guide Ted tells us we're about to snorkel over the top of Big Crack, a crack between the North American and Eurasian continents, meaning we're about to snorkel right where the continental plates meet. Ted tells us they are drifting apart by about 2cm per year. The Silfra crack is one of the top dive sites in the world mainly because the underwater visibility is over 100 metres. The reason the water is so clear is because it is glacial water that has been filtered through porous underground rocks for hundreds of years. I put my undersuit on then the drysuit which is so tight around my neck that I start to feel panicky. One of the instructors loosens it off and I start to feel angry with myself for staying up so late (and having a hangover). I pray that being in the 2°C water is going to sort me out…
It does and it doesn't. I am amazed that the black water I was staring down at suddenly becomes crystal clear when my mask breaks down through the surface of the water. While Ted had told us to make sure we drink some of the water (it's quite possibly the most pure anywhere in the world) I didn't factor on breathing it in through my snorkel and nearly choking. The drysuit keeps you warm but your hands and head are covered with normal wetsuit materials they soon become very cold. I find kicking with the flippers is awkward and I have too much air in my drysuit which is making me float too much. Still the sights I am seeing are quite simply some of the best I seen in my life. It's like floating across the top of the Grand Canyon. Ted had said the experience was going to be 'liquid meditation' and I found myself thinking about his words halfway through and finally managed to make myself relax and enjoy it.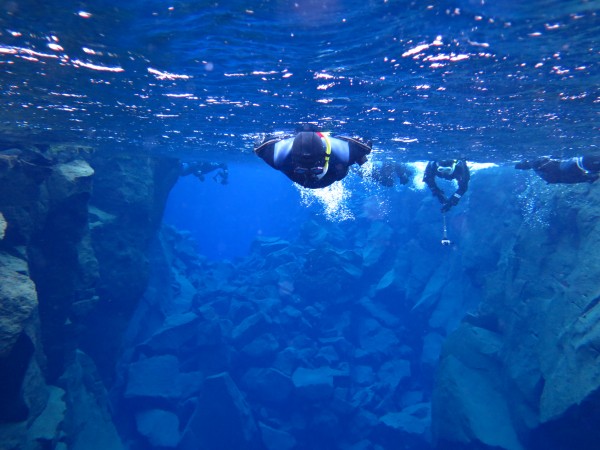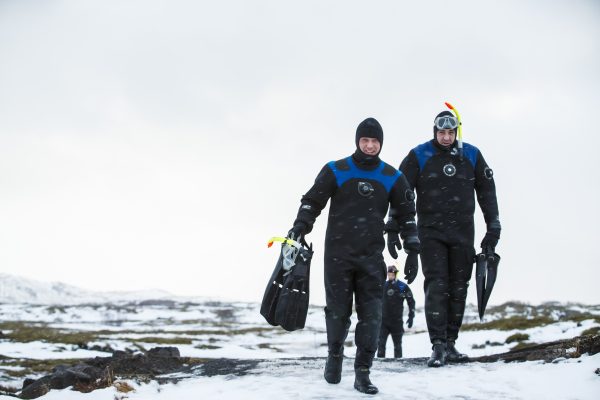 I'm thankful for a warm car to climb into after the snorkel. I'll definitely return and do it again but this time after a good night's sleep. We're now ushered onwards to drive the cars to drive to the ION hotel.
LUNCH AT THE ION ADVENTURE HOTEL
The building that the ION Adventure hotel is now based in was originally the living quarters for workers at the geothermal power station nearby. Lunch is reindeer and afterwards I sit on the sofa in the reception area to drink coffee and watch the steam pouring out from the geothermal power station. The bookcases have old Land Rover books on them and I notice that the reception is made out of porous volcanic bricks.
Next we head up into the hills around the ION Hotel for a hike in the snow wearing snowshoes. The air is so fresh but the hike is short because we need to drive back to Reykjavik before a storm kicks up. I sit in the back seats to get a feel for what it's like in the back. I enjoy looking out the window and spotting lone cabins with views out over cold and menacing lakes. I particularly like looking out of the back window as the heater filaments running through it make it look like a radar screen.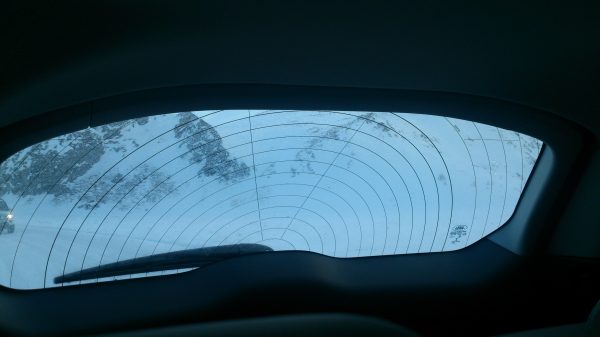 As we drive down steep icy roads on the way back to Reykjavik I start to think about the safety systems in the car. The TerrainResponse has been quietly working away but what would happen if we had to brake suddenly on one of these ice roads? As well as all the usual safety features, the Discovery Sport has an extra airbag that protects the driver's knees in a smash and if you run into a pedestrian there's even an airbag that inflates from under the bonnet. The car also will also automatically put on the brakes if the driver hasn't reacted in time to a collision.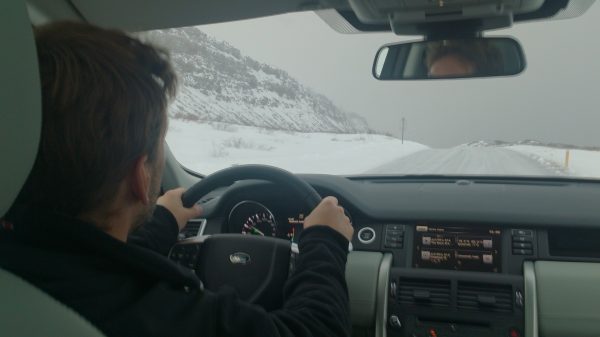 Now seemed a good time to look at how much fuel we'd used. We'd managed about 40mpg – pretty good considering the type of conditions we'd been in.
HOTEL 101
Still feeling shabby, I was relieved to be back in Reykjavik and the freestanding bath in Hotel 101 was the sight I'd been waiting for.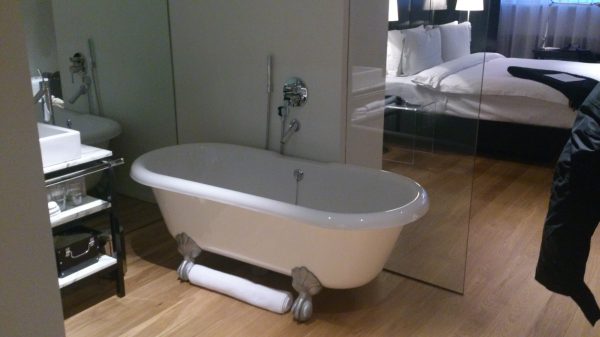 I had a two hour nap and decided to take a wander into town before dinner. I found a street full of cosy cafes and restaurants leading up to Reykjavik's distinctive church. I also  did a bit of 4×4 spotting; if you live in Iceland and want to go places then you need a vehicle that can cope with it, a bit like this Toyota Land Cruiser with huge chunky tyres below.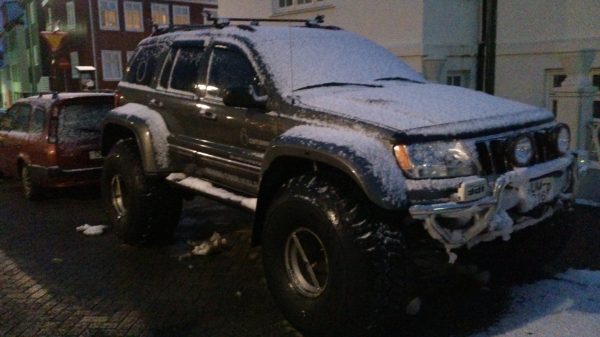 At dinner I sit next to Kenton Cool and quiz him about how someone can begin the journey to eventually go and climb Everest. Kenton has summited Everest 11 times and this year is planning to summit the three highest peaks in the world – Everest (8,848m), Kanchenjunga (8,586m) and K2 (8,611m) – in just three months. He'll drive a Land Rover between base camps. He's calling the expedition the Himalayan Trilogy and is certainly something to keep your eye on as the year progresses. Kenton drives a Discovery something he says is great for taking his children to school in or for loading up with climbing gear to go and pick up a client from Geneva airport. Monty Halls on the other hand loves the Defender, saying there's nothing else he would want when pulling out a boat from the water on a slimy slipway. Meanwhile Ben Saunders enjoys the luxury of a Range Rover – and who can blame him after the polar expedition he put himself through.
THE BLUE LAGOON
I don't feel like I've done anything strenuous enough to merit a pamper at the Blue Lagoon spa, but it sure does feel good to plunge into the hot turquoise waters. The lagoon formed when mineral-rich waters left the nearby power station. Over time the minerals sealed up the porous rocks creating a natural swimming pool. The water is only waist depth but you can swim and seek out the hottest parts. And when you reach a hot part, it feels wonderful. The floor is all natural too so it varies from black sand that you can scrunch between your toes to slimy silica-rich mud. Towards the end of my second hour I finally found the really hot part near the building and at point it was scorching my skin.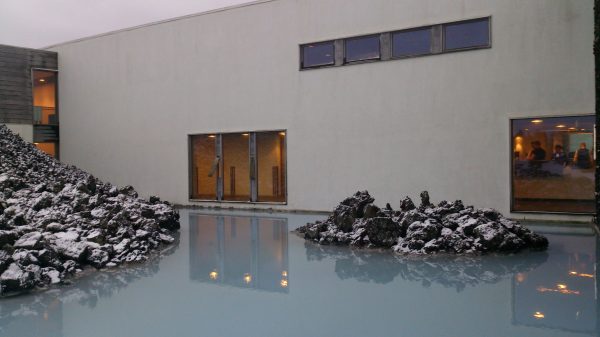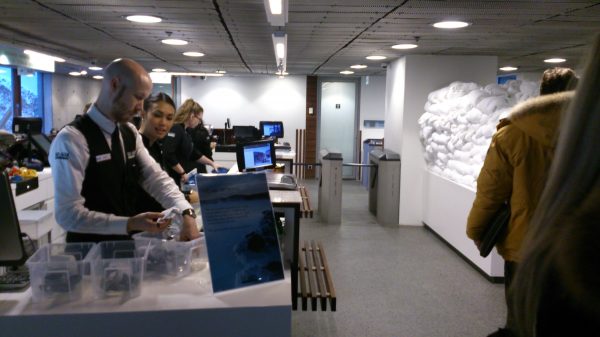 While I soaked up the heat of the lagoon I imagined what it would feel like to rest limbs that had been used for long hikes on Icelandic trails. I've only just scratched the surface of seeing what Iceland has to offer and I make a promise to myself that I will come back one day, hoping that there'll be Discovery Sport I can hire from the rental firm.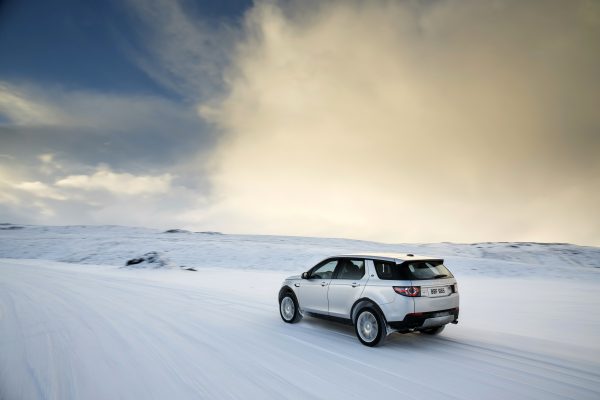 Land Rover used the catchy tagline of 'Ready To Discover' throughout the launch and the new Discovery Sport is certainly ready to do just that.