Put the tray of tequila shots down and reach for your climbing harness and snowboard boots.
This is the message from Red 7 leisure, who are offering outdoor activity options for stag and hen parties.
If the idea of pinning an 'L' plate onto a vibrant pink sash fills you with dread (I couldn't think of anything worse) and you're an adventure enthusiast anyway, it makes sense to encourage your closest pals to carve down a dry ski slope and abseil down a quarry for your hen or stag do instead of the usual alcohol-fuelled carnage.
So we made the trip to the Mendip Snowsport Centre in Bristol to sample what your stag or hen do may comprise.
Ahead of me was a day of snowboarding, rock climbing and abseiling. I had never been snowboarding before, but I accepted that I would spend more time on my backside than on my feet. "How good is your balance?" a friend asked. "Useless", I replied, recalling a Canary Wharf incident when I face planted in to a male tube passenger's chest with my arms outstretched either side and leaving a bronzed powdered dusting of make-up on his blue striped shirt.
After a train ride out of Paddington and then another short journey by road, I arrived in Yatton, a village in North Somerset. Despite the nippy temperature, excitement filled the air as the group I joined shared tales of past adventures. We were met by Craig and Matt, who were our snowboarding instructors for the hour and a half session on the outdoor dry ski slope. Once we were booted and padded up we lugged our Salomon snowboards up the slope. Most in our group were all beginners, so I instantly felt more at ease. Craig and Matt talked us through the basics; keep tall, move the body in the direction you wish to turn before you turn the board and to also point in the direction you wish to move. 'Don't look down' further key advice.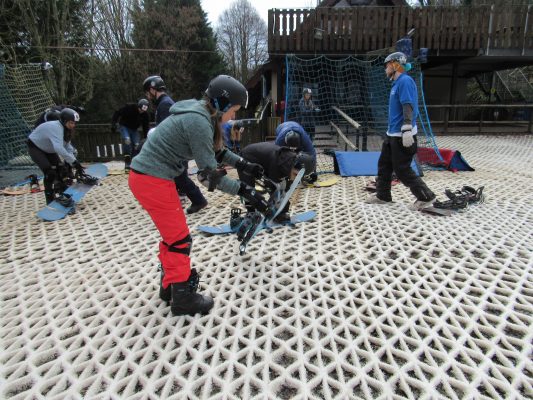 Initially, we had leg fixed in the binding on the board and like this we practiced turning on the slope and then stepping the other foot on and off the board. We then went down backwards with both feet fixed – and I was off. I found it incredibly difficult to get the positioning correct and others did too ­– there were plenty of tumbles from the whole group and shrills of both joy and of panic. I certainly experienced both. You got a cheer if you fell and a cheer if you stayed up.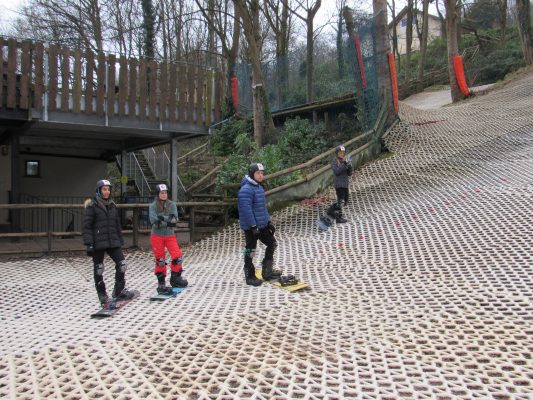 We then went down the slope facing forward, with our heels back. I made it to the bottom, but then crashed down on my side. Imagine falling on to a brushed doormat and having a wiry bristle tickling your cheeks. "Don't look down" was chanted from the top, but it came too late…
CLI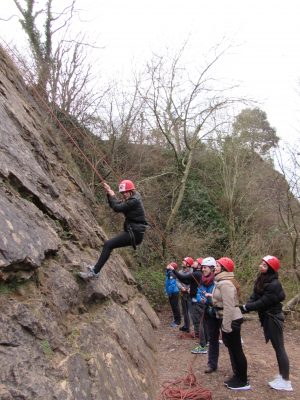 MBING & ABSEILING
After a buffet lunch in a rooftop cabin we boarded the minibus for an off-road ride to the quarry to climb and abseil down the rocks. The Mendip Hills has some of the best limestone climbing in Britain and Red7's centre has its very own 50-acre rock sport quarry with climbs to test all abilities. My increased adrenaline levels certainly helped me reach the top and I savoured the sense of achievement.
We climbed to 30m and walked across the top of the quarry to start the abseil down a longer stretch (40m) of the quarry wall. Despite the chilling wind, we all made it down. We were all looking forward to resting our hard-worked limbs on the train back to Paddington.
So before you throw yourself in to booking a traditional hen or stag do maybe think twice before ordering the crates of lager and that garish sash. And the best thing of all about an adventurous stag or hen do? All of your group are more likely to remember moments from it for years to come.
OLIVIA'S KIT
Salomon Women's Strike Pants £120
Colour: Infrared
"These Strike Pants are made from AdvancedSkin technical fabrics, something that Salomon calls 'an extension of your skin.' The AdvancedSkin Dry fabric protects you against rain, snow and wind while the AdvancedSkin Warm fabric on the inside keeps you toasty. It was easy to find the perfect fit, due to the adjustable waist tabs and belt loops. I particularly liked the fleece lined pockets."
Women's Nikster Full Zip Hoodie £59 (usually £75)
Colour: Darkest Spruce Light Heather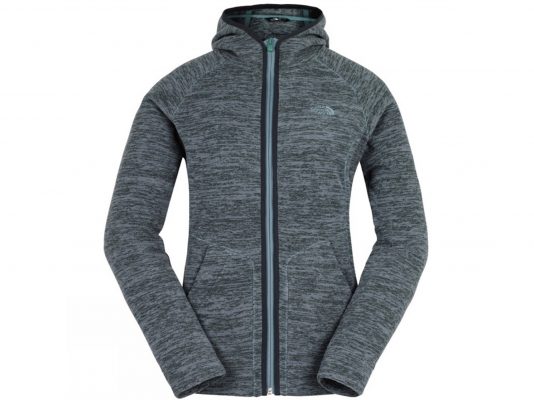 "I didn't want to wear anything bulky on top, I wanted something lightweight and breathable so I went for The North Face Nikster hoodie. This can be worn as an outer or mid layer. It has a great fit and was an ideal choice to climb in."