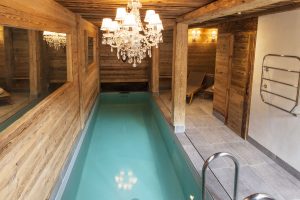 The Arctic Lodge is a luxury rustic retreat that you can ski in and out from.
After a day spent on the pistes, you can ski right up to the door, strip off your ski kit and plunge in to the indoor swimming pool or outdoor Jacuzzi that overlooks the men's Olympic downhill run and also gives one of the very best views of Val d'Isère at night time.
The owners have a vision to look at all areas where the mountain luxury experience can be improved. One of the most vital area's being wellness, therefore one of the hallmarks of being a guest at the Arctic Lodge is a healthier and more balanced food offering. Gone are the old fashioned heavy and stodgy 'chalet girl' offerings, instead, guests will experience a clean menu based on lighter meals, less sugar and more superfoods. Of course you still get to enjoy all the usual indulgences, but you get to ski the next day not feeling so slow out of the blocks.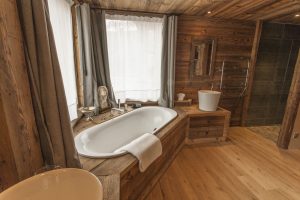 Equipped with every luxury that guests could require for their time in the mountains, a stay at the Arctic Lodge comes with a personal team that includes a private chef and resort concierge.
For something even more exclusive, Arctic Lodge & Co offers guests the Arctic Refuge – a private mountain hideaway (inaccessible by car) for those wanting a truly unforgettable mountain experience.