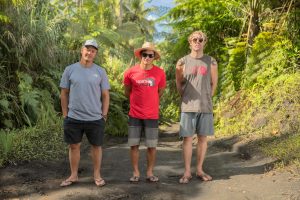 We've seen stunts from The North Face before, but this latest one on the side of a live volcano is as fiery as it gets.
Sam Smoothy, Victor de le Rue and Xavier de le Rue travelled to Vanuatu, an island in the South Pacific ocean to ride down Mount Yasur. As the video belwo shows, they stayed with locals and also explored the surrounding forests and beaches in their down time.
Filming the adventure came at a cost to their equipment which took a battering from skiing down ash and rock, as Sam Smoothy explains: "My skis were totally ruined, ground down to the core and the drones got pretty beat up trying to fly through ash clouds, but hit worst were the cameras. The lenses got scratched, all the focus rings were barely turning, just stuck hard with grit and ash and everything had to be sent away to be cleaned."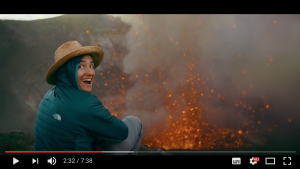 And for those of you wondering what it was actually like to ride down a volcano, Sam Smoothy sums it up as "pretty biblical".
"For me it was so surreal, like you just shouldn't be doing this, it is the ultimate fish out of water type situation," he says. "Your skis just don't run the same at all so physically you're tensing everything trying to hold it all together. And there's the whole mental side of things – hearing the volcano explode into life, while you stand near the summit, the ground shaking as you stare up into the storm of ash and rock that starts raining down on you, whipped on by wind, and try to see any rocks that might smite you. It is pretty biblical in a sense."
Some of the kit featured in the film includes the Men's Fine Pocket Tee, the Men's Freethinker Bib Trousers, the Homestead Dome 3 Tent and the trusty Basecamp Duffel Bag.