Regular readers will know that we love a paragliding adventure and this one flown by Steven Mackintosh – Tosh – is one that really stands out for us.
In February 2020, just before the Coronavirus pandemic hit, Tosh set out to fly the length of Nepal. He planned to fly from Darchula on the Western border to Sikkim on the Eastern border, a straight line distance of about 800km. Tosh actually started at Gokuleshwor about 20km from the eastern border and reached Pokhara some 21 days later where he finished the trip due to the pandemic. "With uncertainty in the pending airport closures due to Covid-19 it was concerning to continue at this point," he says. "So I achieved half the planned journey."
While it might be half of what he wanted to cover, it's certainly no less of an achievement and as more details about his adventure have come out, the wider paragliding and adventure community are recognising just what a feat he pulled off.
Tosh called his adventure 'The Nepal Traverse' and when it was in full swing in Feb and March of 2020 he posted frequent photos/videos to his Facebook page, giving a handful of his followers a glimpse into what it takes to complete a solo vol-biv (fly-camp) adventure, one that has never been done before by a solo pilot. A group of seven pilots tried it back in 2010, and their film 'The Himalayan Odyssey' is worth checking out on Amazon Prime.
Tosh filmed some of his trip too, and his hope now is to turn that raw footage into a film, one that can become award-winning and go on to raise funds for two Nepalese charities – Save the Karnali Rover and Karma Flights. The Karnali River is the last free-flowing river in Nepal while Karma Flights helps to support education and tackle poverty of Nepali children. Here's the trailer for that film, produced by Martin Cray.
VOL-BIV BEGINNINGS
Tosh got in to paragliding when he was 26. He had been living in the Bahamas where diving was his passion but on coming back to the UK he looked to find a new hobby and that's when he discovered paragliding. He set about learning with Skydragon who was local to him, but then had a move to Lincoln that limited his progress. "I was a slow burner," he jokes. "It took me two years to get my Club Pilot qualification."
Over the years Tosh became more and more proficient in flying XC (cross country). Any paraglider pilot (or any type of pilot) will tell you that the learning never stops and experiences help you build confidence and skill to take on bigger flights. His first ever vol-biv flight was in south east Wales and the first inkling of flying vol-biv in Nepal came from flying with his daughter at Pokhara. "I decided to try a 3-day 4-night vol-biv trip from Pokhara, it would be the longest I'd done to date," he explains. "It was just 60km, not a big distance, but the adventure was massive. The moment you go over a mountain and you've got all that you need to survive is liberating and you are totally free. It was just so exciting."
That vol-biv took place in February 2019 from Pokahara to Himalchuli and back. You can watch the video of that below.
One takeaway from this video is that Tosh also wants to tell the story about the people he meets and how the Nepali people live. It's not just about the art of paragliding, it's also about humanity and this bodes well for the future film.
TRAVERSING TIME
With Tosh having had a taste of Nepali vol-biv, he was then at the stage of 'what next'. He says: "I'd always wanted to go to the west of Nepal, so the idea of making a traverse came to me. I started watching videos about others who had flown there and before long it became a bit of an obsession for me."
There have been around six major flights trying to traverse Nepal and the Himalayas by paraglider over the years, but no one had attempted it solo before. Tosh started his preparation by looking at past attempts and studying maps. "I also worked out which things I needed to do to up my game," he explains. "I had the mountain experience and I made sure that I could nail tight landings in tricky terrain in the mountains."
Kit would also play a major part in being able to survive at 4,000m. "I get cold, I suffer from the cold," Tosh says. "So I had the very best Rab down jacket and Mountain Equipment sleeping bag. All my kit weighed 24.5kg including food/water. It's a real struggle to keep the weight down. I only had the one pair of underwear and a good multi-purpose soap," he jokes. Flybubble Paragliding and Trekitt both helped with kit support and were sponsors. Tosh opted for Ozone's Alpina 4 wing which is proving a popular choice for vol-biv flyers.
Tosh made safety a high priority and carried a very substantial First Aid kit that included Sam Splints. If you've not seen these, they are made from a clever material that can hold their shape around a leg or ankle, and hold it secure. Something like a broken ankle or wrist is just the kind of injury a paraglider pilot could face. He also had a Garmin InReach Mini, that has an SOS button on it. When you watch the trailer, you really can see how remote and alone he was. Should the worst happen, he had an option for getting help. He signed up with Global Rescue and had that backed up with IMG Signature Travel insurance.
CHALLENGES EN-ROUTE
Tosh thought it would take him about a month to make the full traverse. As it stands, his traverse to Pokhara took 21 days before he had to curtail it early due to Covid-19. It was always his intention to reach Pokhara and then re-assess and re-stock for the next stage and "if time allowed" continue on to Nepal's eastern border with India, to finish just north of Bhadrapur.
He says the weather was by far the biggest challenge he had. "I tended to use the Windy app to see what the weather and winds were doing. And I was surprised by the 3G and 4G coverage. When I couldn't get signal, I could send and receive messages though the Garmin InReach and receive forecasts that way. I flew in conditions on some days that you wouldn't normally fly in if you were doing this for leisure."
Finding water was a challenge too. "You need to try and stay high so that you have a good place to launch from the next day, but it's also quite dry when you're high. I'd try and start each day with 3 litres but that would be gone by the end of day's flying.
Charging all the various electronics kit was a continual stress too. There were the instruments essential to flight such as the vario and mobile phone, but also the batteries for his GoPro. While Tosh didn't set out to make a film outright, he did want to document it. "The filming was actually quite a task," he said. "A lot of time is spent backtracking to and from the camera, or thinking about where you need to stand to get the shot. Inevitably you don't capture every single take-off or landing, and if you filmed every single thing you'd soon run out of battery power and storage on SD cards."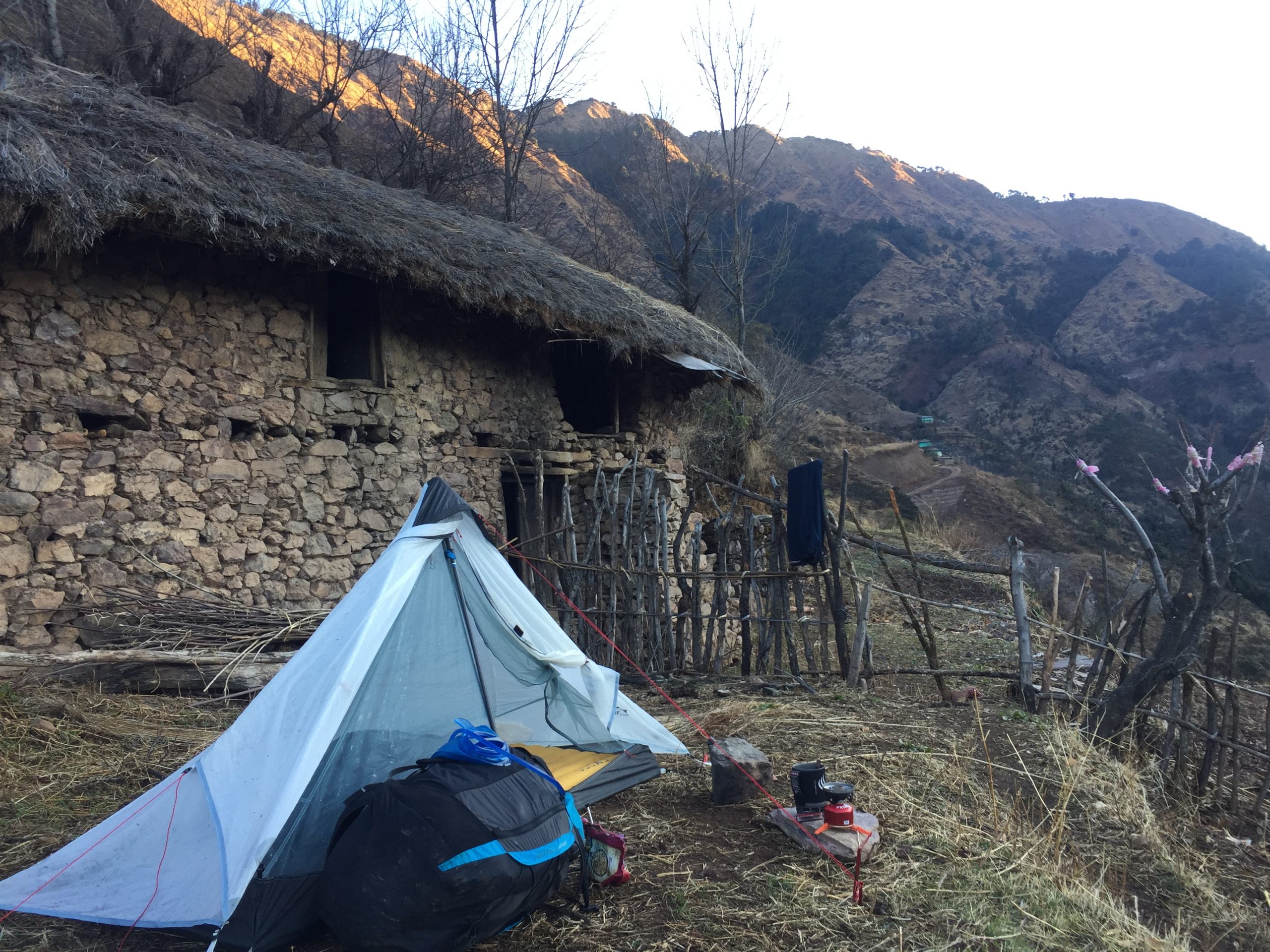 Then there's the navigation and just getting to where you want to be each day. "Where you will end up each day is completely unknown. And no day is the same. In fact some days felt like they lasted a week," he says.
The anxiety of not knowing if you're going to make it pops in to your mind on any adventure, but more so on a paragliding one. Tosh says he certainly felt that. "This anticipation builds all the time of 'is this going to work?'. If I couldn't make it all the way, then at least it would still be a good story. The beauty of paragliding is that it takes you to places you wouldn't normally go".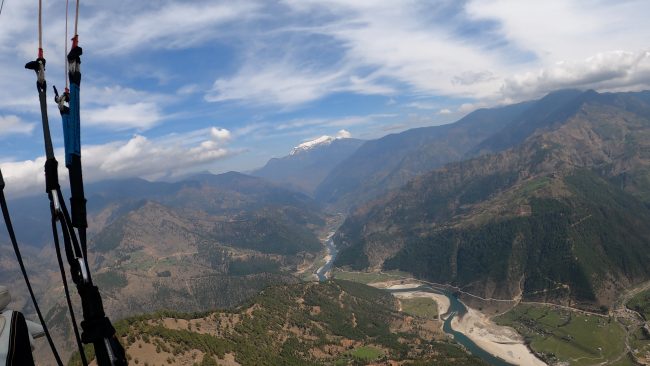 On 6th March 2020 he made it to Pokhara and wrote on Facebook: "Just arrived in Pokhara – felt so good pulling the g-force in a spiral dive into the landing field at 5pm tonight. It is 21 days since I left. I am feeling really emotional about finally getting here (I am typing that with tears in my eyes) but at the same time I feel great pride in achieving such an epic adventure. It is amazing where a paraglider can take you, I have seen so many truly amazing parts of Nepal, met so many amazing generous Nepali people. Now, I need to rest, I am so knackered, my body hurts from the endurance of the pace but with my determination to keep going I have ignored it.  (Need to see how much weight I have lost!!) Tomorrow is sitting, resting, writing the journal and eating. Will update on the last few days as well. Thank you for your support everyone. Stay with me for the missing updates and video details."
GOFUNDME CAMPAIGN
Almost a year on from the adventure, Tosh has released the trailer for the upcoming full-length film and is now looking to partner with a film production company and any interested sponsors to complete it. One thing you'll notice in his first vol-biv film and the trailer is that Tosh tells the story of the kind people he meets and the way of life in Nepal. His footage is not just about the skill of paragliding, it's also about the human element. To make a film to the standard you need to enter in film festivals and be worthy of awards takes some creative and clever editing. Which is why Tosh is trying to raise £6,000 to cover the production costs and he's set up a GOFUNDME page here. At the time of writing he has raised £1,000 of that £6,000.
Maybe you can ping him a fiver and help him on his way?