LAST year we went on two camping trips – one to Riverdart Country Park in March and another to Fairfields Farm  near Pevensey Bay in August.
We've come a long way in knowing what to pack for time away with the children so here's what we take with us. Who know's, you might decide to take the same.
First off, we pack everything up in a Volkswagen Touran. The thing about this car is that the entire rear panel is the boot door so it gives you a lovely square gap to load into and you can fit large items in very easily. The inside of the boot is square and we can pack right up to the edges. Once the boot is shut we can get the bikes (and tag-alongs) loaded on a bike rack. We also fill up the footwells in front of the kids and load the middle seat with sleeping bags, blankets and pillows.
It was a tight squeeze for the 3-nights we had in Riverdart so for our week long trip at Fairfields Farm we invested in a cheap trailer to tow behind us. You might find you get charged a little more by the campsite but it's well worth it. The trailer let us carry the bikes, a large gas bottle for the stove, fishing kit, inflatables, chairs, table and a BBQ – all of these are items which make family camping more comfortable.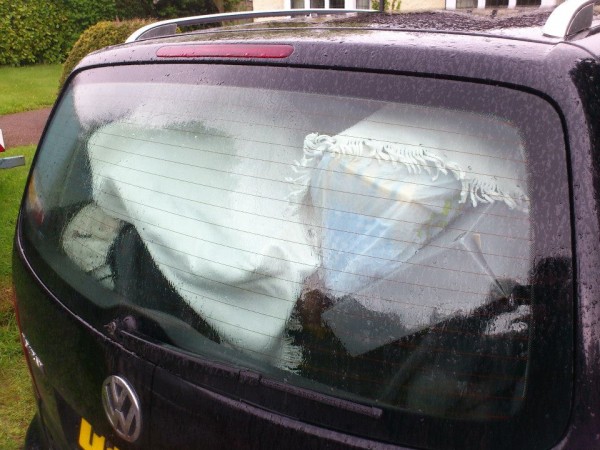 It soon fills up. Even things like swimming floats take up valuable space.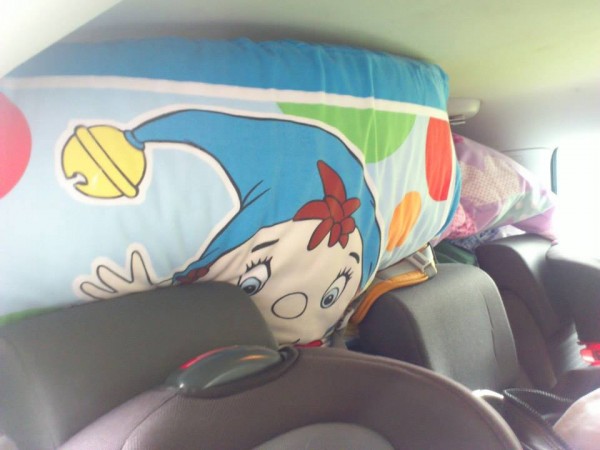 We place pillows behind the rear seats and it makes it comfortable too. 
The tent we use is a Vango Tigris 400XL. This has two separate sleep areas. We fill each one with a Vango Double Airbed and pump air into them using a 12V electric pump which we bought from Halfords. We need to replace one of our air beds before Easter as it has a leak which we can't locate. The kids sleeping bags are from Mountain Warehouse then we use a mishmash of two old sleeping bags and a duvet. We'd like to get a new double-sleeping bag and we're looking at the Aurora Double which is £105. We're also looking at the new Eden V 600XL tent.
We erect a gazebo next to the tent so we have an area for our table and chairs – a bit like a dining area – during the day. We bought a really cheap one from B&Q last year but it was destroyed by winds and rain on our last trip so we're looking at spending a bit more money this year on one. Or maybe we'll look at an awning like the one below.

We also definitely need windbreaks. We found we couldn't relax at night outside the tent when we had the wind blowing right against us. The added bonus of windbreaks is that you can take them to the beach too. The fleece blankets we take for use in the tent also get taken to the beach to sit on. You have to find a double use for most things while camping otherwise you end up overpacking.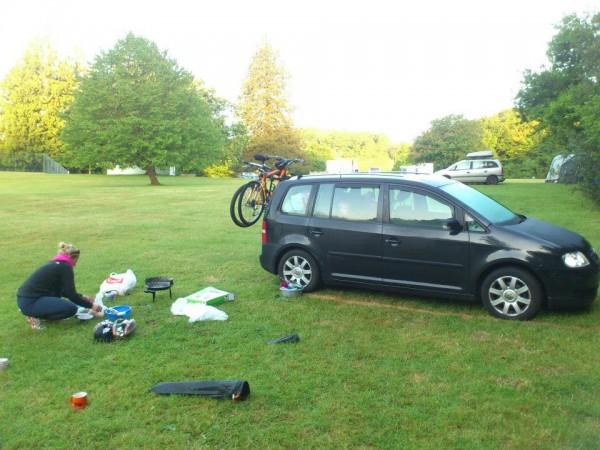 Arrival at Riverdart. We use a small BBQ with the legs cut short so it's easy to transport. We take two wash bowls.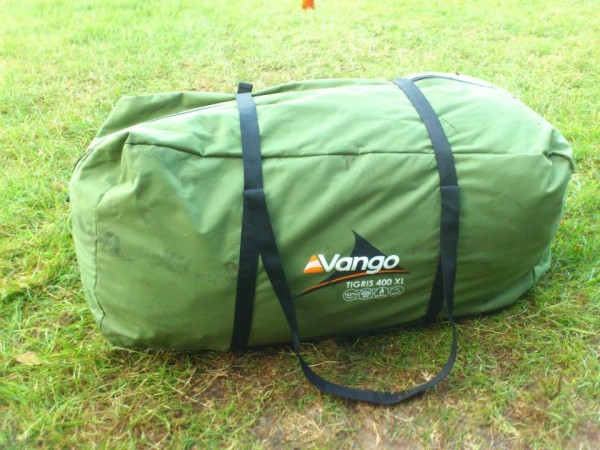 Tigris 400 XL wraps up neatly and doesn't take up too much room in the boot of the Touran.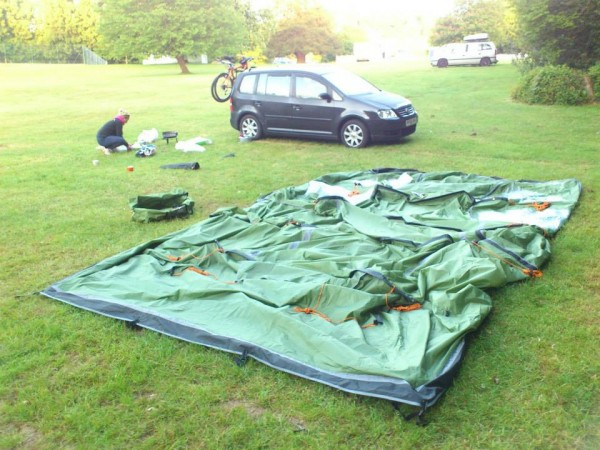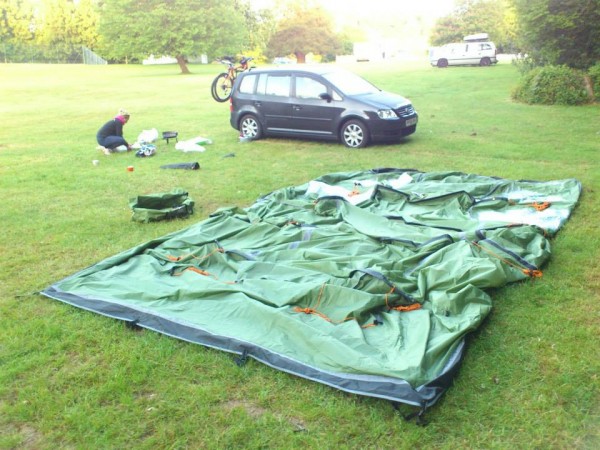 Work out a teamwork system – Sarah sorts the car while I put up the tent.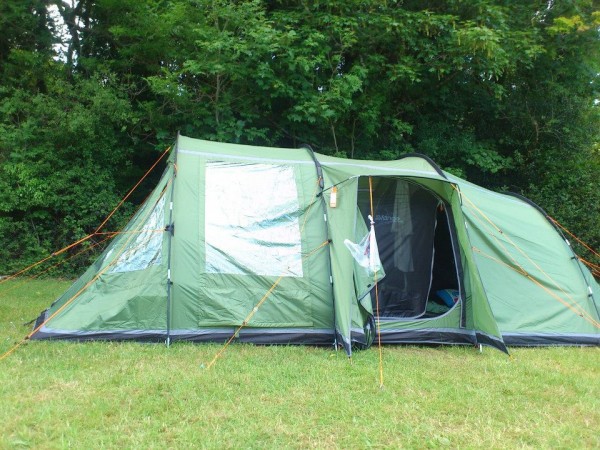 Vango Tigris tent has a porched side door. Windows roll up. So does the end to make a huge doorway.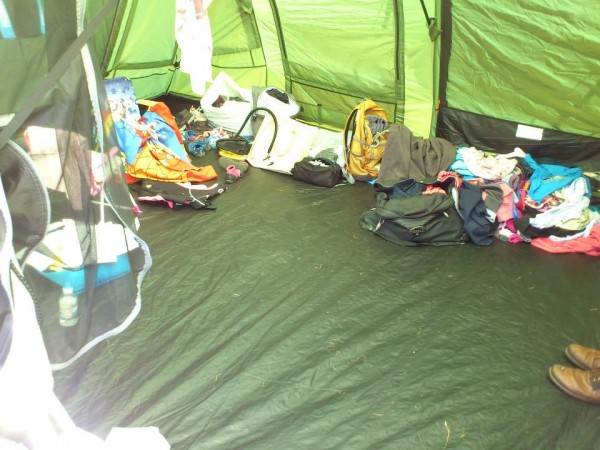 We definitely need to improve our storage inside the tent (based on the mess in the photo above!) so we're looking around for ideas and kit to do this.
One thing we both agree that we want for our next trip is a carpet to fit inside. We had a couple of days of bad weather at Fairfields and the family next to us had a carpet laid in their tent. Having a tent which has been 'snugged up' is perfect for a rainy day and will save you £100's in having to do a day of activities away from the campsite. Vango rugs and carpets are backed with waterproof material and can double up as picnic rugs for the beach too.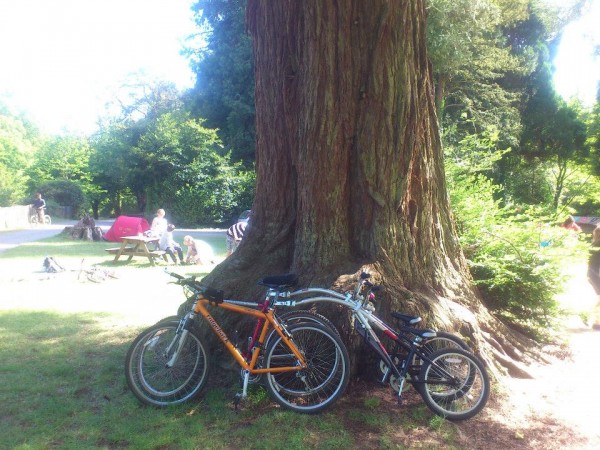 Our mountain bikes with tag-alongs are tough to transport but they are worth their weight in gold at the campsite.
We tend to ride our mountain bikes everywhere on the campsite (we found tag-alongs for sale through free cycle) and Sarah and I both have rucsacs and supermarket bags which we hang off the handlebars. We can carry everything we need for a day and if we do forget something then we can get back to the tent quickly.
Another area we need to improve on is the kind of lighting to use inside the tent at night. We bought two long torches from ASDA for £6.50 each and we clip them up inside the tent. It works but it's not ideal. We each then have a small handheld torch (again from ASDA) but we'd be much better having head torches for everyone. We're currently looking at some lanterns and even a proper strip-light which you can hook up to mains. If were on mains then we can have a light in the main tent and one inside the gazebo too. Vango's Light Disc is pretty good at £8 and its Light Pad is a wind-up one. Vango has a quite a selection of lanterns and lights so we'll be looking more closely at that. Most rely on a 12V power source or rechargeable batteries.
Electrics is a big issue with family camping. We found that we put an incredible load on the car's battery as we used the 12V socket in it for pumping up the air beds, recharging DVD players to entertain the children and constantly charging our smartphones. One fear is that one day we'll run the battery down flat. We haven't yet but this Easter we'll look at buying solar-panel charges for our phones and maybe consider a mains hook up.
Another area of our camping which we really want to improve is our dining facilities and furniture. Sarah has her eye on the Como Kitchen and the Mulberry and Alder tables. We did have a four-seater fold-up table but it bit the dust on our last trip so we now need a proper dining table and four chairs.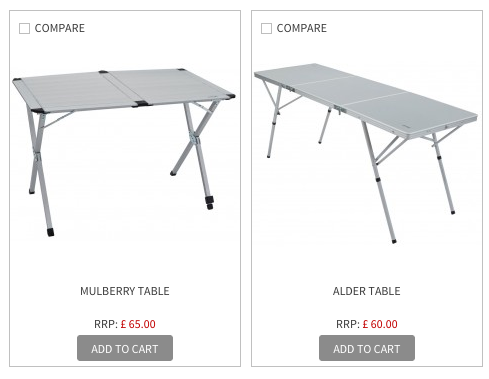 For cooking we bought a cheap stove from Mountain Warehouse and hooked it up to the gas bottle we use on the BBQ at home. But we were disappointed with the stove. We're going to replace it because it just didn't have enough power in the flames –  heating up hot water for tea was really time consuming. We're going to look at the offerings from Coleman and Camping Gaz. I currently take a small Primus stove and gas with me on day trips and a kettle and frying pan so we can brew up a cup of tea or cook bacon and sausages for lunches.
We are also looking at buying a fridge which we can run off the 12V car socket and in the tent off mains. We managed our food using a simple single fridge and cool bags but you do need up making regular supermarket trips. What we'd really like is two fridges and better cool bags so that we can sustain ourselves longer.
So that's where we are in our plans for Easter camping.
Location wise for this Easter, we're considering camping at WooWoo Campsite which is east of Haywards Heath. We'll let you know what it's like.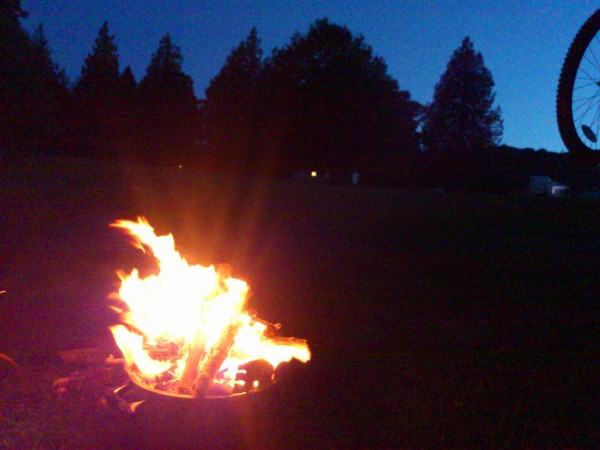 Vango has two great website links with more advice. Check out it's Family Camping link and it's Camping with Kids link.