EVEREST never ceases to draw attention.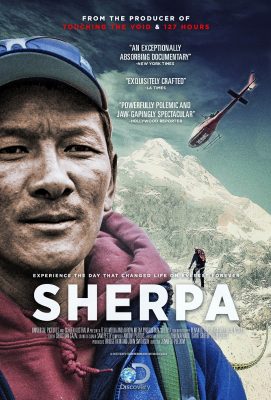 The difference this year is that there's been a mainstream film, called EVEREST released in to cinemas, that described the 1996 climbing season when a violent storm hit the upper reaches of the mountain.
And now, about to hit the cinemas, comes an award-winning documentary about Everest, but from the Sherpa's point of view. At the BFI London Film Festival this year the film 'SHERPA' won the Grierson Award for Best Documentary, not surprising as the producer is John Smithson, the same guy behind documentary films TOUCHING THE VOID, 127 HOURS and 9/11 THE FALLING MAN.
The filmmakers were inspired to make SHERPA after hearing about a fight in 2013 between European climbers and Sherpas at some 21,000ft up the mountain (around 8,000ft below the summit). Determined to explore what happened, the filmmakers set out to make a film of the 2014 Everest climbing season, from the Sherpas' point of view. Little did they know that they would actually capture a tragedy that would change Everest forever. At 6.45am on 18th April, 2014, a 14 million ton block of ice crashed down onto the climbing route through the Khumbu Icefall, killing 16 Sherpas.
The trailer below gives a better glimpse in to how the film plays out. In cinemas on Friday 18 December.