EUROPE'S leading paramotor school, SkySchool Flight Centre, is preparing two female pilots to take on the world's toughest air race, the Icarus Trophy, this October.
The Icarus Trophy starts on the 10th October 2015 and paramotor pilots will have to fly a 2,000km route from Seattle to San Diego solo and without assistance.
Rebecca Muller, 30, from Switzerland and Zoe Oakes, 36, from London and have been training with SkySchool for the past year to take on the challenge.
Rebecca (pictured above) is taking part this year and is the only woman out of 45 competitors while Zoe is signed up to the 2016 event.
It is the first time a long distance air race of this kind has ever been attempted and pilots will have to navigate their own route along the race course, fend for themselves overnight and carry everything they need to survive during the two week race.
Rebecca (pictured below) will raise funds for cool earth and says she first started paramotoring in 2011.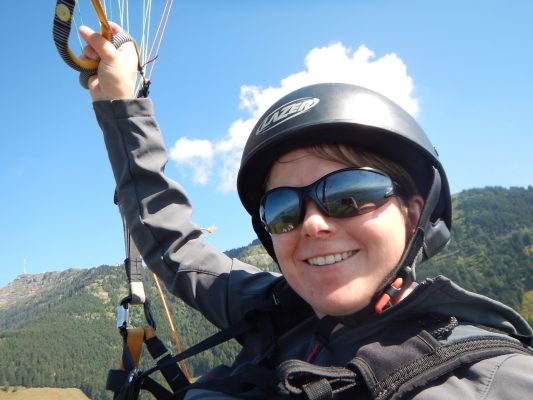 "Being able to fly is an absolute privilege and definitely not an experience just for men," she says. "In taking on the Icarus Trophy I hope to gain experience both in flying thermals and personally. For me it's not about winning, it's about the journey and with the event next month, the reality has hit home and I am hoping I am not in over my head. One more training week with SkySchool in Spain this Sept and I should be ready."
Zoe Oakes (pictured below) says she had never flown a paramotor before she decided to take on the Icarus Trophy. "I was always a nervous flier in a plane so I wasn't sure how I would get on," she explains. "The SkySchool instructors helped my confidence massively; they are incredibly knowledgeable and professional so although it took me a few days to get to grips with the ground handling of the equipment, I quickly came to absolutely love it. It's an amazing feeling to get your take off right and head into the sky. The feeling is pretty different to the stuff you experience day to day and is exciting and incredible."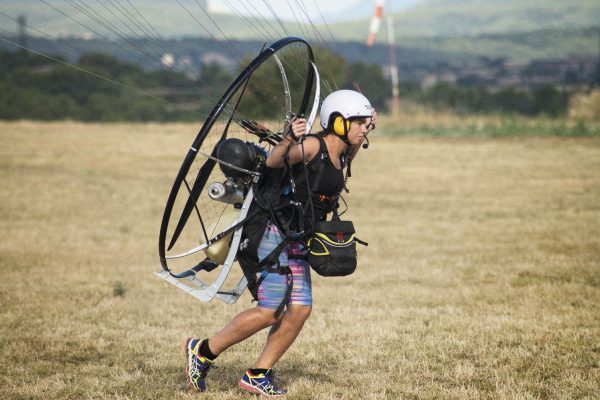 Rebecca and Zoe are being taught by Alex Ledger at SkySchool, the same instructor that taught us to fly paramotors back in 2011.
The SkySchool Founder and chief safety officer for the Icarus Trophy says: "Paramotoring has traditionally been a male dominated sport, however with lighter equipment and the development of events like the Icarus Trophy it has started to attract more women. What's great is they have not only kept up with but also out-performed many of the men and I hope they can inspire more woman to take up the sport."
The Icarus Trophy is being organised by The Adventurists, the creators of the infamous Mongol Rally, and managed by a team of flying instructors from SkySchool.
SkySchool Flight Centre is a British Adventure Sports company run by Alex Ledger specialising in Paramotoring, Paragliding, ParaTriking and Skydiving. Alex set up SkySchool in 2005 and it is now Europe's leading Paramotoring school, running courses for over 20 weeks a year in both Spain and the UK. SkySchool also runs Paragliding, ParaTriking and Skydiving courses, while distributing some of the best equipment. SkySchool is the official training school for Parajet, the pioneering British company behind Bear Grylls' Mission Everest project in 2007 and the Flying Car project in 2009.
Alex Ledger is one of the top Paramotor Instructors in the world and the UK's leading Acrobatic Paragliding Pilot. In 2011 he founded APPI PPG, the International Paramotoring Association and travels around the world running instructor courses and promoting safety in the sport. In 2013 he founded Flying for Heroes in association with Help for Heroes, to provide flying training and expeditions for Wounded, Injured and Sick Service personnel. In 2014 he led the Flying for Heroes expedition across Kenya, which was filmed for a documentary scheduled for release in September 2015.