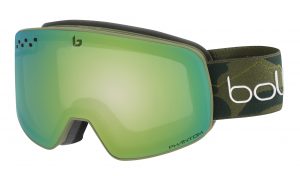 If you're heading out skiing or boarding soon and are lusting after a new pair of googles then Bollé's new NEVADA goggles are worth a look.
The 'Phantom' lens (which you can see printed on them) is photochromic so it lightens or darkens according to the light condition and it does this at any temperature too. So you can have a super cold bright day and the lens will still darken a little, even though it's freezing cold. Likewise, on a cold grey day, the lens will still be able to adjust. Bolle calls this LTS (Low Temperature Sensitivity). You can also get a Phantom+ lens (Phantom plus) which is a semi-polarised version of Phantom.
Another benefit of these is the wide field of view, a brilliant 'Flow Tech' venting system and an anti-fog treatment on the inside of the lens.
There is even a signature version of the Nevada goggles with US Champion David Wise's name on them (see image below). He'll be wearing these for the X-Games which kicks off on Janaury 24th. Featuring camouflage graphics developed by the freestyler himself, the NEVADA Signature Series David Wise's frameless design and cylindrical lens offer the widest field of vision supported by Bollé's latest lens innovation, Phantom.