IF you're hoping to run more frequently this January then here's a few items of kit that from The North Face (TNF) that'll make it easier to face the (usually) gruesome weather.
First up is the Flight Series Packable Jacket that's made out of the new Futurelight fabric. Men get a choice of two colours – Chlorophyll Green or TNF Black. Women get a third colour option of yellow (TNF Lemon).
The Futurelight fabric means this jacket scrunches down nicely into one of its own pockets, yet it is really breathable and extremely waterproof.
There is a stash pocket on the back (for a phone, keys, energy bar etc) which has a zip. You can also adjust the hood and hem for a perfect fit.
Mens here priced at £235 and the womens here priced at £225.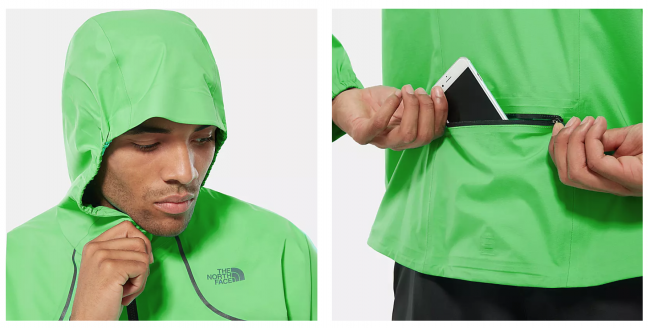 Men can pair the jacket with the 24/7 shorts and the Flex II Big Logo T shirt. The shorts are made from FlashDry fabric and editor Dan has worn a pair of shorts like these for the past ten years and they're still going strong. The FlashDry draws moisture to the surface where it evaporates and the fabric never gets fully saturated and dries very quickly. Buy the shorts here and the T-shirt here.
24/7 SHORTS £35
FLEX II BIG LOGO £20
Women can pair the jacket with the Train N Logo Leggins and the Bounce Be Gone Sports Bra. The leggings have multiple white logos down the side of each leg and the fabric is FlashDry. The bra is made from Flash Dry XD and offers medium impact support for or cycling, hiking and yoga.
TRAIN N LOGO LEGGINS £40
BOUNCE BE GONE SPORTS BRA £24
If you look at The North Face website you can see the various colour options that ultra runner Fernanda Maciel goes for. Well worth a browse for inspiration and help in deciding on colour options. Our fave is the one of her with a Flight Series black packable jacket and camouflage leggings. See more here.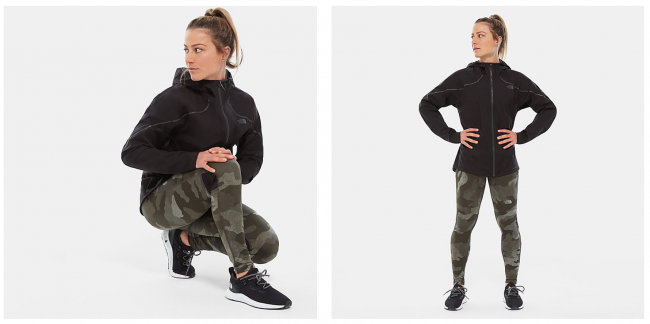 You're going to need a new pair of running shoes, so consider the Flight Series Trinity running shoes. The North Face says that the Trinity is their signature Flight Series shoe and is designed for off-road, cross-country and mountain trail running. These have a FastFoam™ midsole (you can see FastFoam is written on the side) and an OrthoLite™ footbed and certainly look very comfortable to wear. Men can see more about them here and women here. Priced at £125 and available in other colours aside from the blue. Men have two other options of black or red, while women can go for grey with a bright green that might go well with the Chlorophyll Green coloured Flight Series jacket.
WOMENS
MENS