It's fair to say that in the adventure community we're all becoming more aware of the impact the kit we buy has on the environment. There's only so much more fabric and plastic that we can keep on making. 
Which is why it's great to see Osprey taking the lead on sustainability and coming out with the Archeon series of rucksacks that are made from recycled fabrics. There are minimal plastic parts used so metal is used where appropriate. Even the DWR (durable water repellent) coating they use on the fabric is PFC free.
For men there's the choice of the Archeon 25, Archeon 30, Archeon 45 and Archeon 70. While for women there's an Archeon 25, Archeon 30, Archeon 45 and an Archeon 65.
One of things I liked most about seeing the Archeon 45 for the first time was its old-school looks. I've been after a 40-litre sized rucksack for some time to replace my ageing Berghaus one, but I'd wanted something with clean lines and a rectangular shape.
I instantly liked the shape of the Archeon 45 and the subtle Osprey logo that's sewn on to the back. It's styling that we've not seen in Osprey rucksacks before, but I imagine many of you reading this like this kind of look – a much welcome return to the classic mountaineering packs of the past. In a similar vein, I hoped that this was also a return to a hardy and dependable pack, something that will stand the test of time.
When it arrived at home, the first thing I noticed was how hard-wearing and thick that recycled nylon canvas fabric is.  And when I did get it out in to the hills in Snowdonia, I enjoyed seeing the rain drops bead on the DWP covering. Over an extended period of rain, that fabric does become saturated, but due to its thickness it does stop the worst of the wetness getting in. There's a built in rain cover on the bottom that works brilliantly too.
Next, I really liked the hip-belt that holds its curved shape and has a zipped pocket on each side. I have to say that when I first loaded the Archeon up and put it on my back, that curved belt felt so comfortable and this will get even better over time as the rucksack moulds to my shape.
The back system is equally impressive. You can see the breathable meshed back panel in the photo below and the main rucsac straps are attached to a panel that has a large area of velcro on it, letting you adjust it up and down until you get a fit that feels good for you (Osprey calls this an AirScape backpanel). Behind this you can feel there's a supportive panel and aluminium alloy bars that give the rucksack its shape and allow you to carry a heavy load.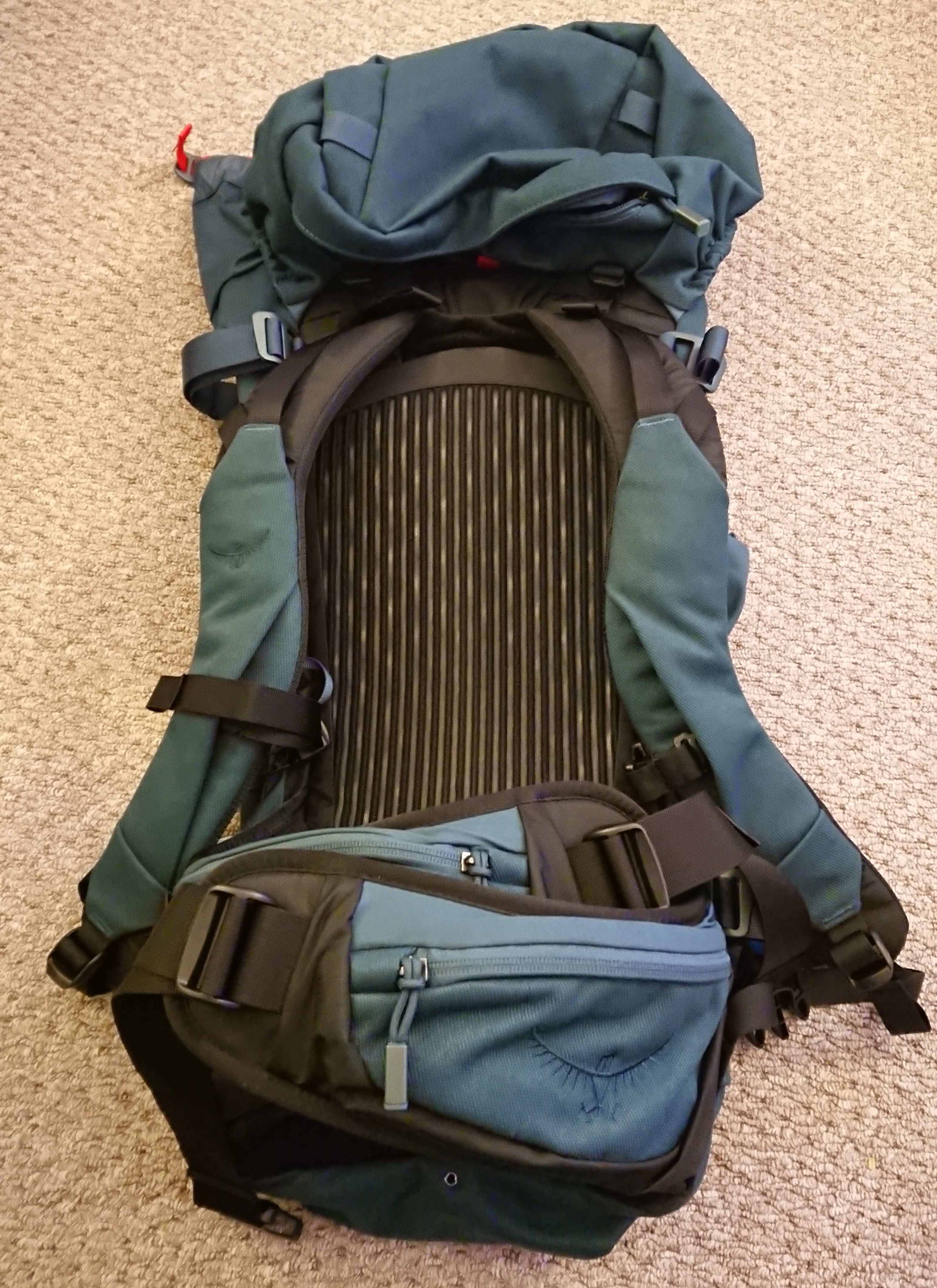 It soon becomes clear that despite the recycled fabric and old-school looks, the Archeon 45 has modern day features that you're not expecting to see. Things like the double-zips running the length of the rucksack that let you easily open up the entire pack in seconds. The central section even has two meshed pockets that are ideal for storing snacks, spare batteries or a notebook (see photo below). There's a large sleeve for a hydration pack and also a hook to hold it in place plus openings out to the left and right depending on which side you want your tube to come out on. There's a further fabric band and clip on the inside that can hold kit in place to stop it from folding out everywhere which is a nice addition.
The top lid has had some very thoughtful design. There's a zipped pocket on the top which is very deep and has a large mouth so that it can take things like gloves, lunch, headtorch and even a jacket all at once. That top-lid also fits very snugly over the rest of the rucksack and has four large fabric loops stitched in it so that you can easily secure a rollmat or tent on top of it. One thing I really like about the top lid are its elasticated sides that prevent it from flopping around; these give the Archeon such a strong feeling of quality and workmanship. Under the lid is a beautifully stitched mesh pocket (see photo below) with a zip (a small red cord helps you locate and pull on it) as well as a red car/house key holder on the inside of it.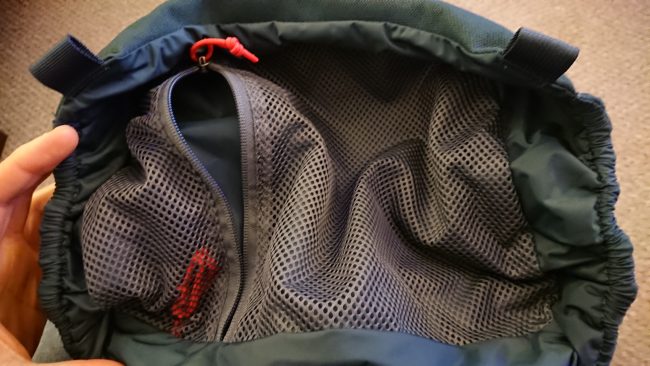 Elsewhere there are two stretchy side pockets that let you store a flask or waterbottle or even clothing in for quick access. These also have side access – just like the pockets on the Osprey Levity that we reviewed.
Those metal clips are very easy to use, even when wearing gloves. And there are hooks to carry ice axes and walking poles along with a carry handle on the top of the sac so you can hook it up to store or to carry it around by your side.
I have to say that this pack really did give me the confidence to go to my Mountain Leader assessment knowing that I could carry everything I needed and to also know where everything was stored. There's another psychological aspect of knowing that you look the part too and this stylish rucksack certainly delivered on that front. I had a fairly heavy load to carry, but this pack made it feel much lighter, meaning I could really focus on my navigation and the group. Any time I had to tighten up straps, it was easy and quick to do.
Price £220
Available in three colours (Stargazer Blue, Stonewash Black, Haybale Green)
www.ospreyeurope.com
"The Osprey Archeon 45 is a modern-day take on the classic mountaineering rucksack and it delivers on all fronts. It's rugged and dependable, extremely comfortable to wear and is sized just right to let you carry everything you need for a long day on the hill. We used it for a Mountain Leader assessment and it easily swallowed the extra items of kit an ML needs such as a group shelter, large first aid kit, 30m rope, a large flask and extra warm kit. You might find this a bit heavier than other rucksacks of this size on the market, but it's built to last and you really don't notice any quality issues at all with the recycled nylon canvas fabric that it's made from. If you're excited about upcoming trips starting in Spring 2020 and need a new pack, then this Archeon series is well worth a look."