HERE'S an official GoPro rucsac – called the Seeker – that allows us to mount our GoPro on the shoulder strap, on the chest or on side pole (sold separately).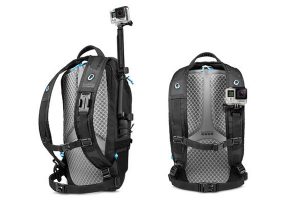 Five GoPro cameras can be carried in a top pocket along with 16 litres of space for other kit. There's a pocket for a hydration pouch too.
The compartment for the five GoPro cameras, batteries and microSD cards, is softlined so keeps them protected, organised and easy to access.
A built-in chest mount and shoulder mount captures hands-free footage from your point of view. And the specially designed over-the-shoulder system lets you attach a GoPro 3-WayTM (sold separately) to capture over-the-shoulder shots.
Dimensions: 19in x 9.5in x 5in
£149.99