"Designed for athletes, Built for Adventure" is the slogan from Jaybird, so it makes sense that they'd bring out a colour-scheme that ties in with the theme of adventure.
Jaybird's Vista earbuds have been out for a while and have found favour with people like you and me in the adventure market as they last up to 16-hours on one charge and fit neatly in to your ears so you don't have to worry about wires snagging or getting in your way.
These new 'Planetary Green' earbuds are described as having a "topographic camo pattern" and you can see the swirly lines look just like contours on a map. Existing colours for the Vista earbuds are black, blue and grey.
The earbuds are 'EarthProof™', in that they resist dirt, mud, grime and water getting in to them and you'll see Jaybird use the #Earthproof hashtag a lot on social media and in their marketing.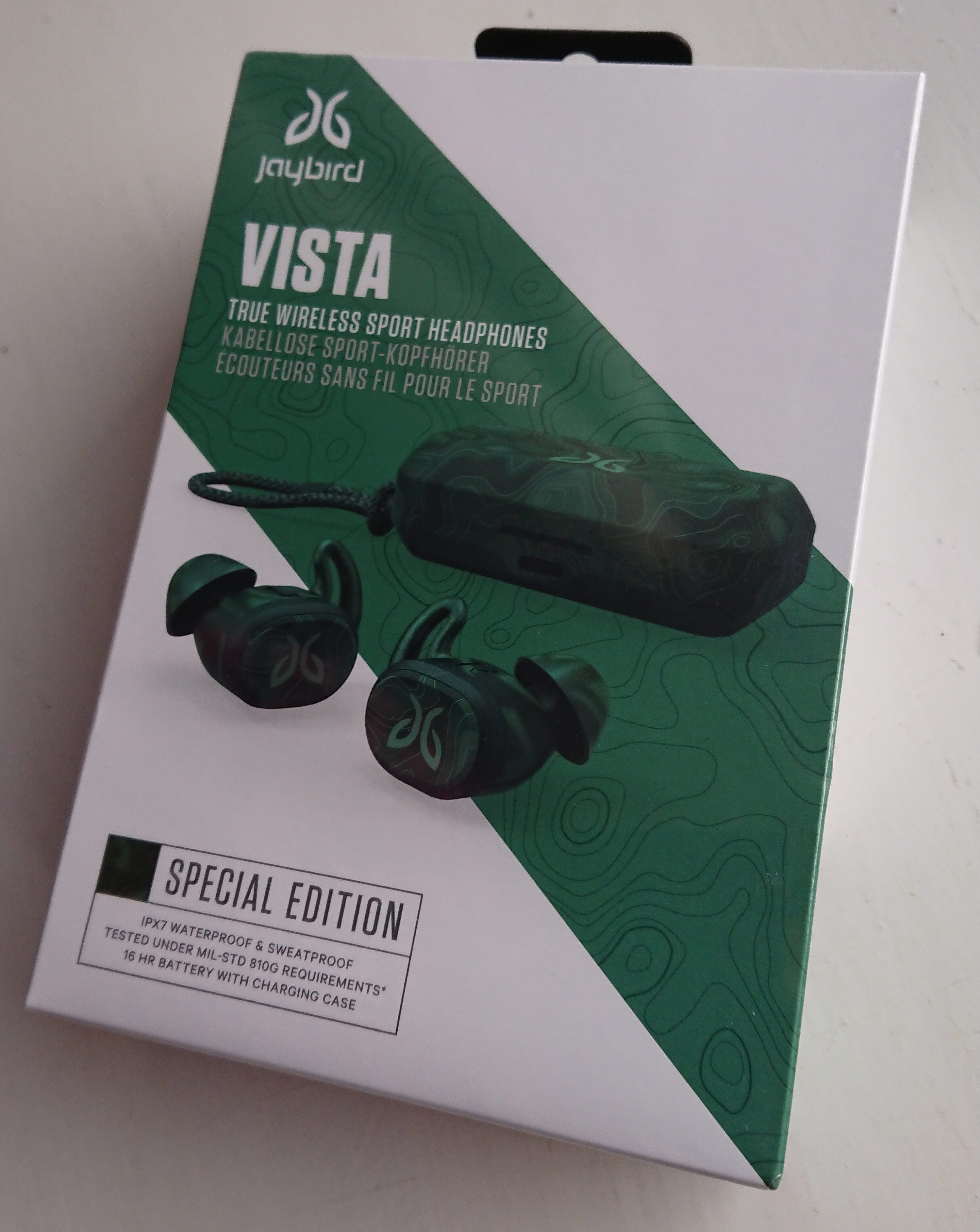 However this special edition planetary green colour also marks a new achievement for the brand – to celebrate the earbuds meeting the U.S. military's MIL-STD 810G rugged compliant standards. The Vista earbuds have passed repeated shock, vibration, drop and crush tests, as well as withstanding tropical humidity, hurricane-force water and desert sandstorm conditions. It gives you the reassurance that despite their small size, these earbuds are tough and can cope with whatever you throw at them.
Jamie Parker, CEO of Jaybird says:  "When we developed Vista, we set out to build a headphone that lives up to the demanding conditions athletes face around the globe. With the Earthproof™ construction of VISTA meeting U.S. Military standards to withstand the harshest environments, it's a strong acknowledgment of the bar Jaybird is setting in true wireless durability."
If you've not used these before, then the box you see in the photos is actually a charging case; the top opens up and the earbuds sit inside on electrical connections. You plug the case into a wall socket in exactly the same way you plug a mobile phone in. When you're ready to use them, you just press a button on the case to switch them on and activate the Bluetooth. You then download the Jaybird app to your phone which lets you connect to the earbuds via Bluetooth and away you go.
On sale now for £159.99.
For more information, please visit www.jaybirdsport.com or look for the hashtag #PowerYourPassion on Instagram, Facebook and Twitter.