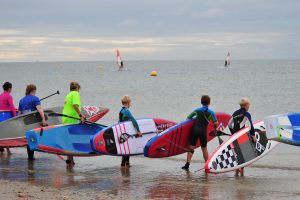 We've just had news in about this year's National Watersports Festival (NWF) at Rutland Water, which is shaping up to be an amazing weekend of windsurfing and stand up paddle boarding.
The event is now in its 11th year and has moved from Hayling Island in Hampshire to its new home at Rutland Water in the East Midlands. The venue has its own beached area with full access to the water providing a perfect amphitheatre for spectators.
Taking place over the weekend of the 2 – 4th June you don't need to be a pro to take part; far from it. If you can get on a windsurfer or stand up paddle board, make your way out to a buoy and go round it (jump off and swim round if you need to), then you're good to go.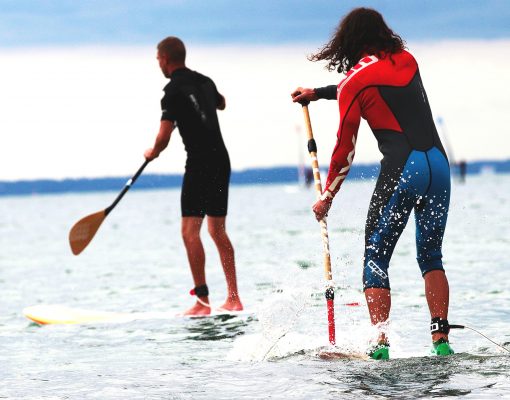 The NWF team is promising a spectacular three day, non-stop festival of racing, taster sessions for beginners, Team Riders and pros, floodlit freestyle displays, clinics, live music and partying, well into the night.
There is even a flying display from a glider carrying fireworks in the wingtips (AEROSparx) who performed for the Queen and will be creating quite a spectacle.
Event organisers tell us the event is regarded as 'the peoples' festival' as everyone races side by side; beginners with legends of the sports, including Olympic medallists who love the event as much as complete rookies.
Everyone is welcome regardless of experience, their 'kit' or what their van looks like. And if you haven't got any kit, you can borrow it.
In the past the festival has had around  500 competitors taking part, with the water a mass of sails, colour and action, with around 10,000 spectators adding to the festival feel.
You'll need tickets which can be purchased for the whole weekend, for camping, day time tickets or for entrance to the evening parties. Starting at just a fiver for the day, this is one event that's a bit kinder on the wallet, especially as it involves a free taster session in either paddle boarding or windsurfing.
There are a ton of things that can be done once you're on site from Hover Craft rides to talks and demonstrations by the pros.
Or you can just sit back and enjoy a local award-winning ale, such as Red Kite, Rutland Panther or Rutland Beast, all of which is being supplied by local brewery and supporter of the NWF, The Grainstore.
Allan Cross, event director tells us: "We're really chuffed to be bringing the NWF to Rutland Water and thank Anglian Water and all our supporters for making this venue our fantastic new home.
"With the event now in its 11th year, we're keen to get people on the water and want to encourage people to join in and get involved."
We're sold, so if you fancy trying out the NWF yourself then visit the website www.nationalwatersportsfestival.com