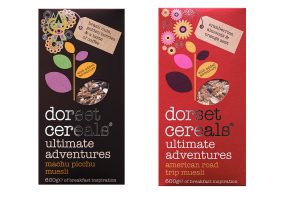 You might have seen Dorset Cereals on sale in the supermarket, but here's their newest range of muesli called Ultimate Adventures.
It comes in two flavours, Machu Picchu and American Road Trip. 
The Machu Picchu recipe has brazil nuts, goldenberries, dark chocolate and a delicious coffee taste while the American Road Trip has cranberries, almonds and orange zest.
Both variants are available in Waitrose from 6th February 2017 at an RRP of £4.79.