NEMO Equipment have been busy bees – and we have four new (or updated) tents to tell you about this season. 
The American brand has been selling their gear in the UK for five years now. It's certainly becoming more popular and my first experience was trying out the Dagger Porch tent in 2021.
The brand's existing domed Dagger tent has been the hero product in its backpacking line up for a while now. Plenty of hikers sing its praises, and now NEMO is adding to the range or updating old classics.
For the 2023 season, NEMO has five ultralight backpacking tents to choose from, called the Dagger OSMO, the Dragonfly OSMO, the Dragonfly OSMO Bikepack, the Hornet OSMO and the Hornet OSMO Elite.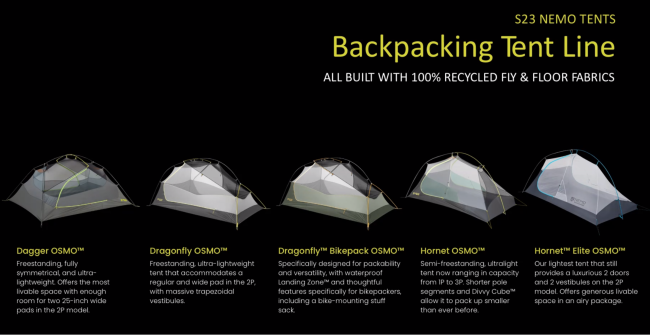 The word OSMO refers to the name of the fabric used in these tents. This poly-nylon composite OSMO fabric offers four times better water repellency, three times less stretch when wet, and a 20% increased tear strength — all while using 100% recycled yarns free from PFAS and FRCs.
All of these OSMO tents (with the exception of the Dragonfly OSMO Bikepack) are easily packable into a 'Divvy Cube' stuff sack they come with. Taking inspiration from packing cubes, this rectangular Divvy Cube stows more neatly in a backpack so there's less wasted space. When the tent poles are removed (to split the weight with a partner), Divvy Cube's roll-top closure helps compress the rest of the tent even further to save space. If you're wondering about how the Dragonfly OSMO Bikepack packs up, well that comes with a custom carrying case.
Here's a run through of what's on offer.
Dagger OSMO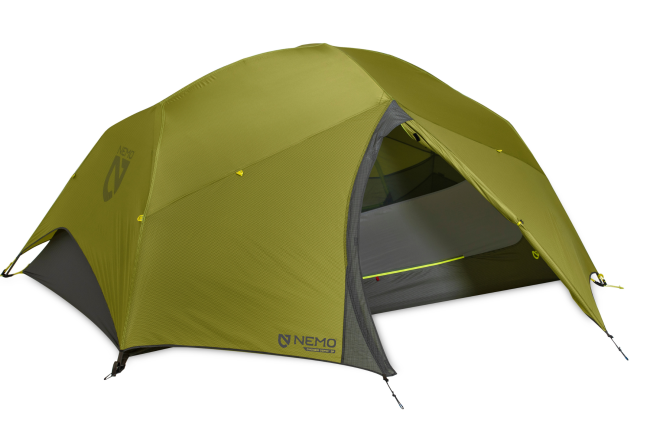 Best use: Backpacking
Weight: 2P, 1.52 kg | 3P, 1.61 kg
RRP: 2P, £509.99 | 3P, £589.99

Launched in 2022, the Dagger OSMO was NEMO's first OSMO tent. A bestseller, it stands out in performance and sustainability and is up for any challenge whether that's quick overnights or long weekend hikes. Available in a 2-person or 3-person capacity, Dagger OSMO includes two doors for easy access and two vestibules for plenty of storage options. 
Dragonfly OSMO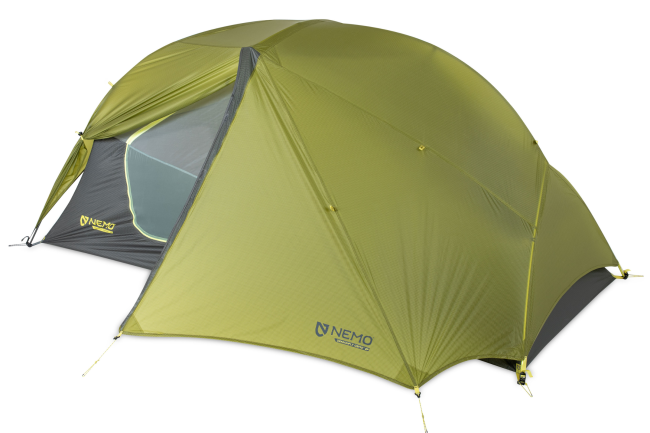 Best use: Ultralight backpacking, bikepacking
Weight: 1P, 0.948 kg |2P, 1.2 kg | 3P, 1.56 kg
RRP: 1P, 419.99 | 2P, £479.99 | 3P, £599.99

This updated version of NEMO's popular ultralight tent offers the ideal balance of weight and liveability in a freestanding shelter. Both the fly and floor materials are bluesign® approved in addition to providing the excellent performance features that OSMO was designed for.
Dragonfly OSMO Bikepack

Best use: Bikepacking, ultralight backpacking
Weight: 1P, 1.02 kg |2P, 1.27 kg
RRP: 1P, £519.00 | 2P, £579.99
The Dragonfly OSMO Bikepack tent is made especially for journeys on two wheels. It has shortened pole segments that pack down small to keep your kit streamlined. There are daisy chain loops inside to hang clothing to dry, and a waterproof 'Landing Zone tub' for muddy gear. This tent stows easily in an optimised stuff sack, which is waterproof. There are special tiedown straps to eliminate wobble and securely fasten to the handlebars, a rack, or the bike's frame. A footprint is also available for this. 
Hornet OSMO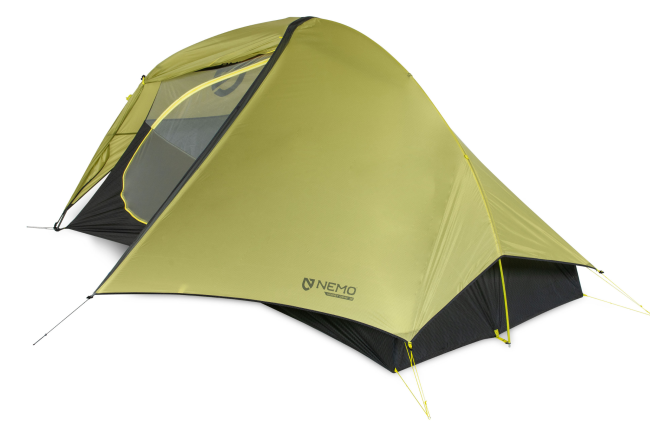 Best use: Ultralight backpacking
Weight: 1P, 0.810 kg |2P, 0.918 kg | 3P, 1.27 kg
RRP: 1P, £399.99 | 2P, £429.99 | 3P, £549.99
If you're after an ultralight shelter with greater volume, the Hornet OSMO offers liveability and comfort for up to 3 people. It features an overhead Nightlight Pocket, Gatekeeper one-handed tiebacks, and the Divvy Cube stuff sack.
Hornet OSMO Elite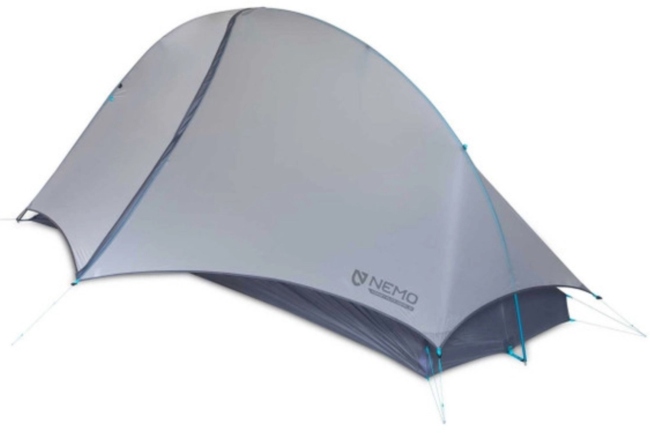 Best use: Ultralight backpacking
Weight: 1P, 0.657 kg |2P, 0.779 kg
RRP: 1P, £549.99 | 2P, £649.99 | exclusive to Ultralight Outdoor Gear
The ultimate tent for extreme minimalists, the Hornet OSMO Elite takes it to the max with thoughtful updates, including OSMO tent fabric. Technical design and a minimal pole structure shave off every gram possible, while innovations such as the Nightlight Pocket headlamp diffuser and patent-pending Flybar volumising clip add comfort — not weight. 
See more at www.nemoequipment.eu