When I first saw photos of the Dagger Porch tent I was intrigued by its swooping porch at the front.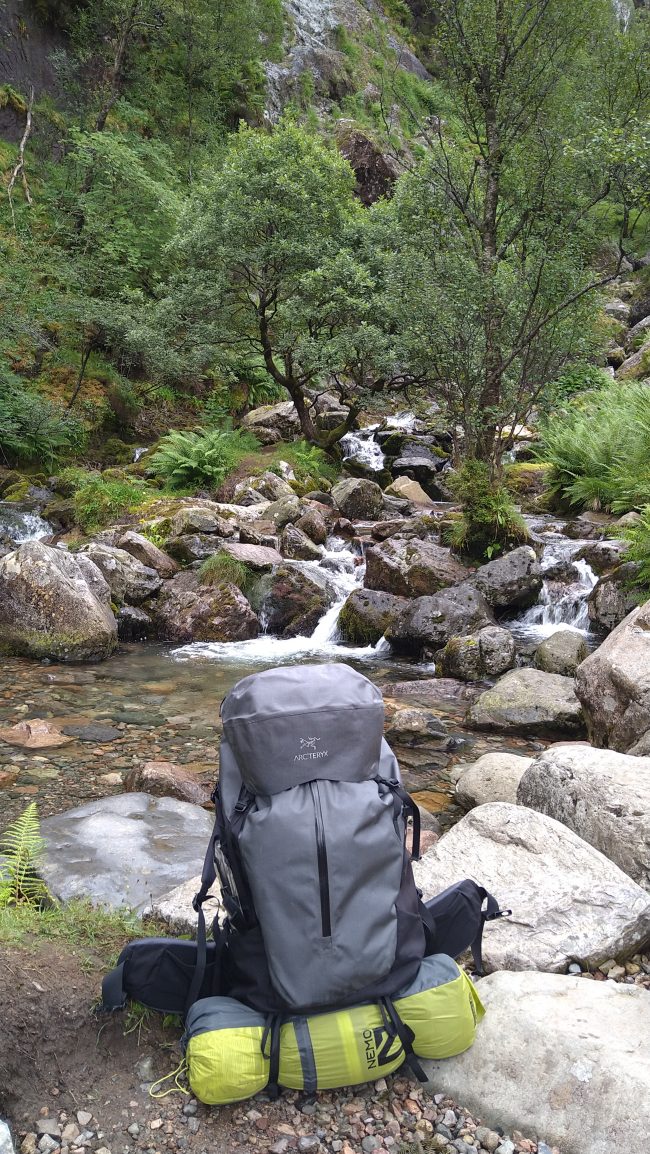 It's a novel idea to take a normal backpacking tent (the Dagger) and give it a wider entrance. Indeed, the makers, NEMO Equipment, have plenty of photos on their website and Instagram to show how you can seat two people inside the porch area. If you missed our news story a few months ago then you can check that out here. 
When I initially saw photos of that bulging porch, I thought it didn't look quite right. How would you put this tent up and how would it behave in poor conditions? Getting my hands on one would let me find out. Turns out there's nothing to scarily technical about the front porch. You just slide in one long pole through a sleeve and there's a tension strap that runs along the floor that pulls it tight and secure. 
There's a 2-person (2P) and a 3-person (3P) size available and I used the 3P on a hike in Glencoe to spend a night in the 'lost valley' and then summit Bidean nam Bian. 
In normal times, I wouldn't take a 3P tent just for myself (!) but weighing at 2.47kg, it wasn't too heavy to carry in. In fact it's lighter than the two-person Vango I lugged all the way in to wild camp on Suilven in 2019, but that's another story. The two-person version, called the 2P, weighs 2.16kg. 
The tent comes in a neat storage sack (above). Stitched in the top is a mini map of star constellations and one with pitching instructions. A clever feature is another tie halfway down that lets you to turn it into mini storage sack. 



Above from L to R: Nice size for a 3-person; graphic on the bottom of the bag; star constellation map 
The tent material feels very thin and silky to the touch (15 D Sil/PeU Nylon Ripstop). Straight away you get a sense of good-quality stitching throughout. There are colour-coded pegs blue for normal use and red ones for the guy ropes. I then noticed that there are no guy lines attached on the tent; instead there's a length of section for you to cut down yourself to size, which I personally thought was a bit off. Surely NEMO could have done this for you? There's also a very small repair patch and a 'pole splint' that slides over a broken pole. 
I was particularly impressed with the way the poles unravel. The structure for the entire sleeping area is just a single bundle of poles that unfurls in to the shape you see below. The inner tent then clips on to this. Clever, yes, but the potential for this bundle to have an issue in the future is high, so just be prepared to think about how you might connect everything if the inner elastics fail. The poles are made from aluminium and branded as Featherlite® NSL.
The ball-shaped ends of the poles then clip into the plastic housing in each corner of the inner. So within a few minutes the sleeping area is up. 



From L to R: The inner tent going up in stages
Next to put on the fly sheet, and it's a big one as you'd expect with that porch area. To make it easy to get it the right way around, the ends of the corners are colour-coded. Match up the two yellow ends to the yellow ones at the back of the sleeping area and the two grey ones to the front. This is a really nice design touch to save you faff, especially if you are pitching in high winds. Next, slide in the long porch pole through the sleeve and voila you're almost done. Next make sure the tension strap across the floor is clipped in or the tent won't hold it's shape. 



By the time it was up, I had a few admiring glances from people passing by as it's quite an unusual tent to see. It really is impressive when you first stand in that porch area.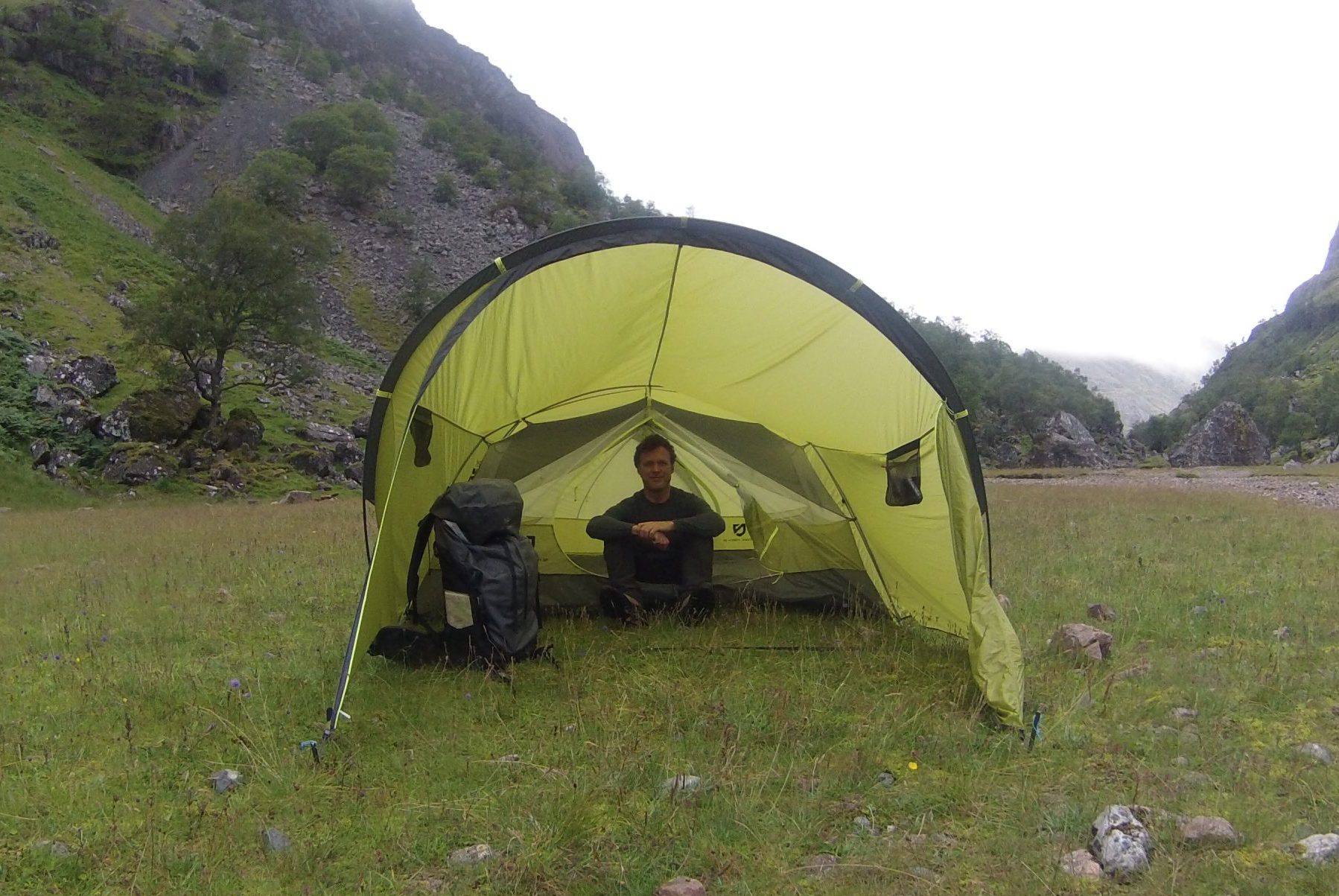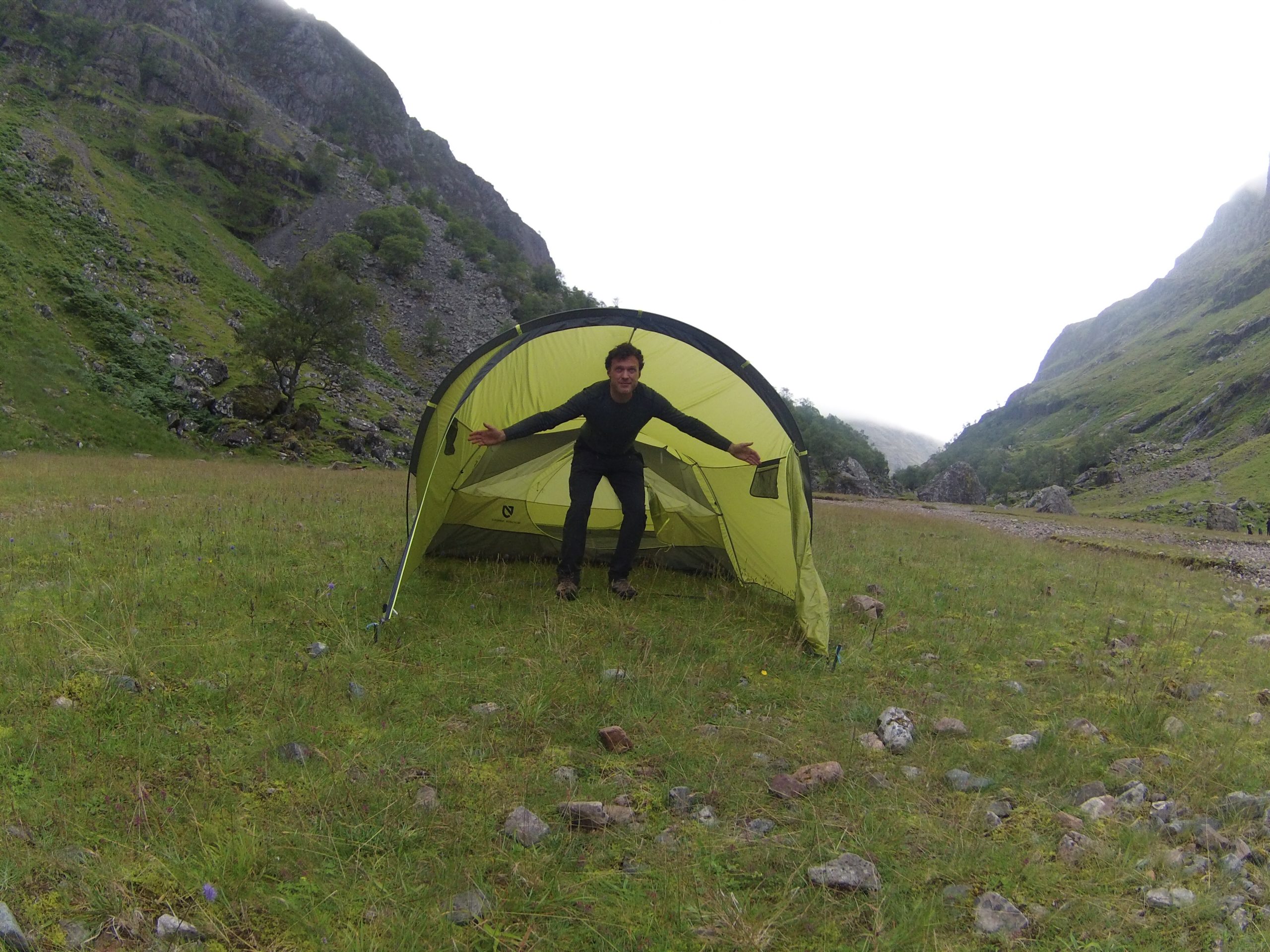 There is a storage pocket on each side of the flysheet in the porch area so you can a companion can have your own area to get hold of items quickly. 
There's also an entrance at the back and a smaller storage area, so if you have three people in the inner, you don't have to traipse out the front over your other two companions. 
On to some downsides then. The ground sheet of the inner is very thin, so if you're on wet ground, you will find over time it feels damp. For UK weather (remember that NEMO is an American brand) you might want to consider bringing a smaller groundsheet or you can buy an official NEMO 'footprint'. 
Next, I pitched in wet misty conditions. There isn't much of a gap between the inner and the flysheet and I found that it did feel damp inside the tent. I've read some reviews on the NEMO website and seems other people have issues in wet weather too. I can't say that I feel one hundred per cent sure that it'd cope well in wet weather. That flysheet is thin to save on weight, but you need something a bit meatier to deal with wet conditions here in the UK. I think the Dagger Porch is more suited for fine summer conditions, particularly as a base camp tent that you can leave at the campsite to do a day trip and then come back to.  
Another thing to think about is the amount of light that comes inside. If you want to sleep in, then the daylight coming through the fabric might stop you from doing that. The inner has a lot of mesh fabric and the outer isn't very thick, so it is quite bright inside in the morning. 
Another thing to consider is what you would do to fashion a repair if one of the clips for the pole breaks. 
I didn't get to see how that porch performed in windy conditions, but without guy lines it was remarkably stable, in fact more stable than I thought it would be. And it's certainly nice having that big porch area. If you're carrying small backpacking chairs with you, then it really will be nice to sit inside the porch and watch the world go by while you remain sheltered.
Price £649.99 from Trekitt.
"The Dagger Porch is a clever iteration of the existing Dagger tent and having that porch space really does make it fun for you and friends to be able to sit together and stay sheltered. While it's a novel feature, that porch area traps a lot of air and unless you've got good airflow, you might find condensation and dampness appears. Otherwise, this makes a great base camp tent."