Those of us who regularly use a smartphone in the outdoors soon start craving three things from it.
One, it needs a decent battery life; two, it needs to give you high quality photos and three, it has to take the odd knock (or drop) from time to time.
You could argue that with a protective case and a battery bank, you can address some of these issues, but wouldn't it be great to have a smartphone that doesn't require those extra purchases, and could potentially save you carrying weight you don't need?
So here's a smartphone that has been designed especially for us adventure-minded souls. It's called the Motorola Defy – the name suggesting it can defy anything that gets in its way – in this case, dust, dirt, water, knocks and drops. It weighs in at 232g and comes in either black or green. Pricewise it's a little bit less than the Google Pixel 4a.
I particularly like that the Defy looks like a normal handset, while in the past an outdoorsy phone has looked big and chunky.
The Defy has been developed in partnership with Bullitt, the very same people that came up with the rugged CAT and Land Rover phones, and the Defy takes the ruggedness even further. That messaging is very clear as soon as you take it out of the box; the words dust, water and drop proof are etched in to the bottom corner.
So here's the rundown – it's drop proof from 1.8m, fully waterproof in a depth of 1.2 metres for 35 minutes and fully dust, sand, dirt proof, having Ingress Protection 68 (IP68) certification. If you're using this in sea/salt water then Motorola advises you rinse it afterwards, including the audio jack and the USB slot, to avoid salt corrosion.
Real world tests of its ruggedness included dropping it from a bike (1.2m fall and 1m tumble), repeated coffee spills over it, being left in the sun on a car dashboard in 30 degree temperature for three hours and a mind-boggling, yet relevant, test of applying alcohol gel over 36,000 times to it. Motorola say it's "engineered and tested to withstand the impact of repeated drops on any side or corner".
Battery wise, it's really going to impress you with its 5,000mAh (compared to standard ones that are anything from 2500mAh to 3800mAhh) and the Motorola Defy will give you up to 2 days of power. That's ideal for a weekend or 2-day adventure where you might do a wild camp. The battery supports Turbo Power 20W fast charging too, so if you do deplete it, you can get it charged up more quickly.
On to the camera, and there's a quad-pixel one on the back and an 8MP one on the front. One of the cool things I like is that you twist your wrist twice to get the camera function up. There's a really clever Depth Sensor that lets you move a slider bar to adjust the amount of blur in the background and the Macro mode brings you 4 times closer for detailed close-ups.
Another great feature are using various gestures as shortcuts; so you can touch the screen with three fingers to take a screenshot or swipe on the fingerprint sensor to get notifications. You can even shake the phone with two 'karate' chops to make the torch light come on.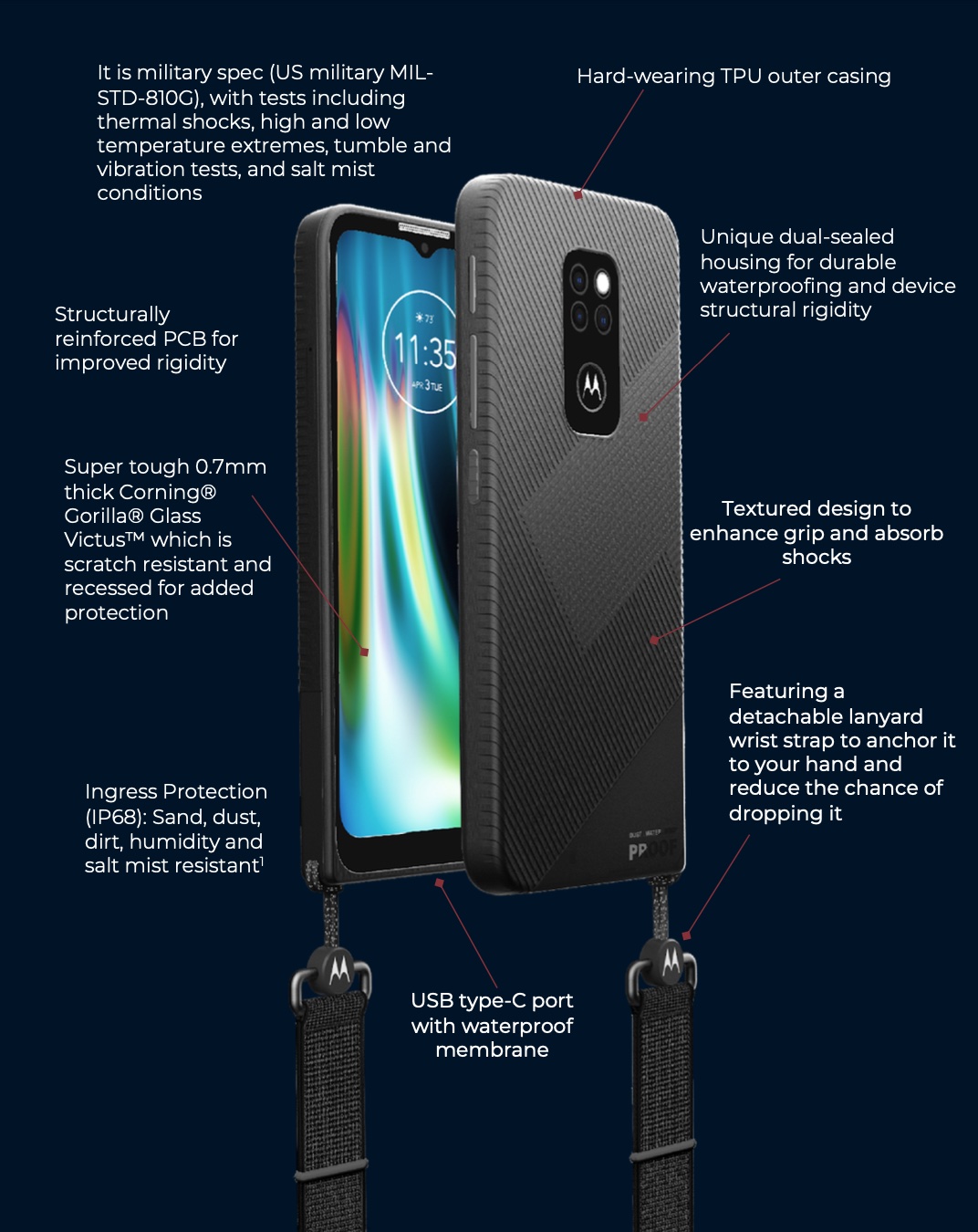 The display is 6.5" inches with a pixel resolution of 1600 x 720. This a lot less than other smartphones in the same price range. The screen is tough though; it has a 'Corning Gorilla Glass Victus' layer that's 0.7mm thick and recessed by half a millimetre, which helps you avoid getting scratches when it's face down. If you've dropped a phone you'll know that it's the display that's going to crack, but the Defy really will take a pummelling. I also liked how the glass is usable with wet fingers and I had no issue in the mist and light rain during my test in Glencoe. On the bottom edge is speaker and a Type-C USB port.
The phone uses Qualcomm Snapdragon 662 and it has 4GB of RAM, which is kind-of middle-of-road nowadays. There's 64GB of onboard storage and you can slide in a microSD card for more memory. It comes with a two-year warranty, Android Enterprise support and security updates for two years.
VERDICT
"The Motorola Defy is certainly 'outdoors focused' and if you're looking for something that will take the knocks and keep on going, then this is the phone for you. Performance wise we'd say it's average, but the finish and build quality is excellent. It'll certainly cope with sustained use in the elements. If you're used to higher-specced smartphones, then you might be disappointed with the screen resolution on this. The photos we took turned out OK, but they're not quite as sharp as ones from the current crop of smartphones priced similarly at £300."