When I first saw photos of the Neo, I thought here's an adventure-styled watch I'd like to have a closer look at.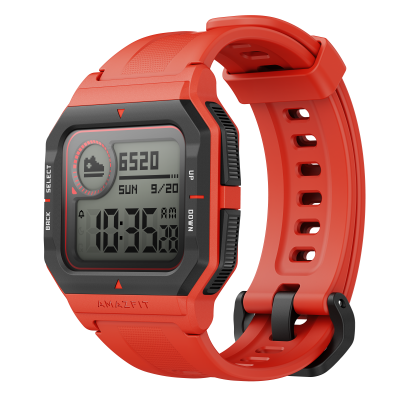 It arrived in an attractive box with the name sparkling on the front, but while it looks chunky and rugged in the photos, in the flesh it's a lot thinner. In fact, the first one I'd been sent in the post had got crushed during postage (some heavy handed couriers) and the LCD screen was cracked. A replacement was sent, but since using it out on runs and on a big hike, just be aware that it's not going to cope with knocks and scrapes all that well. 
It comes in three colour schemes (black, green, red) and costs just £39, which is an impressive price point for a watch that can track your heart rate and your activity.
The watch doesn't work on its own; it relies on the Bluetooth connection to your smartphone and an app called 'Zepp' to track your activity. A heart rate monitor on the back of the watch senses your pulse in your wrist (you can 'tell' the app whether you're wearing it on your left or right arm). While the internal battery on the Neo is superb, and will last for days, using this out in the mountains will cause a depletion in the power on your smartphone as your phone will be pinging satellites for GPS position. 
Before we get in to how I got on with it, let's take a look at how you operate it (see above). The circle in the top left of the display shows a different symbol when you press the buttons. There are four buttons. Pressing and holding the top left one turns it on/off. The bottom left button (called 'Back') lets you go back from a selection and you can also press and hold this to light up the display. The top right and bottom right let you scroll forward and back through the display to see heart rate (a heart symbol), calories (a flame), distance (a pin), step count (a trainer), world time, stopwatch and something called PAI that we'll come on to. You can see the various functions below. 










You connect the Bluetooth on your smartwatch to the Neo just as you would any other device, and it soon reconnects without issue when the Neo has separated from your phone. When connected to the Zepp app, you can track walking, cycling and running. To record an activity you don't press anything on the watch as you might expect, instead you have to use the Zepp app (just as you'd start an activity using Strava). You can customise the order in which you see data tables, and overall it's OK to use. There's a thing called PAI that goes up in points, depending on your activity. PAI stands for Personal Activity Intelligence and the idea is you can just focus on achieving 100 PAI points per day to maintain health. You can read more about it here. Below are a few screenshots of what the Zepp app looks like. 




To set up Zepp, it asks you for things like age, weight, height, and then it must compare with this a database of other Zepp users because apparently I'm overweight for my height!
My first activity was a cycle ride around my usual 20km loop near home. I liked being able to see the distance on the watch as I rode, and I liked that my phone bleated out 'You have covered one kilometre in two minutes and fifty seconds, heart rate one twenty'. Arriving back home, I ended the activity by using the app (nothing to press on the watch) and you can see a map of where you've been. 


The distance covered looked accurate too and at no point did the connection break. When I stopped it'd pause too. So after my first use I was pretty happy. 




From L to R: Home screen, recording screen, map view of cycle route, screen showing activity records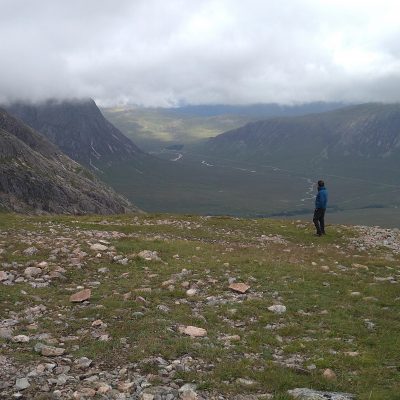 I wanted to see how it would cope on a big hike, so I wore it for 10km route over two munros in Glencoe (Meall a'Bhùiridh and Creise). Just like the cycling, my phone would call out every time I had covered a kilometre and the time it had taken me. Afterwards, it had recorded the total distance as 12.22km, 22467 steps, an average cadence of 87 and a max speed of 7.74km/hr. It also shows some nice graphs of speed, laps, cadence and stride. But sadly it didn't show any recorded data for heart rate or altitude, which was disappointing, because I wanted to see the height I'd gone up and down, and how that co-related to my heart rate. So while it recorded the distance OK, if you're looking to record the heights you've achieved, particularly if you are going for Munro summits, then you might find it a bit disappointing.
A couple of times I noticed that the watch wasn't giving a very accurate heart rate either; I'd be working my way up a steep section, working quite hard, and then see that the heart rate had remained at 80bpm. I followed everything suggested in the FAQ here to get a more accurate reading, which helped, but I wouldn't rely that it's giving you a 100 per cent accurate read out.
I was very impressed by the amount of water resistance. It coped great with drizzle and even fell off my wrist and landed in a puddle when I was adjusting the strap for the heart rate. I also wore it swimming (not to any depth) and had no issues. It advises you to not press the buttons when under water or when it's wet though.
BUY THIS NOW
"We had high hopes for the Neo, but it isn't rugged enough for use on hikes, it doesn't keep an accurate heart rate and it doesn't record altitude for hiking. That said, for local walks, runs or cycles, it does the job of recording time and distance nicely. Amazfit makes some other watches, namely the T-Rex, Verge and Stratos 3, so we look forward to seeing how they perform for hiking and adventure activities."