Picture Organic Clothing is all about inspiring an eco-friendly lifestyle, so what better way to show this then with a surfing film blended with people at the forefront of low-tech innovation?
The film is called Wave of Change and it's due to air live on YouTube on Sunday 27th June, with the title pointing to how we are currently at the start of finding 'low-tech' solutions to living more sustainably.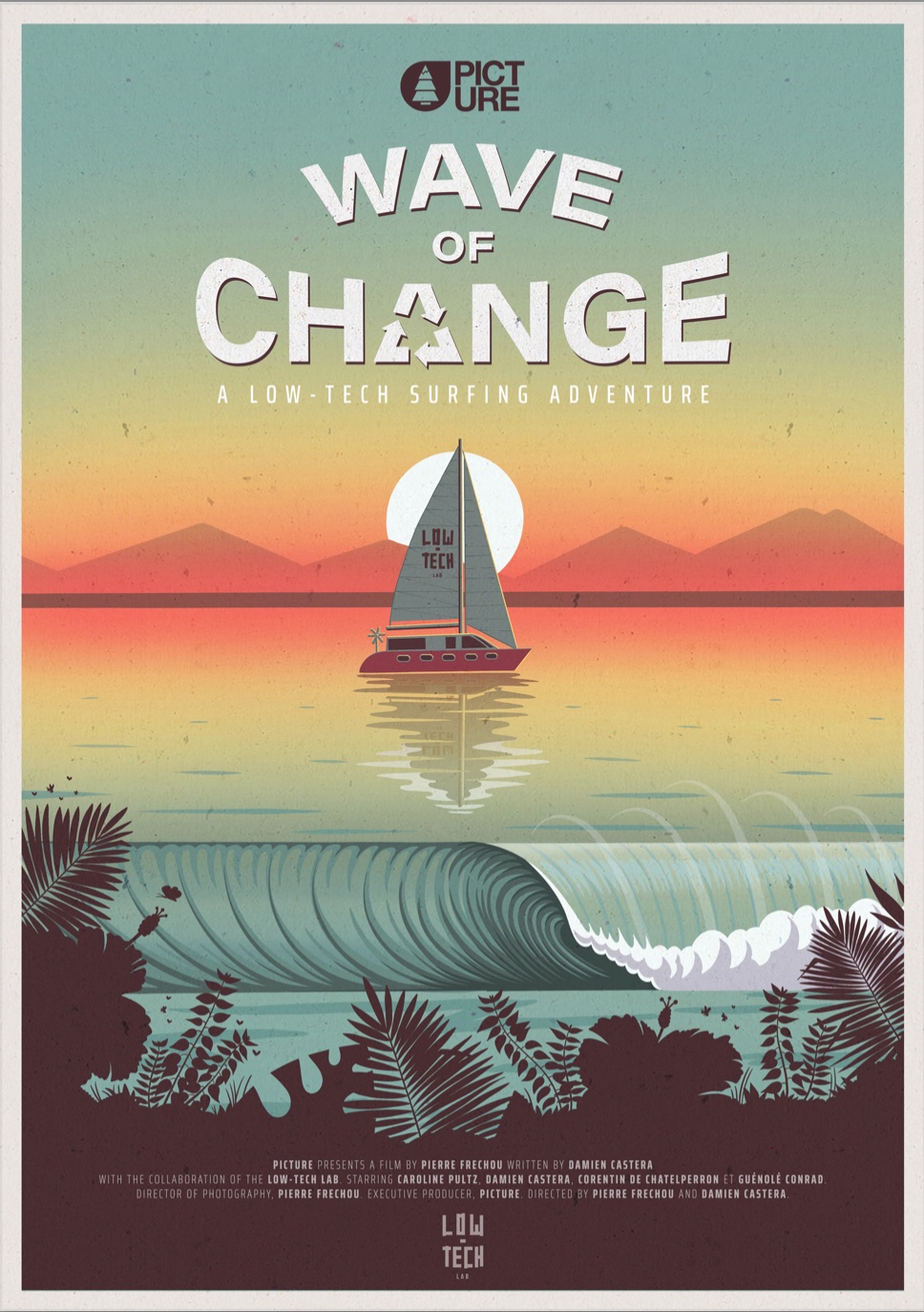 The premise is simple. Top surfer Damien Castera joined the crew of the 'Nomade des Mers' a catamaran that's currently sailing around the world in search of low-tech innovation, hence the word 'Low-Tech' emblazoned on the sails.
As you'll hear at the very start of the trailer, one of the crew members says "It's not a boat, it's a living eco-system".
'Low-tech' refers to making the most of what you can find locally, using materials that have a low environmental impact, or using items that can be easily repaired.
Damien wrote the film which was shot in Bahia de Huatulco, Mexico. While it shows surfing, the main thrust is looking at what it takes to have a self-sufficient surfing adventure. The film highlights some of the technologies the 'Low-tech Lab' is researching and some of them will really open your eyes.
We're talking about things like using the vegetative part of mushrooms (mycelium) to repair an old surfboard to growing spirulina and lettuce in a biosphere and cooking using a solar oven plus more…
This short trailer below gives you a taster of what's to come. Follow Picture Organic's social channels and YouTube to get a notification for when the full film goes live.
Picture Organic Clothing was founded in 2008 and is a snowboard, ski, surf, and outdoor clothing brand. The brand says that the three words 'Ride, Protect & Share' represents the essence of who they are. "While we don't take ourselves too seriously, we still want to effect change."
Production: PICTURE ORGANIC CLOTHING
Written by Damien Castera. Filmed and directed by Pierre Frechou.
In partnership with Low-tech Lab
Protagonists: Damien Castera, Corentin de Chatelperron, Guenolé Conrad & Caroline Pultz.
Photograph: Pierre Frechou
Facebook: https://www.facebook.com/pictureorganicclothing
Instagram: https://www.instagram.com/pictureorganicclothing
YouTube: https://www.youtube.com/channel/UCgbuI1Xv-HS3UKKmkeKM3qw
Website: https://www.picture-organic-clothing.com