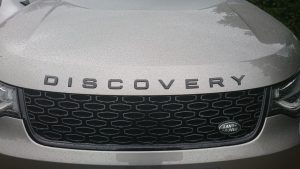 Chances are if you're an adventurous type or have a family that loves the outdoors then the all-new Land Rover Discovery is exactly the kind of car you 'd like to have.
But having a family means you have a fair few overheads each month (mortgage, bills, food, kids) so the cost to run a car can make or break what you drive.
Traditionally big cars guzzle the gas, which is why Land Rover has created a cleaner, finance-friendlier version of the new Discovery, called the Sd4, with has a 2.0-litre 4-cylinder diesel engine. Even if you're not technically minded, the thought of having a 2.0 litre engine to shift something as big as a Discovery around might leave you wondering about its performance, but this clever 2.0 Litre engine packs 240 bhp and gives an urban fuel suppage of 36.2mpg.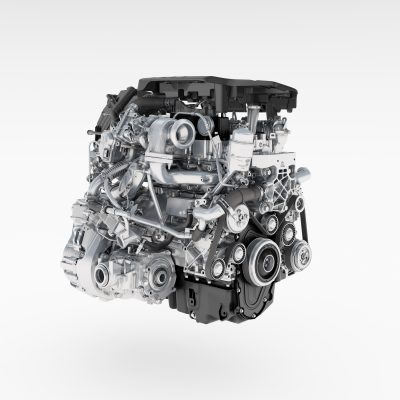 Land Rover calls the engine Ingenium – a play on the word ingenious? Maybe. This rang even more true when I got in my 13-year-old 2.0 Litre Golf to drive home after the launch when I realised just how incredible Land Rover's engineering has become…
Of course, there are two other engines to choose from, a 3.0-litre diesel Td6 and a petrol equivalent, and with these being V6 configurations they make a beautiful noise. This noise alone might be the deciding factor in choosing to forgo the Sd4.
In fact, I spent most of my time on the launch behind the wheel of the V6 Td6 and while it really does perform and sound incredible, my heart lies with the Sd4 as that's the one I'm more likely to be able to afford.
While many of the reviews you read elsewhere will tell you how the V6 engines are the ones to go for, particularly if you want to start towing heavy things behind you, the Sd4 is no slouch. If the 4-cylinder Ingenium is an underdog out of these three engines on offer, then it's an underdog that punches hard. Ownership of this Ingenium model is in within reach too; you'd be looking at putting down a £10,000 deposit and then paying £399 a month for 37 months.
It's unusual for me to kick off one of my features talking about numbers and prices, but giving you this now will make what I am about to write about even more eye opening…
SEVEN WONDERS OF DISCOVERY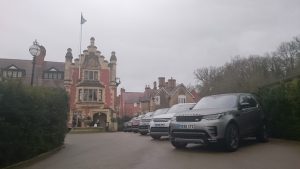 Land Rover hosted the UK launch of the Discovery at the Wood Norton hotel, equidistant from Worcester, Stratford-Upon-Avon and Cheltenham. The day involved a drive into Wales for a tailgate picnic in the Brecon Beacons and then a visit to Eastnor Castle to drive off-road, have dinner in the castle and then head out for a night drive.
"We are a stone's throw from Eastnor Castle here, a place I like to call the Maranello for off-road driving," jokes Land Rover's PR manager Kim Palmer. "We have been proving our vehicles at Eastnor for over 50 years and today it is the perfect place for you to drive our most versatile and capable Discovery."
Kim then goes on to give some eye opening sales figures. So far there have been 25,000 orders globally with 20,000 enquiries in the UK alone and 5,215 already sold here.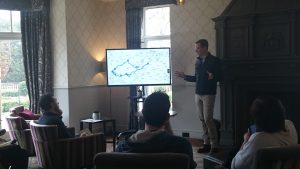 The Discovery platform means a lot to so many people. Kim wanted us to see this and played us a video, not one made by Land Rover, but one crowdsourced and produced by Tavistock Productions. The film is a mash up of personal footage taken by Discovery owners in a kind of mini homage to the adventures this car has enabled people to go on. As Kim said at the end of the film: "I hope this all-new Discovery goes on to create as many memories as you have just seen in that film."
"Today is all about the Seven Wonders of Discovery," Kim explains, showing us seven checkpoints on a map that also represent seven tasks that aim to show off these seven wonders.
I head outside the Wood Newton where various coloured Disco's are neatly parked up showing the variety of styles and specs on offer. I jump in a Silicon Silver Td6 HSE Luxury (OE66 XSX) along with Matt Allan from the Scotsman. The base price of this HSE Luxury is £64,195 but with the options added on this one the price leaps to £76,400. How is a further £12,000 of options even possible? Mmmm, how about a head-up display, 3 TVs, massage seats, an electrically deployable tow bar, climate seats on the second row and heated third row seats, remote-controlled climate control, a fridge in the centre console and 21-inch diamond turned wheels, plus more?
You'll notice that the all-new Discovery has softer lines than the outgoing Discovery 4. And while it might have moved away from looking like a rugged adventurer, is this so bad? For some, this has been a step too far, moving Discovery away from what the car is all about, but as I was going to find out later the looks certainly haven't comprised it's ability. Think of it of a rugged adventurer that is back from a climb up Everest and has spent a week in the Royal Crescent Hotel in Bath and now feels decidedly more human again now he's rested and wearing smart casual.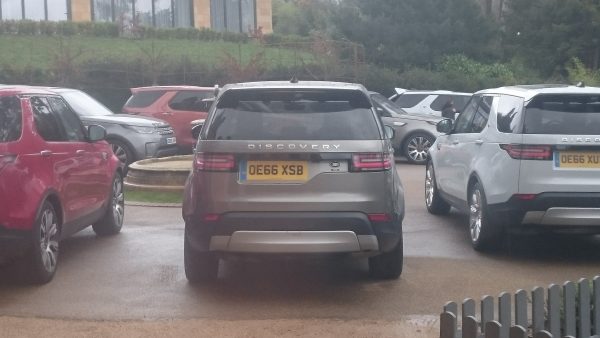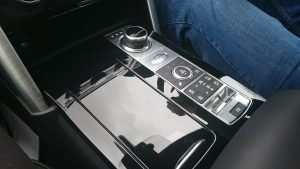 Inside, this being a HSE Luxury spec model, it's very premium. The first thing I notice is the glossy centre console and the wide panoramic touch screen.
Kim had told us in the briefing to seek out some hidden compartments. Press a button in the dash and the panel hinges downwards to expose a cubby hole and access to the DVD drive. Slide the cup holders back and you expose another deep pocket that has been sized to store up to four iPad Minis. Pull back the centre console and there is a very deep storage area (ours had a cooler for water bottles which is an option for £235). One of the seven wonders that Kim mentioned earlier is that the Discovery is "A much loved member of the family: keeping you safe for the last 26 years". The interior certainly has a lovely space for a family to travel in and the cars semi-autonomous safety technology does give you peace of mind.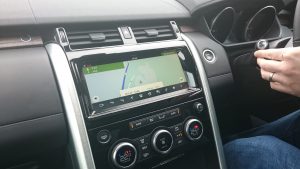 Matt drives first leaving me to sit back as a passenger and get acquainted with the interior. As expected it pulls away with a lovely engine sound and on the inside it's very quiet. Already the suspension is soaking up all of the potholes that appear at this time of year after a winter of frosts and little road maintenance.
I find a hook in the footwell that you can press in and out (I later discover this is nicknamed the 'curry hook').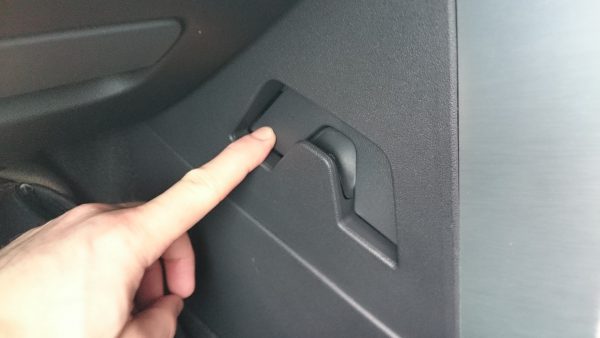 We pass Ross on Wye and near Monmouth we catch up with another Discovery, which gives us chance to look at that controversial rear end. The offset number plate has divided opinion. I originally didn't like it, but it's starting to grow on me. We also notice how small the brake lights are (but they're very bright) and that it really is a very beautiful looking car from the outside.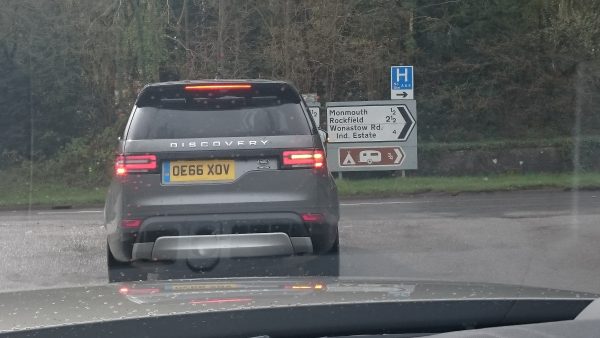 Before we get in to some twisting B roads, I jump in the back to see what it is like as a passenger. One of the other seven wonders that Kim mentioned is that "Every seat is the best seat in the house" and this isn't just marketing spin, it's true. With its 'stadium seating' elevating seating on row two and then row three I can see a very clear view of the road ahead and this particular version has TV screens in the rear of the front seats. The sunroof is impressive too, made of two sections and later I was told by the engineer who worked on the body that this was one of the challenging aspects of the design.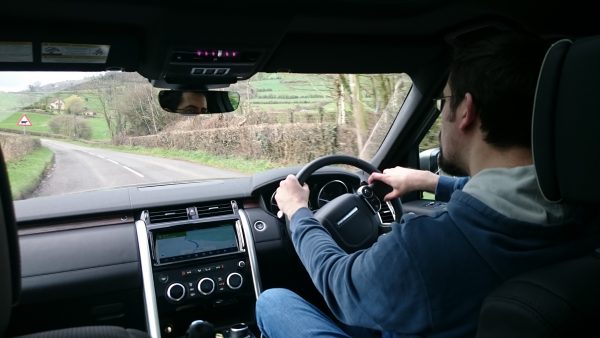 We drive past Crickhowell and take a B road that snakes us up higher in to the hills and allows Matt to push the Disco hard through some sportier corners. It's been snowing up here, but the road is clear and there are some stunning views of the Brecon Beacons. We're the last to join in the tailgate picnic and when we pull up we can see everyone tucking in to their sandwiches under the shelter from the Disco's tailgate. We open up ours, pull off the stowage net covering a wicker hamper packed inside with lunch made by the Wood Newton Hotel and take a pew on the tailgate.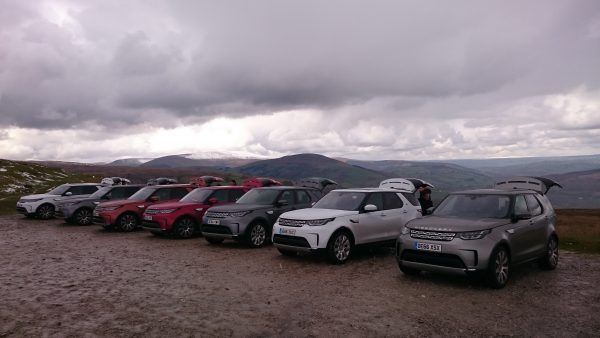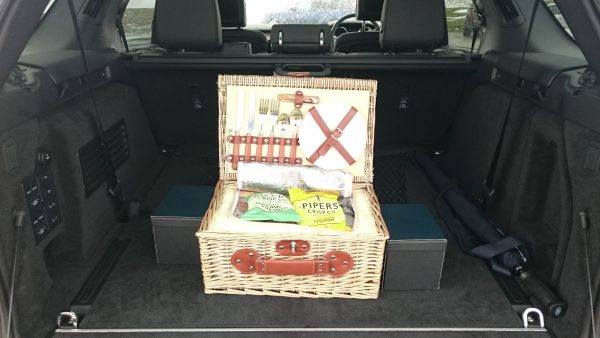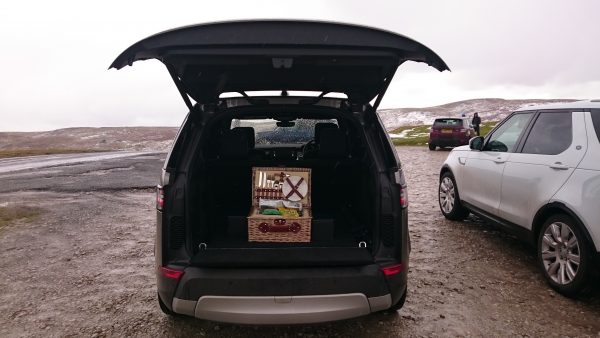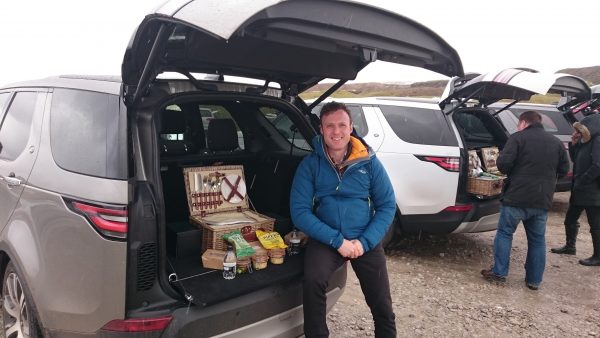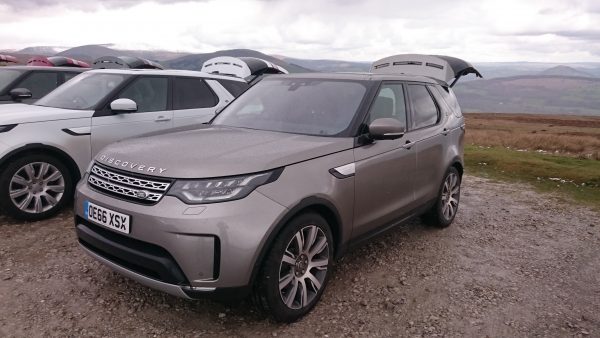 DISCOVERING MORE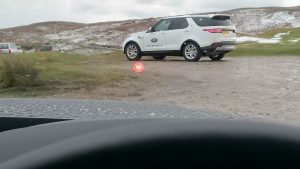 After lunch, it's my turn to drive the leg to Eastnor Castle. It's over ideal roads to test the handling and poise of the Discovery. Before I set off I can see the heads up display. It takes a while to get used to it hovering over the bonnet, but it's a useful addition and in time I enjoy switching my gaze between the road and the bright speed symbol.
Driving wise, the Discovery moves along beautifully. Other reviews sing its praises and then mention slight body roll. I disagree it's something to even write about. In fact, when I speak to the engineers later on I'm told they actually dialled some body roll back in so that the Disco has some feel and feedback for the driver. Test drive one yourself; it handles better than anything you will have driven before (save for sports cars costing thousands of pounds more).
I pass through Talybont-on-Usk (where I stayed last summer and there's a feature about that coming). If you have never been here it's an ideal base camp to explore the Brecon Beacons. About 10 minutes later we pass the snow covered peaks of Pen Y Fan, looking absolutely stunning in the spring sunlight.
Amusingly I then pass a Land Rover dealership, with the new Discovery proudly on show closely followed by a signpost for the Orgasmic Cider Company.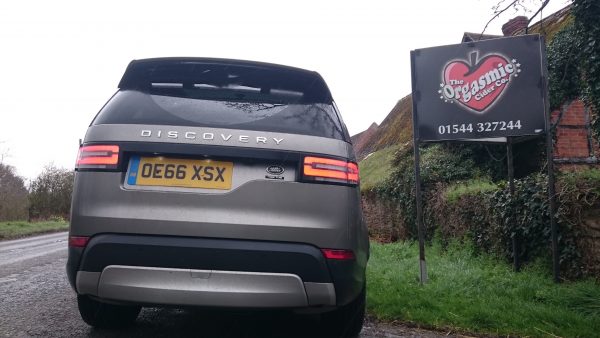 I continue to enjoy steering the Discovery on all kinds of roads to Eastnor Castle. While I have been to the Land Rover Experience centre here before, I have never driven up to the castle itself so going up the arboretum-lined driveway through a beautiful ramparted archway to see 12 black Discovery's all neatly parked up like soldiers in armour guarding entrance is a sight I won't forget. There is also a orange version with mountain bikes on the back showcasing some of the accessories you can add to turn the Discovery in to a true go-anywhere and do-anything vehicle.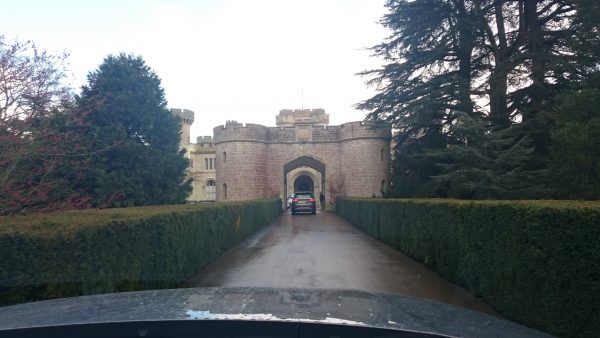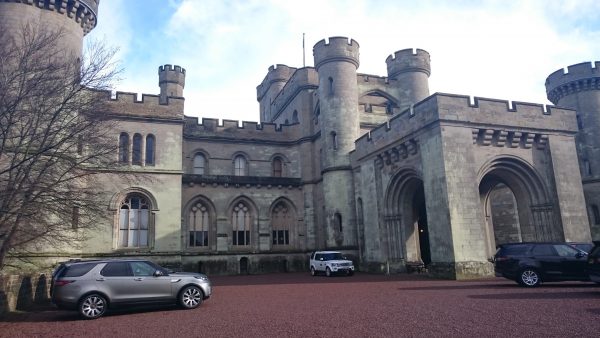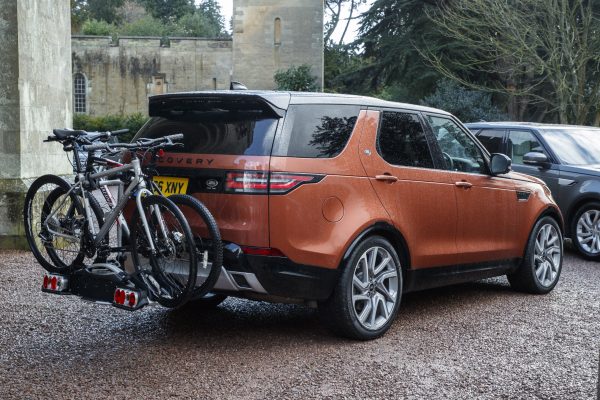 INTO EASTNOR'S GREAT HALL
I walked through the front doors, up the red carpet  lined steps and into the Great Hall, instantly feeling like I was in a different era. Inside is a roaring fire, painting on the walls, all kinds of memorabilia and a much needed cup of tea.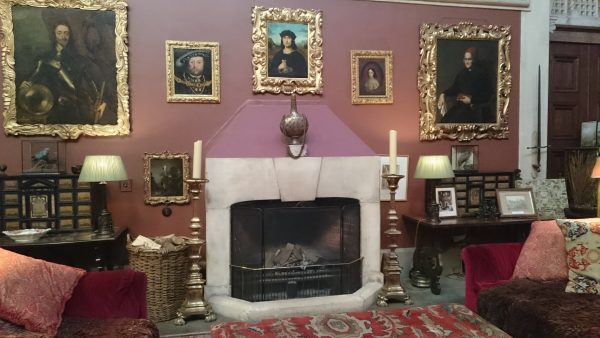 We're told the next few hours is going to open our eyes to just how capable the Discovery is off-road. Matt and I jump in to a black one (OE66 VYH) and set off following the convoy. We've been given a walkie talkie and the lead instructor talks us through what's happening next.
Using the rotary dial in the centre you can choose various driving modes of the Terrain Response 2 system and the instructors talk us through the best settings to use for any given task. First up is a crawl over some nasty looking rocks in a narrow valley. There's a twist; a bowl filled with water has been suction mounted on the bonnet. The idea of this challenge was to crawl over the steep rocks and spill as little water as possible. We took turns to drive. No throttle is needed because when the Discovery is in the rock crawl mode it moves forward at a steady pace so all you have to do is use the brake pedal.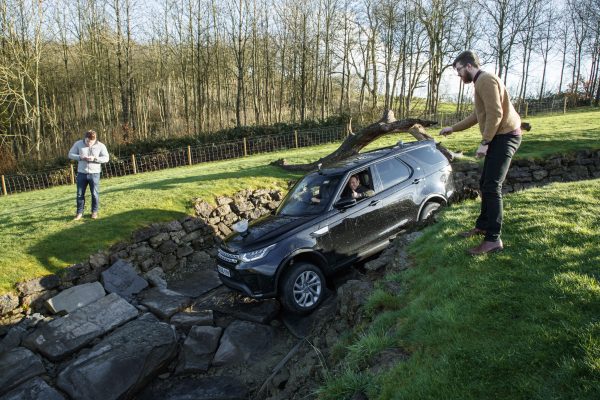 Next, we move on to be shown how the Discovery's seats fold down at the touch of a button. We're asked to put the seats down in an equivalent version of the older Discovery 4 and it takes us over a minute – plus I really hurt one of my fingers in the process, meanwhile the seats in the new Disco fold themselves down electronically in a matter of seconds. Our instructor then shows how the app works and we watch from afar as he presses the button on his iPad and we see the seats start moving in the new Disco. You can also set the car to heat up, ideal when you're 30 minutes from the end of a hike and you want to climb in to an already warm car at the end of it…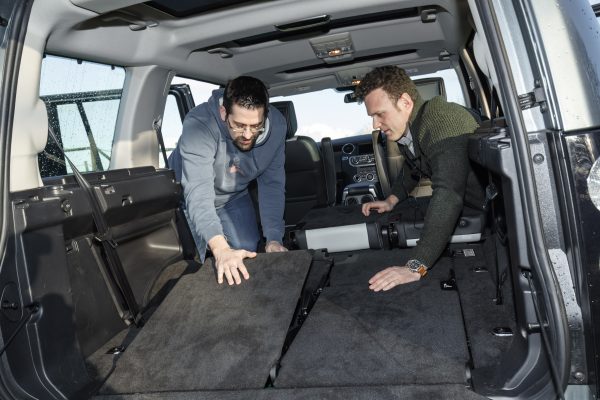 We jump back in, drive down to the hosting area where another instructor jumps in and leads us to a course through the woods. The instructor tells me about the Discovery's All-Terrain Progress Control (ATPC). This uses the hill descent in conjunction with cruise control. As the name suggests, it's a way to control you progress (speed) over all kinds of terrain. Using some + and – symbols on the steering wheel you can control the speed of the hill descent and the speed in general. This means you don't have to even have your foot on the throttle, you just simply blip those + and – buttons to go faster or slower. It's bloody brilliant.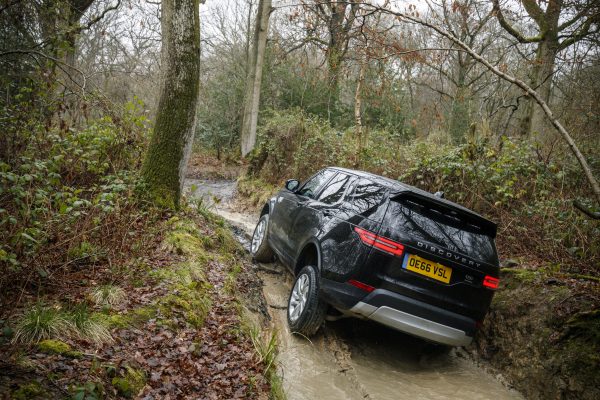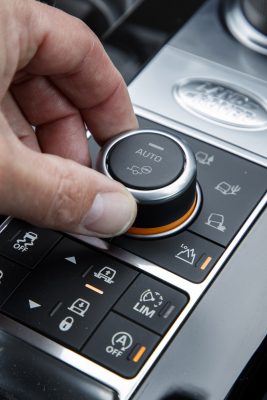 Next, we move on to see how the Discovery can tow a trailer. The system to do this really did knock my socks off. You pull the rotary dial up (this exposes an orange colour, see right) and the 10 inch touch screen shows a video view of behind you.
"The cameras are in the wing mirrors," the instructor tells me.
I look out the window to see for myself and sure enough there is a very tiny glass bubble, something you wouldn't know was there unless you were looking for it. The two camera views are cleverly spliced together on the screen so that you can clearly see down both the left and the right hand side. The next step blew my mind.
"Twist that rotary dial to steer those magenta coloured guidelines on the screen," I'm told.
"What, like a computer game?"
"Yep, see for yourself. You still use the throttle and brake with your feet, but that dial will turn you. You don't need to touch the steering wheel."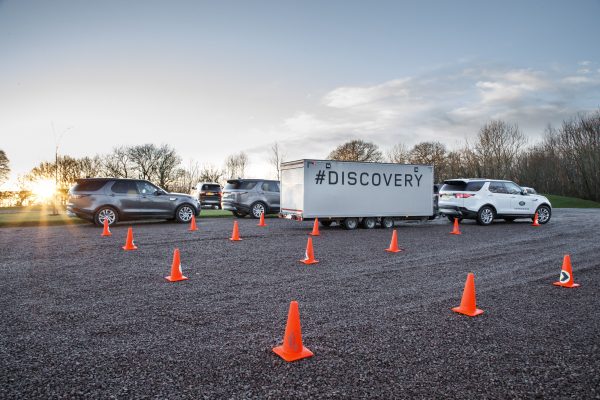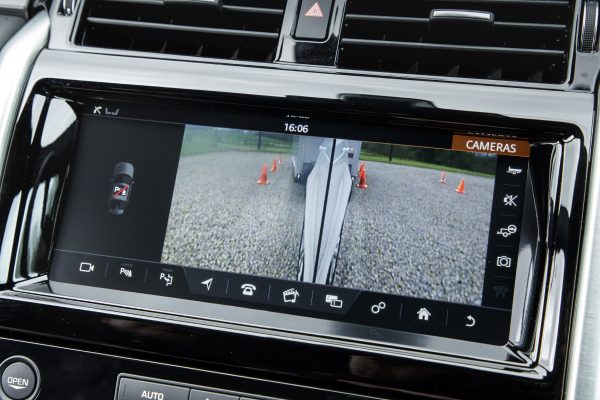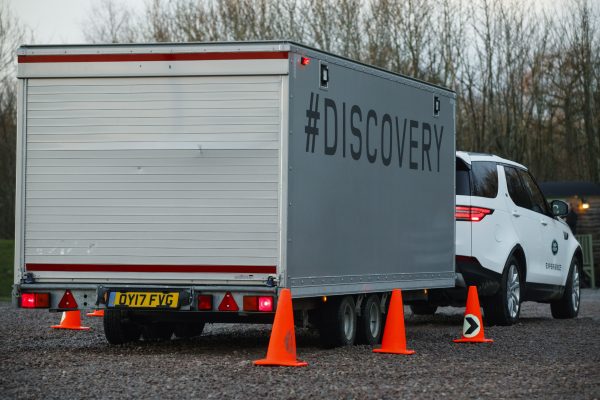 We then make our way in to what looks like a skateboard park. This concrete course lets you put the Discovery over all sorts of angles and really shows off the vehicle's capability. The car was carrying five adults when we were doing this too – another mind-blowing example of how this new Discovery can power itself up over steep inclines and shapes. Interestingly, while we're doing this I notice there is an SOS button on the ceiling; you press this in the event you have a roll over or an accident.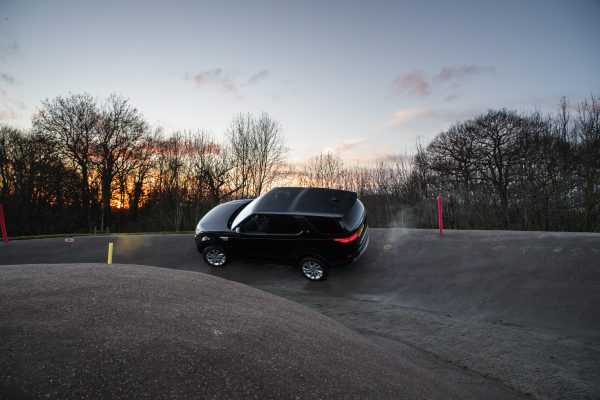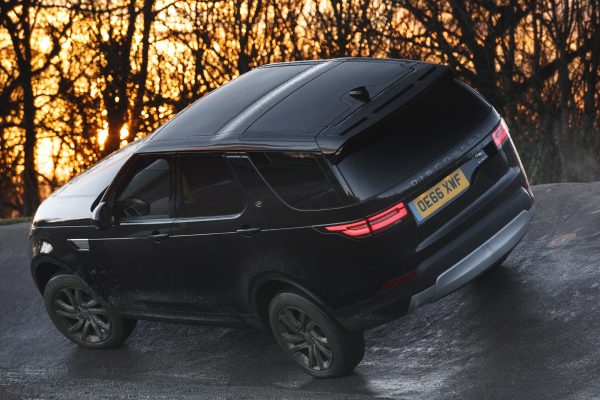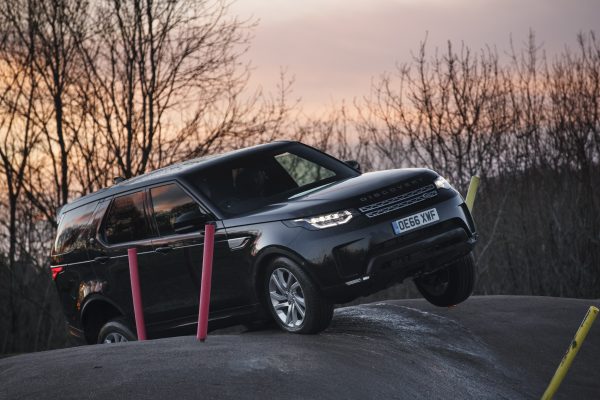 The wading depth of the new Discovery has been increased by 20cm so you can now wade through 90cm of water, that's almost a metre. There's also a useful graphic that appears and an alert if you're going too deep. While playing around with the screen options I find a useful compass screen which shows a lat and long of your current position, your altitude and direction. I think I'd spend most of my time driving around with this screen showing!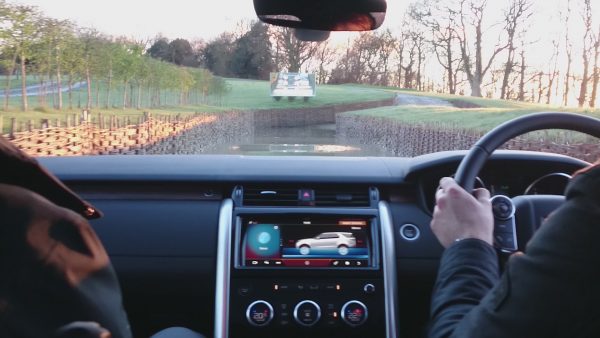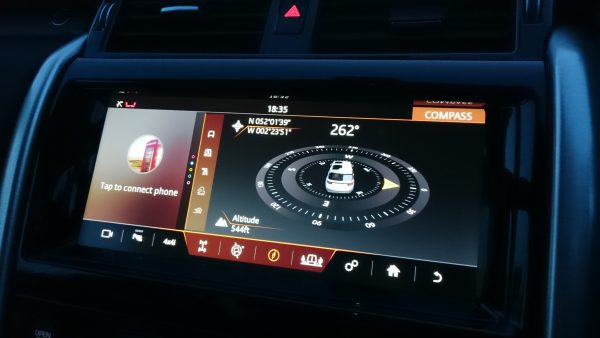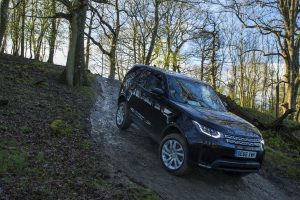 The final challenge was to get through a steep, slippy and muddy downhill course and hit tennis balls hanging from tree branches with the wing mirrors. You were only allowed to press the brake twice and if you did it more then you'd lose points. If a tennis ball swung and hit the body of the car then you'd also lose points. This exercise aimed to show off the ATPC and that the driver can give all his or her attention to hitting the tennis balls without even having to look at the terrain ahead; the car would simply adapt itself over the tree roots, the deep ruts and the gravel. I was doing the driving for this task and at the end I couldn't quite believe what I had driven down, particularly as I'd be completely focused on the tennis balls. Pure-ists might not like that it takes some of the skill of off-roading away, but if you're out on an expedition, this is the kind of technology that will keep you and your colleagues moving forward instead of having to stop to constantly sort problems out.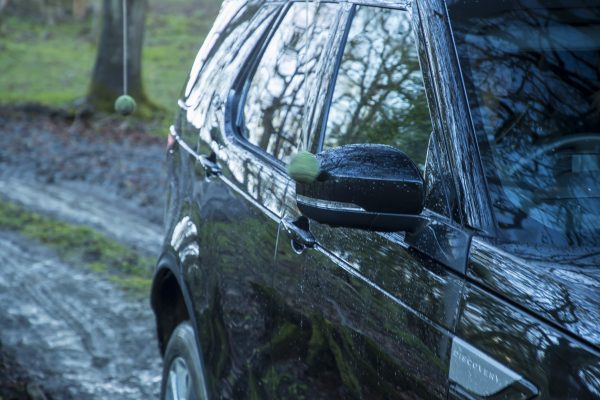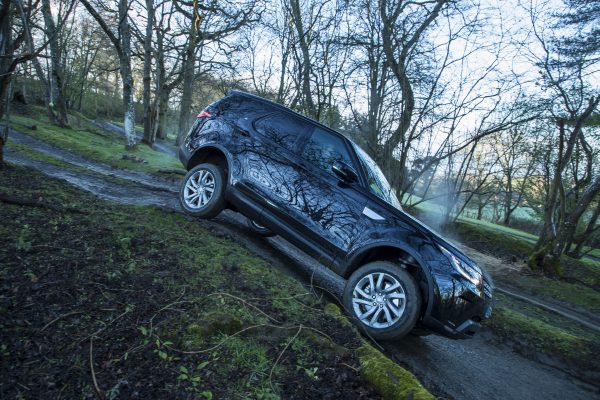 DINNER THEN A NIGHT DRIVE
The sun is starting to set as we drive back to the castle for dinner. Land Rover has arranged for adventurer and ambassador Ben Saunders to talk about his Antarctic expedition back in 2014 and how he uses his Discovery to go to remote places to train, such as the Isle of Skye.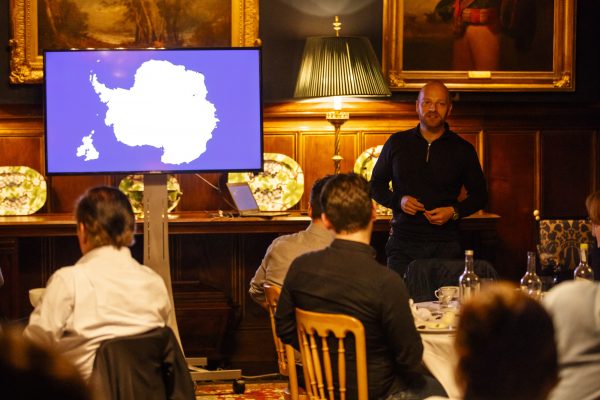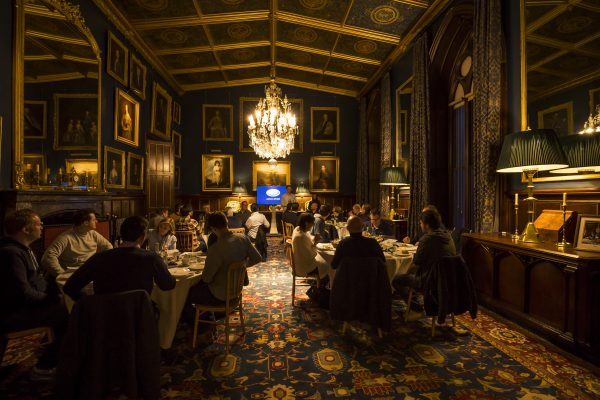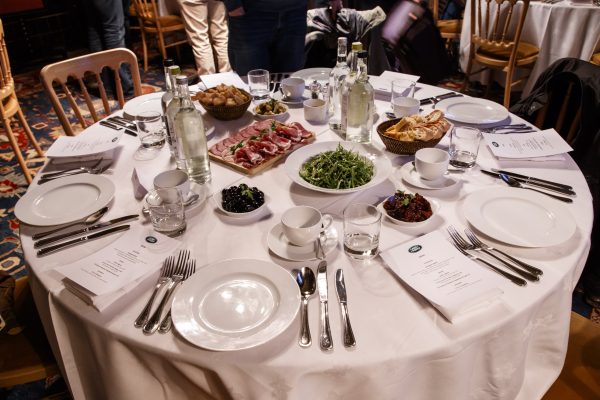 After an incredible talk by Ben and a meal, we jump back in the Discovery (OE66 SYJ) with instructor Howard White who talks Matt and I through the drive up in Mayflower Woods. Here we go over all sorts of terrain, mainly over slippy and slimey mud and also through two deep pools of muddy brown water. And because it's dark it adds a further complication to the drive, but the Discovery gets us through with no problems at all. A word has to be said about the headlights here, they really are incredible, something that makes driving at night safer and less tiring, something I think Mums and Dads of families will appreciate when driving back late from day trips and holidays.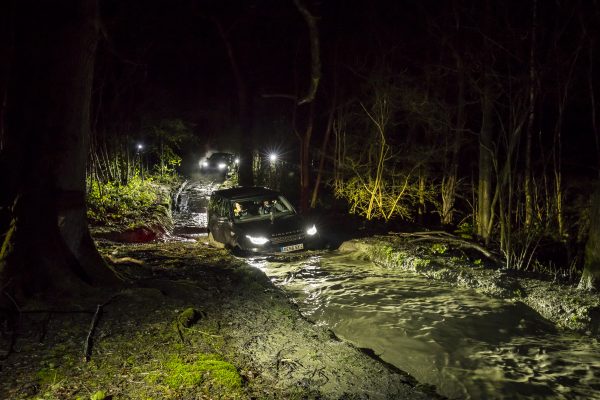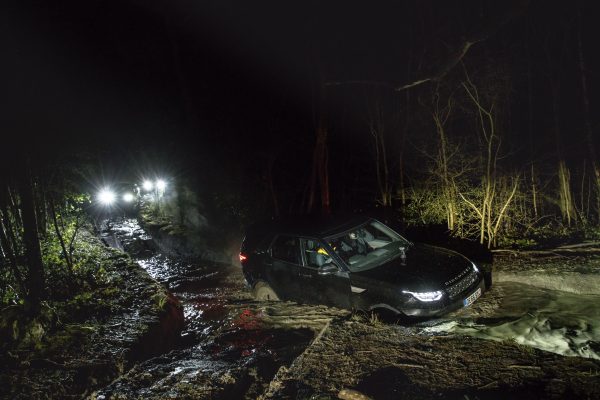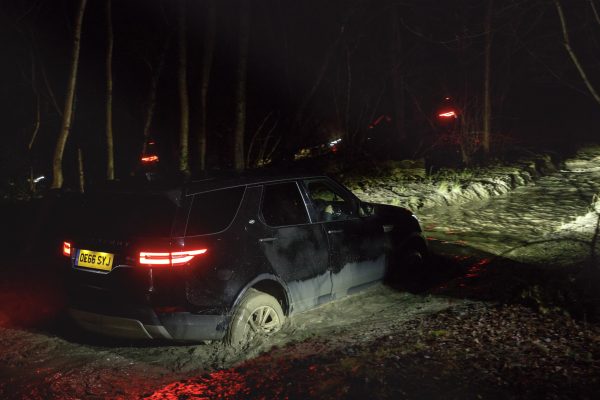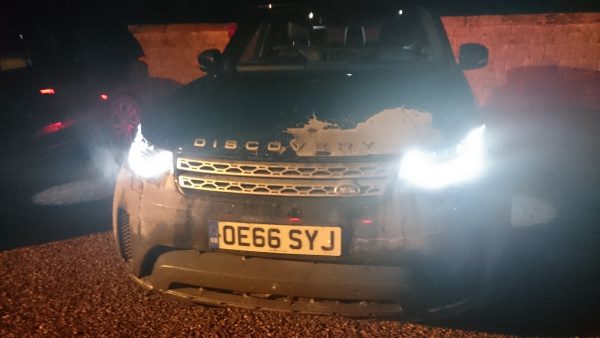 I leave the muddy Discovery parked up at Eastnor and jump in an Sd4 model, my first chance to drive the Ingenium-engined version. On the 30 minute drive back to the Wood Norton, I really start to get a feel for how this car drives, and I love it.
On every part of the day, the Discovery felt safe, strong and dependable, something that both a family and an explorer would appreciate in equal measure.
Land Rover has cleverly managed to create a car that meets the needs of two completely different audiences – those who want comfort and luxury and those who will take one of these on a pathfinding journey in to the unknown.
I cannot wait to see what the first proper Land Rover expedition will be using this new Discovery. Until then, those of us looking to create our own adventures won't go wrong with one of these resting on the driveway.