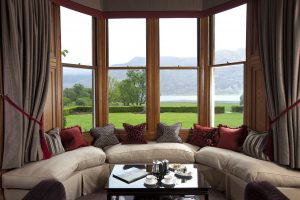 The Torridon Hotel & Inn is a turreted rustic retreat set in a 58-acre estate on the edge of a sea loch.
It's quite simply breathtaking to look at as these photos show.
Staying here lets you access some of the best places for hiking, rock climbing, gorge scrambling, mountain biking and kayaking anywhere in the world.
It means you can bag a munro, cycle or drive the North Coast 500, meet a scallop freediver, hone your whisky nosing skills or just simply kick back and savour nose-to-tail produce from The Torridon's farm and surrounding Highland moors.
Proprietors Dan and Rohaise Rosie-Bristow bought The Torridon from Rohaise's parents in 2004. Dan @HotelierDan is a Master Innholder and a Fellow of the Institute of Hospitality. He can regularly be seen out and about Instagramming in The Torridon area. Rohaise @Rohaise is a Scottish Hospitality Apprentice Board Member and a member of the Institute of Leadership and Management. She embraces her personnel role at The Torridon and drives excellence within the company.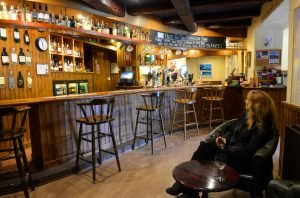 It comes as no surprise that there's a large choice of rooms and you can book either a room in the hotel, one in the Inn or a cosy two-bed cottage for those who really want a special experience.
The hotel has 18 luxury individually-designed rooms which brings together "contemporary tones and Victorian-style opulence".
Or you can go for one of the 12 rooms in the Inn where you'll be close to the bar and able to try the many different ales such as The Torrid One (made by a local brewery). The Whisky Bar also has 365 malt whiskies on offer, that's enough to try a new one on every day of the year.
Finally there's the Boat House, a luxury private two-bedroom cottage.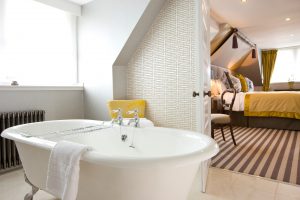 There's also a Torridon Activities team which is led by Charlie Burrow. Charlie has worked in the outdoor activity industry for many years and has diverse coaching experience gained in the UK, Europe and Australia. His numerous qualifications include snowboard and paddle boarding instructor, summer and winter trained mountain leader, mountain safety, windsurfing instructor, and rescue 3 white water technician, among many others.
You might want to check out one of the many adventure packages that are on offer. Here's a brief look:
Bag a Munro – conquer one of Scotland's highest mountains, otherwise known as a Munro, standing proud at over 3,000 ft. There are 16 Munros all very near The Torridon.
Package: Torridon Munro Adventure – climb a Munro of your choice with a qualified Torridon Activities mountain guide. Costs from £248 pp per night (two sharing) including hotel accommodation, breakfast and mountain guide for the day
North Coast 500 – starting and finishing in Inverness, the North Coast 500 is a circular 516-mile route that explores the Highland coastline. Soak up epic scenery in a car, on a motorbike or on a bicycle.
Price: Stay at The Torridon Inn, from £60 pp per night (two sharing)  including breakfast
Torridon sea tours – explore Loch Torridon on the Seaflower, a 40 ft high performance catamaran equipped with a remotely operated underwater camera. Encompassing sublime scenery, uninhabited islands, unspoilt wildernesses, and wildlife including porpoises and a resident pair of white-tailed sea eagles, the tours also offer home-baked refreshments and locally-caught seafood.
Price: from £30 pp for a half-day
Gorge scrambling – embark on an aquatic adventure involving wading through waterfalls, sliding along rocks and plunging into pools.
Price: from £50 pp for a half-day including wet suit, buoyancy aid, helmut and fully-trained instructor
Mountain biking – explore theTorridon area, much loved by Scottish trials cyclist Danny MacAskill on a Merida hard tail or Trek mountain bike.
Package: Mountain Bike package costs from £133 pp per night including hotel accommodation, breakfast, qualified Torridon Activities biking instructor for two people, mountain bike and equipment.
Coasteering – get up close to the coastline and clamber over rocks, jump off cliffs into the tidal loch waters, and swim through bays.
Price – £50pp for a half-day including wet suit, helmut, buoyancy aid and fully-qualified instructor
Whisky tasting package – refine your palette for whisky during a special tasting experience in The Torridon's award-winning Whisky Bar.
Package: One night's accommodation and whisky nosing session costs £113 pp (two sharing) including breakfast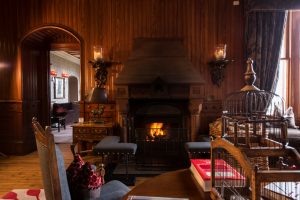 With all of those activities, you're going to need sustenance, but the food on offer at The Torridon goes the extra mile. Head Chef David Barnett began his career 14 years ago in acclaimed Perthshire restaurants such as Kinfauns Castle, 63 Tay St and Gleneagles before embarking on a gastronomic odyssey around Europe in a camper van in his early twenties. He worked for Martin Wishart, one of Scotland's best-known chefs for many years, spent time at the Isle Eriska and landed the role of head chef at Airds Hotel in 2012 where he won three AA Rosettes. David adds French flair to Scottish ingredients and he is always inspired by the richness of Scotland's natural produce.
So if you're currently researching a Springtime escape, then you can't go wrong with a stay at The Torridon. It is celebrating 25 years of being in the family this year and awaits your visit.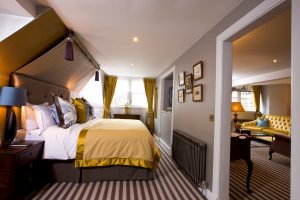 "Swap the screens for scenes, let your natural imagination go wild and experience the finest service from a team of 50 staff, all dedicated to bringing you the very best of Scotland."
The Torridon lead-in price: luxury hotel accommodation from £83pp per night (two sharing), inn accommodation from £60pp per night (two sharing), both rates inclusive of breakfast.