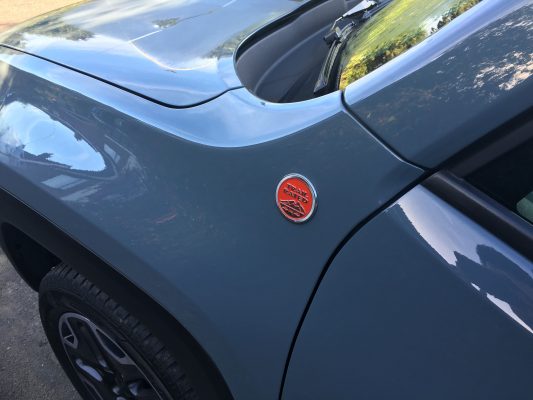 As far as the UK goes, you can pretty much get to some kind of mountainous area after a two to three hour drive. 
It means those of us who are keen outdoors goers get used to spending our Friday nights or Saturday mornings driving hours in the car just to get 'there'.
Of course any car gets you there. For years I drove a red pink 1.6-litre Civic LSi back and forth and today I zip around in a 2.0-litre Golf with 190,000 miles on the clock… Ok, so neither of these score highly on the adventurous looks. This may well be part of the reason why the Jeep Renegade is selling so well.
Adventure sells products – especially to non-adventurers who like the idea of being more rugged, but actually never ever get themselves in the outdoors. I can fully understand the appeal of driving something that makes you feel adventurous. Hey, even I feel more adventurous driving this Jeep Renegade. The difference being that I'm on my way to Mallerstang in the Yorkshire Dales to take part in the Rab Mountain Marathon.
A 200 mile journey gives you plenty of time to think about things. And as I drive further north up the A1 in the Renegade, I reflect on the past six months of training I'd been through for the next two days of fell running. What surprised me straight away about the Renegade was just how comfortable the drive is. Being high up gives you a better view of the road. And the suspension, well, it's nullifying lumps and bumps that shake the life out of my dear old Golf.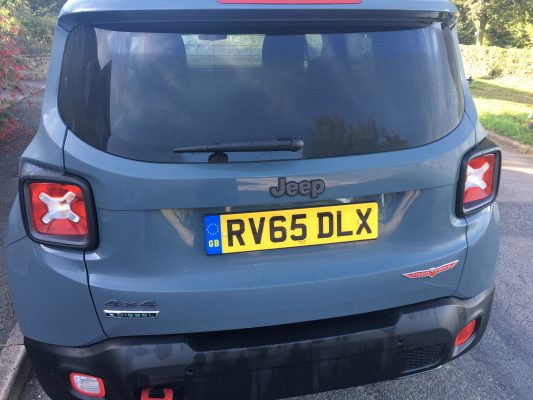 Jeep is positions the Renegade with marketing to match its name; in fact the strapline is #BeRenegade. Now, I don't think I have ever wanted to be renegade in my life; it's a bit too 'dark' for me, but there's an audience out there with who this resonates with. If you do buy yourself a Renegade then expect to turn heads, in both a good and a bad way. At one roundabout, a white transit van with three workers squeezed in across teh fornt seats clearly think I'm some sort of jumped-up yuppie. They give me that look (you know the one that says "you're a d*ck" and they then speed up on the inside lane to deliberately stop me coming across. I imagine they'd do the same to someone in a Porsche. If I was in a standard Renegade maybe it wouldn't be so extreme, but their reaction to my car might have been because the one I'm driving is the top-of-the-range Trailhawk edition. This comes in a custom Anvil-coloured paint (an extra £600) and has more prominent badges and red-coloured details. I drove the base model Renegade about a year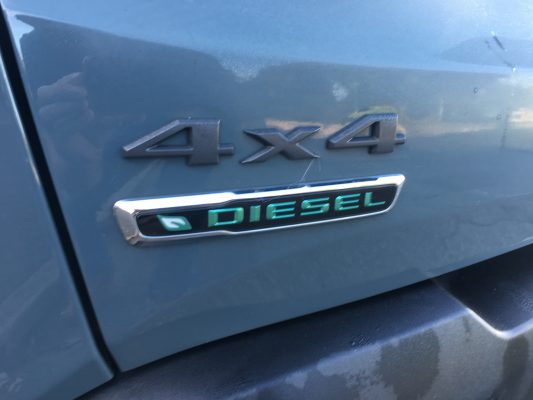 ago as a hire car in Marbella, but this Trailhawk version, well, it is seriously high end. The standard Renegade is a 1.6-litre MultiJet II 120hp 2WD but the one I'm in is the Renegade 2.0-litre MultiJet II Trailhawk 170hp 4WD 9-Speed Automatic Low Range. It's on the road price is £29,000 OTR whereas the base model starts from just over £17,000 (for the 1.6-litre petrol 109bhp). While the entry-level models are two-wheel drive only,  the top spec Renegades are four-wheel drive and this Trailhawk version has badges saying 'Trail rated' and '4×4' on the rear (see right).
I won't get chance to test the full off-road capabilities of the Renegade this time round; that said, everything on this car to make it perform off-road is certainly making it a smooth ride on the road. For the first 50 miles or so I enjoy the pace and acceleration from the 2.0-litre engine and can't get my ahead around the fact that this has nine gears. You can leave it automatic or you can push the gear lever to + and – to change up and down yourself. As expected, you soon go through the rev range of the first gear leaving you clumsily changing up through 2nd and 3rd before you know it. Hmmm, I decide I'm much better off leaving the car in automatic to do its own thing. Surprisingly, the engine doesn't have the growl I was expecting it to have; or maybe the interior is just well sound proofed? In fact, it was a very quiet ride most of the time. One thing I did notice though is that when the driver's window is wound down the seat belt resonates and creates a really horrible noise from the air passing over it.
When I'm delayed on the A1, I use the time sat still in traffic to look at the interior. The colour red is a theme throughout this Trailhawk edition, so the surrounds around the gear lever and the air vents are in red. So are the embroidered Trailhawk logos and stitching in the black leather seats. Reading up about the design I find out that the vent surrounds are inspired by climbing caribiners and the central air vents by the shape of a pair of ski goggles. One thing I think could be changed to red (to make it all consistent) is the orange splash that's in the RPM gauge.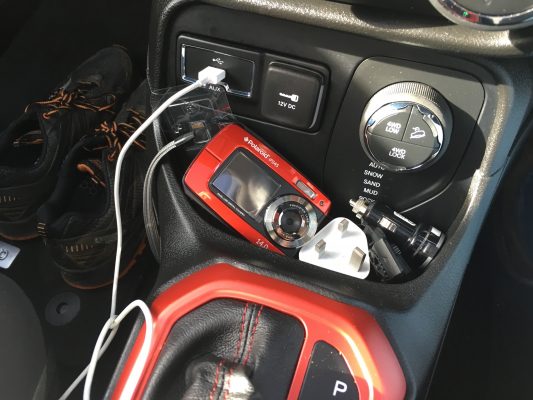 I also play around with the touchscreen infotainment system. The five push-to-press buttons across the bottom are labelled RADIO, MEDIA, NAV, PHONE and MORE. They're all very straightforward to use and like any kind of system like this, it takes time to get to know how to navigate your way around it. I particularly liked how much of the terrain you can choose to show on the map, so you really felt like you weren't just driving on a flat display; you could actually see the shape and contours of the high ground around you. I don't like the 'SINCE 1941' embossment above the touchscreen though; that old militaristic writing just doesn't match the rest of the car's character. Sure, I get that it's a nod to Jeep's heritage, but it is in such a prominent place, it would have been better being a logo that said 'RENEGADE'.
I also get to play with the 4WD dial and I turn it around to select the off-road modes of SNOW, SAND, MUD and ROCK (pictured right). At the same time, the graphical display in the driver's dash changes to show which mode you're in too. I double glance at the fuel economy and see it's 42.9mpg. It's taken me aback. Has this really been that good on fuel? I haven't been gentle on the throttle by any means. If this is true, then the Renegade wouldn't cost an arm and a leg in diesel. You're more likely to get stung on the insurance as the Trailhawk is in group 15. The cheapest Renegade to run would be the 2WD 1.6 MultiJet diesel which achieves 64mpg, yet can still do 0-62mph in 10.2 seconds. More importantly you'd only pay road tax of £30 a year as CO2 emissions are 115g/km putting it in VED band C.
This Trailhawk has parking sensors and to be fair, I found I actually needed them as trying to look in the rear view mirror and judge the distance between the back of the car and other things was tricky. It might be a compact car with a vertical tailgate, but it was hard getting a sense of where the rear and the front bumpers are.
Storage wise, there are two cup-holders between the two front seats, but the door pockets aren't big enough and I soon filled up the front tray area with all my chargers and camera. I really liked the 'map effect' patterns in the front storage area and in the storage box between the two front seats. It's a nice touch that makes the car feel more adventurey.
I finally arrive in the Mallerstang valley at 6:18pm. From the dash I can see it's taken me 4hr 41 mins to do 206 miles, but I'm hugely impressed by the average 41.9mpg. I park up in the field, unload my kit and set up my tent before going along to register, have dinner and join others in the marquee to watch adventure films.
The next morning I use the Renegade as a 'base camp', dumping everything that I don't need for the run in the big boot. I safely make sure I put the car keys in the zipped inside pocket of my backpack because I'll have to take them with me out on the fells. You have to carry a lot of mandatory kit including a tent, stove, sleeping bag and certain types of clothes.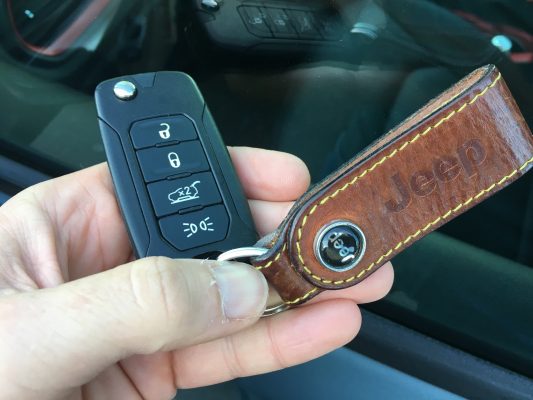 I have spent the past year preparing for this event after promising myself to enter it after my bad motorcycle accident in 2013. How did I get on? Well let's just say I will need to up the training for next year's event. I didn't technically complete the course. On Day One I chose to miss out the last three checkpoints so I could make it to the camping area by nightfall. I'd been out on the fells for 11 hours, 10 minutes and 30 seconds and managed to cocoon myself in my OEX Phoxx 1 tent just as the rain started lashing down. The fastest solo guy in my group A 'linear course' completed the same day one in half my time (06:23:31); my fleece hat goes off to you Mark Clarkson, I'm not quite sure how you did that.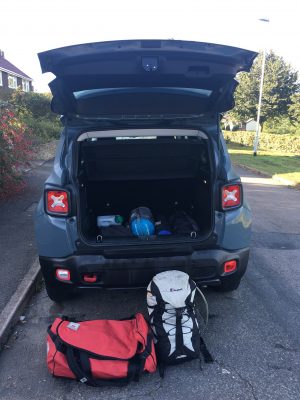 In retrospect, me choosing to enter the A course (one below Elite) might have been a tad too ambitious. On the Saturday night, with my legs throbbing, I thought about not carrying on the next day. I was afraid of doing damage to my joints and muscles. But when I woke up feeling fresher, I knew I had to give it a shot at getting through to the end.
I started off well. Felt good, was happy with my nav. But then I couldn't find the first control of the day, finding myself in an undulating peat bog. After 30 minutes of trying to locate it, I decided to miss it out and carry on (when I saw my GPS track after the event at just how close I was to it, I kicked myself). As Day Two went on, I found myself increasingly doing a fast hike instead of a run. I had needn't worried about my sore Achilles tendons, an issue I'd had during training, because these weren't giving me any gyp at all, Instead, the main issue was with my thighs and painful feet. The ground was so lumpy, full of holes, full of tall grass as well as marshy and wet. The course planner, Gary Thompsett, later wrote on the website: "Some general considerations that I made were to keep the course distances and ascents smaller than the web-advertised data. This was as soon as I could see that the going was tough underfoot, in different regions of the map."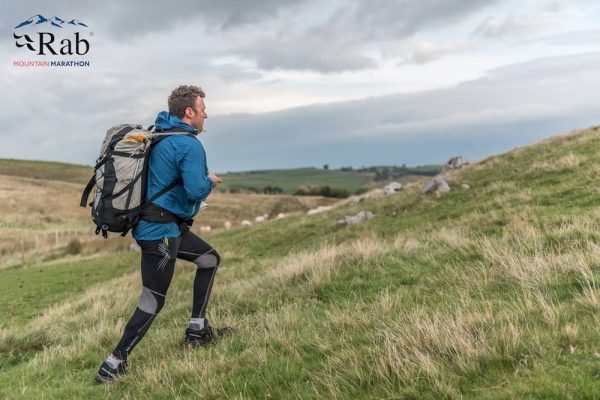 Tough underfoot and an understatement. At times I was swearing so loud I'm glad the non-stop gusting wind meant no one else could hear me, not that I was ever running alongside anyone else. I'd chosen to a wear a pair of Salomon Speedcross 4 trainers and while the grip was ideal, they just didn't have the cushioning and ankle support in them that I was used to. The insoles kept screwing up on the inside; brand new trainers shouldn't do that? Then there was the rest of my kit. I thought I'd got a pretty lightweight set up, but after seeing other competitors I realised that my 15-year-old Berghaus backpack wasn't ideal and that my stove and tent pegs really were adding to the pack weight. When guys who are 15 or 20 years older than you run past you with grace and finesse, it kind of made me realise I really am at the start of all this feel running game. The event for me then became more of a fast hike than a run. And when I saw that the last two controls were up the other side of the valley on day two, I knew I just wasn't going to be able to get up to them and back by the cut off time. My legs were so, so sore. In the weeks following the event I have been upset with myself for not going for them. Especially when you see the results on the website and there's no position or time against your name (it says m10-13 and m7-8 meaning I missed controls 10 to 13 on day one and missed seven to eight on day 2).
When I got to the car park to head home, the rain from the past two days was causing chaos; cars were spinning in the mud and a VW Transporter van actually burnt out his clutch. I smugly selected 'MUD' and drove out with no problem at all. I even offered my services to help pull people out (as it has the tow hook) but the organisers said they'd use a tractor. Shame, as I was looking forward to giving the Renegade a proper test.
I drove back home feeling proud I'd taken part. The organisation was amazing and the people were so friendly. I'm massively disappointed that I didn't do very well. But that's made me determined to do better next time. On the way home I was pleased to be in such a comfortable, warm vehicle. I set the cruise control; I was tired and the Renegade smoothly carried me home down the motorway.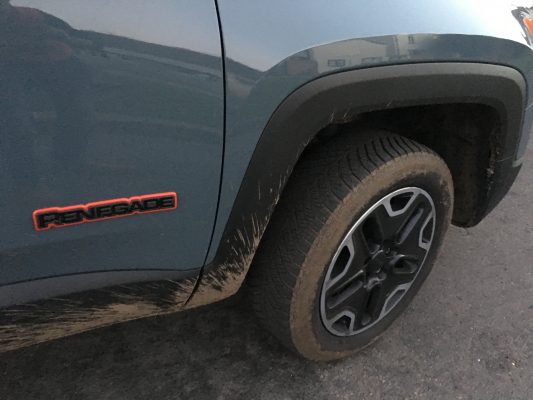 So should you buy one? At first I thought this Trailhawk edition was a bit of a gimmick, but it does actually have the off-road ability and is worthy of the 'trail rated' badge. If you're serious about adventure and going places then the extra money you pay for the Trailhawk over the standard version makes the car more comfortable and gives it a premium feel. You will have to get used to being stared at though; it's quite a bold design. There's not many other vehicles of this shape, size and styling either which makes it even more unique. There's the Suzuki Jimny, the Kia Soul and the Skoda Yeti that are similar in size, but these don't really have the rugged appeal that the Renegade has.
INTERIOR
Dual zone climate control
Heated front seats
Heated steering wheel
Heated steering wheel
Leather upholstery with Trailhawk logo
Leather gear knob for automatic transmission
Premium instrument cluster with 7" colour TFT display
Uconnect 6.5" DAB radio with touchscreen, satellite navigation and Bluetooth 6 speaker audio system
Ambient Light LED
Cruise control
Driver seat with electric lumbar adjustment
KEY OPTIONS & PRICES FITTED TO THIS TEST CAR
LaneSense™ Lane Departure Warning – Plus £200
Special Paint (Anvil colour) £600
Visibility Pack includes: HID Xenon Headlamps, Electrochromatic Rearview Mirror, Automatic Headlight £750 Activation, Rain Sensing Wipers & SmartBeam Headlamps, Electric Panoramic Sunroof £1,200
8-Way Power Front Seats (Driver & Passenger) £250