I LOVE walking, hiking, trekking. I hate buying trousers.
I'm 5' 7" and wear a size 10 or 12. So while I'm not exactly the average UK woman size-wise (16 and 5' 4" apparently), I'm not Long Tall Sally. Trying on trousers makes me feel like a freak. They are never long enough. Thank goodness for Craghoppers new Kiwi Pro Stretch trousers, size 10 long. They fit. They're long enough. Well done Craghoppers.
And after half a dozen walking trips already this year, I'm still pleased with them. They are so comfortable – that Pro Stretch definitely does the trick. They stretch with you; you don't find yourself adjusting them so you can scramble over boulders or clamber over a stile.
It has to be said though that they are an 'interesting' fit. For interesting, read 'indecent'. Trying them on, they looked alright –in fact, they so don't look like walking trousers that I wouldn't feel conspicuous wandering along the high street in them. However, in action, the wonderful stretchiness means they can land in places awkwardly. Solution? Get a friend to warn you, or Craghopper, please be more generous with the cut from waist to crotch.
Along with the stretchiness, other advertised benefits include being water repellent, stain resistant, sun-protective (up to SPF40) and quick drying. In fact, everything that you want in hiking trews. And all the claims seem true. The stain resistance is definitely true – no trace of my dripping ice cream or my unfortunate encounter with moss and lichen on a descent. And after a half dozen or so washes, they still look brand new – still the same inky black – and drying takes no time at all.
The three pockets – two front, one back – are all zipped. I didn't really use the front pockets, but the back pocket is perfect for a bit of cash and a room key – safely zipped up and out of the way.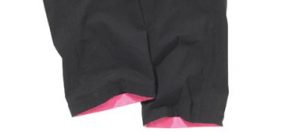 The final mention has to go to the pink bits. I realise this sounds incongruous when so far I've been describing hard core walking kit, but the pink bits are the reinforced hems on the inside back of the legs. They stop your boots rubbing and fraying your trousers – what a good idea.
VERDICT
"Buy them. They are worth the money (£47). Just watch out for the indecent moments."
Buy online from
Cotswold Outdoor
  Review of Craghoppers Kiwi Pro Stretch Trousers.