Darn Tough is a great name for a sock brand, a clever play of the word darn as in 'darn your socks' and then the suggestion that they're 'damn tough' too. 
Over the past few weeks we've been trying out a selection of their HIKE/TREK and RUN socks, all made from merino wool, and can safely say that they really do live up to their name.
Darn Tough is an American brand and you might have already started to see them on sale in UK outlets, such as Trekitt. The socks are woven in the state of Vermont (in the north east corner of the USA) and the area has hundreds of miles of hiking trails, just the kind of place where you need a decent pair of socks that are going to last! What's more the company guarantees them for life, so if you do have any issue you can return them for a new pair or your money back.
Let's start with the HIKE/TREK ones. I was sent three sizes to try out – a boot sock, a micro crew and a 1/4 sock. The packaging has a sizing chart on the back which shows you which length of sock you're buying. I tend to wear boot socks most days even when I'm not hiking, and have a selection from Stance, Bridgedale and Smartwool in my sock drawer. The boot sock that I tried from Darn Tough is called the Scout and was the denim colour (also comes in moss) so you have two decent colour choices that will go with most outfits. Darn Tough's socks are further categorised as ultra-lightweight, lightweight, midweight and heavyweight, so be sure to check you're getting the kind of thickness/comfort you're after.
HIKE/TREK BOOT SOCK
The Scout is a midweight sock and straight away I noticed the high quality stitching and when you fold them inside out you can see the lovely loops of merino wool cushioning. It's nice to see the cushioning extend all the way up to the calf. The toe and heel have a tougher area of fabric so they last longer and I find the heel is always the first part to wear through on my existing hiking socks, usually after 2 to 3 years of use.
I tested them out on a hike up the famous Buachaille Etive Mor ridge in Glencoe, Scotland. It was a nine hour day of hiking in dry but cold conditions and I'm pleased to say I had no hot spots, no blisters and the temperature control and comfort was pretty good all day long. I wore a UK size 10 and found that Darn Tough socks have a tighter feel around the top of the foot compared to other brands. This took some time getting used to. I did also notice a bit of a pinch mark around my calf where the sock cuff had squeezed against the skin; there's no chance of these sliding down your leg like some socks can!
Cushioning wise I think some other brands are thicker for a mid-weight, but with the Darn Tough's you gain a longer life span. That tighter fit also means you won't suffer from sloppy socks in your boots or material bunching up. The mixture of 65% Merino wool, 33% Nylon and 2% Lycramakes them slightly stretchy and fast drying, plus the Merino wool has a natural ability to repel bacteria, so I can envisage wearing these for a few days at a time no problem. Now after ten wash cycles they still feel silky smooth when you slip them on. I can recommend and at around £27 a pair that's just as well. If you want a big more thickness, be sure to check out the Nomad boot sock as the brand says this is the 'softest, most comfortable sock' in their range.
HIKE/TREK MICRO CREW
Next I tried out the Micro Crew sock that is classed as 'lightweight with cushion', so just the kind of sock that you might be considering for summer hiking or wearing with a pair of outdoor hiking trainers. These feel thinner than the boot sock, because they're 'lightweight' but the micro crew length still covers your ankle, letting you feel protected. I wore these on a day-to-day basis in my Meindl hiking boots, my Timberland boots as well as a pair of Merrells and they felt great. Again, when you turn them inside out you can see the beautiful loops of merino wool cushioning and the high quality stitching. Available in taupe (seen here), black and denim/orange. £21 a pair.
HIKE/TREK 1/4 SOCK
These are a lightweight sock, very similar to the micro crew, but the quarter length means it just about covers your ankle. I didn't get on very well wearing these with boots, but they're absolutely great with trainers. No issues with tightness anywhere and I even did a few trail runs wearing them and really enjoyed the comfort they gave, plus I like the patterns and colours.
RUN – ULTRA-LIGHTWEIGHT WITH CUSHION
We tried out two of the ultra-lightweight running socks with the blue pair here having cushioning. Again, these have a great fit and you really do notice that extra cushioning especially when worn back to back with the non-cushioned pair. These don't cover your ankles and are 'no show' so you can't see that you're wearing them. The tabs are actually slightly cushioned and have a bit of thickness which was nice to see and certainly felt good against my skinny ankles. These do the job very nicely and are infinitely better than some of the cheap no-show socks that you buy at the supermarket. If you're a fan of running in no-show socks then these are definitely worth trying. It's hard to find a lightweight sock that has this kind of cushioning.
RUN – ULTRA-LIGHTWEIGHT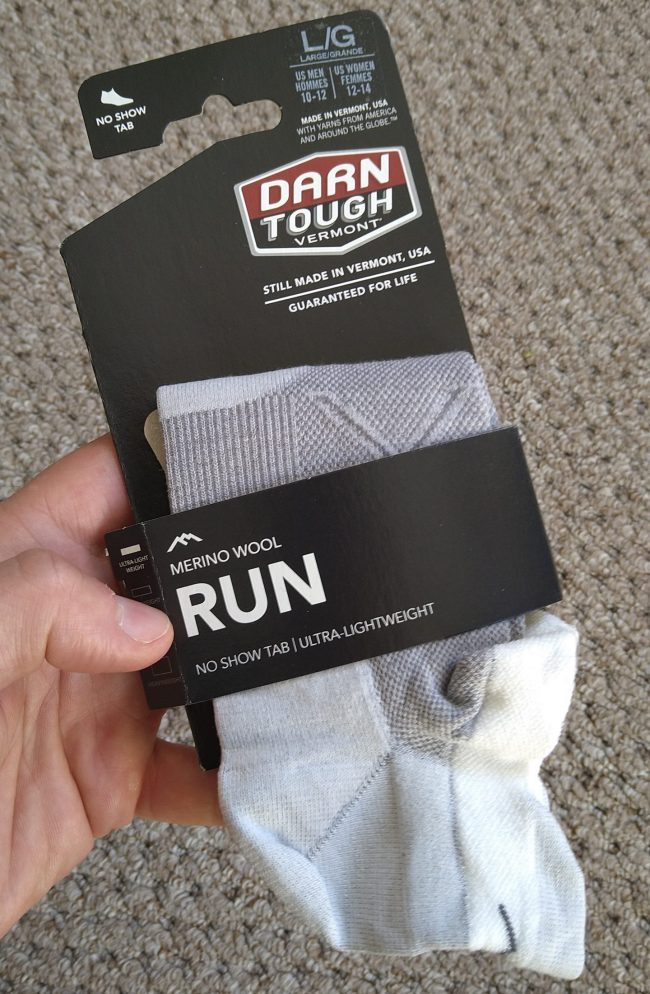 These really are lightweight and have very little in the way of cushioning. I slipped these on and with my trainers on it really does feel like you haven't got any socks on. I personally prefer some cushioning, but I know that there are many runners who like a thin lightweight sock like this. The main benefit I see in the Darn Tough ones is their long life. Many other truly lightweight socks made by other brands can wear out quite quickly or not cope with washing machine cycles. I persevered with wearing these on my runs and they're showing no signs of wear despite being so thin.
So there you go. A nice little introduction to Darn Tough and another brand to consider when you're looking to buy new socks. Prices do seem to be creeping up for socks. While £15 a pair was acceptable, I've seen my usual ones now up at £20. No doubt that the Darn Tough socks are at the slightly pricier end of the market, but you have the lifetime guarantee and occasionally outlets do run discounts to clear stock. I expected the cushioning of the Scout boot sock to feel more plush; don't get me wrong they're good, but I personally prefer a little more thickness in a mid-weight. It does also take time to get used to a tighter fit too, but this is something Darn Tough describes as a 'performance fit to prevent the socks bunching or slipping down in your shoes'. My advice is pick a pair up when you're next in an outdoor shop and have feel for yourself. You'll definitely be impressed by the quality and I'm looking forward to a summer of activity wearing this selection more.
Buy online from Trekitt