I'm a long way off running completely bare footed but Merrell's Trail Glove is an ideal place to begin.
After my first two runs wearing them, I'm not sure I'm ready to bin my trainers just yet, but I have to smile. You see in todays' age, it's hard to find something novel but when I slipped them on for the first time it felt new and exciting. We can read the brochures and even the book (Born To Run) which started off the craze, but until we try barefoot running for ourselves we won't truly appreciate what it's all about. I certainly experienced all of the things that the blurb said I would. When I woke the day after my very first barefoot run, I could feel that my calves had been worked harder than usual – this tied in with the theory that barefoot running strengthens our usual running muscles over traditional trainers.
But lets get to the running part because that's where things feel really different. The Trail Glove literally do fit 'like a glove' with a UK size 10 snugging to the lines of my very narrow, flat feet. No messing around with half sizes here. We wear these without socks too; which adds a strange feeling before we even start to run with them. There's lots of space up front for our toes to spread into as well – it feels like they're cupped and protected – and you can see the bulbous ends of the trainers.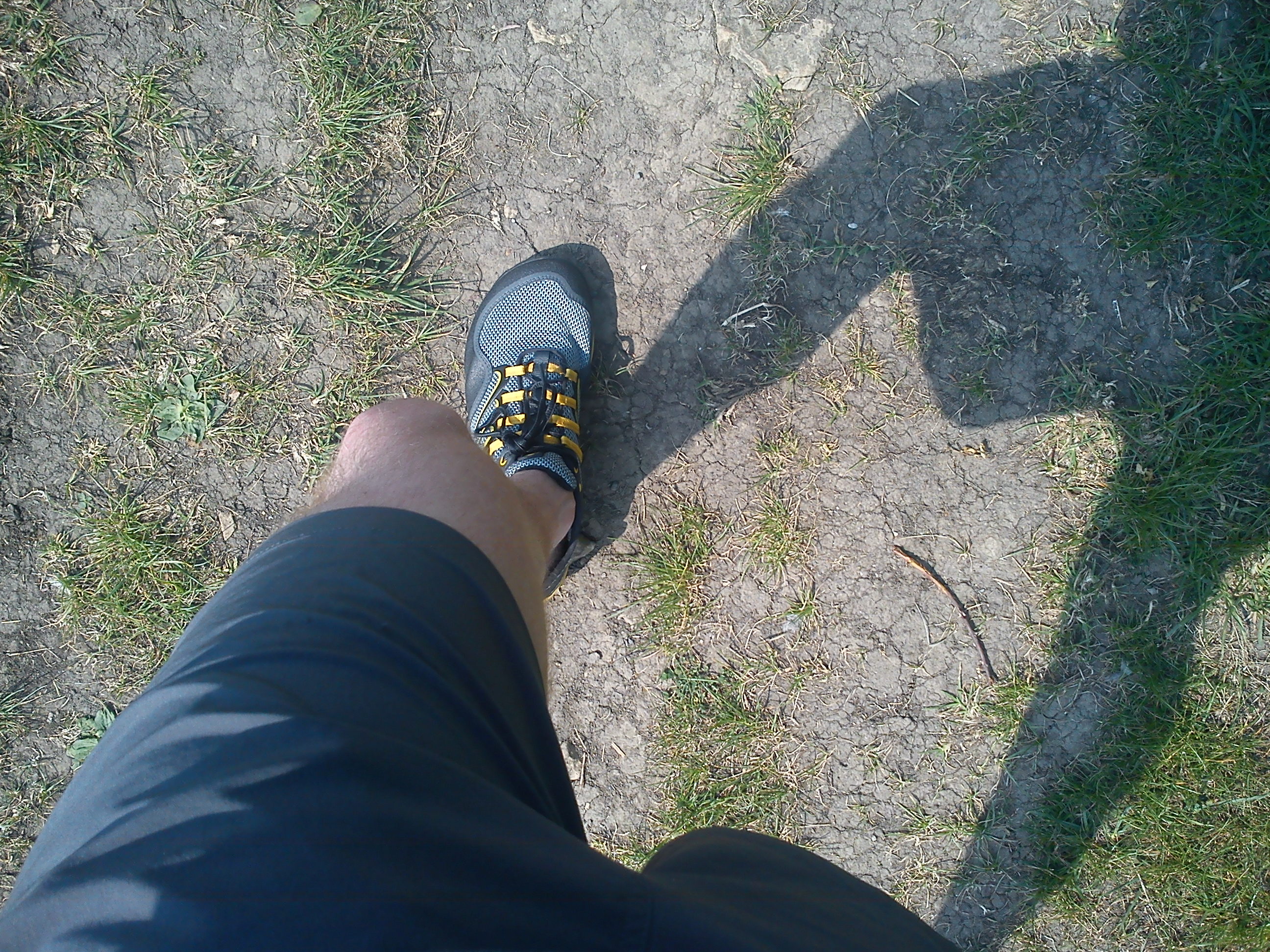 When I stepped out onto the pavement for the first five minutes of my run, I felt like an elephant and I certainly wasn't running as fast as I normally do. The biggest observation was the loss of the bounce that my usual trainers give me. Next was how I could really feel the tread of that Vibram sole underneath my foot; quite a pleasant feeling.
I then decided it was time to remember some of what I'd read about barefoot technique. My focus had to be to try and run off the ball of the foot instead of striking the ground with my heel. This seemed to help. Very soon I could feel my calves working harder than usual (no bad thing because mine resemble tree twigs). Ten minutes in and I start to feel more comfortable but the real breakthrough came when I moved off the pavement and on to grass and mud. Instantly I could feel the ground I was moving over and that tyre-like Vibram tread came into it's own. While the sole protects the feet it won't soak up some of the stones we come across off road so these won't allow you to run completely carefree over all kinds of terrain. Keep a spare brain cell focused on the trail ahead…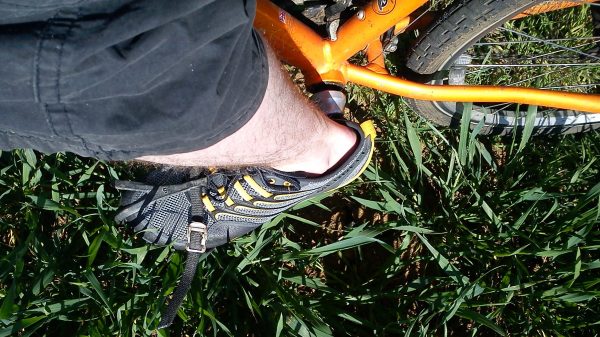 Minutes later I stopped to remove some dirt from my left hand shoe. Because these are worn without socks, stones and other debris can easily slip in. I re-tied my laces (a bit tighter this time) and the Trail Glove felt even more comfortable.
My second outing a few days later felt much better. Sure enough, in time, these will help my feet strengthen, run by run. The Trail Glove hits on another level too as they can be worn to ride a mountain bike.
But even after just two runs and a bike ride, the shoes already look filthy (inside and out) and we'll find these won't look clean for long. Regular washes with NikWax Tech-Wash may be in order to keep them fresh.
No doubt my running technique needs to improve but Merrell has addressed this by releasing an iPhone app and producing a website with video tips – which I'll now be using to help my transition into Barefoot running. I won't be giving up my trail running trainers completely as they remain the best way to tackle rough terrain and protect against those stones which the Trail Glove just can't absorb. I also like the support a trail running shoe gives too. In short, I'll still do a couple of barefoot runs a week but I'll also still wear my trail running shoes.
As well as the Trail Glove, there are also the True Glove and the Tough Glove. The midsole and outsole is the same in each one however the upper/lining is different in the others, with the True Glove tailored for outdoor activities and the Tough Glove is more of a lifestyle shoe. Pick whichever one you prefer the look of.
VERDICT
"True to their name, these fit like a glove and are a great way to explore barefoot running for the first time. Expensive they might be, but we're paying for the research that's gone into that Vibram sole. Be patient with them, build up slowly, learn the techniques and the Trail Glove will let us enjoy a whole new way of running."
4 out of 5
£84 from Cotswold Outdoor