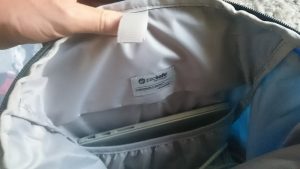 I've been after a small daypack for a while now and at 30 litres, the PacSafe Venturesafe X30 was the ideal size.
If you often carry a laptop, chargers, water bottles and spare clothing on a daily basis, then you want a backpack that's going to take all that neatly.
Up until now I've been using the Eagle Creek Afar backpack  which has an laptop sleeve and I like that the Venturesafe X30 has a padded sleeve too, but this is on the inside, really keeping it out of sight of those who might want to steal it from you.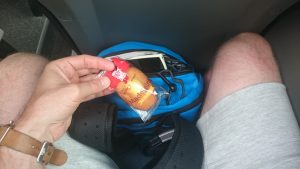 One thing that really strikes me about the Venturesafe X30 is that it already has structure to it, so it never looks saggy, even when it's empty. It has a slim profile too and at first glance I didn't think I'd be able to get all my daily essentials in, but it's surprisingly roomy.
The lid opens up the other way to what you expect. It's designed this way so that the zips stay close to you, making it tricky for people to access from behind.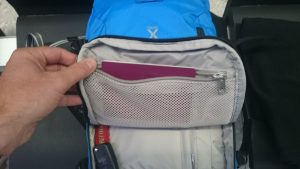 I used this pack on a trip to the Isle of Skye as well as some business trips to Geneva and in both situations, I got on great with it. I liked that I could stow my passport in a perfectly-sized interior mesh pocket (see right). Turns out that the fabric also prevents crooks from scanning for your cards.
There's also a hook for your car/house keys and a few slots for pens/pencils.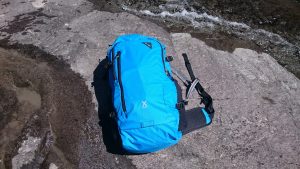 I love the big zip pocket that's on the front as it's sized to take an OS map; in time it means you can allocate a pocket for specific items and get used to knowing where everything is.
There are two pockets on each side that are made from stretchy fabric that snugly hold water bottles, but there's also space to store a hydration bladder along with a hole to pass the tubing through.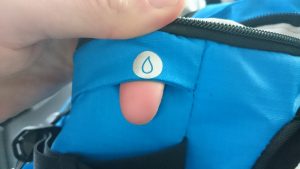 The straps are made from an anti-slash material to stop thieves cutting the backpack off of you. These could benefit from a bit of extra padding. For short trips, they are fine, but for an day-long hike when loaded up, they do start to dig in a little. The chest strap and hip belt work well and I like that the hip belt can be stowed away.
It's impressive that there's an air channel and aluminium support in the back of this, unusual for a 30-litre sized backpack. What this mans though is that you can put a fair bit of weight and feel confident that it can cope. As I said before, I took this fully loaded up with kit on a hike in the Isle of Skye.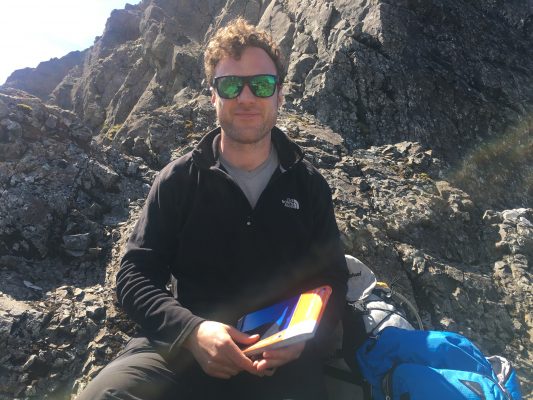 Other features to mention include zips that you can padlock up, a rain cover that folds in and out of a pocket in the base and a top carry handle. The video below gives a full overview of the features, but this gets the thumbs up from me, especially if you're going on regular city adventures or to regions where you know thieves might target you. It comes in two colours, the blue you see here and also in black.